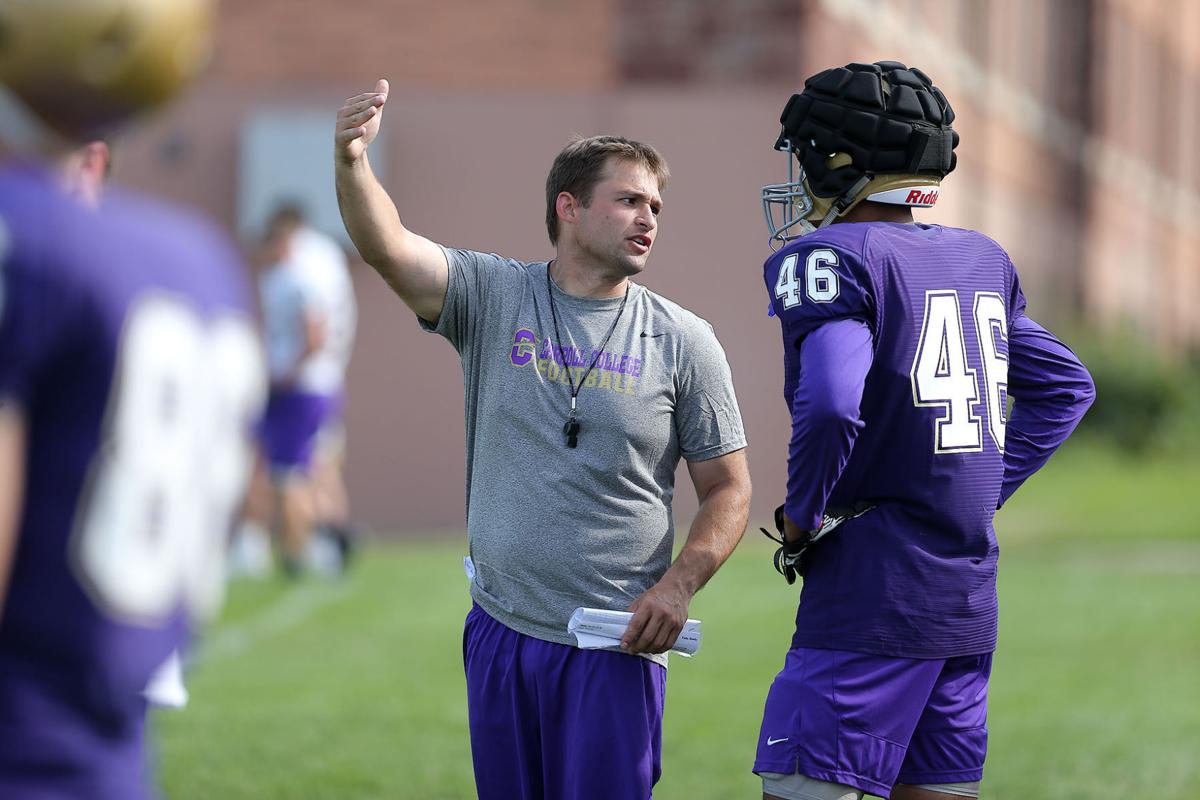 HELENA — It happened nearly 15 years ago, but it does not take Alex Pfannenstiel long to recall the play essentially ensured Carroll would beat Morningside in the 2007 NAIA Football Championship Series quarterfinal round and get the Saints within two wins of a fifth national championship.
"That was a really well-coached team, it was a great, competitive battle," Pfannenstiel said of that Nov. 24, 2007 game. "We ended up playing a four quarter football game. They kicked an on-side kick with like three [minutes] to go and Marcus Miller ended up returning the on-side kick for a touchdown to ice it. It was a back-and-forth battle. You could see then that Morningside was going to be a national power and coach Ryan has continued to build that place and has turned it into a really good program."
According to a decade and a half old box score, Miller, who handled the kicking duties for the Saints, returned the kick 85 yards for a touchdown that put Carroll up two scores late in the ball game.
Carroll had 388 total yards of offense that day, and after a scoreless first quarter by both teams, took a 14-3 advantage into the half.
Pfannenstiel, who graduated from Carroll and is now the Saints' offensive coordinator, caught up with Morningside head coach Steve Ryan about that play on Sunday after finding out the two teams would be matched up in the first round of this year's NAIA playoffs.
This time, the Saints are the traveling party and Morningside is the team coming off recent championship victories after winning back-to-back national titles in 2018 and 2019.
"We're excited to have the opportunity to play the program that's been the best program at the NAIA level for the last five years," Pfannenstiel said. "I told our guys that if we want to get our program to the level to contend for national championships, we're going to find out what that looks like on Saturday. Our guys have a lot of confidence in themselves and we have a lot of confidence in them and their ability to play against these guys."
Part of multiple national championship teams while a player at Carroll, Pfannenstiel is now a member of the coaching staff that guided the Saints back to the playoffs. The season represents the first one since 2014 that Carroll made it into the FCS field while Morningside has been in every playoff since that same season.
"It's not about me, but personally it does feel really good," Pfannenstiel said of being back in the playoffs. "Having been back here coaching for a while, and having been here for the good days, this is the opportunity that we wanted to earn. It is special, but it's more special for our players. I'm just excited for seniors like Tanner Steele, Alex Hoffman and Nate McGree and so many others, I'm excited for them to have this opportunity to do that."
As a two-time national champion, Pfannenstiel has postseason experience that not many currently associated with Carroll's football team have. With that in his back-pocket, Pfannenstiel is sharing some of his experiences and advice with players to prepare them for what will be one of the biggest games of their collegiate careers.
"This is a great opportunity for our guys, but it's another game," Pfannenstiel said. "Don't get caught up in the fact that it's the playoffs, don't get caught they're the No. 1 team in the country. We're playing a game on Saturday, let's go play to win this thing. Don't get caught up in the moment, just go play the game."
Carroll and Morningside are slated to kick off on Saturday at noon from Bishop Heelan Memorial Stadium in Sioux City, Iowa.