HELENA — It is beginning to look (and feel) a lot like basketball season. Chilly temperatures make it feel like fall is finally here, while the distinct sound of basketballs hitting hardwood lets you know college basketball is right around the corner.
On Monday, Carroll's women's basketball team formally opened preseason practice a little more than a month before the Saints' season-opener at home against Southeastern University.
"It was bittersweet," Dani Wagner said after her sixth and final first practice of the season. "After all this COVID stuff, just having an opportunity to get back in the gym with this team and have another chance to do something amazing is quite a blessing. Getting that COVID year, there was good and bad to it, but having another chance to do what we should've done last year is pretty remarkable."
Perhaps the biggest story, or stories, of the off-season was when four of Carroll's five seniors elected to exercise their extra year of eligibility stemming from the COVID-19 pandemic, and return for the 2021-22 season. Wagner, Christine Denny, Jaidyn Lyman and Emma Madsen are all back, as are all of the supporting pieces, including starters Jamie Pickens, Sienna Swannack and Kamden Hilborn, from last year.
Of the 1,715 points Carroll scored last season, players who scored 1,688 of those (98.4 percent) are back. That retained experience, which features multiple returning All-Americans, allows head coach Rachelle Sayers to take what is perhaps a more hands-off approach to this preseason.
"My biggest focus for this preseason is to get them in the best shape that we can," Sayers said. "Really just get them playing. We have a lot of weapons and I don't want to tie them down too much with too many things in their head. I want them to just use what they have. They complement each other really well, they find each other really well. With the years of experience they have, they play together really well. I've just got to do a good job of making sure we're getting them in the right spots to have the best success."
Motivation is plentiful for the Saints. For a team that swept the Frontier Conference Regular Season and Conference Tournament Championships last season and have won three of those titles in the last four years, an opening round playoff exit brought a disappointing end to a year that saw Carroll win 88 percent of its games.
"I think our players still have a bad taste in their mouths for how the season ended, but I think there's excitement to have a season to look forward to," Sayers said. "Last year at this time we weren't sure what was going to happen. We weren't sure if we were going to get that season. I think this year the girls feel like we're starting to get back to a little more normal routine. It's always exciting to be able to feel like we're gonna be able to do the things they came here to do."
Carroll's ultimate goal, like every team, is to win its conference, and preferably, a national championship. With a long season ahead, however, thinking about stuff scheduled to take place next March is not a good plan of action for taking care of what needs to be accomplished in the immediate future.
It would be impossible, though, for players and coaches not to feel the weight of expectations for what many consider to be a loaded Saints roster.
"I think from the players' perspective, from the coaches' perspective, the community's expectations. I think there's a lot of expectations on these guys, it'll probably come with a lot of pressure," Sayers said. "We really don't talk about that. We don't talk about where we want to finish, we don't talk about the goals of wins or losses. We mainly focus on being the best at everything that we do...We want to do all the little things as hard and as well as we can."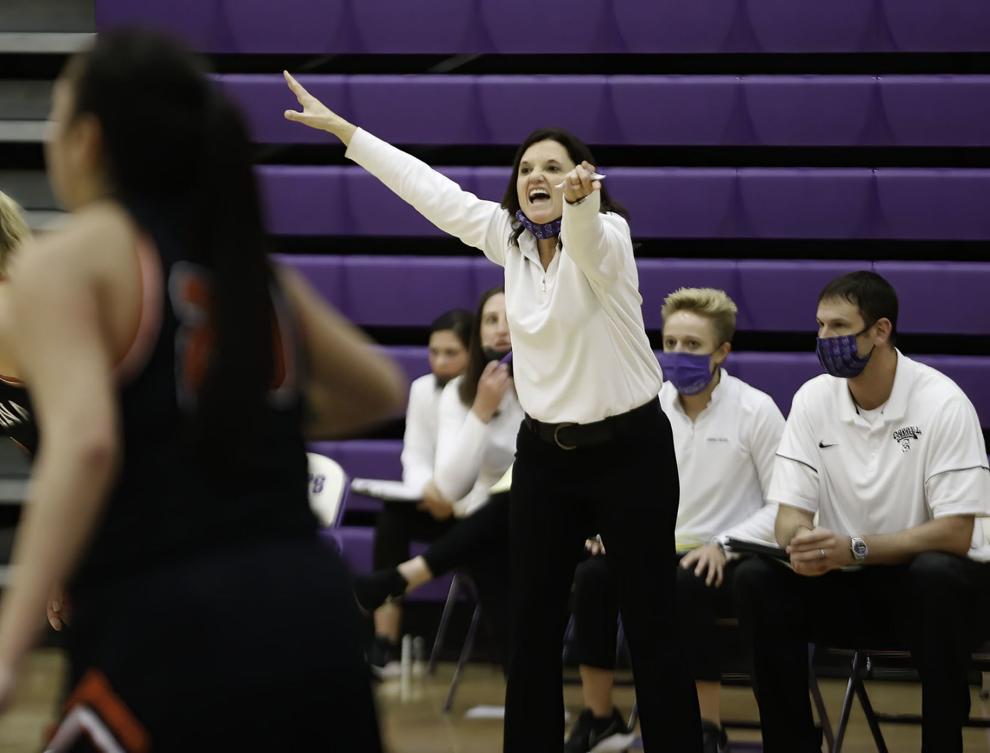 Focusing on the little things was a big part of Carroll's success last season. The Saints finished No. 3 in the country in rebound defense and 20th in assist-to-turnover ratio. Carroll owned the 18th-best scoring defense in the NAIA, shot 3-pointers at a 34 percent clip and converted free throws better than 73 percent of the time.
As good as those numbers were, and despite all their success in conference play, there was a feeling among the team this off-season that certain aspects needed to be approached differently if the Saints wanted a better shot at a deeper run in the playoffs.
"Before we got back here for our first practice, coach asked us seniors if we had a different plan for this year, something bigger, a bigger goal to achieve, I suppose," Wagner said. "I think this year, obviously we have a bigger target on our back, but we're coming out here to do something different than we've done before."
Wagner said pretty much the entire roster was around this summer, working out, and holding each other accountable for work done. That is something Wagner said she has never seen in her time at Carroll, and it is something she believes can make a difference.
For Sayers, the experience of last season's postseason has given her something a bit different to focus on during this preseason.
"The areas that I really want to improve on and I want to help our kids improve on is just their confidence to take over a game," Sayers said. "Their confidence to make a play when we need to make a play. We have the players that can do that. So when we get in a game like we did last year where things weren't really clicking, shots weren't really falling, our big-time players can go out and make those plays knowing that they have the freedom and trust from me to do that. Putting them in those situations everyday where maybe we're down two [points] or we play with a short shot clock so they have to be more aggressive. Just getting repetition of having success doing that."
With all the experience returning for the Saints, there are some new faces on the roster. Bozeman's Addi Ekstrom, Billings Central's Isabelle Erickson and West High School's (Utah) Alexa Orten all opened the preseason practicing with the varsity squad.
"It went well," Ekstrom said of the first practice. "Just trying to get adapted to everything that they do here. The way they run their drills, the way they run their plays, stuff like that. Just kinda adapting has been good so far, just trying to learn everything pretty quickly. These guys are veteran players, so I'm trying to jump in as quickly as I can."
Sayers said it can be a tough learning curve for incoming freshmen, but with all the experience ahead of them, they are watching and learning from the veterans.
"I'm really excited to learn from people who've been here for five and six years," Ekstrom said. "They're a super good group of gals that's willing to teach me the stuff that I need to know. I'm really excited."
Carroll, which figures to be a favorite to win the Frontier again this season, opens its season on Oct. 23 against a top-10 team from last year. In fact, the Saints scheduled five of the top-25 teams from the final NAIA poll of last season, including the national champion Westmont and runner-up Thomas More. Carroll will also play Division I Montana State and Idaho State, as well as Division II MSU-Billings.
"I'm excited to just get started," Sayers said. "Obviously we've got a long road ahead of us, but it's nice to have so many returning pieces to work with."