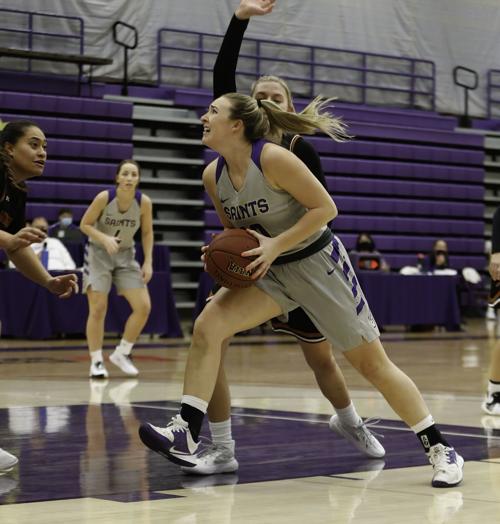 HELENA — All thirteen Saints broke into the scoring column and the Carroll women's basketball ran its win streak against Montana Tech to 13 games with a 79-42 win on Saturday night in the PE Center.
"I thought our preparation this week was really good," head coach Rachelle Sayers said. "I thought the kids were really focused and I felt like we were going to come out and play really well. I was really pleased with the performance. I think most pleased, No. 1, to get everybody in there, good quality minutes, everybody scored."
The Saints are now 3-0 against Tech this season, with each victory coming by double digits. With the win, Carroll improves 14-2 on the season and 8-1 in league play, while the Orediggers fall to 4-7 on the campaign with a matching record in Frontier Conference action.
Carroll dialed up pressure right away against Tech, employing a three-quarter- to full-court press at times and trapping just past half-court. That on-ball harassment led to four straight Tech turnovers to begin the game, and allowed the Saints to build a quick 8-0 advantage.
By halftime, that lead stood at 31 points as Tech shot just 26 percent from the field in the first 20 minutes. The Saints countered with a 53 percent shooting effort in the opening half, including an 8-for-15 performance from long-range.
The purple and gold's pressure led to 13 first half turnovers for the visiting Orediggers as they turned the ball over 22 total times on Saturday. Carroll was able to turn those mistakes into 26 points on the evening.
"The kids decided they wanted to be aggressive, so then we got after it and decided we were going to press and be a little more aggressive," Sayers said. "I thought our guards up top did a great job and we were able to up-tempo. I think when we're able to play at that pace, we're better."
Senior Danielle Wagner paced the Saints with 14 points on 5-for-12 shooting, while sophomore Jamie Pickens joined her in double figures with 10 points. Junior Sienna Swannack knocked down three of Carroll's 11 triples on the afternoon for nine points.
Wagner complemented her 14 points with five rebounds and a team-high five assists. As a team, Carroll out-rebounded Tech 19-9 on the offensive glass and 40-27 overall. The Saints also assisted on 23 of 29 made field goals in the win.
"That makes me really proud, because that's something we've talked a lot about," Sayers said of the assists. "Moving the ball, sharing the ball, creating shots for one another, making your teammates better and I thought we definitely did that tonight."
With the game firmly in hand by intermission, Sayers was able to empty her bench and get minutes for everyone on the roster.
Players like sophomore Erica Nessan and redshirt freshman Rakiah Grende saw substantial minutes in the fourth quarter for the Saints and combined for six points.
For the Orediggers, senior Mesa Williams was the lone player to break into double digits, scoring 11 points on 5-for-10 shooting. Senior Mollie Peoples and junior Celestina Faletoi each chipped in eight points for Tech.
While the Saints attempted 62 shots in the victory, finishing 46.8 percent from the field, Tech hoisted just 49 attempts and struggled to find much rhythm offensively. The Orediggers shot just 3-for-15 (20 percent) from 3-point range and 34.7 percent from the field overall.
Carroll and Tech will lace things back up and play again on Sunday at 2 p.m. inside the PE Center.