Carroll's women's basketball team is in the midst of a three games in five days stretch. Two legs of that slate are completed, however, and Friday night's 88-61 win over NCAA Division III Whitworth was yet another 20-plus point victory for the Saints.
"It's been a bit of a grind with so many games in such a short time," Carroll head coach Rachelle Sayers said. "It's been hard to prepare and get ready for the different styles that we've seen game-after-game...I feel like the players did what they needed to do. We wanted to try to conserve some energy with all the games we have moving forward so that was really important.
"Just our ability to share the ball. Christine Denny with 11 assists and zero turnovers. That's pretty impressive. We have so many players that are just passing up a good shot for a great shot. Twenty-seven assists on 33 made field goals. That says a lot about your team."
Christine Denny used those 11 assists to complete a double-double that saw her score 10 points on 4-for-10 shooting in 28 minutes. She added four rebounds, two blocks and one steal in the win, but it was Denny's ability to generate offense with the pass that helped the Saints have an assist on nearly 82 percent of their made field goals.
"She's such a good player that she can create for other people so well," Sayers said of Denny. "She had talked to me a couple days ago. She was frustrated with her turnovers. I said, 'hey when you have the ball in your hands as much as you do, it's gonna happen.' I was really excited for her tonight because that's something that was getting her down. I thought she came out and really did a nice job facilitating the offense, moving the ball and hitting the players when they were open."
Carroll shot 52.4 percent from the field for the game, including 64.3 percent (9-for-14) in the second quarter. The Saints held an eight-point edge after 10 minutes of play, but outscored Whitworth 20-11 in the second quarter to take a commanding 42-25 lead into halftime.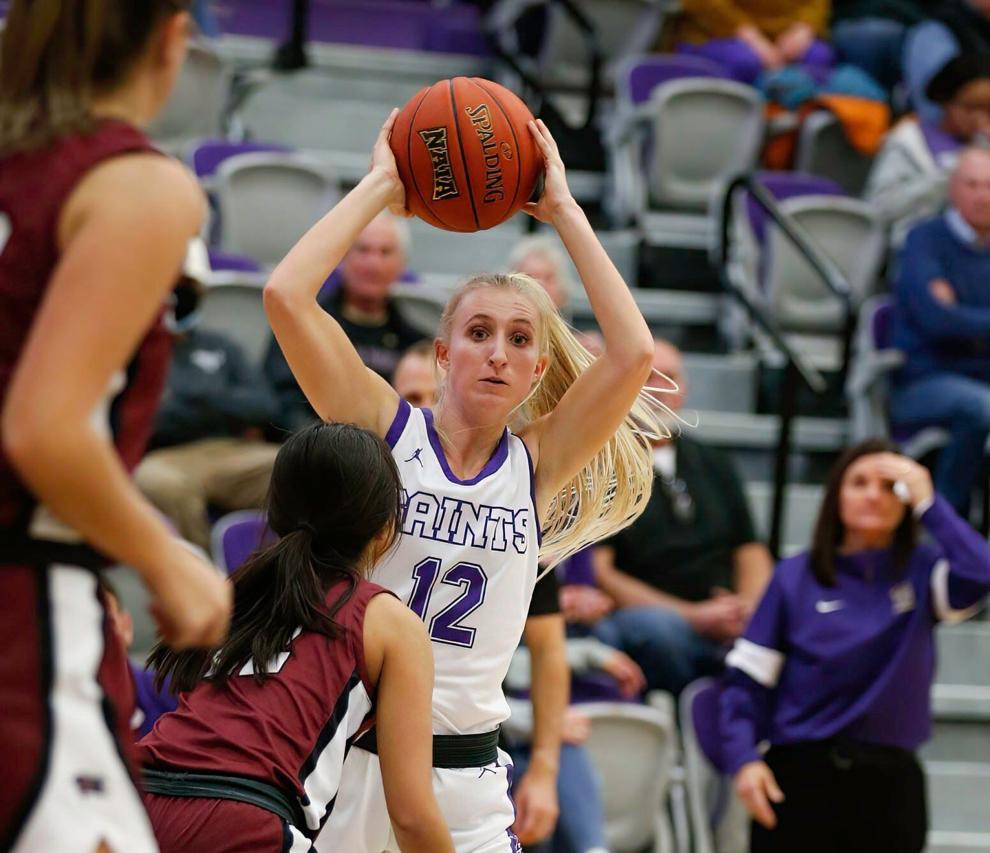 Six different Saints broke into double figures. Sienna Swannack knocked down a trio of 3-pointers to pace Carroll with 14 points, while Jamie Pickens went 6-for-6 from the field and finished with 13 points and four rebounds.
Dani Wagner added 13 points, and Kyle Olson and Maddie Geritz combined for 21 points off the bench in the win.
Friday represented Carroll's final home game before its first conference contest rolls around on Dec. 2. A game against NCAA Division II Montana State-Billings is up next for the Saints, but then it is three-straight games against top-15 NAIA teams at a tournament in Kentucky.
Carroll has now won six-straight games after dropping its season-opener. All those victories have been by 20 or more points, but Sayers feels like her team has some stuff to clean up in its next handful of games.
"I thought we fouled way too much, we put [Whitworth] to the free throw line too much," Sayers said. "You can't give somebody 19 points from the free throw line. I felt our defensive intensity was lacking in the second half. That's something that, to me, if you're up 20 [points] or you're in a two-point game, we still want to do those things well. That's really important going into this week with a very good Division II team and going out to Kentucky and playing some top-25 teams out there."
Carroll is scheduled to play MSU-Billings on Sunday at 2 p.m. in Billings.
Carroll men survive overtime road test against Bushnell
Jovan Sljivancanin scored seven of Carroll's 11 points in overtime, helping to lift the Saints past Bushnell 76-71 and stay unbeaten on the year at 9-0.
Carroll led the Beacons 39-31 at halftime, but a Drayton Caoile basket as time expired in regulation sent the two programs into an extra five-minute period.
"It's nice having these guys, they've been together and been through so many of these games...They stayed composed the whole time, which is nice," Carroll associate head coach Ronn See said. "Coach [Kurt Paulson] had a feeling last week that we were gonna go through one of these games and we kinda started preparing for our late-game situations. We felt the guys were pretty prepared for it and it showed once we got to overtime that we had prepared for those kinda situations."
Brendan Temple's lay-up 19 seconds in overtime gave Carroll a two-point lead and the Saints did not look back. Sljivancanin converted a three-point play to put his team up four points and added a lay-up with 2:08 remaining that maintained that advantage.
Shamrock Campbell knocked down two free throws to put Carroll up three points with 20 on the clock, and following a missed Bushnell 3-pointer, Sljivancanin sealed it with two free throws of his own.
"Jovan is like a once-in-a-coaching-lifetime kinda guy," See said. "You don't get too many guys like Jovan. He definitely took over at the end of that game, especially in overtime. He stayed composed and just kinda went to work and didn't settle and got to the free throw line and sealed it."
Sljivancanin finished with a game-high 25 points and 16 rebounds for his eighth double-double in the last nine games. His bucket toward the end of regulation that gave Carroll a short-lived two-point cushion also pushed the senior past the 1,500-point plateau for his career. Sljivancanin entered the night needing 17 points to accomplish the feat and pulled it off with the help of a 13-for-16 effort from the free throw line.
Friday was Carroll's first overtime game of the season, but it was the fourth countable game the Saints won by less than 10 points.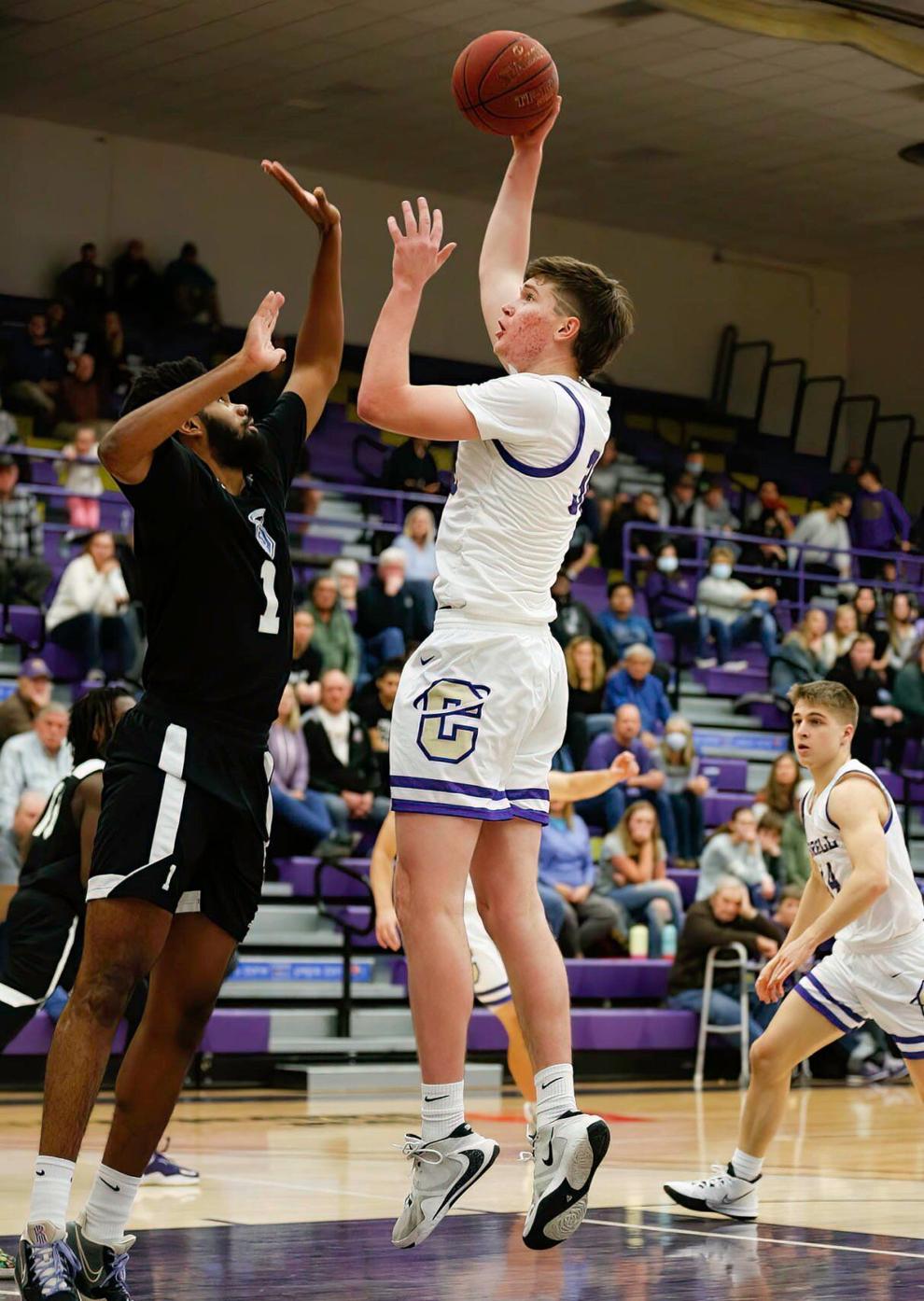 "Every game you've gotta find a different way to win because every game is going to be different," See said. "This is Bushnell's first home game of the year, they've got some seniors. They were gonna come out and they were gonna give us their best effort tonight. It's good for these guys to get a little reality check that we've gotta bring it every single night and we've gotta figure out different ways of getting it done. Not every game is going to go our way, we're not gonna hit shots [some nights]."
Temple added 18 points and five rebounds to the winning effort, converting on eight of 13 shot attempts. Shamrock Campbell chipped in 11 points, while Ifeanyi Okeke contributed 10 points, five rebounds, three steals and two assists.
Carroll shot just 39.7 percent (25-for-63) from the field for the game, including 2-for-15 from 3-point range. The Saints made just six field goals in the second half, including two by Okeke, but converted 13 of 14 opportunities from the free throw line.
Carroll was plus-6 in the rebounding department on Friday night, including plus-10 on the offensive glass.
"Brendan gave us a huge lift tonight," See said. "He went to work early on and kinda set the tone and Jovan kinda carried it through the end of it and sealed it for us."
The Saints are scheduled to play Corban University on Saturday at 2:30 p.m. Mountain Time to wrap-up the Bushnell Classic in Eugene, Oregon.