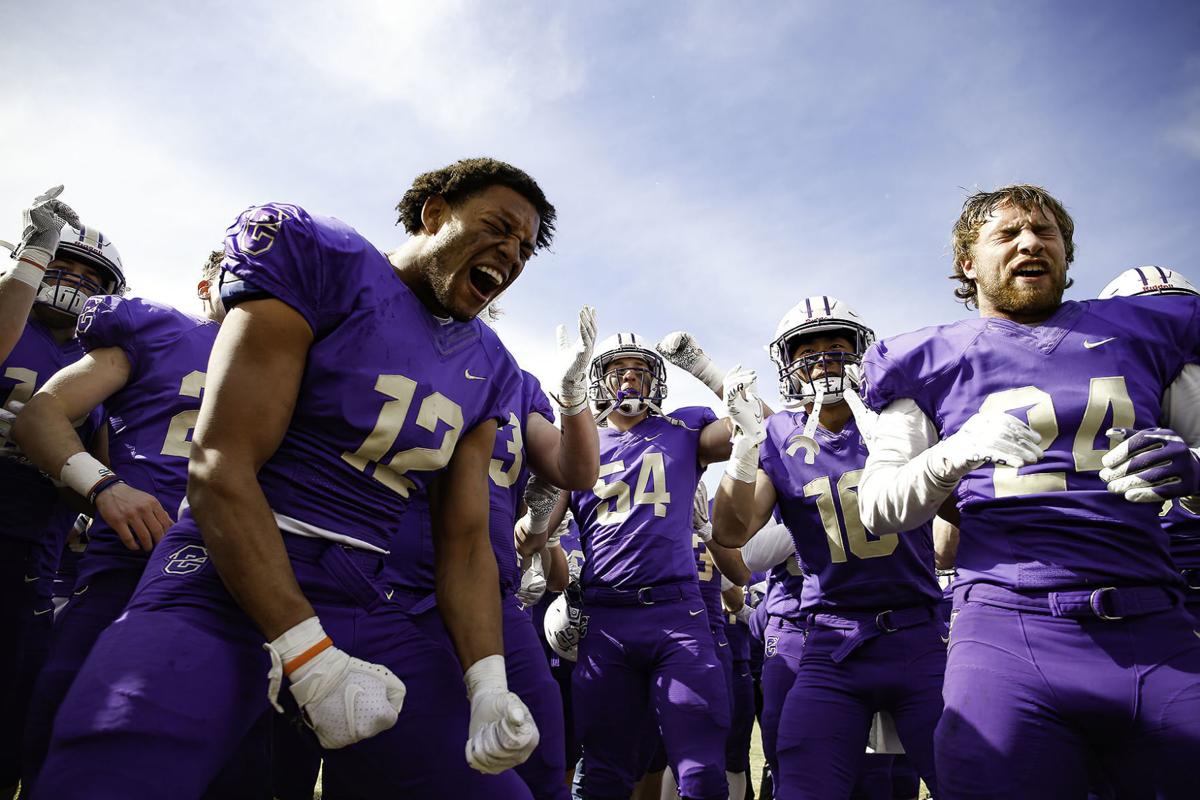 HELENA — Take down the No. 6 team in the country to win a share of the Frontier Conference Championship and get back to the NAIA playoffs for the first time since 2014. Check.
A 28-19 win for Carroll's football team over College of Idaho on Saturday inside Nelson Stadium means the tiebreaker falls the Saints' way and means they will be one of the final 16 teams battling it out for a national championship.
"It means a lot," defensive coordinator Wes Nurse said. "It shows that coach Purcell's vision when he got here in 2019 to now has really evolved...It shows great hard work by him and putting the right coaches in place here and also getting the right players here. Today, it's about the players and how much they want it and how much they dared themselves to be successful."
Needing a win and not needing to give up many points, Carroll's defense stood up to meet the challenge on Saturday. The Saints forced four Yotes turnovers, including three interceptions, and while College of Idaho out-gained Carroll 381 to 362, the purple and gold's defense continuously stiffened in the red zone in a full bend but don't break mentality.
"They've been stepping up like that all year, making plays when they're needed," Saints head coach Troy Purcell said of the defense. "It's 11 guys, I think it's pretty obvious that when we play this game that you need the d-line to get some pressure and you need the defensive back to cover tight...You're on the 30-yard line? Whatever. We're going to win this play, we're going to win this moment. As they get closer, just keep winning that play, winning that moment and good things happen."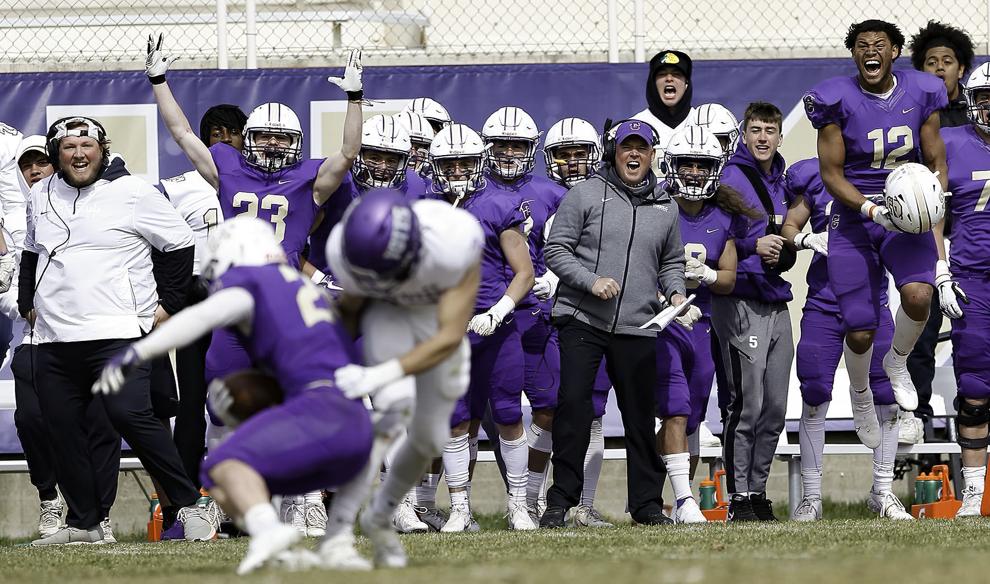 Two of Carroll's interceptions came after College of Idaho had already moved the ball close to the red zone. Redshirt sophomore Micah Ans nabbed a Ryan Hibbs pass early in the second quarter to keep the Yotes out of the end zone, but it was two picks by redshirt junior TJ Abraham in the fourth quarter that played important roles in the Saints' win on Saturday.
Leading 21-13 after three quarters, Abraham picked off Hibbs on two consecutive drives to keep the ball in the hands of the Saints' offense. Interceptions No. 3 and 4 for Abraham on the season, his second pick of the day directly preceded a 61-yard touchdown drive from Carroll that put the home team up by two scores with under seven minutes to play.
"TJ has been waiting his turn for a couple years and he's gotten an opportunity and taken full advantage of it," Nurse said. "When he goes out there, all he does is make plays, which is awesome. That's what you want from guys who've been put in position to go make plays and he goes and makes them."
Abraham was credited with 10 tackles on Saturday, but the Saints racked up six sacks as a team as a team and held College of Idaho to just over three yards per carry on the ground.
Redshirt junior Garrett Kocab and redshirt freshman Garrett Worden combined for four of those sacks from their defensive line positions and each knocked at least 10 tackles in the win.
"I can't say enough about them," Nurse said of his defense. "They did their part and held the line a little bit. Obviously gave up some yards and some plays here and there, but never wavered from the plan and stayed with the process. They believed in each other and believed in what's going on and did a great job."
To essentially ice the game late following Abraham's second interception, Carroll's offense ripped off eight plays that marched the team 60-plus yards. A 17-yard touchdown pass from redshirt sophomore quarterback Devan Bridgewater to redshirt freshman Logan Gilliard capped that drive and ramped up the pressure on College of Idaho to make something happen.
"The last five drives, we were consistently in the huddle saying, 'how bad do we want this?'" Bridgewater said. "'We've worked so hard, we're in this moment, how bad do we want it?' We just kept asking each other that and you could see the guys' eyes everytime you said it, they wanted it and that's what we went out and did, we got it."
A College of Idaho touchdown with less than four minutes on the clock failed to put the Yotes back within a score after a missed point-after attempt kept the Saints' advantage at nine points. Carroll stripped Hibbs with time winding down for its fourth and final turnover of the day and fully entered into celebration mode.
"He came in and he's brought a wonderful culture into our defense," Abraham said of Nurse. "We go out there everyday and we work as hard as we can and come together as a team. Just to play as well as we have...it goes to show how well we play together and we just got some guys out there that just love to play ball and that's what it comes down to."
While the Saints' defense would likely receive the game ball for its efforts, Carroll's offense still did plenty of positive things. Sophomore running back Matthew Burgess turned in a 169-yard, two touchdown performance rushing the football, helping the Saints post 249 yards on the ground.
Getting both scores in the first half, Burgess pushed his total to four on the season. Redshirt freshman Duncan Kraft found the end zone for the second time in his career on Saturday, exploding for a 60-yard score mid-way through the third quarter to extend Carroll's lead to eight points after the Yotes got within a point.
"When you get gelling as an offensive line and the back marries to the offensive line, you get some good things happening," Purcell said. "How about Duncan's run, also? That was a good, explosive play. But 'ole Matt Burgess, we're glad he's on our team and we're just very proud of all of our players and the coaching staff. What a great day."
Bridgewater went 10-for-16 for 113 yards and a touchdown through the air and added another 13 yards rushing in the victory as Carroll racked up 17 first downs.
It has been several years since the Saints could call themselves Frontier Champions, and they will gladly share the title at 3-1 with the conference's automatic bid to the NAIA playoffs in their back-pocket.
Carroll will find out its seeding and opponent in the 16-team NAIA Football Championship Series on Sunday at 5 p.m. The playoffs then begin next Saturday at various campus sites.
"We had a conversation [Friday] night as a team and resilience seemed to come up a lot," Abraham said. "It's been a heck of an 18 months pushing through trying to figure everything out with COVID and what not. We just had guys come together and play as a team and have fun. That's what it's about."