Carroll's basketball teams were each ranked in the top-6 of the NAIA coaches poll that was released early Wednesday morning. About eight or so hours later, the Saints backed those rankings up, collectively blowing past Our Lady of the Lake University with an 87-57 women's victory and 85-60 men's win.
Carroll's basketball programs are now a combined 13-1 on the season.
Jamie Pickens scored 12 of the first 14 points for Carroll's women's team, helping the Saints capture their fifth-straight victory. Pickens finished with a season-high 22 points, giving her double-digit points in five of Carroll's six countable games. Maddie Geritz also chipped in 12 points off the bench as the Saints' back-up post player, leading to the Saints outpacing OLLU 50-26 on interior scoring.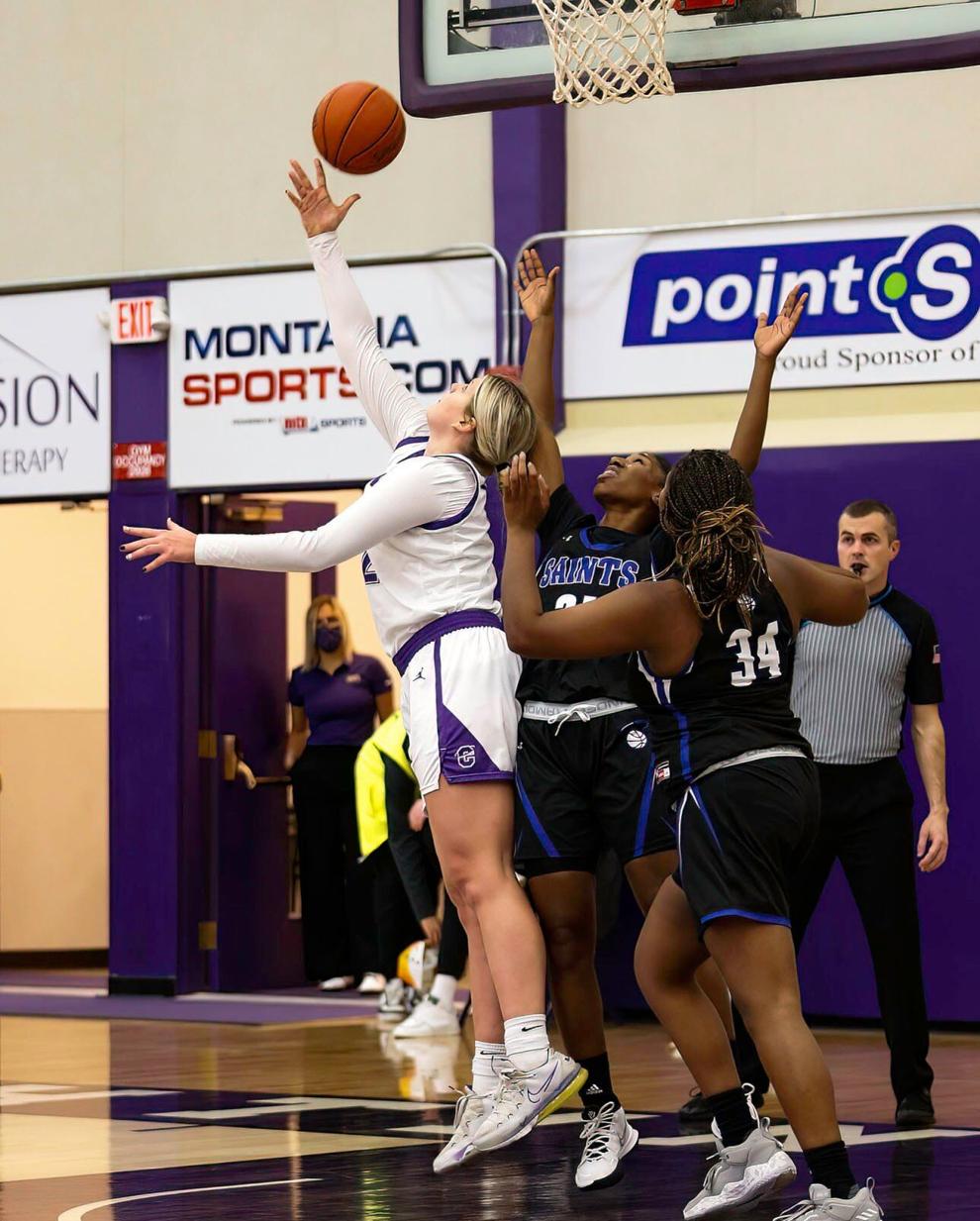 "It was nice to get our post game going. I think our 5's were unbelievable," Carroll head coach Rachelle Sayers said. "Jamie and Maddie just dominated the paint, which we know they can, and tonight they proved that...Jamie got off to a really good start. We knew we had a little bit of a size advantage with them. We wanted to get her going early and then she just started having success. That's one thing about this team: they recognize who has the hot hand. You see a lot of different people feeding her the ball."
With the 30-point victory, each of the Saints' five wins this season have been by at least 20 points. In the early-going, however, it looked as if OLLU would test Carroll and provide a wire-to-wire contest.
Despite Pickens' early out-burst, OLLU hung with Carroll, matching them point-for-point mid-way through the second quarter. Carroll ripped off a 14-2 run and staved off an OLLU run to hold a 13-point halftime edge.
Sayers employed her team's zone defense coming out of the break, and after the initial 10 minutes of play in the second-half, saw her team take a commanding 22-point advantage.
"We wanted to start in it a little bit tonight," Sayers said of the zone. "I was worried about their offensive rebounding. I felt like once we kinda got settled in our man defense and we were keeping them off the offensive glass it was time to use it. We haven't used it a ton, it's still a work in progress, but I thought tonight it definitely saved us."
That zone, which takes different looks and can feature a corner trap, helped Carroll turn OLLU over 26 times. Three different Saints picked up at least three steals in the win, and Carroll got 33 points of those turnovers.
"Our defense is leading to our offense right now," Sayers said. "That was a really athletic team. They posed a lot of mismatch problems for us. I think our zone really helped us tonight. We were able to turn them over 26 times and score 33 points off turnovers. When you're able to do that, things are going well."
Carroll closed the first half on a 22-9 run, shooting 62.5 percent (10-for-16) in the second quarter. The Saints bested that mark with a 69.2 percent (9-for-13) effort to open the second half and put OLLU away with a nine-point scoring advantage in the third.
Dani Wagner scored 12 points as the only other Carroll starter in double figures. Christine Denny and Kamden Hilborn each finished with nine points.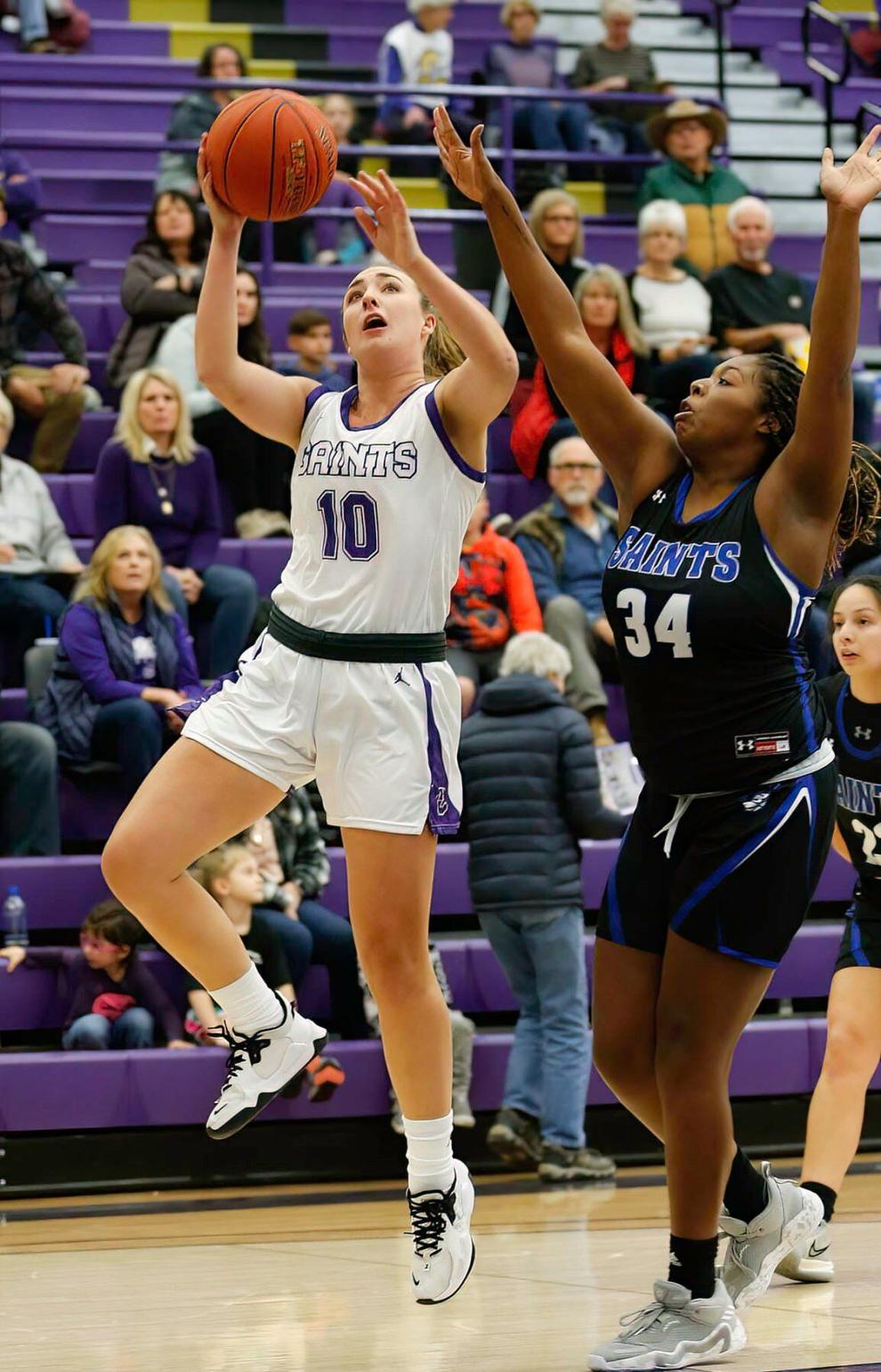 Addi Ekstrom, a freshman from Bozeman High School, added 11 points, seven rebounds and three steals in just 15 minutes of play. She buried five of her seven shot attempts, made a 3-pointer and was credited with three offensive rebounds.
"I thought Addi played her best game as a Saint," Sayers said. "I think she gave everybody a glimpse of the type of player she's going to be for us. We threw her in there in a lot of different situations against a good team with a lot of pressure. She played some point [guard] tonight, she played some two, she played some three. We were down a couple guards tonight, so it was nice to get her in there and get good, quality minutes. You got to see what she's capable of."
Carroll, now 5-1 on the season, is scheduled to play Whitworth University on Friday. Tip off from the PE Center is slated for 7 p.m. It is the Saints' final home game before their first Frontier Conference game on Dec. 2.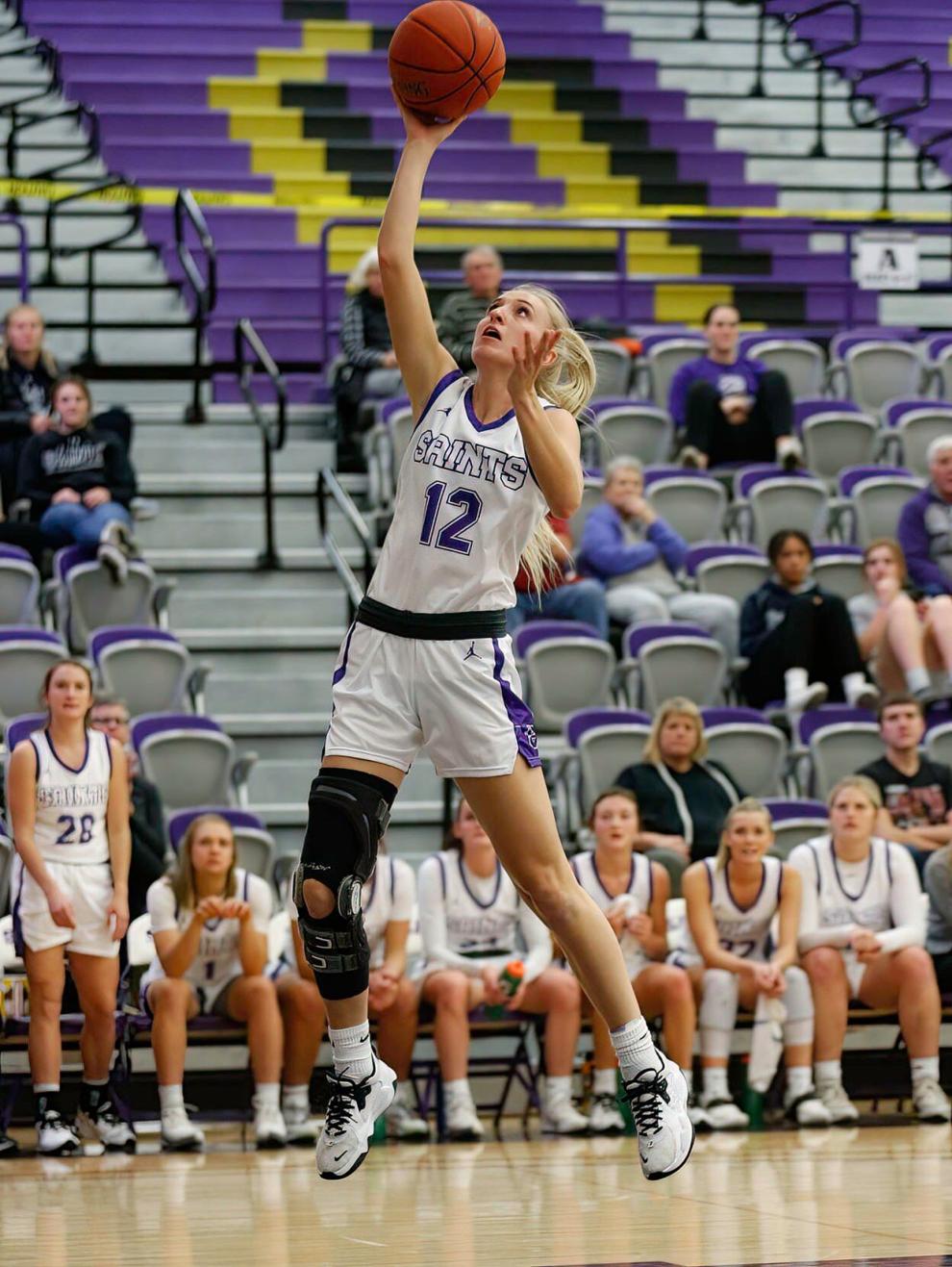 Carroll men use fast start to beat OLLU
It almost feels like Kurt Paulson's team is playing better every night. That is probably the goal of a non-conference schedule, but mere hours after assuming the No. 5 spot in the NAIA top-25 poll, Carroll's men's basketball team played like that kind of team.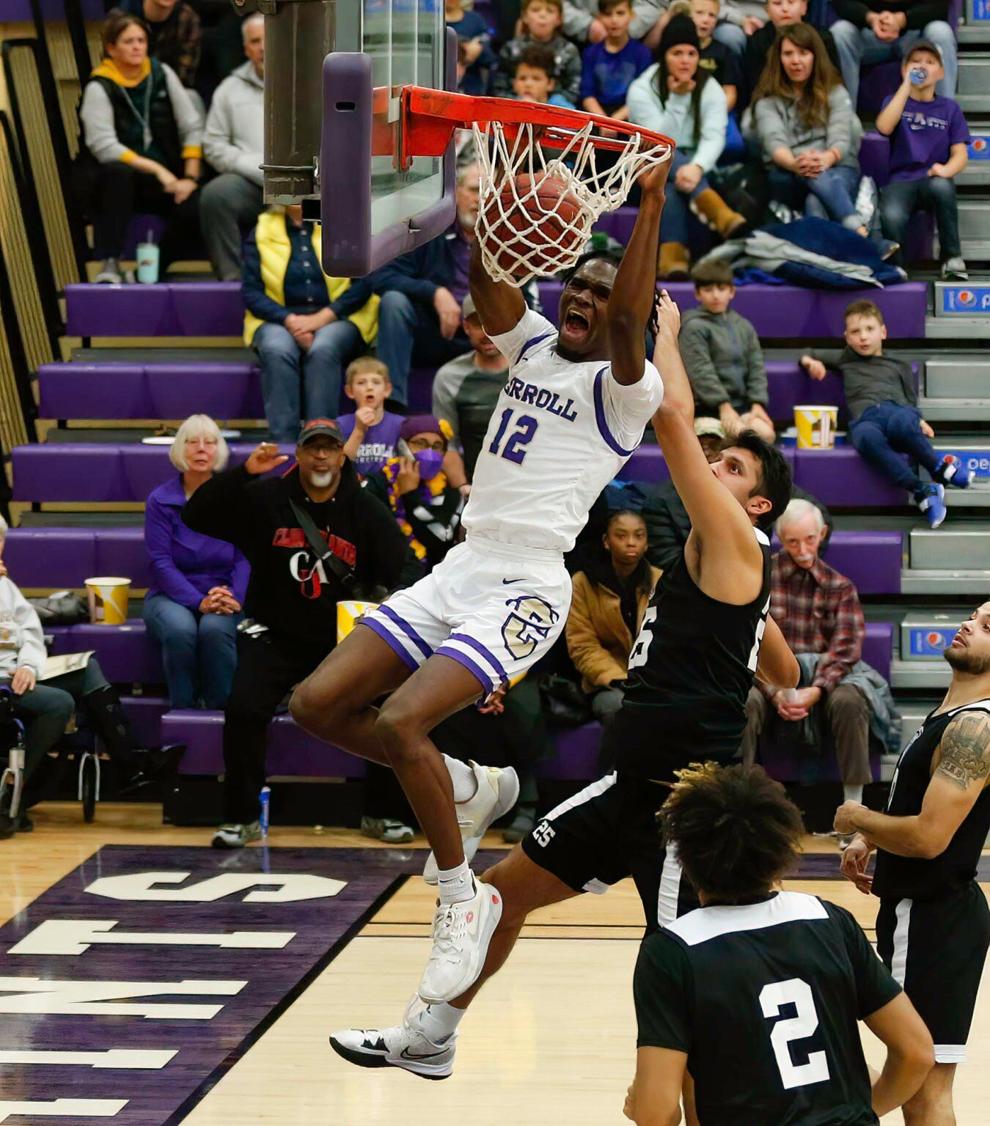 "We had great preparation for this game," Carroll senior Jovan Sljivancanin said. "Since Saturday we've just been preparing everyday for Our Lady of the Lake. Coach told us they're really good, athletic and big. We had the perfect game plan which really helped us at the start of the game, knowing all their tendencies and what they're going to do. We just executed on our home court, just like every other game."
Carroll jumped on OLLU early and often, scoring 20 of the game's first 25 points and draining eight of its first 11 shot attempts. Mid-way through the first half, the Saints' lead was pushed to 20 points with a thunderous dunk from Ifeanyi Okeke.
OLLU rallied to cut that deficit to 16 points, but Carroll took a 20-point halftime advantage into the locker room on the back of 64.7 percent (22-for-34) shooting in the opening 20 minutes.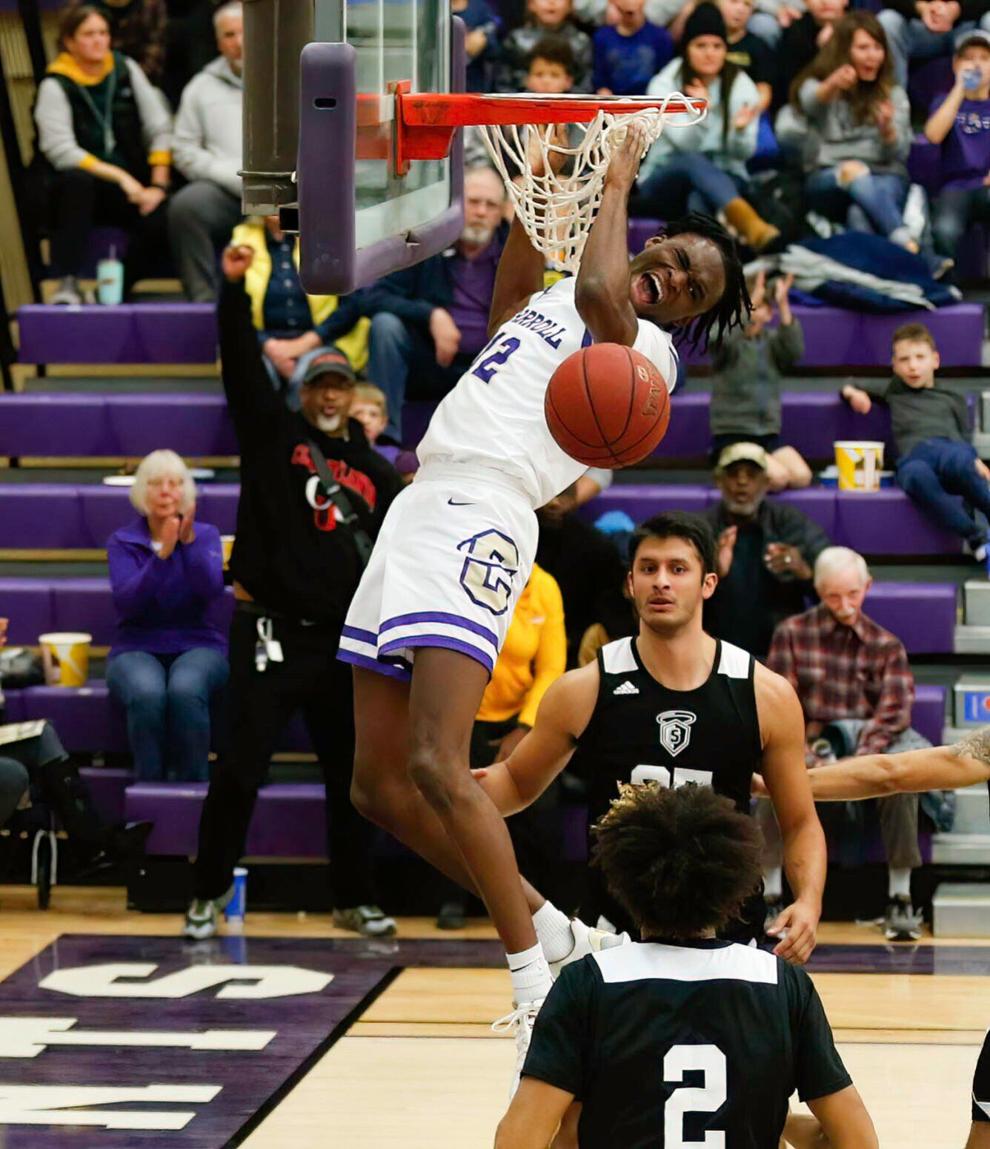 "It was a scary team. They have a lot of seniors, they're an older group," Paulson said of OLLU. "They've been winning coming in...I knew they were going to be really good. Our guys are playing with a lot of confidence. I can't quite say I expected us to get up 20 [points] at half. I did not expect that, but our players are playing with some confidence."
Carroll made the NAIA Tournament's Round of 8 last season and lost just one impact player from that team. Sljivancanin said the chemistry that has been forged in the players' time on the court together is a strong source of that confidence. He said everybody on the team trusts each other to make plays for one another and that everyone knows their respective roles and how best to execute them night in and night out.
That confidence can also come from the preparation aspect Sljivancanin was talking about.
"I think the confidence comes from practice," Paulson said. "They practice very hard and they take the weight room seriously and study hall seriously. When the games come, they know they're prepared and that they put in the time and the work. The confidence comes from the preparation in practice and in the classroom."
Sljivancanin notched his seventh double-double in the last eight games with 16 points and 10 rebounds. He also added five assists and two steals in 28 minutes on the court.
One of Sljivancanin's assists led to a two-handed dunk from freshman Andrew Cook in the first half. Cook moved toward the basket on a back-cut and Sljivancanin found him for the high-flying two points. Cook finished the game with just four points, but picked up five assists, a rebound and a steal in 17 minutes as the back-up point guard.
"I just expected him to lay it in and the next thing I saw was him hanging at the rim, which was incredible," Sljivancanin said of that play. "Him as a freshman doing that — his future is bright. Getting all these minutes as a freshman at point guard, leading the team, that's really going to help him in the future. I'm really excited for him, he's a great player."
Brendan Temple poured in a game-high 17 points on 8-for-8 shooting. He finished at the rim with both his left and right hands, and contributed a block, steal and two rebounds in the win. Temple's effort resulted in a season-high amount of points for the junior big man.
"Brendan had a really good talk with Gary Turcott a couple weeks ago about putting in a little bit of extra work," Paulson said. "He bought into it and he's been putting about 15 minutes in after the practices and shooting those shots. It's paying off."
Carroll outrebounded OLLU 39-23 on Wednesday, including 9-6 on the offensive glass. The Saints shot 55.6 percent (35-for-63) from the field for the game and amassed 27 assists. OLLU shot just 34.6 percent in the game's opening half and turned the ball over 15 times in 40 minutes, leading to 18 Carroll points.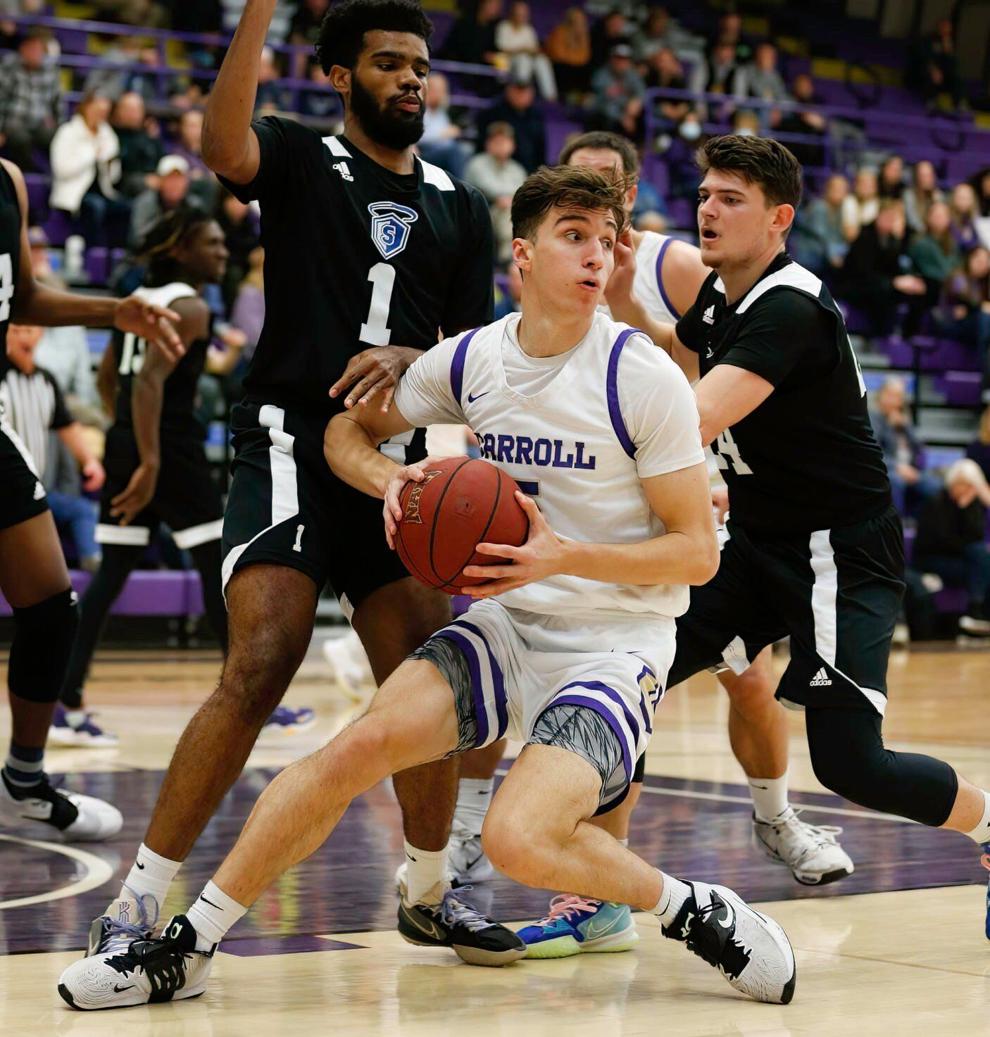 With the win, Carroll stays perfect in non-conference play at 8-0.
"It's a great feeling just knowing that all our practices and workouts are paying off," Sljivancanin said. "Coaches and players are doing great things. We just gotta keep doing the same thing. Obviously it's working, so we just gotta keep doing what is working. It's exciting, 8-0. This group of guys has huge potential...Unlike last year where we had a slower start — we learned from it and now we're executing this year and I'm really, really excited."
Carroll faces a quick turnaround and is scheduled to play Bushnell and Corban Universities this weekend in Eugene, Oregon, at the Bushnell Classic. Tip off against Bushnell is slated for 6:30 p.m. on Friday, with Saturday's game to follow at 2:30 p.m.
"The guys were happy," Paulson said of the locker room post game. "We got everybody in the game. A lot of excitement. We've gotta carry it out to Oregon. We leave [Thursday] and have two more tough ones Friday and Saturday."