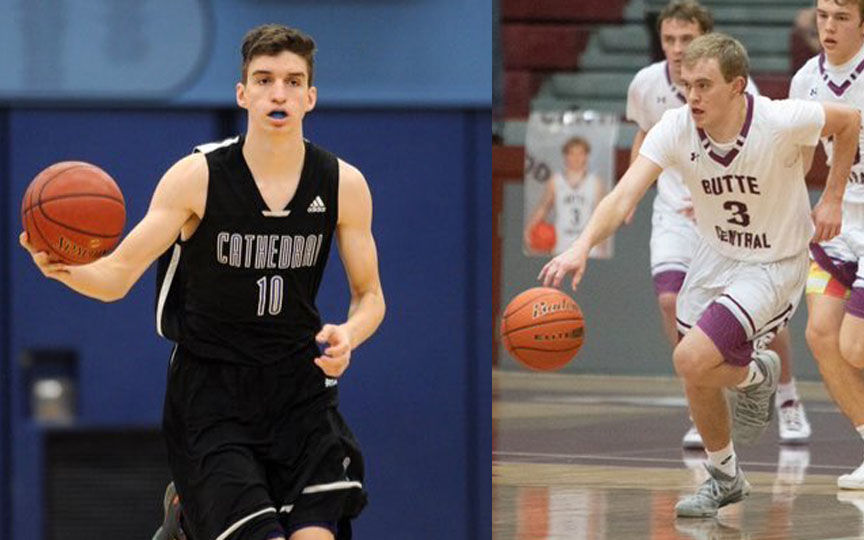 HELENA — Carroll College men's basketball coach Kurt Paulson said after the end of the season that he wanted to find a wing player during the offseason.
And it didn't take long to sign one.
Paulson announced late Monday afternoon that he signed 6-foot-6 forward Guilherme Pedra from Los Angeles.
"I just felt it was a great opportunity to finish my academic and basketball goals," Pedra said. "It really made a big impact on my decision."
Pedra could not visit the campus in person because of the COVID-19 pandemic but made sure to stay in contact with the coaching staff.
"It was different," Pedra said. "But they really made me feel comfortable with everything. He sent videos of areal tours but I"m going to have to wait to really explore the campus."
Last season Pedra helped Cathedral High School to a 24-5 record and averaged 24.8 points and 5.7 rebounds per game.
"He can really do it all. He can shoot, get to the rim and runs the floor well," Paulson said. "He's long, athletic, and also a great passer."
Paulson's recruiting class will not be big as the Saints only graduated one player from last season's roster in all-American Dane Warp.
But Paulson wanted to bring in a forward that is long with the body type of Jovan Sljivancanin, Gaven Ramirez and Ifeanyi Okeke but knows as an incoming freshman, Pedra will have to improve on some things before the season starts.
"He will have to work on strength and conditioning," Paulson said.
Before Pedra played his three seasons at Cathedral he grew up in San Paulo, Brazil and played for club teams Palmeiras and Paulistano.
Carroll adds Butte Central PG Luke Heaphy
The Saints also added Butte Central seiner guard Luke Heaphy.
Last season he helped the Maroons to the state title game before the tournament was cancelled because of the coronavirus pandemic.
"It's such a cool culture," Heaphy said, of Carroll College. "It's like a family there. I feel like their players do it for one another, not just themselves. It's super exciting to have that opportunity."
Paulson said Heaphy attended Carroll's summer basketball camp last summer and will be a great addition to the roster.
"We liked him, kept in touch and he decided to sign with us," Paulson said. "He's a good shooter and scored a lot of points from behind the 3-point line."
Carroll finished last season 24-9 overall and received a No. 3 seed in the NAIA National Tournament.
Ryan Kuhn covers Carroll College athletics and high school sports for the Independent Record and 406mtsports.com. Follow him on Twitter at @rskuhn
Be the first to know
Get local news delivered to your inbox!