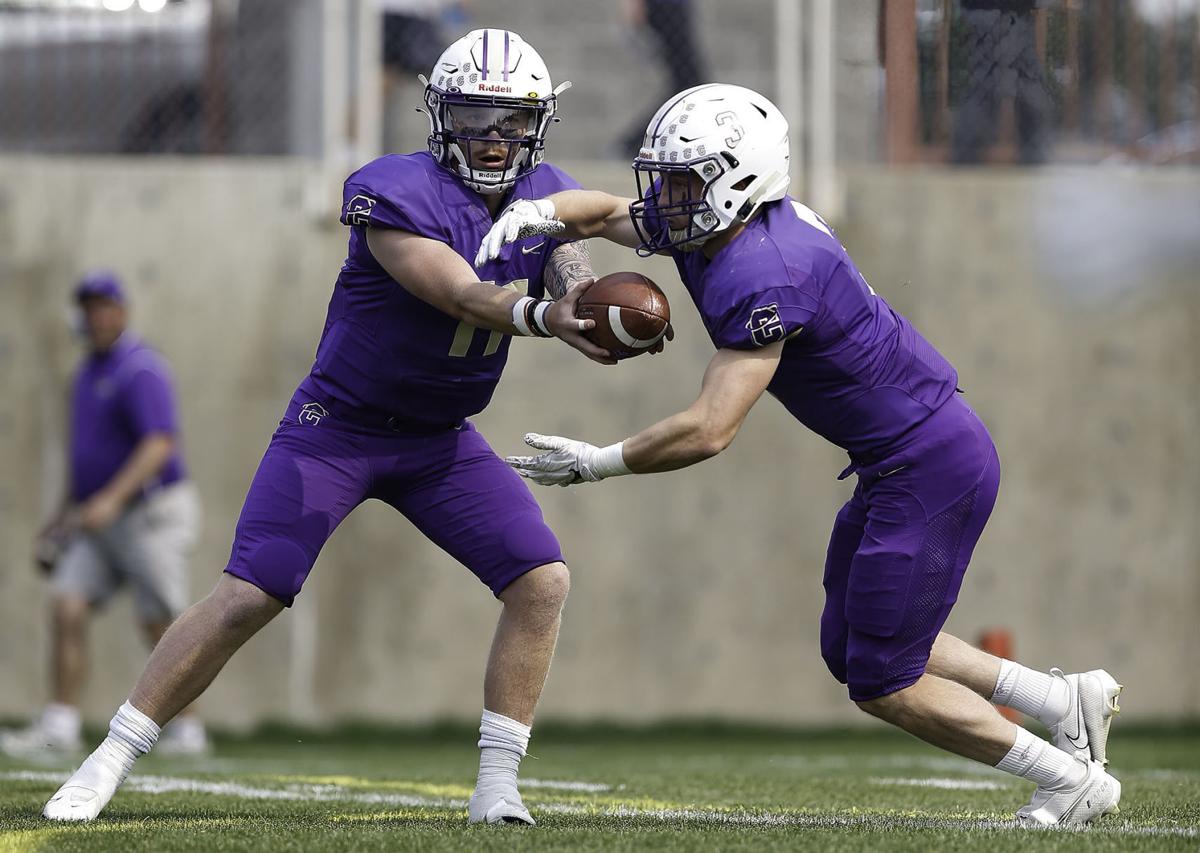 HELENA — The good news, and the subsequent bad news, for Carroll's football team is that its two losses this season have been by a combined seven points.
"Those ones are hard," Saints head coach Troy Purcell said. "When you get beat 35-7, well, they're probably a little bit better team than you are. It's the close games that really test your soul. You try to make those little things right. From the coaching staff to all the players everybody has just gotta continue to improve. Put guys in the right spot to be successful and the effort we can take care of."
The common thread in those two losses, much like every team that drops a close contest, was missed opportunities. A three-point loss to Eastern Oregon last Saturday was perhaps the more egregious display of those missed opportunities as Carroll had a shot to take down a top-15 team in the NAIA.
"I've been thinking about that a lot since Saturday," Carroll senior wide receiver Kyle Pierce said. "I think the worst part about Saturday was we lost because of things we can control and the best part about Saturday was that we lost because of things we can control. In order to win, we've gotta treat every single play like it's the most important play in the game, in the world, because it might be, we just don't know that."
That is a sentiment Carroll has been stressing for the last couple seasons. In crunch time, the idea of focusing on one play at a time becomes magnified, and despite putting themselves in situations to be successful in the fourth quarter in each of their two losses, the Saints' execution -- particularly on offense -- just has not been where it needs to be to produce victories.
"It's not the problem of us not finishing, it's the problem of us not executing at the times we need to execute," Carroll offensive lineman Andrew Carter said. "If we execute when we need to execute, we'll be alright. Penalties got us. All it is, is execution. It's us having the mental intensity to execute every play."
In a four-point loss to Montana Western to open the season, there were a handful of plays that, after the Saints had dug themselves out of a hole, Carroll needed to hold off the Bulldogs. Last Saturday with Eastern Oregon in town, the game was up for grabs tied 0-0 at halftime.
"We've just gotta make sure we take advantage of some opportunities, on special teams, on offense, on defense and put a complete game together," Purcell said. "When you're playing a great team like that -- we had an opportunity with the No. 13 team in the nation and we just came up short."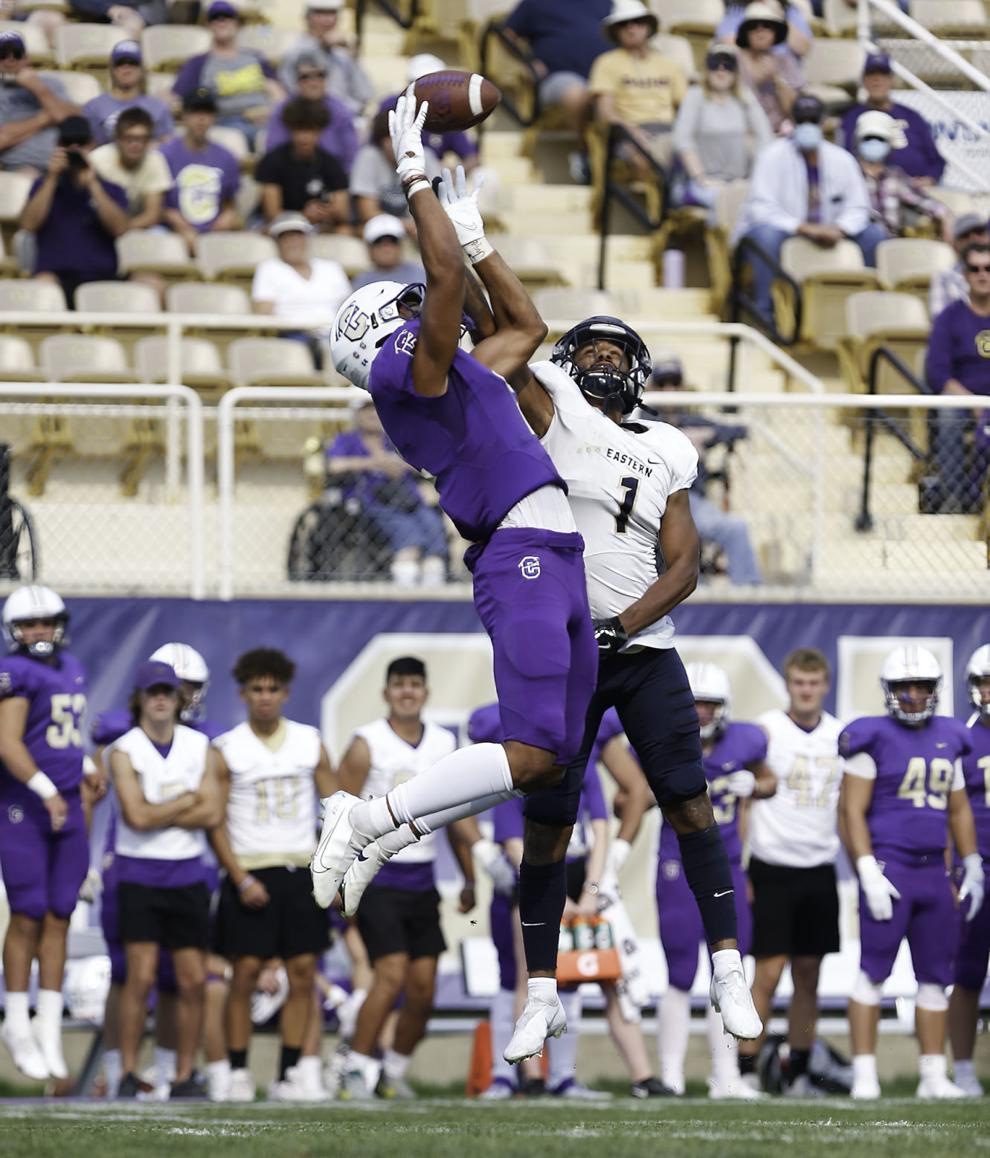 Four big moments in the second half of the EOU contest helped swing the momentum toward the Mountaineers. A Carroll turnover on the second play of the third quarter seemed to set the tone for how the final 30 minutes would go for the Saints, and primed EOU for what would be the one and only offensive touchdown of the game.
In the fourth quarter, Carroll appeared to convert a 4th down and 4 play that moved the ball inside EOU's 10-yard line. It was called back for offensive pass interference, and after a delay of game penalty, Carroll punted trailing by 10 points.
"We started feeling the pressure a little bit," Pierce said. "You go a whole game without scoring a touchdown, you start to feel pressure a little bit when it gets to be crunch time in that fourth quarter. That's the beauty of treating every play like it's the most important. Maybe we get one or two of those in the first or second or third quarter that go our way instead of the other way, and all of a sudden we're not in that spot anymore. It's tough because it could be any one play and that's exactly how we've gotta treat every play."
On Carroll's final two drives following a defensive touchdown that pulled the Saints to within three points, Carroll moved the football well, but each resulted in the ball going back to EOU and with the Mountaineers retaining the lead.
"It's just frustrating," Purcell said of close losses. "These guys work so hard and it's so hard to get a win. It doesn't matter if it's 101-100 or 2-0, just coming out of there with a win. It just shows your dedication. You're getting up at 5 a.m. and the grind of the season and the love and passion of the game and what they feel for each other as teammates. You want that for this team. You want them to win these close games...We just gotta do more and prove more, and then when those games and those situations come about, find a way to win those and execute better."
Continuing to focus on fundamentals of each aspect is something that, along with effort, Purcell believes can help address execution issues. It also takes, according to him, believing from the outset of every game that every play is important, because it might be the first play in a contest that makes up the difference.
Pierce said there is no magic switch between how the team handles practice and plays in a game. In other words, good practices typically lead to good results on game day. He said that when the perfect effort starts coming on every single play, then those one or two plays that have not broken Carroll's way thus far should start falling in the Saints' direction.
"Coming out to practice and having good energy," Carter said of how execution could be cleaned up. "Being in the meeting room asking questions. Just so when you're out here you don't have to think where you're going, you can just go there, you can be at full-speed, play full-speed, have good energy...Realize that not a lot of people get to do this so when you come out here, it's a blessing that you're out here playing and you should bring the energy that it takes to be the best you can be."
In what figures to be a competitive Frontier Conference, Carroll's coaching staff and players understand that, if you are not getting better, you are falling behind. That is why their efforts to continue working on execution and finding ways to win close games is so important as the season deepens.
"If you get some stagnant weeks and you're not improving and everybody else is, then you're gonna fall behind," Purcell said. "We just gotta keep emphasizing our one rep mentality, keep emphasizing doing your job and improving every time you get a chance."
Coming off a home loss on Saturday, the Saints are now firmly in the midst of a tough portion of their schedule. They will be on the road each of the next two weeks against out-of-state opponents in Southern Oregon and College of Idaho.
Shaking off, but learning from what happened on Saturday will be key for Carroll as the team looks to pick up its first road win of the season.
"I was upset about it for about three hours after the [EOU] game," Carter said. "Called my family, got to talk to my family for a little while. Saw my teammates a little bit that night, too. I looked at all of them and said we're gonna get them next time and let's go beat SOU. Just look toward the next game, that's all you can do."