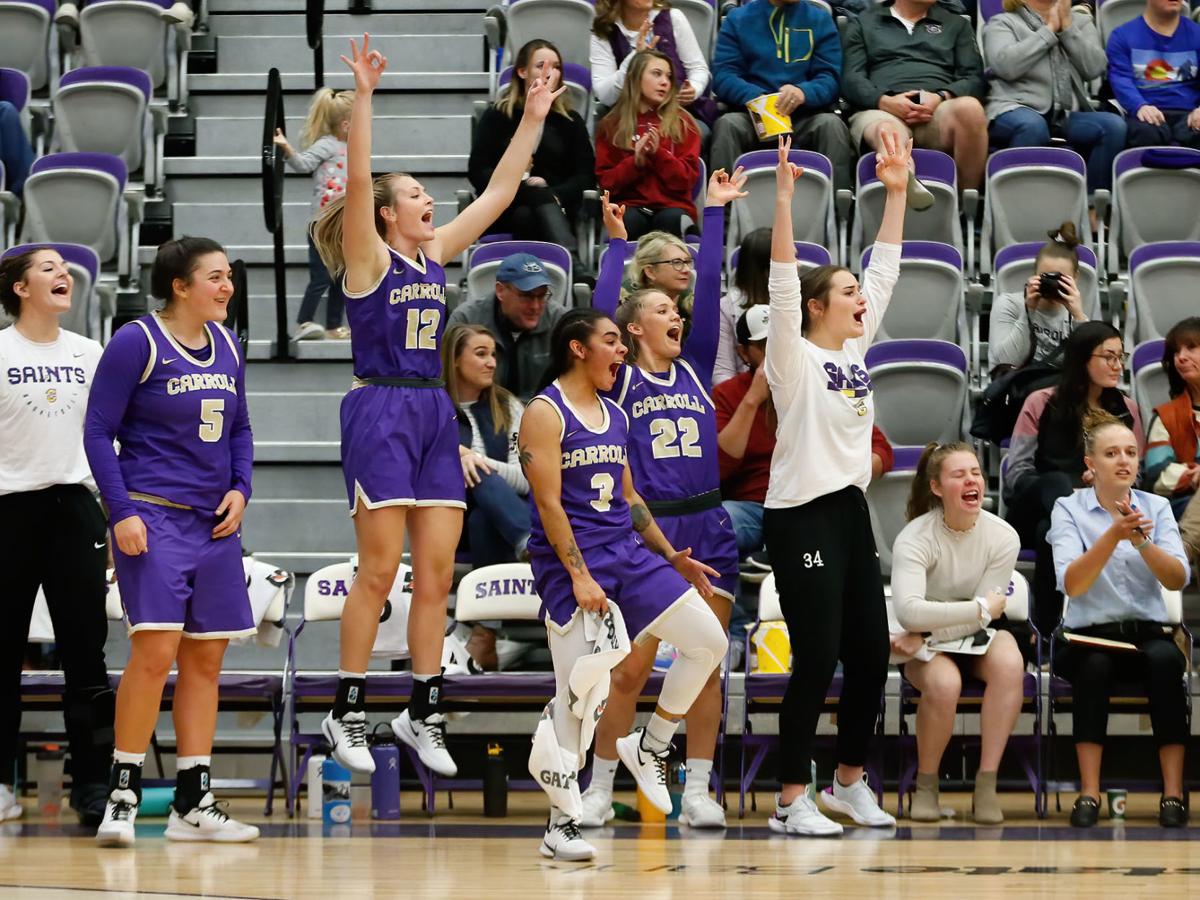 HELENA — Carroll College women's basketball coach Rachelle Sayers let out a chuckle after practice on Monday.
"It's been awhile since we have been here," Sayers said, looking around the PE Center.
The Saints returned home to host two Frontier Conference home games after spending most of November on the road in Washington, Oregon and Idaho.
But while the journey spanned roughly 1,600 miles, Sayers said it will prepare them for the months ahead.
"I think they showed a lot of discipline on the road," Sayers said. "It builds a lot of character and makes them understand how hard this is going to be to have the season they want to have."
Carroll (6-3) finished the trip with four wins and saw some quality opponents. It lost to NCAA Division I Montana State and NCAA Division III Whitman University, but came back to win the last three games, including a 69-60 win over No. 17 Eastern Oregon.
Since Sayers arrived in 2011, the Saints have made it a point to schedule NAIA nationally ranked teams, and stayed away from lesser competition from local schools in the National Christian College Athletic Association.
All other Frontier Conference teams have scheduled NCCAA schools Yellowstone Christian College or Salish Kootenai College at least once this season.
"I want to challenge (my players) every season," Sayers said. "We aren't going to get better by not doing that."
"It can be difficult," junior guard Danielle Wagner said. "It's a different environment (to play on the road), but with the early conference games this week, it has prepared us and we have to be ready to go."
Frontier play begins
Carroll jumps right into the Frontier Conference this season against Montana Tech (8-1).
Sayers said that the recent road trip to Idaho against College of Idaho and Eastern Oregon was good preparation for the style that the Orediggers play.
"Both teams were fast and they play aggressive," Sayers said. "It's what we are going to see."
Montana Tech struggled last season, finishing last in the Frontier Conference with just three conference wins, but returned the majority of its roster.
You have free articles remaining.
Mesa Williams and Mollie Peoples will make up the bulk of the scoring with Dani Urick and Kaylee Zard as role players.
"They are a year older, so you have to expect that they will be more mature in the system," Sayers said. "They are going to come in ready to go."
The Orediggers also brought in freshman forward Tavia Rooney from Broadwater High School in Townsend.
In her first college game against the University of Calgary, she scored 13 points, and then three weeks later scored a career-high 15 points against Northwest University.
But she can do more than score.
Rooney already leads the conference with 11.6 rebounds per game and grabbed 22 rebounds last week against William Jessup.
"She is a rebounding machine," Sayers said.
Carroll has had success against Montana Tech, winning the last seven meetings, but, more importantly, has had success at home.
Over the last three years, Carroll has won 85 percent of its games at the PE Center.
"I think the players are excited," Sayers said. "There is nothing like coming home and facing Tech."
Mad Dog Geritz
Forward Maddie Geritz is described as one of the more influential players on the team, with a contagious positive spirit.
"She is the funniest person on the team, by far," Wagner said.
Now, the redshirt freshman is making an impact on the court.
After spending her redshirt year watching and learning, she is contributing 8.2 points and 2.6 rebounds per game.
And yes, she is still vocal on the bench.
"She is giving high fives, butt slaps. She is doing everything for us," Wagner said.