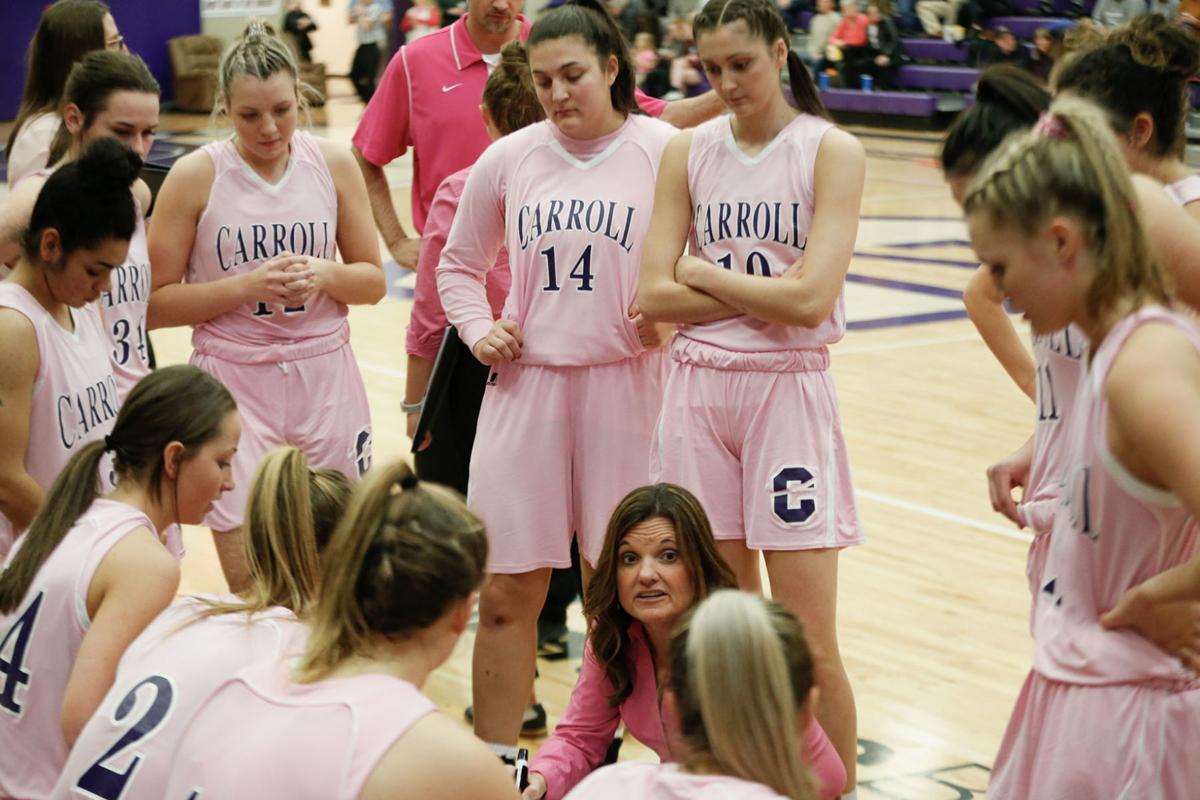 There is nothing normal about sports in 2020 and Carroll College is no different as the Saints men's and women's basketball teams are making their home debuts later than usual.
They are also taking the floor at the PE Center for the first time without fans in attendance as they get set for a doubleheader with Dickinson State Friday night.
"We have been working closely with the Lewis and Clark County Public Health Department and the Frontier Conference to establish hosting protocols to preserve the health of our community," Carroll athletic director Charlie Gross said in a press release. "Carroll College hopes to do its part in keeping Helenans safe.  At this time, it's in everyone's best interest if our loyal fans stay home and enjoy the basketball games from afar. We feel fortunate that our student-athletes are able to compete and look forward to seeing the bleachers once again filled with Purple and Gold when we can allow spectators to attend."
For teams in the Frontier Conference, there will be no spectators through at least Dec. 31, but even without fans, there is plenty of excitement.
For the players and coaches, it also brings a sense of relief. 
"There is so much more that goes into the games leading up," Carroll women's basketball head coach Rachelle Sayers said. "The game becomes a lot more enjoyable once you get to it because you know you are going to play. In the past you were so stressed about doing all the preparation and now, when we get to the game, it's like alright, let's go."
Both Carroll teams traveled out of state to open their seasons, with the women going to Nebraska and defeating Dakota State (69-65) and Concordia Nebraska (73-66) on Nov. 6-7. 
"It was a great trip," Sayers said. "We had to travel almost 20 hours to get there, but we were excited and it just felt so good to get to to do what we haven't been able to do. It was just great for the kids to get the opportunity to do what they love and to have some normalcy for those 40 some minutes each day."
The two games in Nebraska also served as the Carroll debut for former Helena High great Jamie Pickens. 
Pickens, a former Gatorade Player of the Year, transferred from the Lady Griz and didn't disappoint in her debut, averaging 17.5 points per game on the trip for Carroll. In the second game, she netted 23 points and grabbed nine rebounds on her way to being named Frontier Conference Player of the Week.
"Jamie's situation is a little unique because she is joining a team that already has that cohesion of playing together," Sayers said. "Adding a player of her caliber is unique too and I think she's handled it really well." 
The transition has gone smoothly, but there are still some kinks to work out.
"There was a couple of times in Nebraska I called out a play, knowing we do have that mature team out there," Sayers said. "And she gives me this weird look and I remember, Jamie has never done that before. So I've put her in a few of those situations and she's probably having a harder time adjusting to me than anything else because I forget that she hasn't done some of these things; she's such a good player and she's fit in so well, I forget that just because she is operating so well with our team doesn't mean she knows plays we ran last year."
Adding Pickens to a team that already returns two All-Americans in Christine Denny and Danielle Wagner has made the Saints the preseason favorite to win the Frontier Conference once again. 
Kamden Hilborn, another former Helena High grad, is also back in her second season with Carroll after transferring from Montana State, while the Saints also feature other veterans such as Sienna Swannack and Jaidyn Lyman.
20th-ranked Carroll (2-0) will take on a Dickinson State team (1-1) that will be led by Courtney Olson, Lilly Kelley, Ashlie Watts and Dakota Dosch. The contest will be just the third of the season for Carroll and the first of four non-conference games that remain before the start of Frontier play on Dec. 5 against Montana Tech.
"We were a little sloppy in Nebraska," Sayers said. "Part of that was a lack of practice. We had 18 or 19 turnovers I think over the weekend and we are a better team than that. So we need to do a better job of taking care of the basketball and also trying to have a better understanding of what we want to do offensively."
Following the women's game, which will tip-off at 5 p.m., the Carroll men's team will also host Dickinson State at 7 p.m.
Last week, the Saints opened their season and head coach Kurt Paulson's team posted a 1-1 record in South Dakota, knocking off Presentation College (80-41) but also losing to No. 7 Morningside (81-59). 
"We need a better overall effort than our last game," Paulson said. "We didn't take good shots and we settled for outside contested jumpers against Morningside. Our focus will be to execute and play harder. Those are things we can fix."
Like Pickens, Shamrock Campbell earned Frontier Conference Player of the Week honors after he averaged 18 points per game and made 10-of-17 shots from 3-point range.
Carroll's opponent will feature Bryce Knox, who was the NSAA Player of the Week as he averaged 18.5 points, eight rebounds and four assists in the Blue Hawks (1-1) first two games.
The Saints will also be bolstered by returning All-American Jovan Sljivancanin and also Dennis Flowers III. The Carroll men are scheduled to play Dickinson State one more time next Saturday before the Dec. 5 Frontier opener against Montana Tech. 
Chris is the sports editor and lead preps reporter for the Independent Record and 406mtsports.com. Follow him on Twitter @cmpetey406