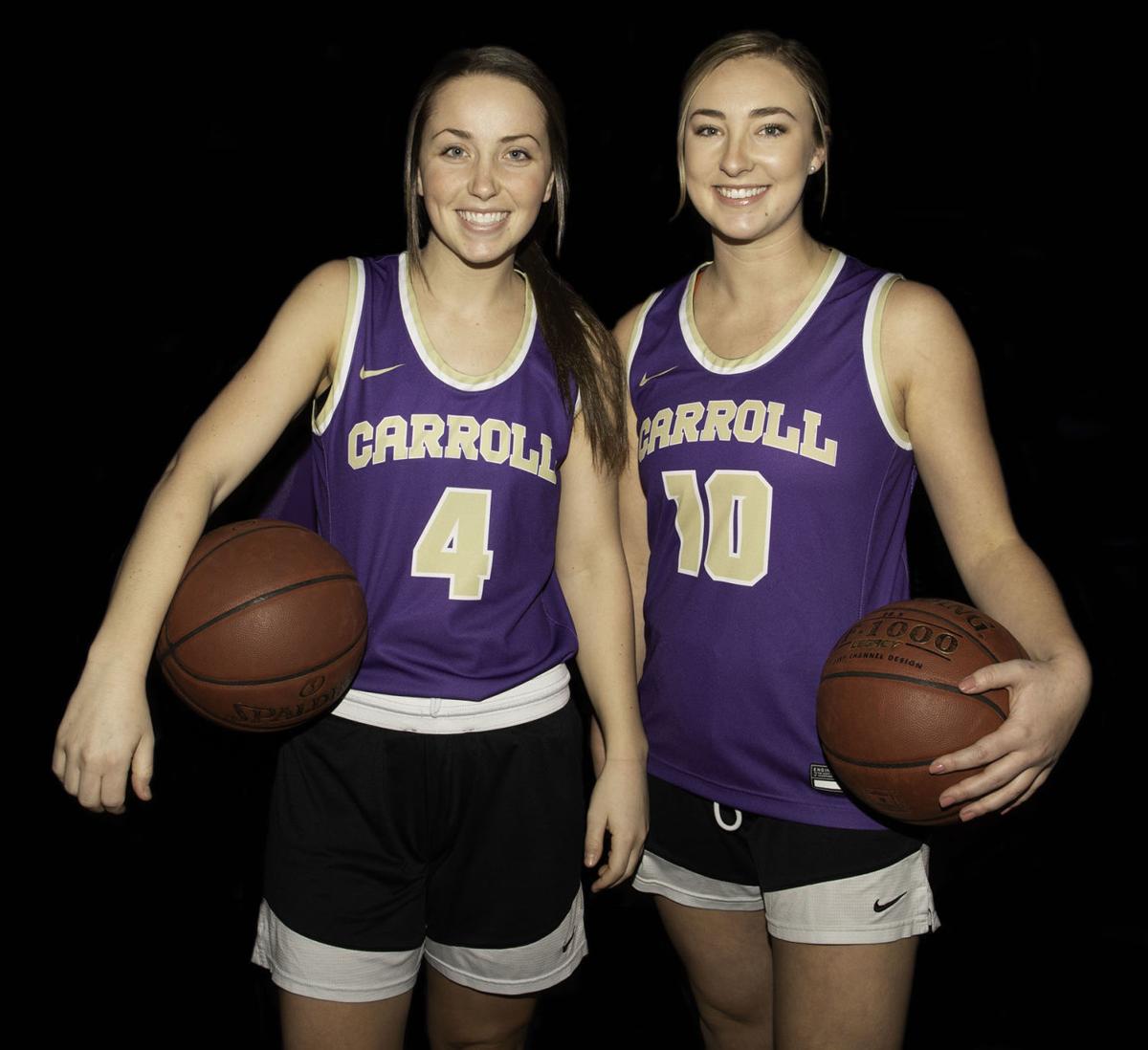 HELENA — Over the last four years, fans of Carroll College have had the pleasure of watching two players that will go down as two of the best to ever pull on the purple and gold. Seniors Danielle Wagner and Christine Denny would finish 15th and 16th, respectively, on the Carroll women's basketball all-time scoring list if they never scored another basket.
Playing together over the last four seasons, Wagner and Denny have accumulated 2,268 points between them and can call themselves All-Americans, distinctions they both earned last year.
"The success that they've had kinda speaks for itself," Saints head coach Rachelle Sayers said. "Both of them have had so many great games, so many game-winning plays. I think more importantly is the standard that they set for their teammates, for themselves, for our incoming players, just what the expectations are to put on that Carroll Saints uniform everyday."
This duo is part of a five-player senior class that has largely been responsible for 89 wins and counting over the last four campaigns. Wagner redshirted during the 2016-17 season and then joined forces with Denny the following year.
As a freshman, Denny averaged 5.1 points per game after entering the program as a point guard. Since then, however, Denny has moved to the forward position and is in the midst of posting a career-high scoring average at 12.7 points per game.
"It's been crazy," Wagner said of playing with Denny. "She came in, started out as a point guard and transitioned, now she's our four player. It's been fun. She's so versatile and we work really well together and when we're on the same page, great things happen."
Wagner has made her own tweaks and adjustments to her game over time.
More of a slasher during her early days on campus, Wagner has added a knock-down shooting aspect to her bag of tricks, as well as the ability to distribute the ball and make plays for others.
For Sayers, that showcases off-the-charts maturity and trust in a program that wants to put its players in the best position possible to succeed.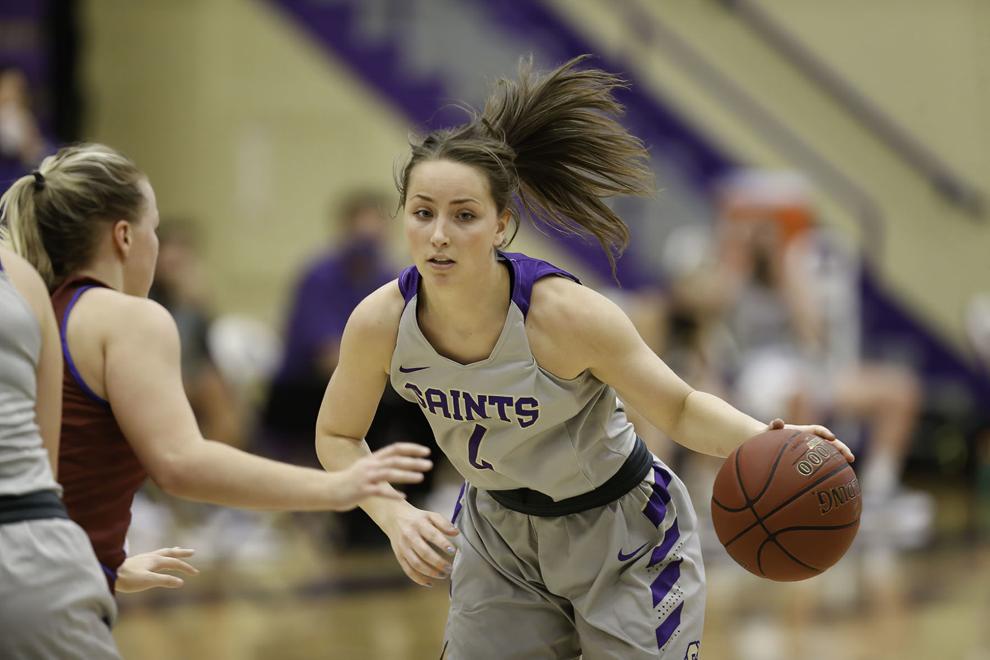 "This is the best she's played as far as being a playmaker, her assist-to-turnover ratio is the best it's been and her shooting percentage is the best it's been," Sayers said of Wagner. "She's been playing at another level, and I think it's just that trust in me and trusting in the program and the plan that we have in place."
While both Wagner and Denny have grown and developed their game on the court, the biggest step forward, according to Sayers, has been getting them comfortable playing with each other.
Used to creating shots for themselves, the All-American duo had to learn how to help each other create shots by making opposing defenses help off one to guard the other.
Working in concert with Wagner's scaled up play-making ability, both seniors are averaging right around two assists per game this season. Three times this year Wagner has dished out four or more assists, while Denny's season-high sits at six.
"I think now in their senior year you see a lot of good chemistry out there, you see them finding each other, making plays for one another," Sayers said. "When they're playing at that level, our team goes to another level and I've talked to them a lot about that. They're going to be the reason that we have a really, really good season this year. The better they can play together, the more they can sacrifice for each other, the more they can make plays for each other, the better we'll be."
Seemingly every season Wagner and Denny have taken a step forward on the court, the Saints have followed suit as a team.
Carroll has captured three Frontier Conference regular season titles and two conference championships with the help of Denny and Wagner. For their careers, the duo has combined to average better than 19 points per game, while Denny is currently ranked 12th on Carroll's all-time rebounding list with 558.
Carroll went 21-10 last season and earned an at-large bid to the NAIA National Tournament. Denny averaged 12.4 points and 6.4 rebounds per game on her way to First-Team All-Conference and Second-Team All-American honors. Wagner garnered an Honorable Mention All-American selection and was also First-Team All-Conference with her 13.4 points, 5.5 rebounds and 2.1 assists per game.
"It's been really good," Denny said of her time on court with Wagner. "I think it's cool to see that we can both have so much success while playing together at the same time."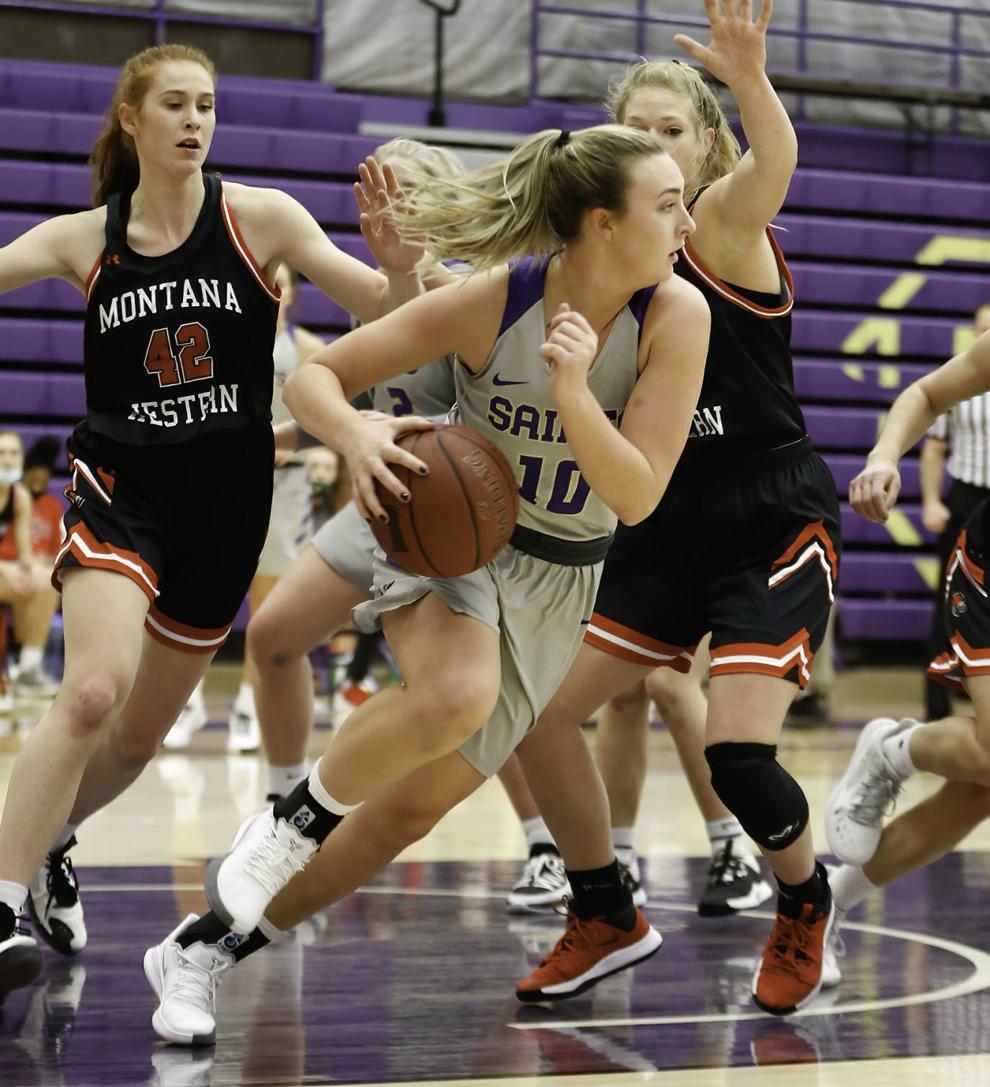 This season, Wagner and Denny are back to their old habits of dominating the stat sheet.
Wagner is leading the Saints with 14.7 points per game through 19 contests. She owns a top-20 mark nationally in 3-point field goal percentage at 44.6 percent and has made 45 total 3-pointers this season. Denny leads the team in rebounding at 6.3 per game and is third scoring 12.7 points per game. Her 26 steals rival Wagner's 29 as both are shooting better than 46 percent from the field.
"They're a tough task to handle, especially when you have two of them, one that's attacking from the high post, one that's attacking from the wing, and then both finding each other for open threes," Sayers said. "In my tenure, they're the best duo that we've had here. It'll be interesting to see how far they can carry us because I know they definitely have the will to carry us through until the end."
Carroll, like every other team in the country, was denied a chance at a national title last season due to the COVID-19 pandemic.
Sitting at 17-2 on the season and a near-perfect 11-1 in league play this year, however, the Saints are positioned for a deep run in the postseason. Already Carroll has secured the No. 1 seed for the Frontier Conference Tournament, ensuring the title will run through Helena and the PE Center.
Two regular season games are still to be played this weekend against Montana Western, and while Sayers said she does not plan to sit players, there will not be as much pressure surrounding these games as originally anticipated.
"It really takes the pressure off, especially for this weekend...Obviously you feel like you need to and want to win every game you play, but to be able to go in there and know that the stakes are kinda off," Sayers said. "We're just going to go in there and try to play as hard and well as we can play and really try to execute the things we've worked on in practice."
The last time Carroll played Western, Wagner won Frontier women's Player-of-the-Week honors after averaging 19.5 points per game in the Saints' weekend sweep. Denny added 25 points in an 81-75 win over Western on Jan. 16 in a game that saw the duo shoot a combined 14-for-25 (56 percent) from the field.
Last year brought with it an early exit from the league tournament for the Saints as Providence knocked them out in the semifinals. Sayers and her team still remembers that and has hung on to some motivation from that early departure that has the program wanting to finish this season strong.
"We got knocked out in the semifinals last year by Providence and they still have a bitter taste in their mouth from that," Sayers said. "[The players] want to finish this thing, they want to be conference champions, they want to be tournament champions. For these seniors to win three conference championships and three tournament championships in their four years is pretty amazing. That's something that is a goal of theirs and they want to do that."
Wagner and Denny will lead Carroll into the playoffs for one final time. As a tandem, they account for 38 percent of the Saints' scoring through 19 games and play a big part in a defense ranked 16th in the NAIA allowing just 57.4 points per game. While these games this weekend do not carry much weight in the standings, it very well could be a preview of the conference tournament championship game slated to take place on March 1.
"This is a team that we've seen the last three years or so, it's been Carroll and Western going at it," Sayers said. "This is the first two-game losing streak that Western's had, and they're going to respond well, they're well-coached. They know how to win, they're going to come out and fight and so we're going to have our hands full this weekend."
With Wagner and Denny together on the court, however, the Saints always have a good shot at winning, that much has been proven in their distinguished careers at Carroll.
Tip off from Dillon is scheduled for 5 p.m. on Saturday, with Sunday's game to follow at 2 p.m.