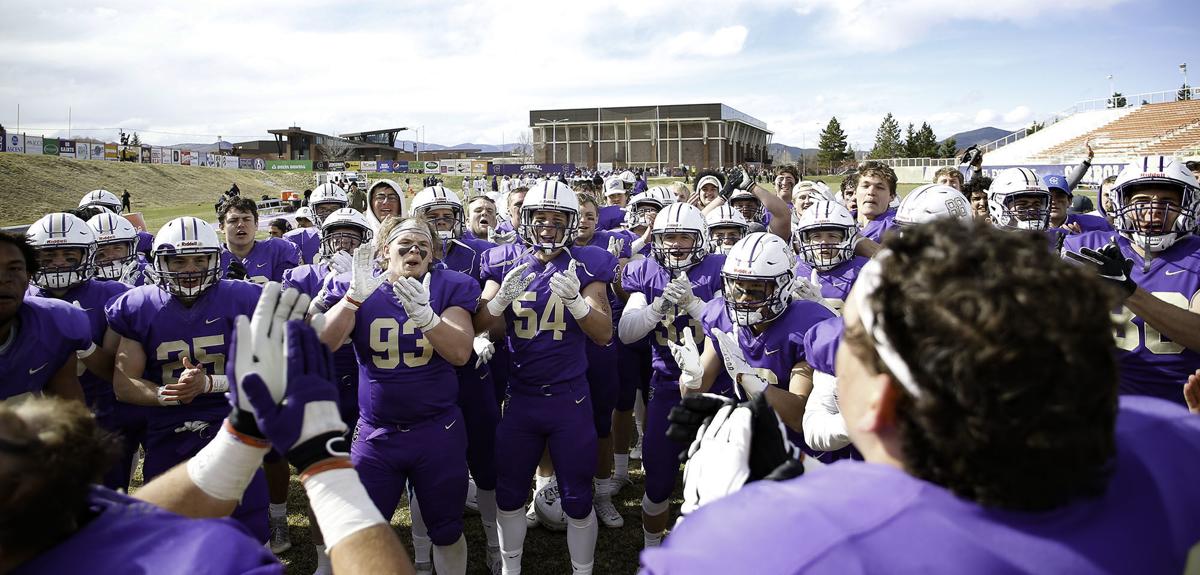 HELENA — Carroll's football team is nearly a month removed from completing a season unlike any other. Without a season in the fall, the Saints participated in a four-game conference-only schedule that some teams within the Frontier Conference chose to sit out.
At 3-1, Carroll won the Frontier Championship and captured the league's automatic bid to the NAIA Football Championship Series, providing the program five competitive games in lieu of spring practices.
"It gave [Alex] Hoffman an opportunity to get to the NFL as an individual," Saints head coach Troy Purcell said of the spring season. "It gave Matt Burgess an opportunity to be an All-American. It gave 85 guys an opportunity to get a conference ring, in this program and other programs, they're hard to get. It's fun to be the last team in Montana to be playing a competitive football game. It was just real good for the guys to understand football, and to have the game slow down for them. I think it was priceless, you couldn't put a price tag on it."
While spring practices and an intra-squad scrimmage or two can be competitive, those sessions often do not come with the added motivation and pressure of chasing a conference title against teams with personnel equal to or better than yourself.
It is those live reps that, according to Purcell, will only help the Saints, and that went a long way in cementing the mindset that Carroll's coaching staff preaches daily. The spring also rewarded the players with a taste of the postseason, something Carroll had not experienced since 2014, making the Saints eager to get back there quickly.
"The first part of that is understanding the effort and toughness and building up to the 'one play' mentality and winning the rep and moving forward...Then getting beat in the playoffs and understanding that we need to raise the bar, that we need to improve and this is the level we need to get to in order to compete at that level," Purcell said. "Even though it was a loss that last game, I think the kids came back and they said, 'yeah, I understand.' They're not content because of a conference championship, it just made them hungrier because we had an opportunity to get into the national playoffs."
Carroll's coaching staff will also benefit from live reps this spring on a deeper level than just player evaluation. With two first-time coordinators in Alex Pfannenstiel and Wes Nurse, the Saints got to see what worked and what did not from a play-calling standpoint while giving those coaches the added experience of calling plays.
"Anytime you get in front of live bullets as a play-caller or as a player, it does help prepare you," Purcell said. "You won't make the same mistake twice. You're still going to make mistakes, there's not anybody out there that is perfect...There's always room for advancement, always room to learn, so I thought they did a great job."
The trade-off for having competitive football games against an opponent was Carroll did not get to hit the weight room during the spring as much as Purcell would have liked. In order to make lifting happen in the spring, the coaching staff would have had to rotate players through the weight room in pods in case of a possible quarantining situation. While some of those pod workouts happened as scheduled, it did put a slight damper on the lifting goals of the team during the spring campaign.
Now, despite the season running a little bit longer than what a normal spring camp would have, Purcell said everything is right on schedule with a traditional off-season as players wrap up finals week and head home for the summer.
"It was just those three months when we were in the middle of our season that we maybe lost a little strength-wise, but the five competitive football games — to me, the teams that played and had some competition are gonna have the advantage starting into the fall," Purcell said.
Carroll's fall season kicks off a little more than 100 days from now when the Saints visit Montana Western. In preparation of that, the coaching staff has drawn up three different phases that those players who are in Helena over the summer will go through.
Phase one starts next week and runs through the first week of June and focuses heavily on adding size and mass to the players that need it most. The second phase builds off of that and starts to incorporate more on-field work including skelly sessions and every day drills. That runs from June 7 to around the first of July.
The third and final phase extends from just after the Fourth of July until August 1 and focuses on cardio work to finish getting the players in shape. Explosiveness and one rep power will also be worked on during this phase.
Check in for players is currently scheduled for August 3 and the Saints will hold their first practice on Thursday, August 5. That gives Carroll the opportunity for up to 20 practices before school begins on August 25 and the season shortly thereafter on August 28.
Between now and then, however, Purcell and his staff are working hard to put the finishing touches on their 2021 recruiting class.
"Just trying to finish up with the recruiting of the 2021 recruits," Purcell said. "We still need to get about five or six, either transfers or JUCO's that we've already had relationships or ties with or high school guys. We're looking at California, Washington, Oregon."
The Saints are also focusing heavily on early offers for the 2022 class, which, right now, includes a good amount of local talent. Numerous invitations have already been sent out to players Carroll would like to see attend its prospect and big man camps that are scheduled for mid-June.
"Those [camps] will be good opportunities to showcase the talent, it gives us an opportunity to see [the players]," Purcell said. "We watch film on them, we have a good evaluation of them, but you have six-man guys all the way to AA guys and it's fun to be able to see them compete against each other knowing the level of competition, sometimes, is a little bit greater. It does give us a chance to get to know them, get them on campus, get a good feel of what they're about, what their hobbies are, what their interests are and see if they're a good fit for Carroll."