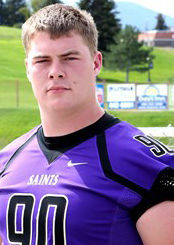 David Barnett's T-shirt didn't feel quite right.
Exiting the weight room, the snug, fitted tee -- "kind of small," he called it -- drew eyes. Its owner, Barnett, who ballooned from 196 pounds as a freshman to his current weight of 275, has stretched his fair share of shirts throughout the last three years. This one's duress, though, grabbed offensive line coach Jim Hogan's attention.
"Hogs said, 'Wow, you're looking big, David!," recalled Barnett, who has played defensive end since he was a fifth grader. "I was just like, 'Ohhhhh, no. Here we go.'"
There, the chipper kid from Hermiston, Oregon, figures, the idea of Barnett moving to offensive line was born.
Barnett admits he may have planted the seed of the idea before then, cavalierly jumping into pass-blocking sets during drills.
"It's really been a joke with guys saying, 'Oh, David, you better be careful. You're going to be bumping over to O-line,'" Barnett said. "I would say, 'Whatever.'"
Carroll graduated two senior offensive linemen from a unit that struggled at times last season. The need for two new starters to pace a group alongside Joel Kramer, Willy Clements, and all-conference lineman Chris Emter would leave holes further down the depth chart, too.
The Saints needed bodies, and in Barnett they're feeling good they've found a new left tackle. The Saints retain a devastating pass rush with Alec Basterrchea and all-conference tackle Beaugh Meyer returning on the D-line.
"I really enjoy it a lot," Barnett said. "I like the guys a lot. I really feel their presence as we're growing. We have to be a unit."
Barnett knows he's still raw. His body, almost innately, is used to attacking offensive linemen. He's been doing it for about 10 years. He's left a position that is glamorized for gutting offense's dreams with a sack of the quarterback and joined a band of protectors. He still leads with his head to strike defenders, which is a "no-no" he said.
"That's my biggest problem right now," he said. "I'm trying to attack guys rather than block them."
Shifting his mentality and reconfiguring his approach are not as simple as flipping a switch, which is part of the reason Hogan can be heard barking at Barnett during spring drills.
"I'm still struggling with basic technique stuff," Barnett said. "The nice thing is I know where I'm messing up. I'm able to correct that. I've enjoyed it. I was just across from them last year so it came from 'I'm going to fight them' to 'Hey, guys, let's fight them.' I like it a lot."
At the start of his move, though, his initial reaction of "no way," followed with a laugh, and then a later phone call to his parents. The Barnett family has a history of offensive linemen, with Barnett's brothers, Paul and John, both playing offense. Barnett said he plans to solicit their advice and bond over his new-found position.
"I didn't think I would enjoy it as much just because I've always had a negative connotation with the O-line. You get big and you're slow and you don't get to move. I like the team aspect of it."
Now, the line isn't completely foreign to Barnett. He played tight end in high school, which he said gave him a smidgen of insight.
"David, he's been rolling in at offensive tackle position," Hogan said. "He brings a lot of athleticism at that position. Now it's just a matter working technique and getting his eyes and his hands and his feet to get in proper position to defend a speed rush or work the run game as well."
And if Barnett can jell with the returning three starters and another new face on the line, it will give Howlett's offense more diversity with play calling. The Saints did their best to keep a balance of run-pass last season, but inevitably would be forced into passing situations on third-and-long or late in games as they trailed.
"David is working hard," Howlett said. "The great thing about David is he's got a great attitude. He works hard. What David needs to work on is his technique. His assignments are good. He has to work technique. Being a D-lineman all those years, he's used to holding guys and getting away with it. We have to rein those hands in a little bit."
Part of the reason Barnett has good assignments falls on the shoulders of Clements and Co.
"Willie's been my guard," Barnett said. "I've learned a lot from Hogs and the guys in general. Willie and I are always talking. We see the defense and we lay out what we're going to do. Willie and I have really formed a bond there. Not that he's any different from any other guys, because they're all helping me. Coach Hogan is helping me immensely. I'm talking to him if I have a question. He's been here. He's done it for a long time, even though he's younger than I am. He helps me out a lot."
Barnett has fought to put on more weight, which has been increasingly difficult this spring as he throws javelin twice a week in practice and competes in meets for the track team -- last outdoor season, in fact, he claimed the NAIA national title in the event. Barnett's added enough X's to his T-shirt size that track coach Harry Clark jokingly said Barnett was starting to look like him: "Fat."
"David is a little bit lighter," Hogan said. "He needs to put on 10 pounds or so. It's a matter of increasing your caloric intake and eating seven times a day. Of those seven times, three are main courses and the rest is snacking in between."
Hogan made it sound easy, but Barnett grimaced at the thought of pushing his weight to 280 pounds.