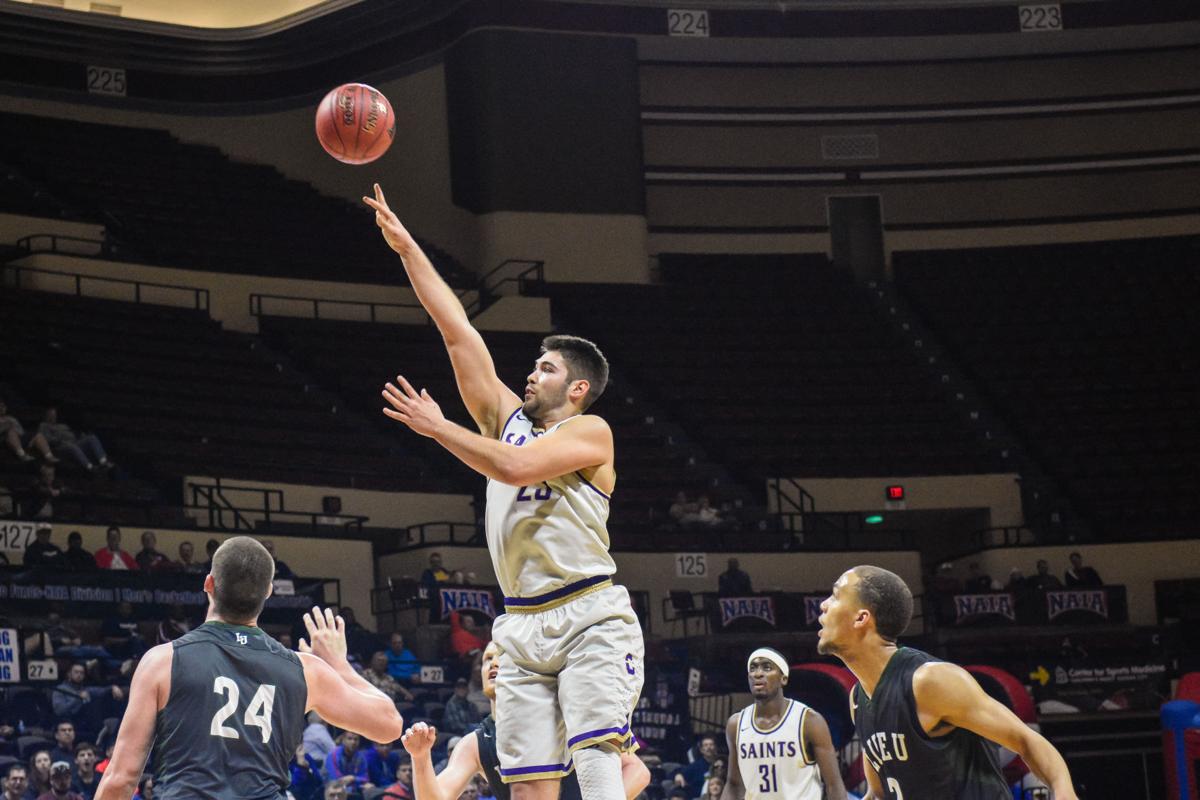 KANSAS CITY -- Down two. Two seconds on the clock. The Saints inbounded from underneath their own rim.
Carroll's postseason hopes hung in Life's balance.
Matt Wyman tossed a pass to Zach Taylor at the top of the key. As three Life defenders swarmed him, Taylor swung the ball to his left, finding a wide-open Ryan Imhoff. Imhoff fired as time expired and could only watch as his deft shot, which had almost solely carried the Saints back into the game, betrayed him.
The powerful rebounding, second-chance points and scores in the paint by Life were too much. Dalarian Williams, regarded as one of the NAIA's best, finished with 22 points. Zach Landis dropped 15 points and 15 rebounds.
"It's incredible to still be here through the weekend," said Life coach Keith Adkins, who took Campbellsville (Ky.) to the Fab Four last season in his final year as the Tigers' coach, and also defeated the Saints then. "I tell my guys that this feeling is unlike anything you'll have in your athletic career -- and now they're getting to experience it, and that's wonderful."
It was the second year in a row the Saints (29-6) exited the national tournament in the quarterfinals, though under different circumstances. A season ago, Carroll was the upstart squad that knocked off a powerful, No. 1-seeded LSU-Alexandria to reach the quarterfinals. This season, many expected the No. 1-seeded Saints to go deep.
"It's a real compliment to our players," Saints coach Carson Cunningham said. "Obviously, I'm grateful to the coaches I get to work with, too. Carlito Labarda, Jesse Repay, Scott Menzies, trainer Jeff Brichell, student manager Judd Brost, who basically functions as an assistant coach -- certainly in his own mind -- but he really knows the game. It's a compliment to those guys and the work we put in."
Life came out stroking the ball in the first half, knocking down its first three 3-pointers.
After spotting Life a double-digit lead, the Saints matched the Running Eagles the rest of the first half, but couldn't find ways to cut into the lead. Carroll made a tiny cut into the lead with a full-court press, but the Eagles rebuilt their advantage. When Carroll's man-to-man defense forced turnovers and runouts, Life came back and scored right away.
It didn't help matters when Mike Miller hit a buzzer-beating 3 to give the Running Eagles an 11-point lead heading into half.
In the second half, Carroll tightened its rotation, only subbing Steven Helm in for Lorel Johnson. Match Burnham, who scored five points in the first half, didn't leave the bench again, favoring his previously injured right wrist.
"He's still in the healing process a little bit," Cunningham said. "He'll have routine checkups on that to make sure things are going well. We just hope the healing goes well."
Imhoff and Helm hit consecutive 3-pointers to cut the Running Eagles lead to three, 55-52 with 12 minutes left in the second half, forcing a Life timeout.
"Our guys' competitive spirit … they continually, all year, have just battled," Cunningham said. "Sometimes people feel like those words get overused in coaching and sports. If you're with them day to day and you went through all the tough, physical, competitive practices, the road trips, and tough losses, you really feel it. You know how bad they want it and how hard they go after it. This stings. I'll be kicking myself trying to think of what buttons I could have pushed or things I could have done differently to help us get over the hump."
Carroll maintained pace the rest of the way, working through Imhoff in the post to break down the Running Eagles' defense. Imhoff, who played limited minutes in the Saints' opening-round game, was the workhorse, pouring in 27 points and giving Carroll a consistent scoring threat on offense. Twice, the Saints had looks to take the lead late, but 3-pointers missed the mark.
As the Saints will have to learn how to live without star point guard Zach Taylor, the junior forward's stellar play underscored next year's reality: Imhoff will be back.
"He's such a dynamic player," Cunningham said. "We all know that. He was scuffling a little bit in the first couple, with foul trouble or not catching a rhythm. People saw how impressive and how good he is as a player today on the national stage. I'm happy for him."
Still, the Saints lose a player in Taylor who scored 2,019 career points, and made so many correct plays it felt surreal when he made a mistake.
"Tip the proverbial cap to Zach Taylor on an unbelievable career," Cunningham said. "Fantastic person to coach. We're going to miss him dearly, but he's going to leave a great approach for the guys to feed off of. We're going to stay hungry."
The first guy to greet Imhoff after his heart-wrenching miss? Taylor, embracing his teammate and punctuating what made his career so special: Taylor understood the game for what it was and always put his teammates first.
"That's how Zach is," Cunningham said. "That's how he is as a person. It's awesome. I'm just disappointed that I couldn't find a way to get us to keep playing. It's so fun to be a part of the group and watch them play."
Cunningham now has a 4-2 record at the national tournament and improved the Saints' overall NAIA tournament record to 13-11 in their 11th appearance.
Next season, sans Taylor, but with a bevy of talent, the Saints will be in contention again.