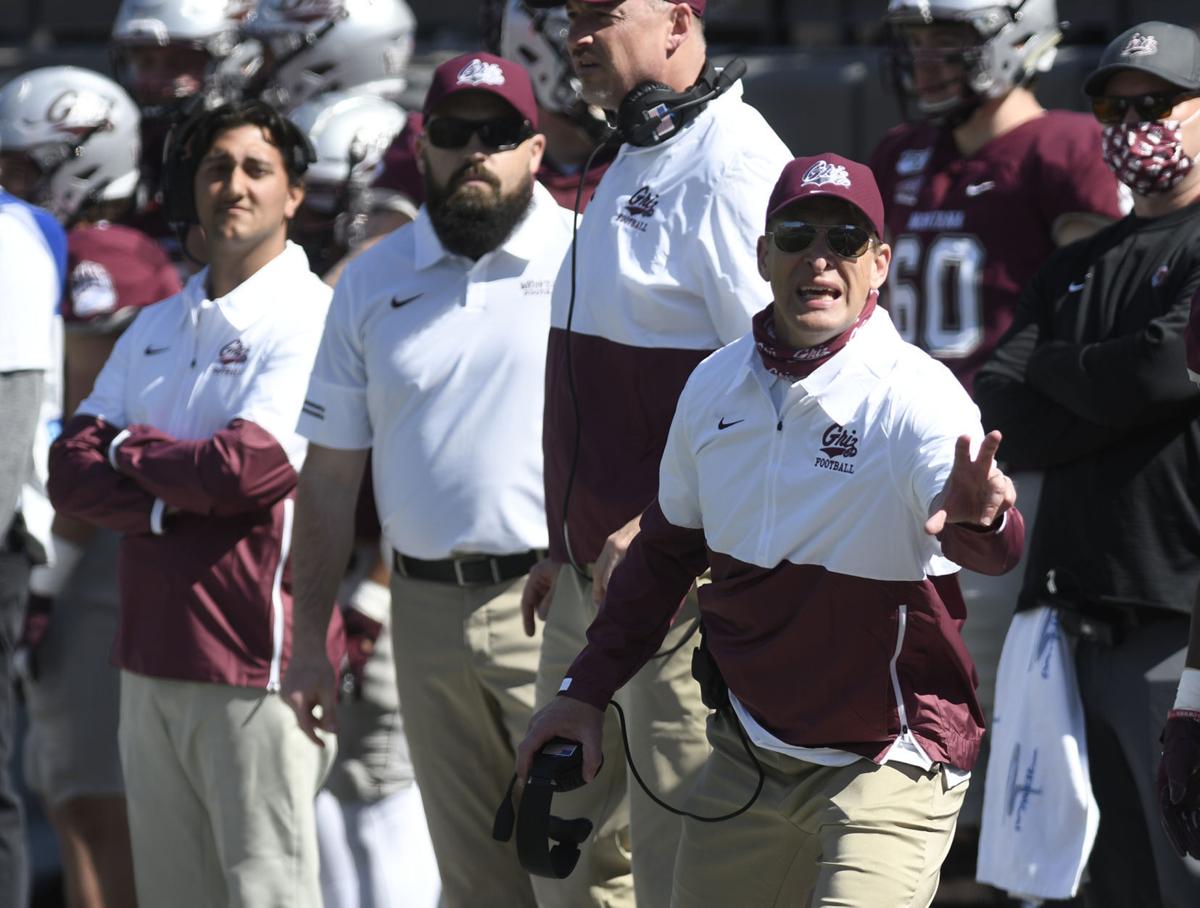 MISSOULA — Central Washington's Chris Fisk had a message for Montana's Bobby Hauck when the two coaches talked after their game on April 10 at Washington-Grizzly Stadium.
"I don't know if he took my comment the right way, but I did say it'd be really interesting to have seen the Griz play the Big Sky season this year because I think they would be sitting at the top of that," Fisk said after the Griz trounced his team, 59-3.
"That's not just because they put it on us pretty good. I think that's a talented football team. I think this is my eighth Big Sky game that I've been a part of, we've played a number of schools, and this was by far the fastest, most physical ... They had very few execution errors, a really well-coached team, and you could tell they've got some veteran players out there."
UM may have been competing for a national title this spring if it played the Big Sky's spring season. But the Griz chose to opt out, a combination of a player safety issue while preparing in Montana's winter and keeping an eye on the future so they're in position to compete for a title in the fall.
Hauck sounded satisfied with that decision three months later after the win over PSU. When asked if he would've liked to be playing for a national title this spring after seeing his team's success, he said, "No. Just don't want to. Don't see the value in it."
Without seeing value, how much legitimacy does he think the FCS champ this spring has? "None, we're not in it," he opined.
So are a lot of other teams. Of the 127 FCS teams, only 84 played this spring, according to HERO Sports. There were 35 teams that opted out before the spring began, including five of the 13 Big Sky teams. Eight other teams pulled the plug midway through the spring season.
The Griz were one of the unique opt-outs in that they played spring games against other teams. Hauck had mixed feelings on whether he'd like to see those games become a permanent thing, but he did say he'd never want it to be more than one game.
"I enjoyed the heck out of it, but … we haven't played in 485 days before last week, so it's a little different," he said. "Heck, as a coach, it's just another reason for them to fire your ass (if you) lose the spring game."
As other teams prepare for the FCS playoffs, the bracket for which was released Sunday, the Griz now begin the offseason. They turn their focus to competing for a Big Sky title and a national title in the fall, and they'll take some momentum into the offseason after going 2-0.
"It's a little more enjoyable when you've got those wins," Hauck said of the upcoming months. "I don't think we were lacking confidence, certainly, but we've got a confident group in our locker room."
Montana senior linebacker Jace Lewis, the Big Sky preseason defensive MVP, felt the team benefited from the games, even though they were playing against a Division II team and an average Big Sky team, although Portland State does have big aspirations for itself.
"It's nice to get these two games in and knock the rust off to allow us to go into this fall with our heads high and some stuff to correct," Lewis said.
There are certainly things the be worked on before UM next plays a game. Hauck knows the Griz "haven't played a perfect game" despite outscoring teams 107-10 in its two spring games.
There's a quarterback battle that will continue to overshadow everything. There's the fact that the Griz had only one sack in two games, especially with how much they blitzed. They struggled on short fields. Then there were uncharacteristic penalties for unsportsmanlike conduct and 11 total penalties for 118 yards.
Then there's the unknown of how much of what the Griz did this spring is replicable in the fall against tougher competition and over an 11-game span before the playoffs. Injuries are always a concern, and the loss or return of players can potentially reshape the roster and outlook in drastic ways.
"We wanted to win both games, one at a time, and then we wanted to send a message that we have a good football team, and I think we did that," Hauck said. "So, we'll get back to work and get ready for the fall. There's one constant: you always work to get better."
Starting June 1, the coaches will be able to have in-person contact with potential recruits for the first time since the pandemic began, and they'll prioritize their on-campus camps. Then the Griz will begin fall camp in August as they close in on their season opener Sept. 4 at Washington and home opener Sept. 11 against Western Illinois.
"It'll go fast. It always does. The way I view it is we're on the clock, we better utilize every minute," Hauck said, drawing a laugh from Lewis, who was sitting to Hauck's right. "He's heard it before, you hear him laughing, but we're on the clock, we got to get ready."
Frank Gogola covers Griz football and prep sports for the Missoulian. Follow him on Twitter @FrankGogola or email him at frank.gogola@missoulian.com.