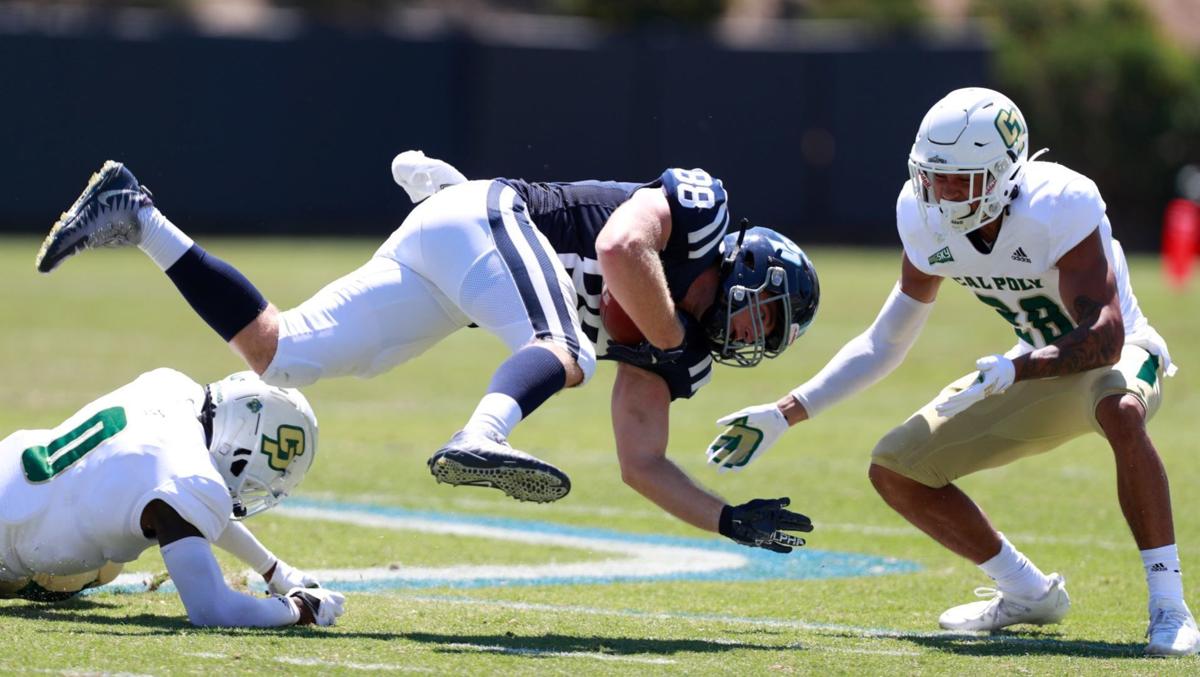 MISSOULA — Cal Poly coach Beau Baldwin is going to need time to build the type of passing program he wants, but he still has some quality players as he transitions the Mustangs away from the triple-option attack they had used.
The following are key Cal Poly players to keep an eye on when Montana opens Big Sky play by hosting the Mustangs at 1 p.m. Saturday at Washington-Grizzly Stadium in Missoula.
Quarterback: Kahliq Paulette, No. 1
The 6-foot-1, 175-pound true freshman quarterback from Converse, Texas, made his first start Saturday in place of Spencer Brasch, a Pac-12 transfer from Cal who missed last week's game against South Dakota with a fractured hand. Paulette was 9-of-23 passing for 112 yards and one TD, and he ran nine times for 27 yards. Late in the game, Conor Bruce went 3-of-3 passing for 69 yards and one TD, but he ran once for 3 yards and fumbled. In the first two games, Brasch was 41-of-71 passing for 528 yards, three TDs and one INT, and he ran 16 times for 19 yards.
Running back: Shakobe Harper, No. 8
The 5-foot-7, 190-pound freshman running back from Long Beach, California, has carried Cal Poly's meager rushing attack, which is a far cry from when it ran the triple option under prior coach Tim Walsh. The Mustangs have a total of 161 rushing yards and one rushing touchdown through three games. Harper leads Cal Poly with 65 yards on 22 carries, and he has the team's lone rushing score in his first live college action. He helped lead Mater Dei to the California state championship in 2018 but then redshirted in 2019 and missed the spring season with an injury.
Wide receiver/tight end: Chris Coleman, No. 6
The 5-foot-11, 186-pound junior wide receiver from Bakersfield, California, has emerged as Cal Poly's top receiver in his first season there after spending the prior four years in the Mountain West at Fresno State. Coleman has 165 receiving yards on 12 catches, both team highs, while hauling in three of the Mustangs' five touchdown receptions. He's had four catches and one touchdown grab in each of the three games this season. Coleman began his college career as a receiver, transitioned to cornerback in 2019 but returned to offense in 2020 at Fresno State.
Offensive line: Wade Willet, No. 75
The 6-foot-6, 300-pound junior left guard from Brentwood, California, is the most experienced player on Cal Poly's young offensive line. Willet has played in 23 games and started the previous 17 games at left guard going back to the beginning of the 2019 season. Cal Poly has started the same five linemen this fall, and those five have combined to play in 58 games and start 42 in college. The Mustangs have gone from running the triple option to being a passing team under coach Beau Baldwin, averaging 239.3 passing yards and 53.7 rushing yards per game this fall.
Defensive line: Elijah Ponder, No. 14
The 6-foot-3, 200-pound true freshman defensive end from Pomona, California, has earned a starting position on the line after being a backup linebacker in the spring 2021 season. Ponder has proven his worth to start early on, leading Cal Poly with four tackles for loss and two sacks. He also has one interception that he returned 75 yards, one pass breakup and two quarterback hurries. He chose Cal Poly over Mountain West school Colorado State for academics. In high school, he was a first-team all-league player and a second-team All-Los Angeles County player.
Linebacker: Matt Shotwell, No. 42
The 6-foot, 230-pound senior weakside linebacker from Goleta, California, is a regular presence around the ball, leading Cal Poly in tackles each of the past three seasons. Shotwell again leads the Mustangs in tackles with 30 through three games, highlighted by 12 on Saturday against South Dakota. He's added 1.5 tackles for loss and one pass breakup this season. The fourth-year starter was a 2019 third-team All-Big Sky selection, when he was playing strongside linebacker. He has four double-digit tackle outings in his past six games, giving him 12 for his career.
Cornerback/safety: Dylan Wyatt, No. 0
The 6-foot, 180-pound sophomore left cornerback from Oakland, California, is tied for second in the Big Sky with four pass breakups. Wyatt is in his first year at Cal Poly and has three years of eligibility remaining after he transferred from Big Ten school Illinois. He played in 10 games as a true freshman in 2018 at Illinois, mostly on special teams, but he then sat out the entirety of the 2019 and 2020 seasons because of injury, undergoing knee surgery in May 2019. Also in the secondary, right cornerback Trevor Owens is tied for fourth in the Big Sky with three PBUs.
Special teams: Lepi Lataimua, No. 5
The 5-foot-9, 185-pound senior running back from San Bruno, California, has been impactful in the return game for Cal Poly, which has two of the top six players in the Big Sky for yards per kickoff return. Lataimua is sixth in the conference with 21.6 yards per kickoff return on eight attempts. Adam Garwood is fourth with 23.3 yards per return, but he had all three of those attempts in Saturday's game. Giancarlo Woods is averaging just 8.8 yards per punt return. Jaden Ohlsen is 1 of 4 on field goals, missing from 28, 34 and 38 yards but making one from 47.
Frank Gogola covers Griz football and prep sports for the Missoulian. Follow him on Twitter @FrankGogola or email him at frank.gogola@missoulian.com.