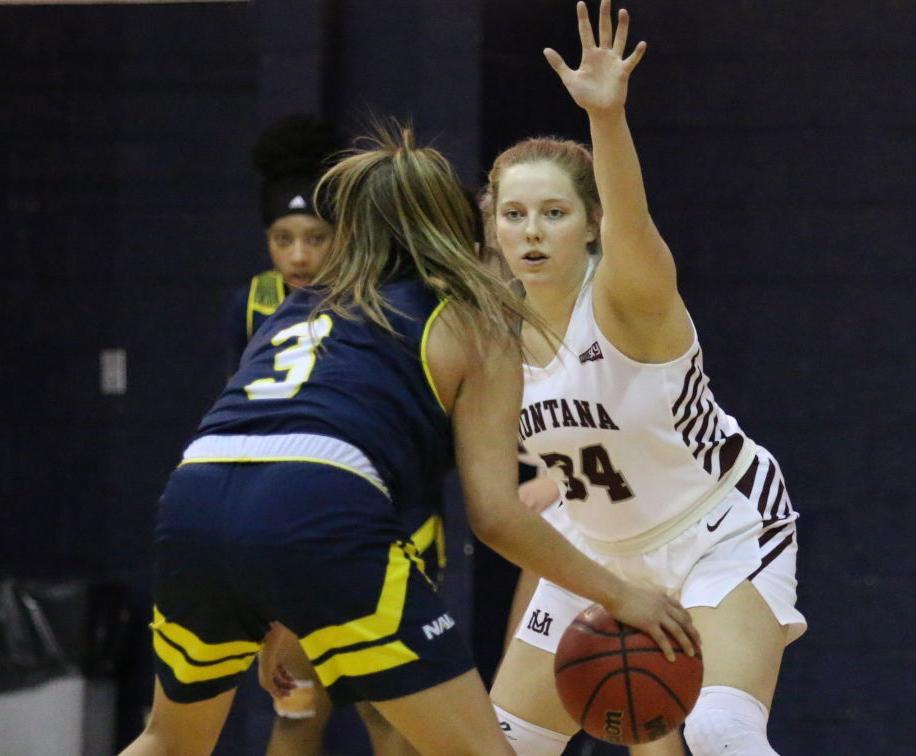 Playing from behind most of the morning, the Montana women's basketball team made things interesting late with a spirited comeback bid.
But Northern Arizona, picked to finish in the top three in the Big Sky Conference standings, proved equal to the task Saturday. After the Lady Griz made it a two-possession game with four minutes left, the Lumberjacks closed strong for an 89-76 win at Rolle Activity Center in Flagstaff, Arizona.
Montana fell to 2-2 in league play (5-4 overall) with its second straight road split. Northern Arizona, which had several players opt out due to the ongoing COVID-19 scare, improved to 6-6 overall, 4-4 in league play and snapped a four-game skid.
"Defensively, we had too many breakdowns in transition," Montana coach Mike Petrino told KMPT radio. "You just can't give a high-powered offensive team that's leading the league in scoring coming into the series ... They showed they could do it today." 
Northern Arizona sizzled from the floor, hitting 56.9% of its shots (33 of 58). The Jacks held a 9-4 edge in made 3-point field goals. JJ Nakai hit six triples and totaled a career-high 29 points.
Carmen Gfeller paced the Lady Griz with 21 points. Teammate Abby Anderson had 17 points and seven rebounds. Montana hit 50% of its shots from the floor (28 of 56) and 16 of 17 free-throw attempts.
"I think if you score 76 points, you should have a chance to win the game," Petrino said. "We cut it down, made a little run, and then that offensive rebound (by NAU) was huge. It gave them an extended possession and they scored off of it."
The rebound Petrino alluded to came with 3:53 left and Northern Arizona leading, 75-69. Nakai missed a free-throw attempt, but Regan Schenk, who finished with 21 points for the Jacks, came up with an offensive rebound. The hosts made Montana pay when Emily Rodabaugh scored on a layup, and suddenly the Lady Griz were down eight points with 3:39 left.
"That was a huge play," Petrino lamented. "We just had some breakdowns at key points."
After winning at Northern Arizona on Thursday, Montana's high confidence level showed early in Saturday's contest. The Lady Griz jumped to a 15-11 lead on a bucket by Missoula Sentinel grad Kylie Frohlich with six minutes left in the first quarter.
Then Northern Arizona seized control. The hosts went on an 11-0 run and took a 29-23 lead into the second period.   
"They shot the ball extremely well, especially early," Petrino said of the Jacks' 12-for-14 effort in the first frame. "But I thought we came out offensively and did well, too. They were just more consistent."
Montana answered in the second quarter, taking a 38-35 lead on a bucket by Billings native Willa Albrecht with three minutes left in the half. But Northern Arizona responded with an 8-0 run and took a 43-38 lead into halftime.
The Jacks started strong in the third frame, prompting Petrino to call a timeout to try and inspire his troops. It did work temporarily as the Lady Griz shaved a 12-point deficit down to six by the end of the period, 61-55.
Gfeller made basket early in the fourth quarter to cut the deficit to 61-57. Then Northern Arizona's Khiarica Rasheed, the preseason MVP in the Big Sky, left the game for good with a knee injury. Her teammates picked up the slack, and despite the fact Montana was able to cut its deficit to 74-69 on a Sophia Stiles and-one play with 4:09 left, Montana failed to build on the momentum and was outscored 15-7 down the stretch.
Montana finished with a 31-25 edge in rebounds and a 46-40 edge in points in the paint. But its inability to match NAU from behind the 3-point line, hitting just 4 of 20 attempts, proved crucial.
"They were all good looks. I can't think of one off the top of my head that wasn't a good look," Petrino said. "We have the utmost confidence in those kids. They just didn't go down. That's when you need to have those stops on defense."
Montana will return home for a game against Sacramento State at 7 p.m. Thursday.
Bill Speltz is Missoulian Sports Editor and has served as Sunday columnist the past 15 years. Do you have a story idea? Email Bill at bill.speltz@missoulian.com.