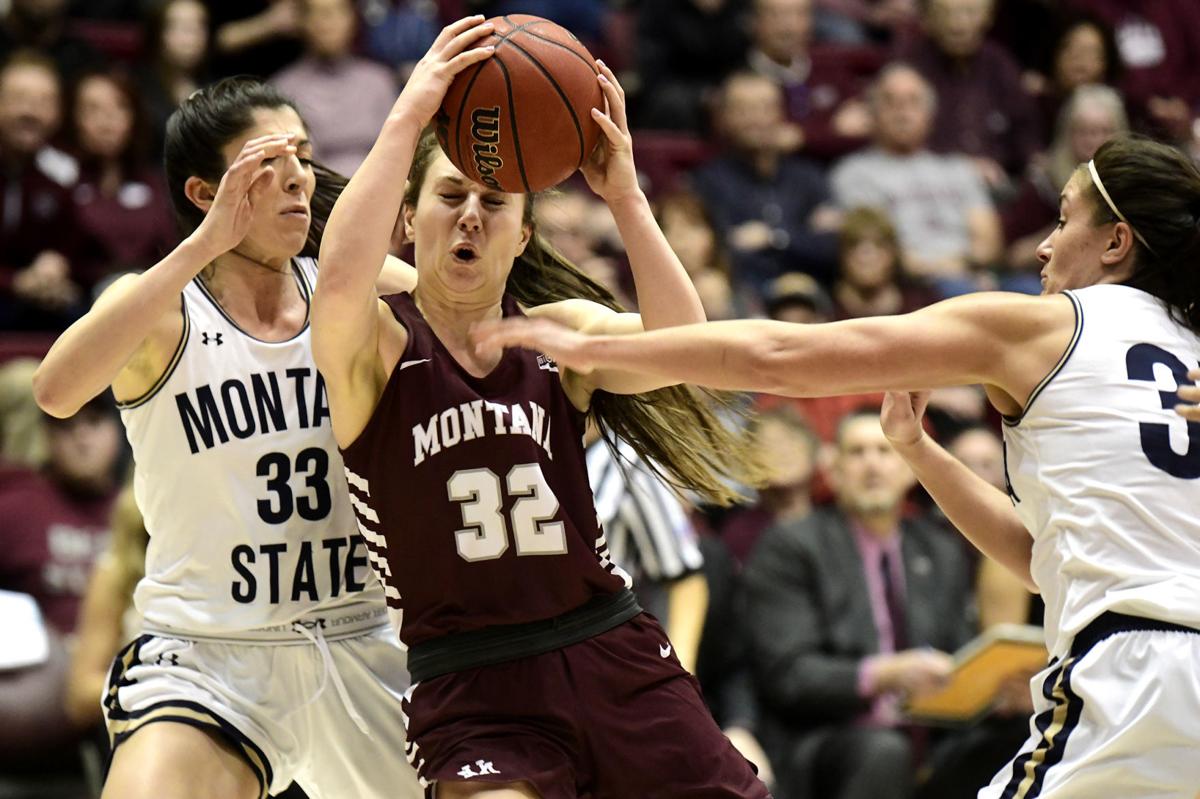 MISSOULA — Cozy and historic Reed Gym has been a den of horrors for the Montana women's basketball team lately.
The surging Lady Griz will try to earn their first win in five years at Idaho State when the Big Sky Conference powerhouses clash at 2 p.m. Saturday in Pocatello. Montana has won three games in a row and the Bengals were on a four-game roll until Thursday's home loss to league leader Montana State.
"One thing that stands out is the way we're sharing the ball," Montana coach Shannon Schweyen said of her team's five wins in six games. "We've got multiple kids getting lots of assists. It's been impressive. This group really enjoys each other.
"They have great chemistry and it's beginning to show more and more. It's crazy that you'd think it takes this long in a season to realize what you have, but they're beginning to understand each other more. It's kind of a new group as far as being together out there."
Injuries kept Montana in a state of flux in Schweyen's first three seasons. Consequently, she has yet to win at Reed Gym in three visits as a head coach.
"More than anything it's been Idaho State's defense," Schweyen said. "They're big and strong always. They're always tough to score on."
You have free articles remaining.
Saturday's game is critical for both teams. The Lady Griz (9-5, 14-9) sit in fourth place and the Bengals (8-6, 12-11) in fifth in the standings. All teams finishing in the top five will receive a first-round bye in the Big Sky tourney, which starts March 9 in Boise, Idaho.
If Idaho State wins Saturday, it will own a tiebreaker edge because the Bengals beat the Lady Griz in Missoula last month. For Montana, that was one that got away. The Lady Griz led late in the third quarter before reserve Montana Oltrogge caught fire for ISU in the final frame, hitting four straight shots to spark the Bengals past the Lady Griz, 67-53.
"As you watch that film you feel pretty good about the way we played," Schweyen said. "We just had a little stretch at the end where they got away from us with a couple plays and scored.
"We both did a pretty nice job defensively on each other."
The fact the Lady Griz have been riding long distances on a bus two of the last three days would seem to favor Idaho State Saturday. Fortunately for Montana, its blowout win Thursday at Weber State afforded Schweyen a chance to rest her top players.
"Everybody is going into this one pretty fresh," the coach said. "I don't think anybody other than Kenzi (Johnston) played more than 22 minutes at Weber State, so it was nice we were able to rest our kids a little bit.
"We're certainly motivated. We know the importance of every one of these, so they're fired up and ready to go."
Notes: With 28 more points, Johnston will move past Sonya Rogers (2005-09) and Jeanne McNulty (1985-90) and into the top 10 on the Lady Griz all-time scoring list. Johnston is eight assists away from moving into the top 5 on the Lady Griz career list in that category ... Johnston has been selected to take part in the Women's Basketball Coaches Association's "So You Want To Be A Coach" program. It's a three-day workshop held in conjunction with the Final Four and the WBCA Convention ... The Bengals have won four of their last five games against Montana.
Bill Speltz is Missoulian Sports Editor and has served as Sunday columnist the past 14 years. Do you have a story idea? Email Bill at bill.speltz@missoulian.com.