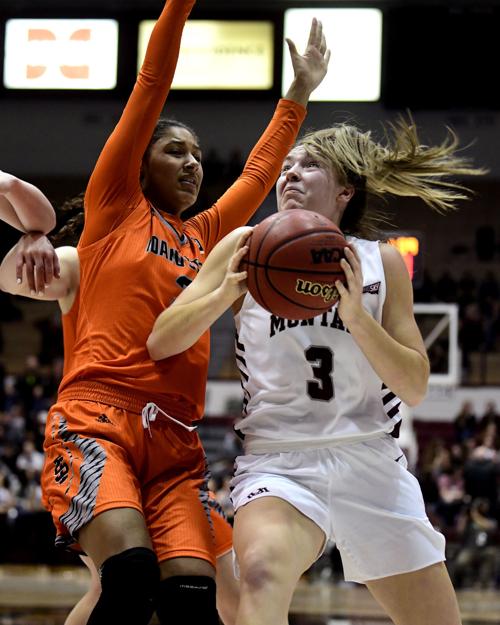 MISSOULA — Gabi Harrington, a key role player for the Montana women's basketball team this past winter, announced via Facebook Thursday night that she will play her final season at the University of Idaho.
The announcement came several days after she entered the NCAA transfer portal. Harrington started 15 games for the Lady Griz this past season.
"Thank you to the University of Montana for the four years of education and the lifelong friends I've made," she wrote on her Facebook page. "My time in Missoula was great and it was a very difficult decision to leave. I have decided for my last year to finish up my basketball career at the University of Idaho and I am very thankful for this opportunity. I can't wait for the upcoming season. Go Vandals!"
Veteran Idaho women's basketball coach Jon Newlee commented on Harrington via Twitter on Thursday.
"We got better last night! Go Vandals!" he wrote.
A native of Boise, Idaho, Harrington averaged 7.5 points in 2019-20. She averaged 11 points per contest the season before.
Harrington played just 19 minutes and went scoreless in Montana's season-ending loss to Northern Arizona two weeks ago. She is the latest in a line of players to leave coach Shannon Schweyen's Lady Griz program before using up all of her eligibility.
Guard Sammy Fatkin left the 2019-20 team in December. Guard Katie Mayhue transferred from Montana to the University of Texas-Arlington last April. Hailey Nicholson, Sierra Anderson, Nora Klick and Caitlin Lonergan all left at the end of the 2017-18 season with eligibility remaining.
Bill Speltz is Missoulian Sports Editor and has served as Sunday columnist the past 14 years. Do you have a story idea? Email Bill at bill.speltz@missoulian.com.
Be the first to know
Get local news delivered to your inbox!