MISSOULA — Montana football fans got a taste of what the future leader of the Griz looks like on Saturday. 
After starting quarterback Reese Phillips and the first string offense made their way to the sideline, redshirt-freshman quarterback Gresch Jensen came into the game for the first time in two years. 
"I felt pretty normal getting out there again," Jensen said. "It's been a couple years since I've taken the field, so it was good just getting out there and just being with the guys. Getting the first reps under my belt, it was exciting. It was a good experience. I look forward to many more."
Jensen completed all three of his passes for 18 yards to close out the game against Valparaiso. 
Quarterbacks coach Andrew Selle was pleased with Jensen's outing. 
"He made good decisions," Selle said. "He got the ball out of his hands. He completed a couple passes and put the ball where it was supposed to be, which is encouraging for a young guy in his first game experience to get out there and do that."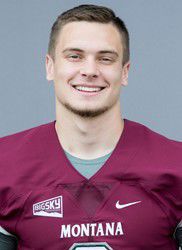 Jensen said he wasn't sure if he was going to get playing time last Saturday but prepared like he was. As he made his way onto the field, Phillips made sure to watch his understudy.
Jensen's showing stood out to him.
"I was really impressed, not surprised," Phillips said. "He came in and he looked like he was fine. He wasn't nervous or anything. That was fun to see. ... He's only gonna get better."
Hours before Jensen was called upon in the fourth quarter, Jensen and the rest of the Griz ran out of the player tunnel. For Jensen, it was the first time.
"It was a pretty surreal experience," Jensen said with a big grin on his face. "I know a lot of our freshman guys it was the first time and they thought it was pretty cool, pretty awesome everyone coming out screaming to you. Seeing the redshirts, I remember I was there last year, just point up to them. It was pretty fun. Once you get on the field though it's all football, but it was pretty cool coming out."
Even though Jensen sits behind Phillips on the depth chart, Phillips said Jensen silently nudges him to be even better day in and day out. 
"He pushes me without even really saying anything to me," Phillips said. "To watch more film, to study more, because that's the kind of guy he is. He's a studier. He's a football nerd and that's what you want out of your quarterback. I know that's been good for me, to have a young guy that works that hard as far as film goes, that pushes me more."
Because of that and his on-field talent, Phillips is confident great things are will come in his future.
"Being a fan of this team going forward when I'm done here, he's the future of this program, no doubt," Phillips said of Jensen. "I think everyone knows that. He's ... the best young quarterback I've ever been around, as far as picking up things and just understanding since day 1. He's impressed me."
Both Phillips and Jensen came in around the same time last year, so Phillips has watched Jensen grow as a quarterback.
"He's gotten so much better," Phillips said. "First of all, the physical attributes. Him coming in, he doesn't look like a normal freshman quarterback. He's a big guy. He enjoys working out, which is very rare for quarterbacks. I'll be the first to say that. ... He's a hard worker. That's really all it is.
"It's actually a pretty fun situation for me. Being quite a bit older than him, I'm not gonna say I take him under my wing or anything, he's his own man. He's a really good player. He's gonna be really good here. I'm excited for Gresch."
Before Jensen came to Montana, he suited up for Auburn Mountainview High School in Auburn, Washington. 
Hen holds nearly all the offensive records. 
Most yards passing (career). Most yards passing (season). Most yards passing (game). Most touchdown passes (career). Most touchdown passes (season). Most touchdown passes (game). Season passer rating. Career passer rating. Most completions (career). Most completions (season). Most completions (game). Most attempts (career). Most attempts (game). Longest pass. Total offense (career). Total offense (season). Total offense (game).
He's on the top 5 charts for other offensive records as well. 
Most attempts (game). Most rushing yards (career). Most rushing yards (season). Most rushing touchdowns (career). Most rushing touchdowns (season). Longest run from scrimmage. 
He also played defensive back and is on the school charts for most interceptions in both the career and season categories. 
Even with all that prep success, Jensen remains humble. 
"We're kinda a younger high school but yeah," Jensen said of his high school that opened in 2005. "They've got a great program down there. One thing I said when I came in was that I wanted to leave this place better than I found it. I think I did that."
Jensen finished his prep career with countless awards, including finishing his senior season as an all-state first-team defensive back. 
"It just goes to show you the type of competitor he is," Selle said of Jensen playing both ways as a prep. "In high school he wasn't just gonna be the quarterback, he was gonna get out there on defense and help his team any way that he could and if he had to go lay a helmet on somebody and make some hits, he wasn't afraid to do it."
The game in Seattle against the University of Washington is a homecoming for Jensen in a way. 
Auburn is less than 30 miles south of Seattle. 
"That's the hometown," Jensen said. "It's gonna be kinda weird. It's kinda weird to go back home and your house is right around that airport area. It's gonna be kinda weird to go back and see people that you haven't seen for a while and it'll be fun though. Just a different experience. It'll be fun. I'm looking forward to just playing the game."
It might be just a little weird for Jensen, as he's been a fan of two college football teams during his life — Montana and Washington. 
"I grew up a little bit of a Husky fan when (Jake) Locker was there," Jensen said. "They weren't very good when I was growing up. They had an 0-12 season (in 2008), but always rooted for them. The Griz were kinda my team growing up too because my parents went here. I remember watching the games, stuff like that. Huskies when they were decent, they were all right."
Is Jensen still a fan of the Huskies?
"Not anymore. Not anymore," Jensen said while shaking his head. "Not too big of fan anymore."