MISSOULA — The No. 37 holds a special place in Montana football lore.
It's the jersey number that's been handed down to an in-state player since fullback Kraig Paulson of Plentywood passed it on to safety Tim Hauck of Big Timber in 1987. The number's legacy first survived and now thrives.
Fans with jerseys featuring the hallowed number dot Washington-Grizzly Stadium. A "37" flag is raised at the stadium by a distinguished guest before every home game. And the 37-yard-line is specially marked.
"I don't know if any of us knew at that time how it was going to play out," Paulson said of the "37" jersey from his office at Sacramento State, where he's in his first year as the defensive line coach for the upstart Hornets, who will host the resurgent Griz on Saturday.
"It's really turned into a source of pride. I think it's a great deal. It's come to represent a guy that everybody's going to count on and is going to be a leader."
This is the 37th season of the jersey, which Paulson first wore in 1983. 
Neither Paulson nor Hauck, the first recipient of the jersey, foresaw the number becoming so all-encompassing.
"I don't think it was ever meant for this thing to get to where it is," Hauck said after a recent practice as the Philadelphia Eagles' safety coach. "It was just meant to give it to somebody who was going to represent this program the way it was supposed to be represented. I don't think anybody in the back of their mind would say that it would take on the characteristics it's taken on to where it is now."
Fourteen players have worn the jersey, making it an elite club of mostly defensive players. But the tradition is about more than the individual.
Those who have worn the jersey say it's not about them being seen as superstars. It's about representing the ideals that Montanans uphold both on and off the field.
"The thing manifested upon itself," Montana coach Bobby Hauck said. "It was one small-town Montana guy to another who were good buddies. That's kind of what it's been. That's how traditions become traditions. That's a cool deal saying, 'I'm going to do it,' and then it goes on."
Origin story
When Paulson received No. 37 as a freshman fullback, he didn't think much of it. He had never worn the number in any sport.
"It was just kind of the principle if you get a new number, whatever it is, make it yours," said Paulson, who chose to attend Montana partly because his brothers were running track and partly because he played for, or knew of, some of the Griz coaches from high school.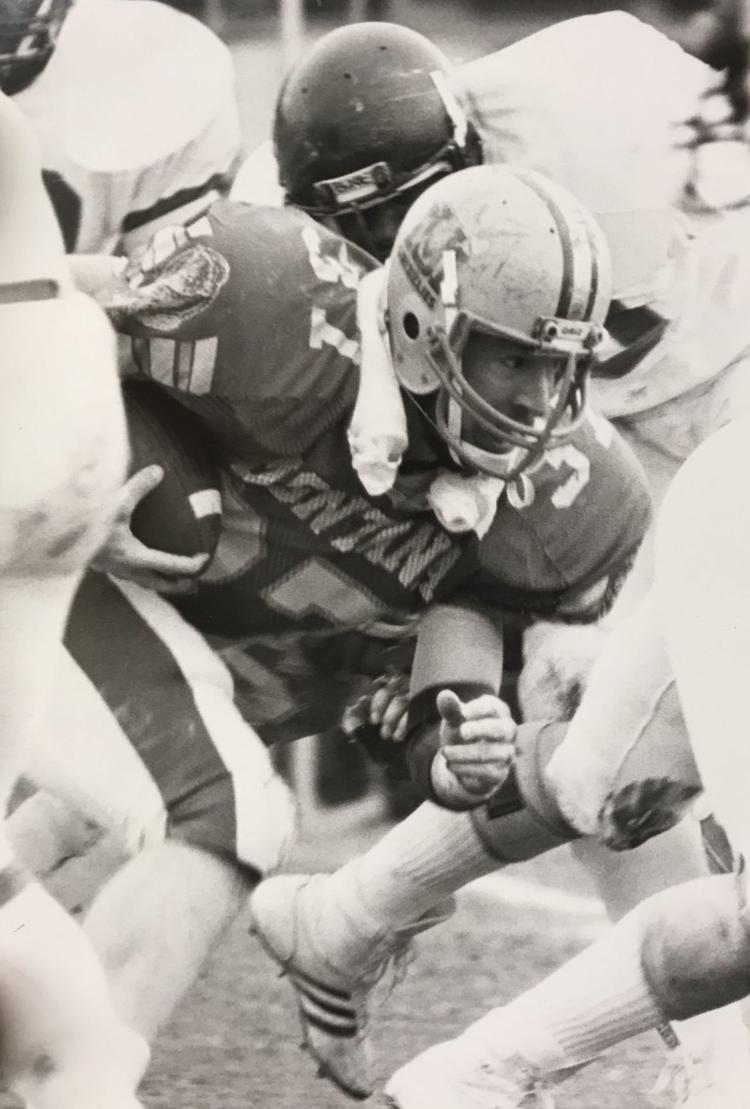 In his four seasons, Paulson was revered for his hard-nosed toughness, work ethic and determination. Those qualities earned him the nickname "Barbed Wire."
After his senior season, Paulson passed along the number to Hauck, a redshirt freshman scout-team player who was making life tough on the offense. Longtime Montana football sports information director Dave Guffey saw that during the spring game before Hauck's sophomore year.
"People were going, 'Who is that guy,' because he was everywhere," Guffey said. "He came to the forefront immediately. He was all over the place. He was just completely dynamic. I used to watch Tim on special teams just to see what he would do because he was so fearless and played with reckless abandon."
Paulson and Hauck had a connection before Hauck transferred from the NAIA's Pacific University in Oregon. Paulson had roomed with Tim's older brother Bobby at Montana, played against Bobby and knew Tim in high school, and helped convince Tim to transfer to Montana.
"You could tell the guy was a big-time player and a great person," Paulson said of Hauck. "That's how simple it was. It's like that guy showed up everywhere. He was that good of a player. Now, could I have told you he was going to be a 13-year NFL guy? No. But I could tell you he was going to be a good player."
The jersey was passed to Hauck over beers with Kraig and Bobby at Red's Bar in downtown Missoula.
"Kraig said, 'You're wearing my number,'" Tim recalled. "I said, 'What do you mean? I already have a number.' He goes, 'No, I've already talked to Steve Hackney' — he was the longtime equipment manager — 'and the No. 37 will be in your locker when you guys start up fall this season.' So, that is how the tradition started."
Added Paulson: "I would like to tell you it was a big, long, drawn-out plan, but it really wasn't. I really liked how he played. We just made a deal, and when he took it, it got to a different level."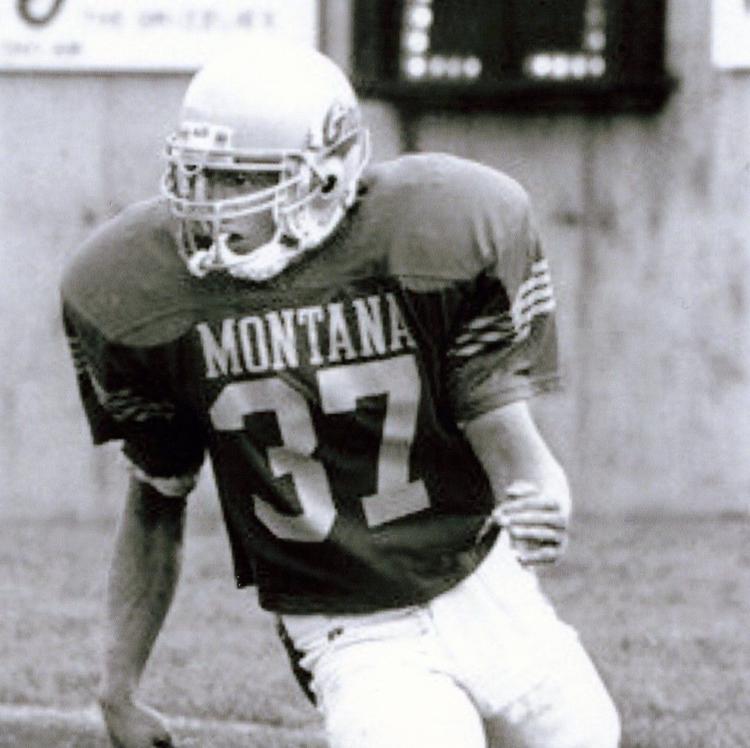 The tradition might not have started if Paulson hadn't talked with Hackney. Hauck felt as an underclassman walk-on that he couldn't request a number change.
"Kraig was a hard-nosed Montana kid, and the pride and tradition of Montana was on the line," Hauck said. "He wanted somebody in that jersey that played football the way he played it.
"It had nothing to do with where's this going to go or are we starting a tradition. It wasn't like, 'Let's get this thing going to be a legacy number and they're going to raise a flag and everybody's going to be wearing '37' jerseys.' This was, 'I respect how you play. I want you wearing my number.'"
Meaning of 37
Jordan Tripp of Missoula had worn No. 44 going back to Little Grizzly football because that's the number worn by his father and grandfather, both former Montana football players.
The linebacker was taught the history of No. 37 by his dad and had a tough choice when he was chosen to wear it in 2012. A conversation with Tim Hauck won him over.
"Tim was a guy I grew up watching, and I had unbelievable respect for him," Tripp said. "He said, 'This number's special. It fits you. This is the right thing. This is right for you.' Just hearing that from him, someone I looked up to for so long and knowing what he did as a man and player, I took that to heart and ran with it."
The jersey number is promoted as symbolizing the spirit of Montana: hard work, dedication to the team and tough play.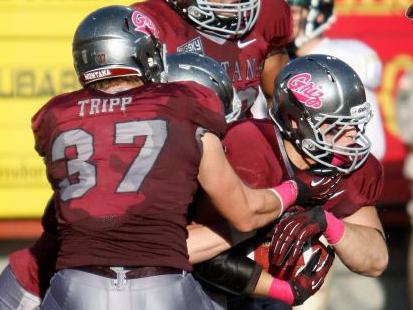 "It encapsulates those ethics and those values that are important to a lot of Montanans," said defensive end Zack Wagenmann of Missoula, who wore the jersey in 2014. "That's work hard, do the right thing when no one's watching and hold yourself to a high standard, and be an all-around good person first and foremost, not just on the football field.
"I think a lot of people connect with that and it resonates with a lot of people."
The qualities that define the jersey are worth gravitating toward, football player or not, former Griz players said.
"In a day and age where people can come from anywhere and anything, Montana's the underdog," said defensive tackle Carson Bender of Deer Lodge, who wore the jersey from 2008-10. "I think it's an important thing to Montanans that it gets a stamp on the whole thing that these kids who come from Montana do represent our beliefs."
Added Guffey: "If you're a young person from Montana, you look at that and if you want to aspire to be a college football player, you're thinking that may be your top goal ever. Get to Montana and prove yourself and wear that No. 37. It's a huge pride thing and accomplishment for any player that gets that number. If you got that number, you were very highly thought of and you should be proud of yourself. It is a special thing."
The story and the meaning behind "37" have caught on with fans, who come to games with the number on everything from jerseys to shirts to hats and more.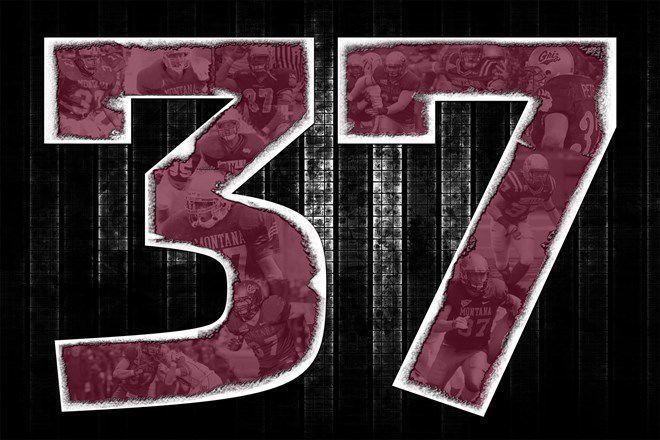 "When the word got out that here's what '37' means, it was, 'I want to be one of those guys' " said Mick Holien, who was the "Voice of the Griz" for 23 years and called Montana sporting events for 31 years. "There's a lot of people that want to be associated with what '37' means."
For Tripp, that hand-in-the-dirt work ethic is something for which Griz players and Montanans both strive.
"This isn't a program that's based off of flash," Tripp said. "It's not based off of any of those things that aren't sustainable. It's blue-collar, accountability and tough young men who are supposed to embody those qualities."
Taking flight
The 1987 media guide contained no mention of the start of the "37" tradition. There was no marketing or promotion. It was spread by word of mouth and began its lift off when Tim Hauck exploded onto the scene.
The 5-foot-11, 170-pound dynamo nicknamed "Hitter" became a two-time all-conference selection in 1988 and 1989, a two-time Big Sky defensive MVP and a two-time All-American. He went on to a 13-year stint playing in the NFL and won a Super Bowl as an assistant coach.
"I think when Tim wore the jersey, he took it to a different level," Holien said. "He was well-deserving, as we've seen for the amount of time he's been hanging around the pros. It was the attitude of here's this guy who explodes at the point of impact, plays with passion, is a walk-on, not recruited, all of those integers that make Grizzly football."
When Paulson passed the jersey to Hauck, second-year head coach Don Read was building a program with an exciting offense. The Griz posted a winning record in all 10 seasons under Read and won the 1995 national title.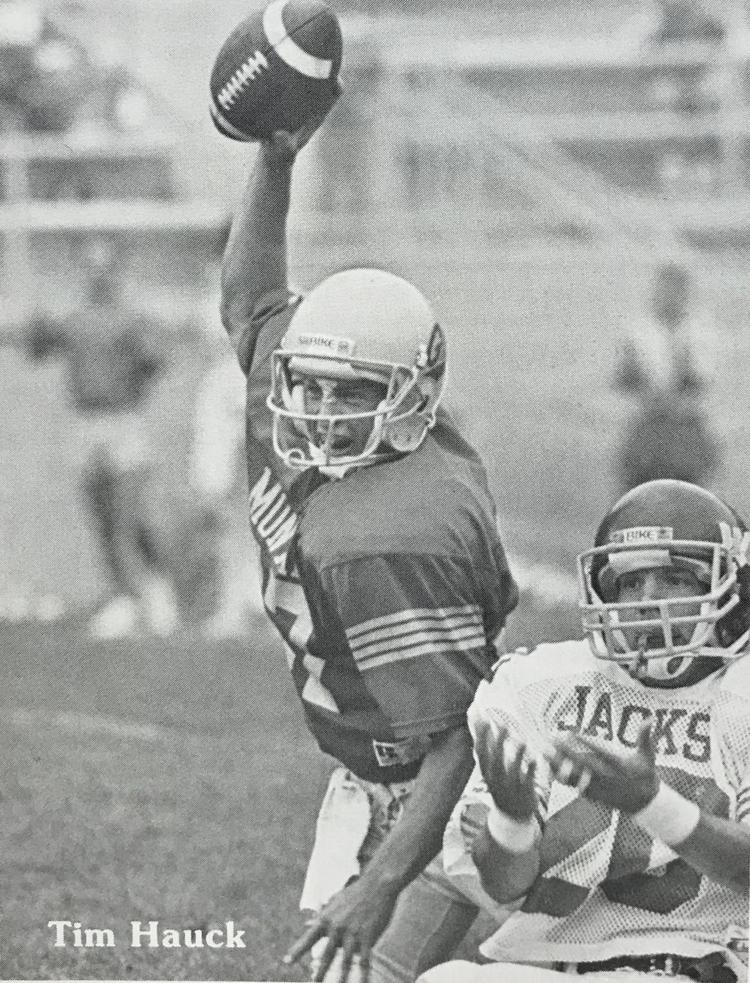 During Read's first season, Montana had just moved into Washington-Grizzly Stadium. Bigger crowds came with the wins, and expansion was necessary.
The interest took off like Dave Dickenson's astronomical passing totals in the early 1990s.
"Everything was kind of falling into place for the football program in general, so the timing of it was good," said Bill Schwanke, who had stints as a Montana sports information director, Griz broadcaster and Missoulian sports editor. "Then the first recipient was Tim Hauck, and he was one of the greatest players ever at UM.
"The tradition of Grizzly football was growing. This was becoming a tradition within the tradition. People here have always been real keen on having as many Montana high school players on the team as possible. Everything about it was set up for it to be a big deal. It almost is mythical."
Unlike the prominence of "37" jerseys today, Tim Hauck doesn't recall seeing anyone other than his cousins wearing one when he played. The interest took on a larger prominence in the early-to-mid 2000s, which was around the time Bobby Hauck was hired, Tim Hauck returned as an assistant and Paulson came back as the defensive coordinator.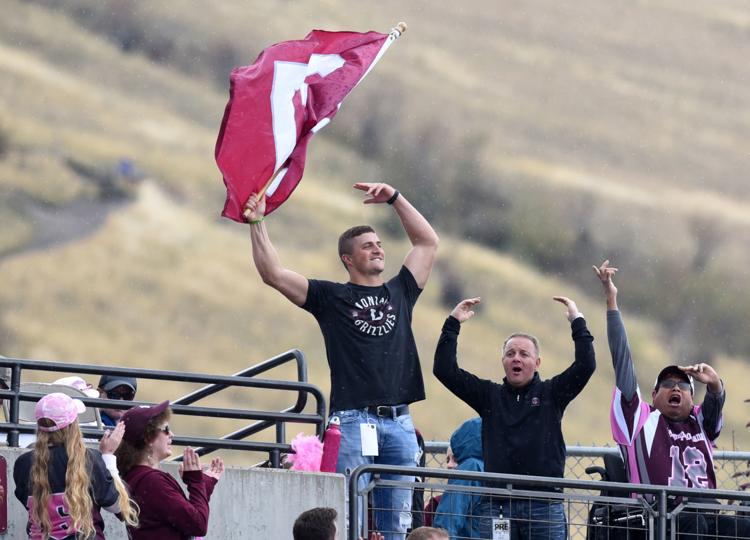 A "37" flag has been raised pregame since 2011 to honor those players, and the 37-yard line was marked when the turf was replaced three years ago. The Montana athletic department got the idea to mark the field after seeing Syracuse honor former player Jim Brown with a marker on the 44-yard line, his college jersey number, according to Chuck Maes, senior associate athletic director for facilities and events.
"We added it to honor the number and tradition of '37'," Maes said.
Jersey recipients are spread around the state, adding to the following. The 14 wearers have come from 11 towns: Plentywood, Big Timber, Butte, Helena, Anaconda, Fort Benton, Deer Lodge, East Helena, Missoula, Malta and Stevensville.
"The fact that these guys could be impact players from where they were from, I think that's the cool part of it," Guffey said. "To have guys from small-town Montana become these dynamic college stars and All-Americans, I think it added to the validity of the whole thing."
Getting defensive
Since Paulson passed the jersey to Hauck, it has never returned to the offense. Defensive end Jesse Sims of Stevensville wears it now, marking the 33rd consecutive season with the defense.
Paulson has no strong view over whether the jersey must stay on defense. The two principles he cares about and hopes those who have the jersey care about are that it stays with a Montana-born player and that it goes to an individual with high-quality, on-field performance and off-field character.
"Obviously, everybody else that's had it has been on that side, and that's a good home for it," Paulson said. "I just think it's a cool deal. The guy that owns it at that moment, it's his job to pass it on and it's his responsibility to find that guy. It's taken on a life of its own. I got no problem what side of the ball's wearing it. It's more about what it represents."
Tim Hauck said the original intent was simply to give the jersey to a "hard-nosed Montanan."
"I think these defensive guys would have a hard time passing it on to an offensive guy," he said. "It would be eye-opening if they did. It's taken a life of its own on the defensive side. I don't know if that ever changes. I wouldn't be upset if it did.
"As long as the initial footwork of that whole thing continued, great. If it was the right person, great. I don't see it happening, but it would not bother me if it did go that way."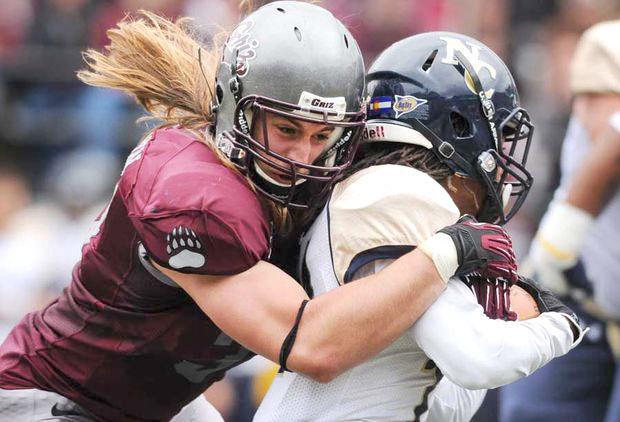 The consensus among some of the more recent players is that the jersey doesn't have to stay on defense, although they've kept it on that side when they had an opportunity to pass it along.
You have free articles remaining.
"It definitely doesn't have to stay on defense," Tripp said. "I think Kraig knew that. Everybody talks about how it's a defensive thing. It has been ever since him. I don't think it has to stay there. It needs to be with somebody who embodies and represents the qualities of toughness, accountability and doing the right thing when it's not the easiest or the most popular."
Bender didn't shoot down the possibility of the jersey going to the offense either. He was the first defensive tackle to wear it when he was selected in 2008.
"I think it could go to anybody," Bender said. "I think if someone fills into the shoes of what's been established, it could for sure go to the offense."
Wagenmann had considered giving the jersey to an offensive player when going through his options. So, who was that person?
"That's confidential," Wagenmann said with a laugh. "I'm not just saying it. I took it as very serious. It meant a lot to me. It was an honor and a privilege to be able to wear it. I took that same feeling with my responsibility to choose who I thought would be the best candidate."
Unlike the former players, Bobby Hauck staunchly supports the jersey remaining on defense.
"That's what the tradition is," he said. "Kraig started coaching defense at that point in time. That's what those guys said it was going to be."
Defensive popularity
Paulson has coached defense since starting as a graduate assistant at Montana in 1987.
He got a full-time job in 1988 and later became defensive coordinator. Paulson went on to be DC at Utah State, returned as UM's DC under Bobby Hauck and followed him to UNLV as the DC. He then coached defensive backs at Northern State and was Southern Illinois' DC.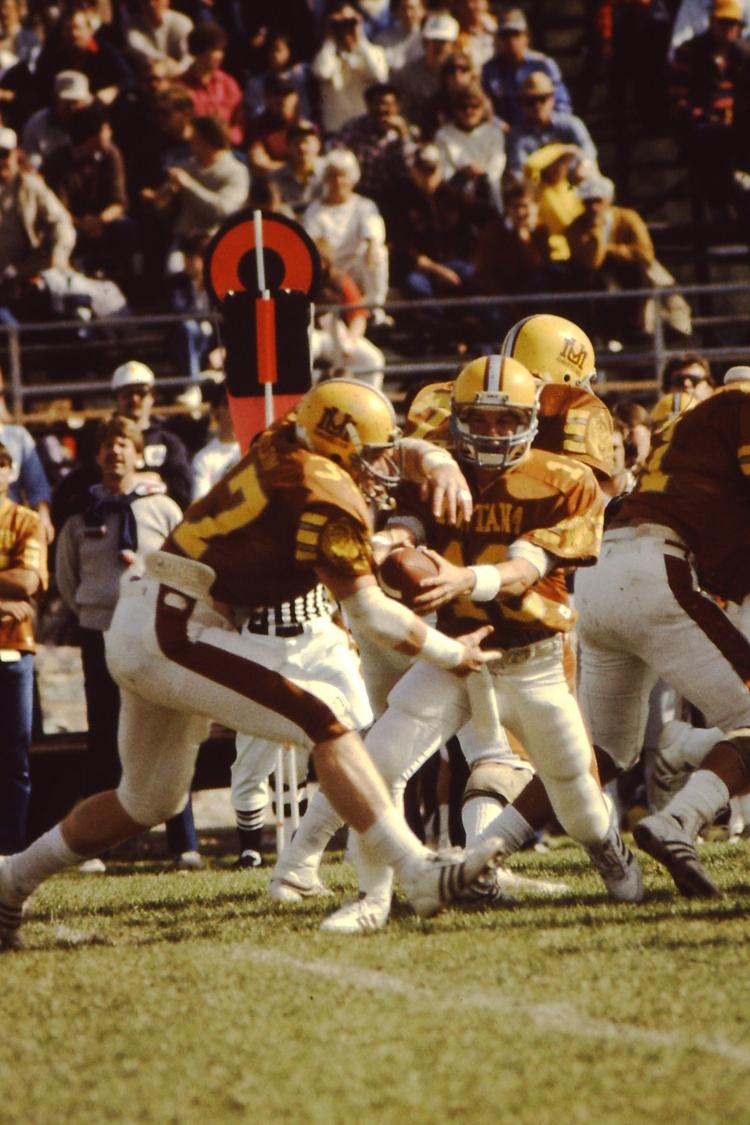 "It's ironic that an offensive fullback from Plentywood would start this tradition and become the only offensive player to wear the number," Guffey said. "It kind of made sense because I think Tim Hauck kind of mandated that it would stay with the defense because of his play in his three-year career."
In earning five All-America honors, Hauck tallied 15 interceptions, nine blocked kicks, six fumble recoveries, four forced fumbles and 305 tackles in just three seasons.
"It garnered some notoriety," Bobby Hauck said of the jersey with his brother's success. "You have that deal of where you pass it on and then the next guy ends up being a multi-year first-team All-American and a longtime NFL guy, and it kind of builds upon itself. Those guys had the criteria: a Montana guy on defense, and he's got to be a guy that's a hard-nosed dude."
Almost as important as Paulson's selection of Tim Hauck was Hauck passing it along. Paulson, then coaching at Montana, suggested just that when Hauck's eligibility was up.
After some consultation, Hauck chose safety Todd Ericson of Butte.
From there, it went on to linebacker Jason Crebo of Helena, who wore it in the 1995 national championship season, and then to defensive ends Andy Petek of Helena and Ciche Pitcher of Anaconda, the latter donning it in the 2001 national title run.
In total, the players who've worn the jersey have combined for 32 All-America honors — 29 coming while they wore the jersey — three finishes as Buck Buchanan Award finalists, five Big Sky Conference defensive MVP honors and 18 all-conference awards, 13 of which were first-team selections.
"It's been cool and awesome to see the life it's created," Paulson said. "The real strength is all those guys. Starting with Tim, it got high brand. He set a high, high bar with it.
"Looking back on it, what it's become is the result of a lot of good players wearing it."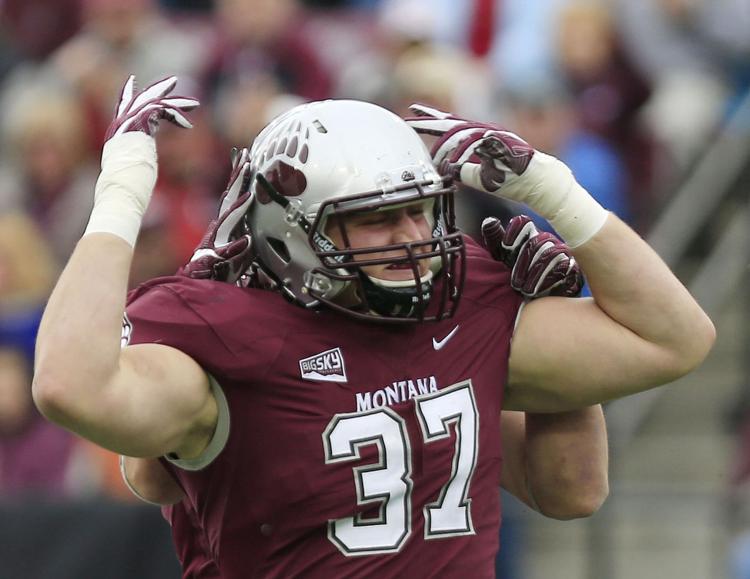 While fans tend to look up to offensive players, specifically at the skill positions, defenders have gotten their spotlight through the jersey tradition. So much so that Paulson's role may be undertold.
"Tim was such a dominant performer that the popularity came after him," Holien said. "I don't think people know that Kraig wore it first. They think it was Tim."
Paulson never had big production on the field. Fighting through injuries, he accounted for 1,091 total yards of offense and six touchdowns in four seasons. He topped out with 362 total yards as a sophomore and four touchdowns as a senior, neither eye-popping numbers.
"It's kind of just ironic that a guy like that would start this tradition because he was such a great person but wasn't a great player," Guffey said. "I don't want to be critical of the guy, but he was not a great player. Pretty much all the rest of the guys that have worn '37' were, if not great, were really, really good and all on defense."
Passing game
Bender didn't know what he was in for when Loren Utterback of Fort Benton asked him to go for lunch at the Pickle Barrel after the 2007 season. Utterback bought him a sandwich and told him he was passing No. 37 along to him.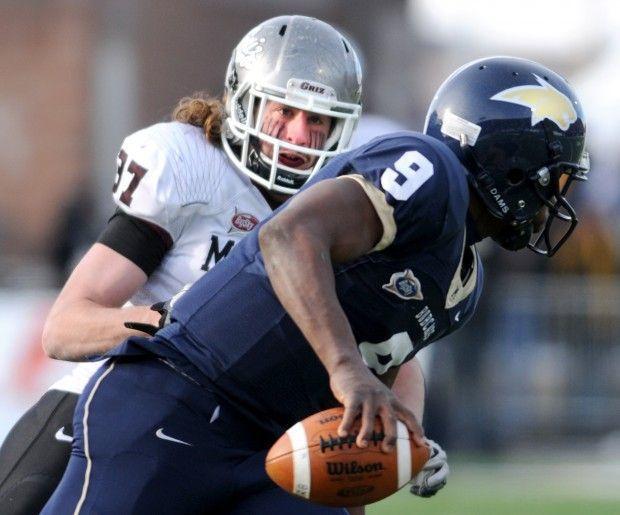 Three seasons later, Bender handed the jersey to Ryan Fetherston of East Helena after missing his senior season with an injury, making 2010 the lone year the jersey hasn't graced the field since 1983. Fetherston, who grew up wearing a "37" jersey he got for Christmas, received the jersey just 48 hours before the season opener at Tennessee.
"I think picking the next person comes down to someone that works hard and that has some pretty hard rugged individualism and that kind of fights for what's right in terms of our state's values and everything as far as that goes," Bender said. "It's a thing that's about toughness, not necessarily physically but mentally."
Added Petek: "It's somebody that's got a motor that never quits. Somebody that I felt could step into that role and be a leader and doesn't have to be leading in tackles but has to be involved in every play, just has to know how to get to the ball. Somebody who's got good character outside of football."
For Tripp, passing the jersey was an honor to be taken seriously. 
"You want a guy that you know that his team, his teammates, the university and his hometown mean more to him than himself," Tripp said. "You want to have somebody that puts the team before themselves, puts representing Montana above all else. Someone who does the hard work, is humble, does everything for the team, is a very selfless individual and truly loves their teammates."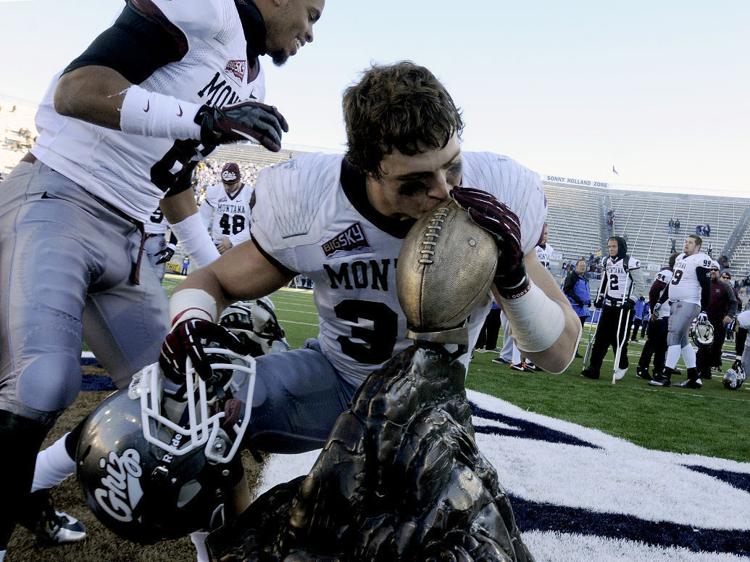 Added Wagenmann: "First and foremost, it had to be a great person. A person that has those ideals of being an extremely hard worker, someone who's always doing the right thing and someone you don't have to watch, who's going to be in the right place doing the right thing when he's supposed to be doing it. Obviously, you want it to be someone that's well respected on our team and leads by example."
For Fetherston, it was about finding a "Montana Man."
"When you think of a Montana Man, it's someone who treats people well and represents this community and is about the team family," he said. "It's doing that in life on and off the field, understanding your role in the community and going the extra mile."
Guffey was like every other Griz fan when learning of the next person to wear the jersey. Even as the go-to source of Griz football, he said he never knew in advance.
"I've asked the player that is graduating who you're going to pass it on to, and it's like an FBI, CIA secret," Guffey said with a laugh. "They won't talk about it because it's such a big deal. And it's so personal, too, for the guy who passes it on."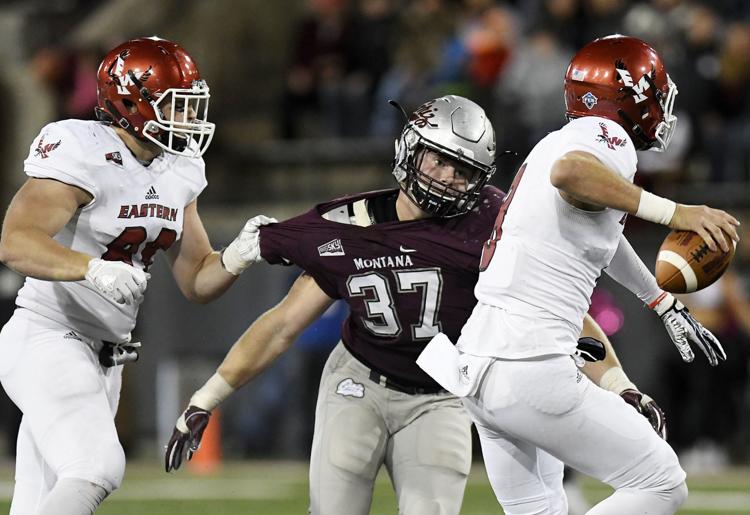 Worn with pride
When the tradition began, the jersey was handed down to young players, usually coming off a redshirt, like Hauck. Of the seven players after Paulson, each wore the jersey for at least three years.
Since Fetherston wore the number for one season in 2011, he and the next five players have worn the jersey for just one or two years. It's gone to more established players instead of up-and-coming players who showed potential.
"It's kind of funny it took that turn," Tim Hauck said. "It got to the point that it was such a pressure deal that if you gave it to a young guy and it was the wrong guy that didn't perform, they didn't want that on their shoulders.
"I like the old tradition of putting some pressure on a young guy and making him live up to it. The way that thing has gone and to the extent that 37 means something to that program, I don't know if any young guy could have much fun trying to live up to those expectations."
If Petek felt added pressure when wearing the jersey, he rose to the occasion. His 2000 season is among the best of any player to wear No. 37; he tallied 35 tackles for loss, 19 sacks, six forced fumbles and four fumble recoveries in 15 games, finishing as the runner-up for the Buck Buchanan Award, given to the top defensive player in the FCS.
"Maybe there was a little bit more pressure, but I don't feel like that bothered me much," said Petek, who still signs '37' after his name. "It feels like you're a big part of Grizzly football in general. I never felt like I was above anybody on my team. You're wearing it because it's a legacy. For me, it's just super cool."
Wagenmann, who had 23 tackles for loss and six forced fumbles in 2014, agreed with Petek.
"There wasn't a lot of added pressure," he said. "Maybe a little more sense of responsibility to wear it well because I know what it means to a lot of people. It was an opportunity to represent my state and those values and ethics that go along with that."
Added Bender: "It's a pretty big sense of pride. You're upholding the state values of Montana."
Sims, the current No. 37, has come to recognize that.
"There's been a bunch of great guys, not just great players on the field but great guys off the field that have worn it before me, so it's an honor to be a part of it," he said. "It's definitely become a big part of Montana."
For Tripp, wearing the jersey isn't supposed to change who you are as a player or person.
"It doesn't make you a better player or man," he said. "It gets passed on to who truly represents that characteristic and personality and who you are. I would say it's all leading up to it. It makes you very proud to wear it. You're proud to be able to represent your state and university and hometown."
Continuing legacy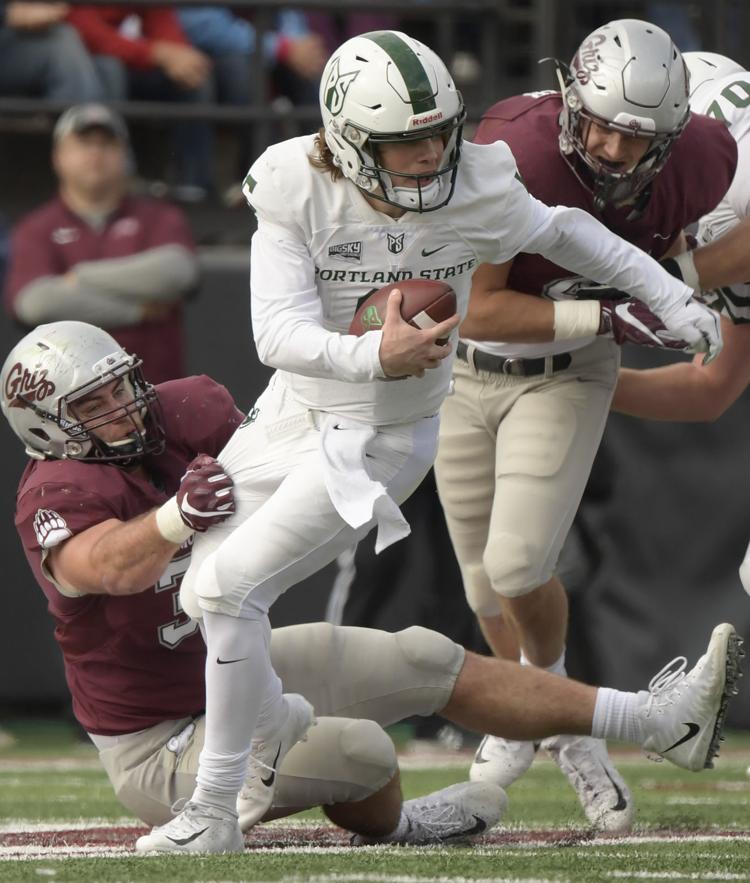 The "37" tradition shows no signs of slowing down now in year 37. A 15th player will wear it in 2020.
"It's become bigger than the individual wearing it," Bobby Hauck said. "It's an honor on the team. It's something all the Montana kids are interested in and striving to be able to wear. It's a cool deal. Like a lot of traditions, it's based in on what's important to the guys on the team."
Traditions aren't self-sustaining, though. It's up to the players to uphold the standard and keep its meaning pure.
"I think it's lasted because it resonates with people," Wagenmann said. "The men that have worn it have worn it well and been able to connect with people watching. It doesn't really surprise me it's lasted as long as it has."
That connection the fans make with the jersey, one generation after another, has been key in helping it take on a life of its own.
"I think that's the tradition of '37'," Holien said. "When a fan starts going to games, finds out they love Grizzly football, they find out what '37' is and they want to be part of that. I think it's become contagious.
"Like all Grizzly traditions, it's become bigger than itself."
Even as the Griz fell out of their winning ways at times this past decade, the tradition has never wavered. In fact, it's been strengthened and even fortified with the increased attention on it.
"I think it's something that people are interested in and something they're reminded about quite often," Schwanke said. "I think people would really notice if they stop giving it. People would wonder why, because it has become that important to Griz fans."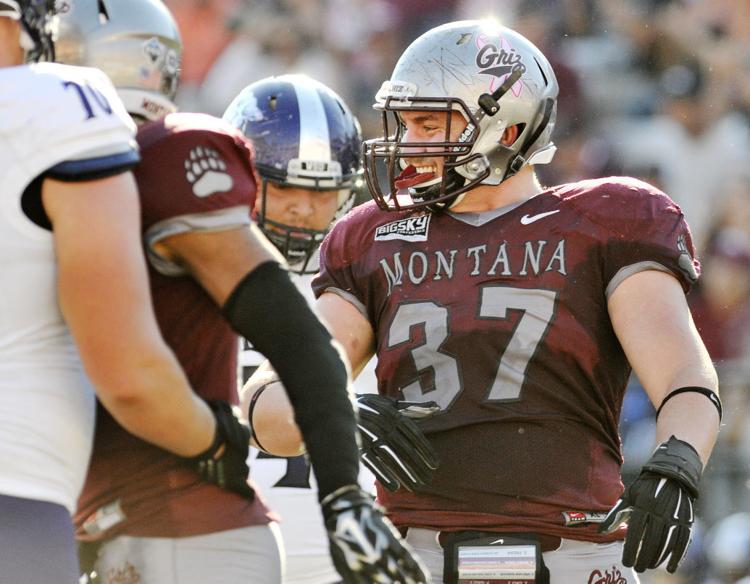 A tradition that started in copper and gold has grown and thrived. Now in maroon and silver, the hope is it could see another 37 years.
"It's lasted because it's a brotherhood," Fetherston said. "From Kraig Paulson to now, the expectations at Montana haven't changed. It's beat the neighbors, win a Big Sky championship, win a national title. You got to work every year. The tradition's not going anywhere.
"It'll die with the Grizzlies."