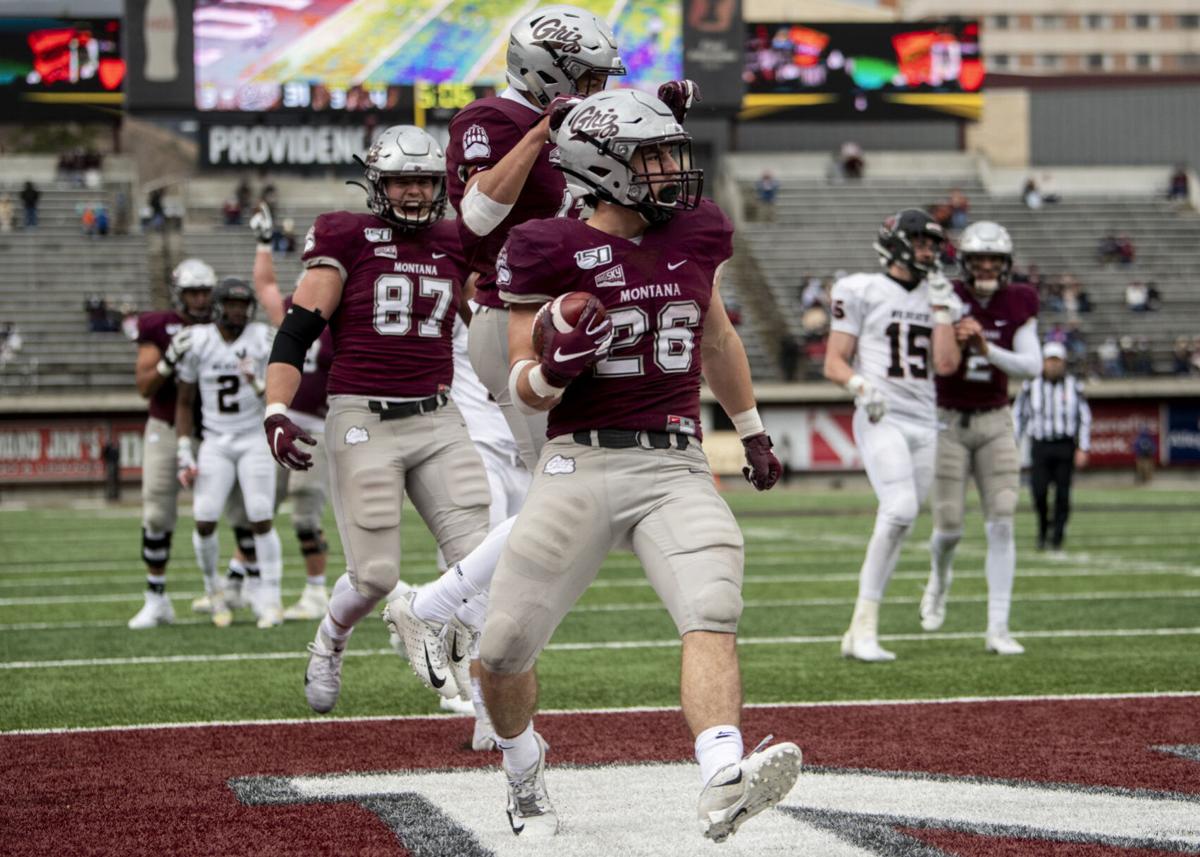 MISSOULA — Montana has come a long way since Portland State's last trip to Missoula in 2018, when the Griz suffered a 22-20 upset loss on a field goal in the closing seconds.
UM stumbled to a 6-5 finish that season but then went 10-4 and made the FCS playoff quarterfinals in 2019, creating high expectations for fall 2020 before the pandemic hit and postponed the season. The Griz have since started to look forward to competing for the national title in the fall of 2021.
The next step toward that is a game against Portland State at 11 a.m. Saturday at Washington-Grizzly Stadium in Missoula. It's their spring season finale after they opened with a 59-3 beatdown against Central Washington last week.
"Any time you play a game, there's things to correct and clean up and work on," Montana coach Bobby Hauck said, nit-picking after the blowout win. "I don't know that we've ever come out of a game and said, 'Hey, we've arrived.'"
As UM gets to test itself against a Big Sky team, here are five things to watch in the game.
How does QB Cam Humphrey bounce back?
Humphrey has a chance to respond after a slow start, less-than-crisp passes and red zone struggles last week. He threw for 335 yards and four TDs at PSU in 2019, but Samori Toure (140 yards, three TDs) transferred and Marcus Knight (106 yards, one TD) is injured. PSU's rarely seen flex defense will provide a test with identifying pre- and post-snap reads and facing All-American CB/S Anthony Adams. Humphrey will have to make the most of his early chances, especially if UM wants to see how Kris Brown does against a Big Sky first-team defense.
How efficient can OL and run game be?
The O-line didn't live up to its billing as the most veteran position group on the team last week. The group did hold up in pass protection and didn't allow a sack as UM racked up 529 yards, but it struggled to get a push and create running lanes. Sophomore Nick Ostmo ran for 44 yards and freshman Xavier Harris had 37 yards as UM averaged 4.9 yards per carry and ran for 197 yards, 49 of which came on one WR jet sweep. The Griz now go up against a Big Sky defense that has size and depth, with 10 of the 14 front-seven players on its two-deep being upperclassmen.
How does the defense stack up in trenches?
Montana wore down Central Washington last week by the second half but should be facing a more formidable line this week. Four of PSU's five linemen slated to start are upperclassmen, and they stand at 6-foot-10, 6-5 (x2) and 6-3 (x2), and weigh in at 395 pounds, 310, 295 and 290 (x2). UM showed its depth on the D-line and at linebacker, but they'll be looking for some of them to begin to emerge as elite-level players. The Vikings can add in tight ends for protection and have four to five running backs they may go to as they break in transfers and newcomers.
How does secondary fare against a veteran QB?
UM's defense looked exceptional last week, especially for being its first game in 485 days, but that was against a depleted D-II team. This week should provide a better measuring stick as PSU has one of the most experienced QBs in the Big Sky in Davis Alexander. He's a threat with both his arm and legs operating the pistol offense, accruing 7,008 passing yards and 60 total TDs in his career. He has a handful of WRs and TEs, even with top receiver Emmanuel Daigbe out with injury, and his ability to extend plays will make elongated downfield coverage a critical component.
How special are the special teams really?
UM's athletic edge was evident on special teams against an inferior opponent last week. Gabe Sulser had 100 return yards on two punts, and Malik Flowers had 51 yards on one kickoff. UM could get an answer this week about if that could possibly be expected on a weekly basis in the fall. While Flowers is a known commodity and Sulser is new to the position, it takes all 11 players executing their assignments to win the field-position battle. Kicker Jack Cooper should have nicer weather to kick in after he missed a kick and put one in off the upright in snow and wind.
Frank Gogola covers Griz football and prep sports for the Missoulian. Follow him on Twitter @FrankGogola or email him at frank.gogola@missoulian.com.