CASPER, Wyo. — Sitting a section from the bucking chutes, Iola "Olie" Else is taking in her final College National Finals Rodeo at the Casper Events Center.
With her retirement looming at the end of the week-long event, she leaves behind a legacy not only of grooming student-athletes at Montana Western, but the legacy of a trailblazer.
The first and only woman to be named the college rodeo national coach of the year in 2004, Else took center stage at the beginning of Wednesday night's performance to receive her second coach of the year award. A video on the big screen of the events center showed Else hit her favorite talking point: the success inside and out of the arena for "her kids" that have come through Dillon.
"She has always been more than a rodeo coach to all of us," Taylor Nahrgang, a former Bulldog said in a media release. "The thing about Olie, it didn't matter what level of talent you had coming into the program, she always made you feel like a champion in the arena and the classroom.
"She has a way of pulling the best out of people."
Bobcats fare well in roughstock third go
After Wednesday's events, just about everyone is stuck playing the waiting game.
Among them is Jesse Nelson, who took his third go in bareback for a 74.5 score. He moved into fourth overall in the aggregate scoring, with the top 12 after the go rounds qualifying for the short go – and a shot at the championship buckle – on Saturday.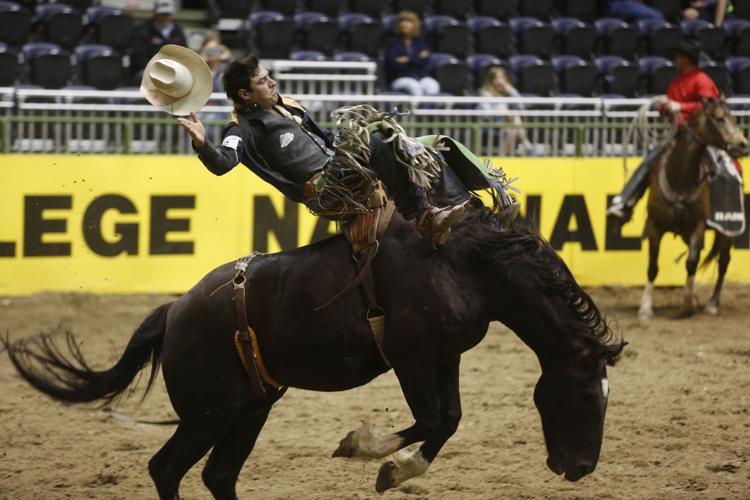 Fifteen other cowboys are yet to take their third horse.
"I could have rode better, I could have had a better horse, but I'm happy to be here," Nelson said. "I'm excited to give myself an opportunity to go to the short round."
As for his chances at Saturday and that coveted buckle, he's hopeful.
"It's cool to be back here and have an opportunity to come back Saturday night. I'm not even sure if I'll get to come back, but I got on all three horses, rode good all three days. You can always do better but I'm excited to be here."
Montana State's Will Powell can be counted among them waiting out the rest of the week for Saturday. The All-Around cowboy for the Bobcats went 5.2 in Go 3 of steer wrestling on Wednesday to move into third in the aggregate standings.
Teammate Keenan Reinhardt will look on to the short go, scoring on his third saddle bronc ride of the weekend to move into fourth in the aggregate scoring. Of the remaining cowboys left in Go 3, only four have recorded two scores.
The Treasure State connection
Montana State's Shelby Rassmussen hasn't had the weekend in breakaway she had hoped for. She won't move on to Saturday, but she notched 2.4 seconds in Go 3 Wednesday, finishing in a tie for second place.
"My mentality was to just go for it," she said. "Go at the barrier and take my first shot. I was really happy."
Who'd she tie for second? Montana Western's Marlee Mussmann, who likewise rebounded from a no score in Go 2.
"Marlee and I are good friends," Rassmussen said. "If I am going to be tied with anybody I'd want it to be Marlee. She's a really, really good cowgirl. It's an honor to be competing with her."
Thursday's performance begins at 7 p.m. with the third sections of the third go. Go 3 finishes Friday, with the championships held in Saturday's performance.