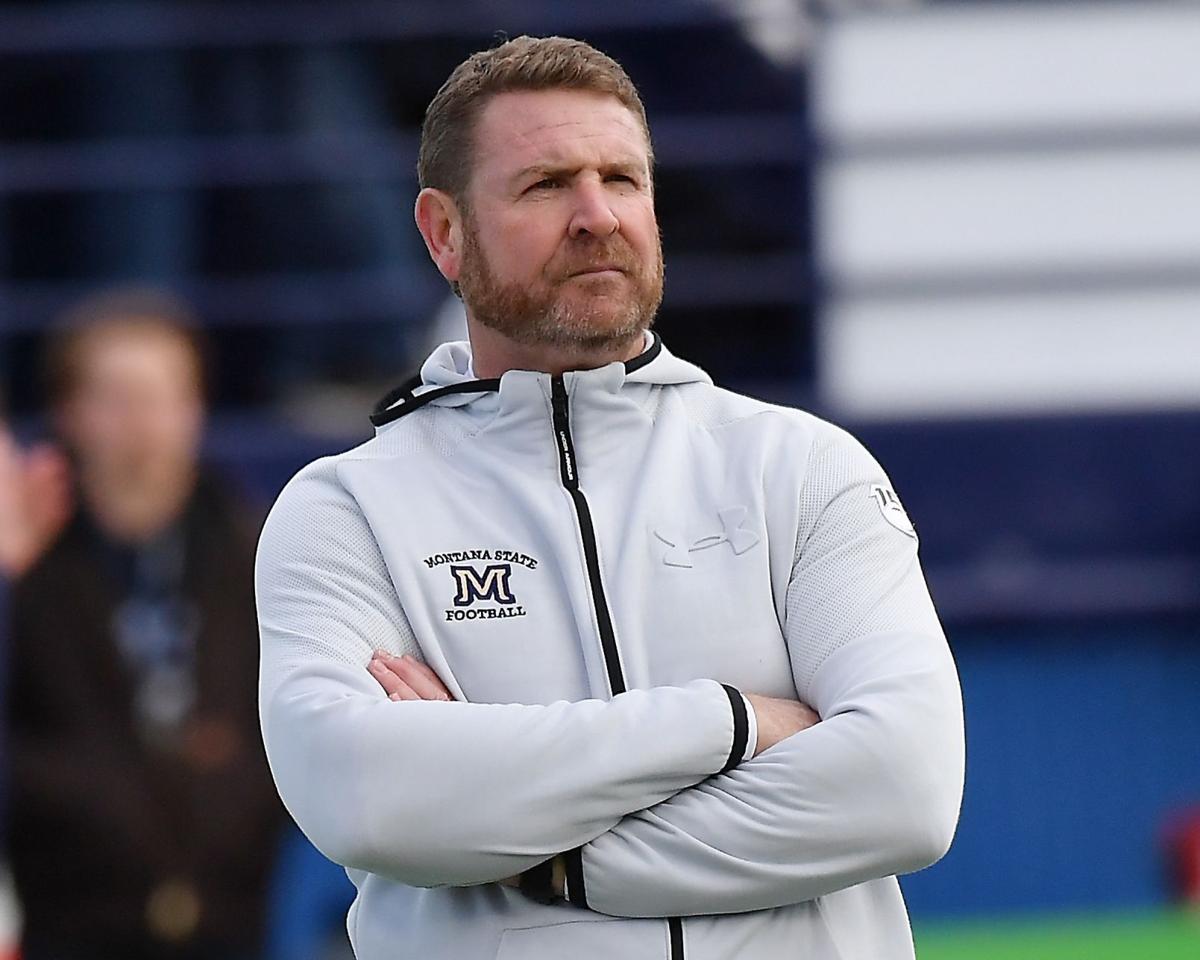 BOZEMAN — Jeff Choate has "emerged as potentially the top target" to become Boise State's next head coach, according to FootballScoop.
On Dec. 23, news broke that Choate, Montana State's head coach, had lined up an interview for the job. Choate reportedly interviewed this week with Boise State officials and "has gained traction of late."
An MSU athletic department spokesperson has said previously the school wouldn't comment on the situation.
In March, Choate signed a contract extension, which was obtained by the Bozeman Daily Chronicle, that ends in January 2024. His buyout is $250,000 — the same amount for Bryan Harsin at Boise State — and he may terminate the agreement for any reason.
Choate's yearly base salary is $206,000, but with tens of thousands of performance incentives. That includes a retention incentive, which gave him an additional $35,000 for staying at MSU in Year 1 of the contract and an additional $5,000 more from the previous year for every year he stays.
Comparatively, Harsin was to make $1.95 million at Boise State in 2021.
FootballScoop also reported Choate wants to bring Bobcats offensive coordinator Justin Udy and defensive line coach Byron Hout with him, if hired. Hout is a former Boise State all-conference player and assistant coach. Udy, previously an offensive quality control assistant at Texas Tech and a defensive administrative assistant at Utah State in 2018, was hired at MSU in February.
Choate reportedly would also like to keep Matt Miller in Boise. Miller, a former Boise State player and Helena native, became BSU's passing game coordinator and wide receivers coach after he left his position as Montana State's offensive coordinator following the 2019 season.
In Miller's only full year as play-caller, MSU was eighth in the FCS with 258.1 rushing yards per game as eight Bobcats totaled at least 100 for the season with none eclipsing 1,000.
Bobcats defensive coordinator Kane Ioane, a former MSU all-America safety, was not mentioned in FootballScoop's story. Ioane would potentially be a candidate to be the Bobcats' next head coach should Choate leave.
Choate's candidacy was widely speculated the moment Harsin was hired to become Auburn's head coach in December. Choate served as Boise State's running backs coach for three years and then linebackers coach for three years, coaching special teams across that span from 2006-11. Those years were some of the most successful in the Broncos' history.
At the time of Harsin's departure, BSU was without an athletic director. The university, which originally planned to hire an AD in March, announced it was accelerating that hiring process in light of the head football coaching vacancy. Boise State hired Baylor associate vice president for athletics Jeramiah Dickey as its next athletic director Saturday.
Dallas Cowboys offensive coordinator Kellen Moore and Oregon defensive coordinator Andy Avalos have been considered the top candidates for the Broncos' vacancy.
However, after considering the job and nearly taking it, Moore signed a multi-year extension with the Cowboys. He broke the FBS record for wins as BSU's quarterback by going 50-3 from 2008-2011.
Avalos also has reportedly interviewed for the job. Avalos, a former all-conference linebacker for the Broncos in the 2000s, was an assistant coach at Boise State from 2012-18 and was the defensive coordinator the last three of those years.
A Columbus, Ohio, native who grew up in St. Maries, Idaho, Choate still has deep ties in the Boise area. He also made a positive impression at Boise State.
As soon as Harsin left, some his former players — including Seattle Seahawks tight end and Bozeman native Will Dissly, who played at Washington when Choate was a coach there — lauded him on social media and recommended he be hired.
FootballScoop reported Choate has "gotten support in key areas of the Broncos search."
Petersen told the Bozeman Chronicle in 2019 that he viewed Choate as "a big-time coach." Petersen, who also worked with Choate at Washington, has been involved with Boise State's hiring process. According to FootballScoop, Petersen's "influence stands strong."
Choate has coached at MSU since 2016. After the Bobcats were 9-13 in his first two years, they've thrived since. MSU was 7-4 during the 2018 regular season and advanced to the second round of the FCS playoffs for the first time in four years.
In 2019, the Bobcats finished 11-4 as their season concluded in the FCS semifinals, a place they didn't reach since they won a national title in 1984. Choate is 28-22 at MSU.
Choate is also 4-0 against archrival Montana.