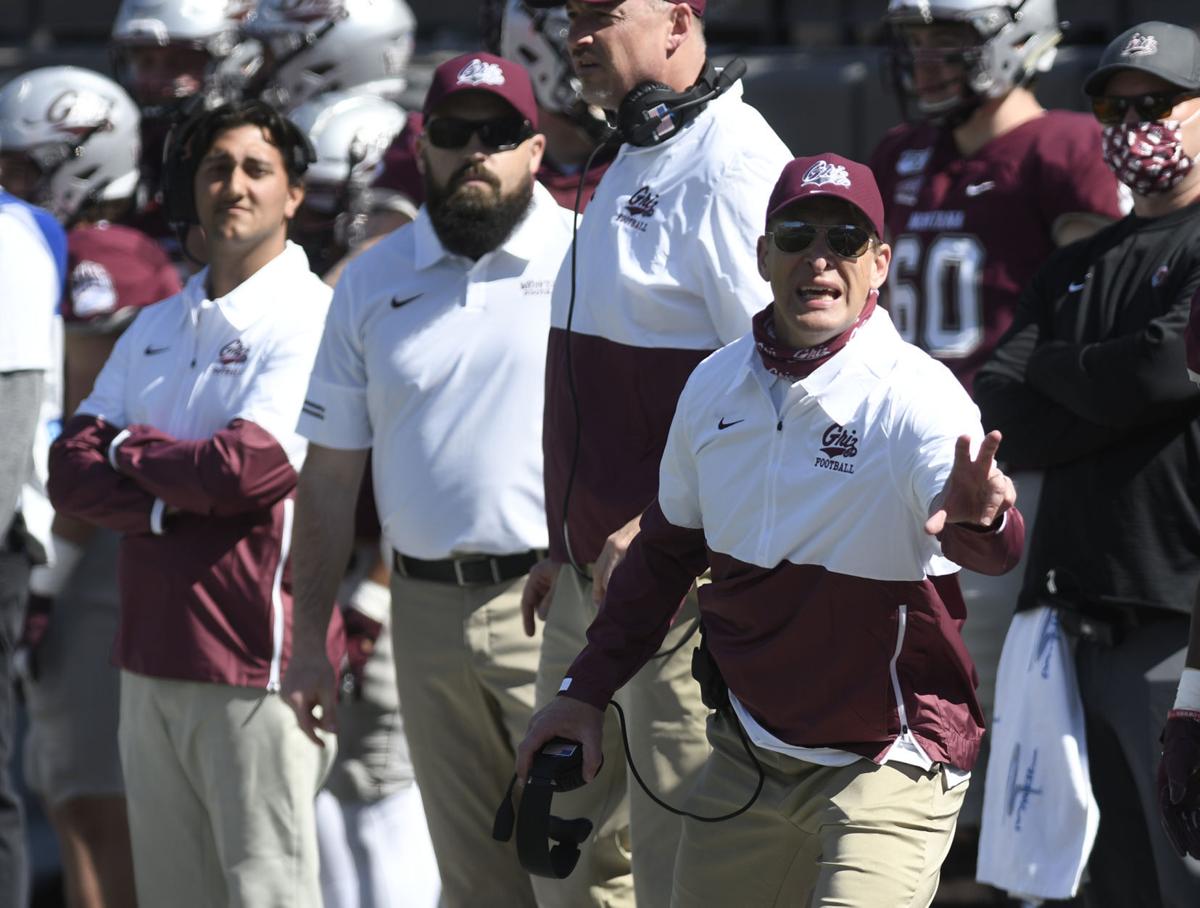 SPOKANE — Goodbye, Little Brown Stein. Hello, Dot's Pretzels Bowl.
UM isn't the only team to have a protected rivalry affected by Southern Utah's departure from the conference in 2022, which forced the Big Sky to redraw its schedules for the 2022-24 seasons. Nine of the 12 Big Sky members, including Montana State, will have at least one new rival they play each of those three seasons.
League schools were given increased input into their protected rivals, getting to request two but being guaranteed just one of those. Barnum said he asked his athletic director for both UM and MSU, but he was given UM and Northern Colorado, a change of his previous rivals Eastern Washington and Idaho State.
"I chose Montana because, what's the most professional way to say this, it's everything I want my kids to play in," he said. "I love playing in Washington-Griz. I know my team does. I know they're going to be a good football team year in, year out. I know them being on my schedule, because when we recruit, people know Montana, Montana State.
"When they come to my place, just like the Bobcats, they crowd my stadium. That's why I wanted them. Eastern comes to my place, nobody's at the game. My old college roommates ask me for tickets. The Griz or the Bobcats come, they fill my stadium up, and that's money in my pocket. I had both of them on my list just because I know they bring money to my program."
The change to an upcoming protected rivalry with Portland State — the teams don't play this year — isn't too big of a deal for Hauck, who said he wasn't consulted about requesting protected rivals. Whether it's PSU or the recent protected rivalries with Eastern Washington and Idaho, those are both secondary to UM's main rival, Montana State.
"We have one rival: it's the guys to our east," Hauck said, referencing the Brawl of the Wild, the 120th rendition of which will be played November in Missoula.
Montana had an uninterrupted rivalry with Eastern Washington from 1983-2017. That was affected when Idaho returned to the Big Sky in 2018 and was paired with UM, a series that was first played in 1903 and had last been contested in 2003 before it returned from a 14-year hiatus in 2018.
Idaho coach Paul Petrino thinks getting to play UM two out of three years from 2022-24 is still good enough. Plus, he likes the pair of rivalries with Eastern Washington and Idaho State, the latter of which replaces Montana.
"I think Idaho State is your in-state rivalry, so that should be one," he said. "And then Eastern is right down the road, so I think those are two that you kind of have to play."
In addition to UM, Montana State's other protected rival will be Eastern Washington from 2022-24. The Bobcats were most recently paired with UM and Northern Colorado, the latter of which became a protected rival to replace North Dakota, which left the conference in 2018.
Eastern Washington coach Aaron Best doesn't see MSU as a natural rival because of the distance between the schools, but he has enjoyed the recent games against the Cats. EWU has won seven of the past nine in the series, but three of MSU's losses were decided by five or fewer points. They've also each made at least the semifinals of the playoffs once since 2018.
"I think there's been some really good games, and that's what you want in those types of settings," he said. "You want some back and forth, you don't want it to be one-sided, you want it to be highly ranked teams, highly anticipated games where the value of the outcome is different than just a quote-unquote normal game. That makes our conference strong."
Best, a former EWU player, had looked forward to facing Montana annually because of the back-and-forth nature of their games. UM has gone 20-13 in the series since EWU joined the Big Sky — the Grizzlies' most losses against any league team in that stretch — but EWU has won six of the past eight.
"Even though the budding rivalry of Eastern with Montana from the on-the-field perspective has taken on a new form in the last decade and a half, the conference did what they could with what they had," he said. "We'll play who they schedule us to play. Everybody's going to have opinions, but as long as it's equal with every student-athlete getting to host every team and go to every venue in the Big Sky if they stay all four years, I think that's important."
In addition to the protected rivals, each Big Sky team plays six rotating opponents in its eight-game conference schedule. In the 12-team league, each team will play every other team at home once and on the road once in a four-year period.
The only three teams that are keeping their current protected rivals for 2022-24 are the three California schools: Cal Poly, Sacramento State and UC Davis. They each play the other two every season.
In Hauck's ideal world, there wouldn't be a need for the term "protected rival." That wasn't a thing in his previous stint at UM from 2003-09 until the Big expanded from nine to 13 teams in 2012.
"I want to play everybody in our league every year," he said. "That's what I want."
Frank Gogola covers Griz football and prep sports for the Missoulian. Follow him on Twitter @FrankGogola or email him at frank.gogola@missoulian.com.