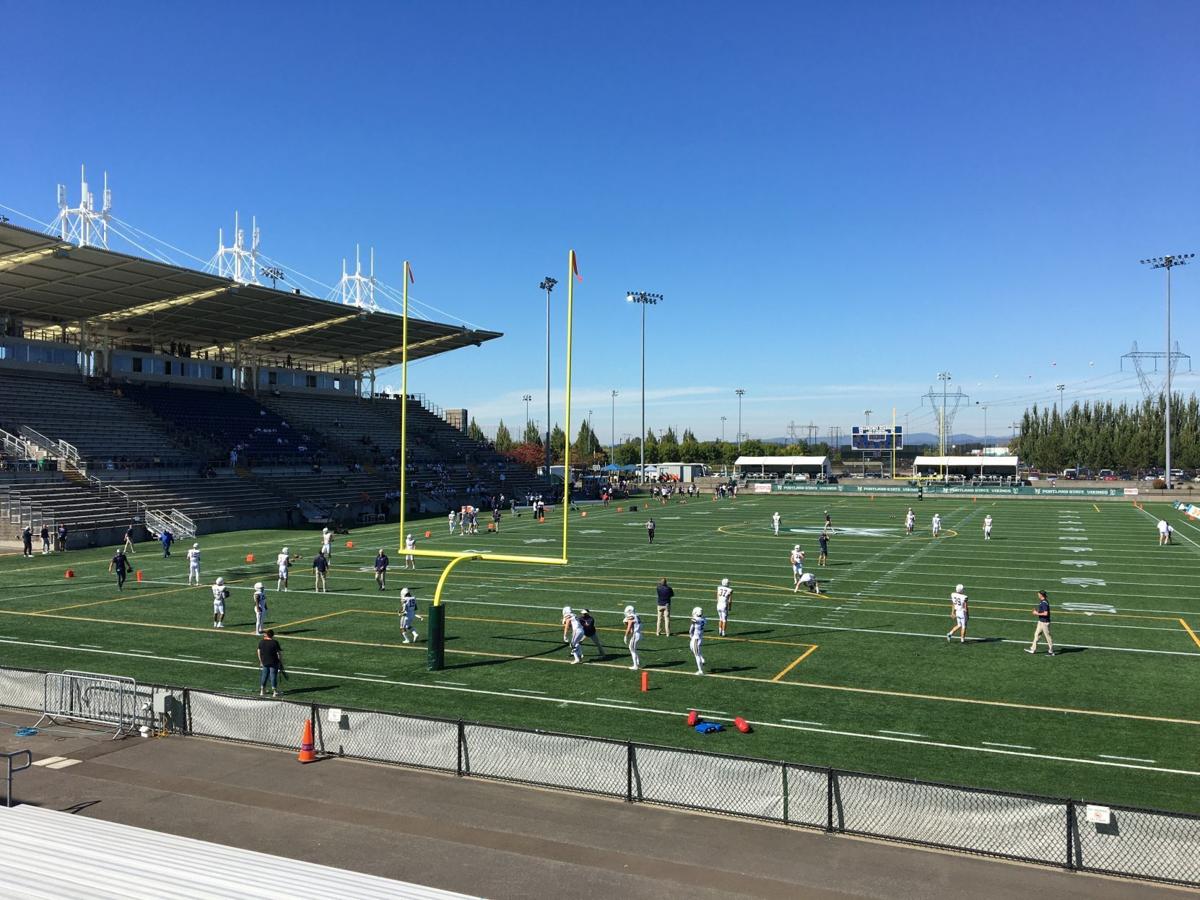 Live coverage as the Montana State Bobcats visit the Portland State Vikings on Saturday, Sept. 25, 2021.
PREGAME: The 13th-ranked Bobcats (2-1) will begin Big Sky play against Portland State (1-2) at Hillsboro Stadium in Oregon. It's their first Big Sky game since their 48-14 win over rival Montana on Nov. 23, 2019 at Bobcat Stadium. 
MSU has a 7-8 all-time record against PSU, with the Bobcats winning the most recent matchup 43-23 in 2018 (MSU's first game at Hillsboro Stadium).
The Bobcats have won two straight games, both at home, after a 19-16 season-opening loss at FBS Wyoming. MSU outscored those two nonconference FCS opponents, Drake and San Diego, by 80 points combined. 
FIRST QUARTER: MSU trailed for the first time since Week 1 after PSU freshman kicker Gianni Smith kicked a 41-yard field goal at the 9:43 mark. The score was set up by a 25-yard pass from senior Davis Alexander to junior Beau Kelly and an unsportsmanlike penalty on MSU senior linebacker Troy Anderson on the first play of the drive. 
The Bobcats tied it up less than three minutes later on a 34-yard field goal from freshman Blake Glessner. Isaiah Ifanse rushed for 29 yards on the first play of the drive, and fellow junior Matthew McKay completed a 23-yard pass to freshman and Portland native Elijah Elliott four plays later.
The Vikings went ahead 10-3 on a 10-yard pass from Alexander to freshman Nate Bennett on third down with 2:45 left in the quarter. Six plays earlier, Alexander completed a 36-yard pass to freshman Darien Chase, who made a tough catch on the right sideline. 
SCORE: Portland State 10, Montana State 3
SECOND QUARTER: McKay committed his first turnover of the season with an interception at the 13:39 point of the second quarter. He threw deep while his intended target, senior Lance McCutcheon, cut his route short, and Semaj Bolin made a diving catch for the pick. 
PSU's following drive also ended with an interception, by true freshman Simeon Woodard for the first pick of his MSU career. Woodard was in for James Campbell, who got hurt in the first quarter but was able to walk off under his own power. 
The Bobcats went three and out on the drive immediately following Woodard's INT, but they scored for the second time on their next drive. Glessner made a 41-yard field goal with 4:52 left in the half, a kick made possible by a 46-yard run from Ifanse, who finished the half with 112 yards on 13 carries. 
MSU drove deep into PSU territory right before the half ended, but a holding penalty on a long McKay-Coy Steel connection and an incomplete pass to McCutcheon in the end zone forced the Bobcats to settle for a field goal, a 40-yarder from Glessner with four seconds left. 
It was the first half MSU has played this season without scoring a touchdown.
SCORE: Portland State 10, Montana State 9
THIRD QUARTER: MSU took its first lead of the game on its first touchdown of the game, a nine-yard rush from Ifanse with 9:08 left in the third to make it 16-10 Bobcats.
One play earlier, Coy Steel returned a punt 45 yards and got hurt on the play. The junior wide receiver was helped off the field and walked back to the locker room on crutches later in the quarter.
PSU went back ahead at the 4:39 mark on a 1-yard run from Malik Walker. The score wouldn't have happened without a 41-yard strike from Alexander to junior Marquis Striker three plays earlier.
The Vikings' lead was short-lived. McKay found McCutcheon for a 20-yard TD with the 1:06 on the clock. 
SCORE: Montana State 23, Portland State 17
FOURTH QUARTER: PSU drove into MSU territory to start the fourth, but the Bobcats got the ball back on a strip sack from freshman and Melstone native Brody Grebe. Senior Chase Benson, a Helena graduate, recovered the fumble at MSU's 30.
The Bobcats got into Vikings territory on the next play, a 46-yard pass from McKay to McCutcheon, and they went ahead 30-17 with 9:03 left on a nine-yard pass from McKay to freshman back Jaharie Martin. 
FINAL SCORE: Montana State 30, Portland State 17