MISSOULA — Everyone assumed Hana Feilzer would walk away with the Big Sky Conference hammer throw title when she stepped into the ring at the conference championships.
And that pressure made Saturday's moment in the literal sun all the more sweet.
The hometown kid put the hammer down — or up and out more like — as she rewrote her own Montana school record twice in her final two throws at Dornblaser Field on a beautifully sunny day to capture her second Big Sky title in the hammer throw, picking up right where she left off in 2017.
"I'm ecstatic. I'm all over the place and so, so happy," a beaming Feilzer said. "I've been shooting for that all year. That was my goal to get out there and do that and I did it and I'm just so happy."
Already the school-record holder at 206 feet, 3 inches, Feilzer, a 2014 Big Sky grad, entered the finals as the only thrower to crack 200 feet. Ironically, she scratched her first throw in the finals, then went 208-06 on her second attempt to break the record.
That was a short-lived record however as just minutes later Feilzer walked back into the thrower's ring and ripped a toss of 209-10. There was a moment of silence as everyone listened, and when it was announced she bested herself again, Feilzer yelled in jubilation and received hugs from teammates and eventually family as the Griz had a good collection of fans watching.
"It felt good and like I was in the right positions," Feilzer said with a laugh. "I knew that (second to last) one was going to be good and that last one I was like, 'Ok I launched it, it's pretty good,' and to come out and be two feet farther than the last one was crazy."
For Feilzer, who redshirted last year to save up for one final season, the moment in front of the home crowd was exactly what she was waiting for this spring.
"I think it was that stuff I was working on throughout my redshirt season which was not worrying about each individual throw," Feilzer said about working through her one errant throw. "It was, 'Ok, I scratched, I can learn from that, let's go get another one and go do it.' I was so ready and jacked to be out here today.
"It's that mindset that I needed to have and I had it today and I need to carry that into regionals in two weeks."
Feilzer was the lone winner for the Grizzly women on Saturday as Montana finished in fourth place as a team. Sacramento State won the team title for the women, Weber State was second and Southern Utah was third. Montana State finished fifth.
Montana's next highest placer on Saturday was redshirt junior and Columbia Falls native Carla Nicosia who placed second in the triple jump. Nicosia jumped 39 feet, 9 ¼ inches and for her, landing a mark on her first attempt helped build her confidence towards earning that eventual finish.
"Typically when I mark my first (jump) I have a good day," she said with a laugh. "So that was always good and I kept building. I came in ranked second and I performed how I should've so that's exciting.
"When I come in and start off good, you kind of relax because it's in there and you know you have it."
Redshirt junior Jane Booth, a Corvallis native, was one of many UM athletes to also podium with third-place marks. Booth took third in the high jump, winning with a leap of 5-8 ½. She cruised to that point without missing a single mark but ended at 5-9 ¾ which would've been a personal best.
Booth said she sometimes puts unneeded pressure on herself, like wanting to get to regionals again, but overall was pleased with what she accomplished.
"I think I just get in my head sometimes but I don't know why, I felt confident, but other than that it felt good. I was really excited about today," Booth said. "I'm really excited that I got points for the team. I've been known to struggle at big meets because I freak myself out but I'm glad I contributed. It's awesome."
Maryn Lowry finished third in the 1,500 while Olivia Ellis added a third-place finish in the 400 hurdles for the Griz. 
Other UM placers included Helena native Carly Smiedala (4th, 800), Billings native Morgan Sulser (5th, 100 hurdles), Plains native Kayla Holmes (7th, discus), Megan Franz (7th, 800) Manhattan native Mariah Harvey (8th, hammer) and Jansen Ziola (8th, 100 hurdles). UM's 400-relay placed seventh and its 1,600-relay placed fifth. 
Bobcats finish strong
Montana State also grabbed some podium spots to end the meet. 
As a team the women finished fifth and were guided by strong performances from Morgan Evans and McKenna Ramsay. Evans, a Great Falls native, finished third in the 100 hurdles at 13.83. Her time ranks her at No. 4 in school history at MSU. 
For her, the improvement she's seen in between years one and two in college were the most inspiring takeaways from her performance. 
"I'm really happy with getting third," Evans, a sophomore, said. "Last year was a really rough year for me. I didn't even make finals last year so I really improved a lot so I'm happy."
Evans admitted that the jump from a standout prep career to her first year in college was a tough adjustment. But knowing where she ranks all-time at MSU gives Evans extra motivation going forward.
"It's nice because I know I can improve on that (time)," she said. "Even in this race I hit a couple of hurdles pretty hard but I know I can go faster. I have two more years and I'm excited for what I can do."
Ramsay also placed third for the Bobcats but in the 400 dash. She crossed the finish line with a time of 54.38. It was a personal best for the Dillon, Colorado native, who utilized a strong kick down the final 100 to pass Sacramento State's Mikayla Revera down the stretch and edge her out by .04 for the podium spot. 
"I've kind of been struggling to really put together a good 400 this season so going into this I knew exactly what I needed to change and what I needed to focus on to get there," Ramsay said. "I think I did those things really well. I'm really happy with it."
Other MSU placers included Plains native Hailey Phillips (5th, 400 hurdles), Bozeman native Lucy Corbett (6th, high jump), Missoula Sentinel grad Madi Arneson (6th, discus), Elisabeth Krieger (6th, 400), Kelsi Lasota (6th, 5,000), Helena native Elena Carter (7th, 100 hurdles), Joliet native Truanne Roginske (7th, 100) and Bozeman native Camila Noe (7th, 5,000). MSU's 400-relay placed fourth and its 1,600-relay was third. 
Record performance
The 100 hurdles had plenty of excitement due to the fact that five of the competitors ran sub-14 second races. But Weber State senior Tawnie Moore outshone them all and rewrote the record books with a stunning performance. 
Moore finished the race in 13.11 which broke the Big Sky Conference record, the championship meet record and also set a new facility-best mark at Dornblaser. 
"I knew (the heat) was going to be fast. There's a lot of strong girls in this conference," Moore said. "Just going into it I was just looking forward to being pushed by them. My better half of my race is my second half so I thrive off of that competition and that pressure."
The moment was a special one for Moore who was reflective on her decorated journey with the Wildcats. After battling through injuries in the early-going, she went on to get the school record in 2017 at 13.32, and bested that mark on Saturday. The previous Big Sky record was set by Portland State's Jazmin Ratcliff in 2014 at 13.26. 
"I cried a little bit," she said about seeing her time on the board. "So many years have gone into this and just every single year I keep surprising myself. Seeing that made it all worthwhile."
Big Sky Championships-1-tm.jpg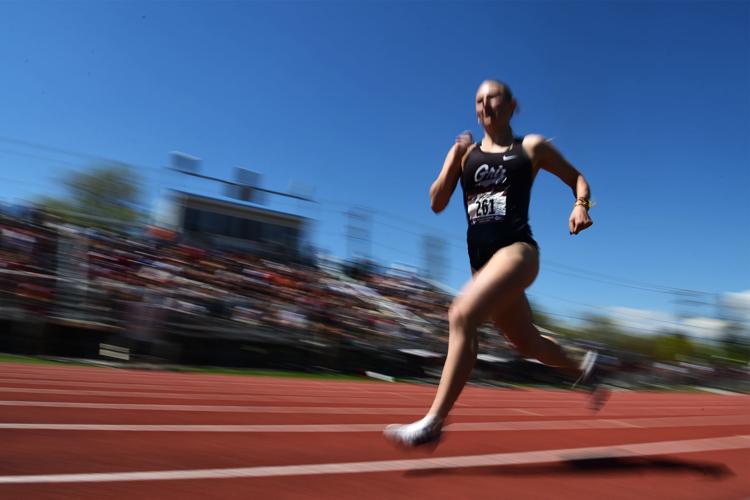 Big Sky Championships-2-tm.jpg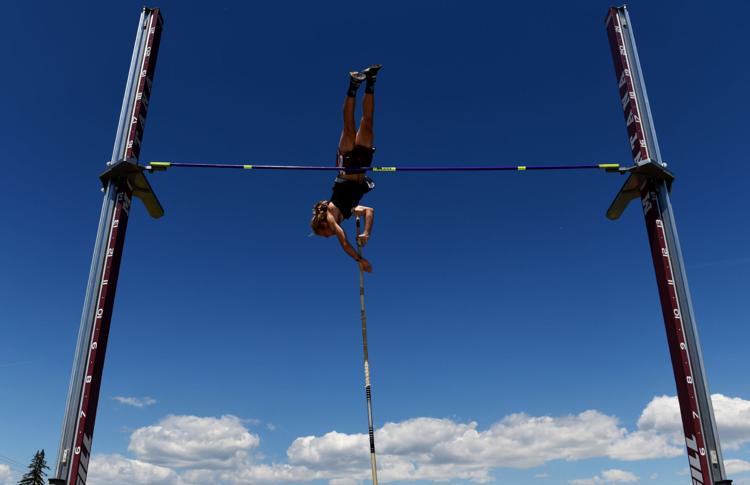 Big Sky Championships-3-tm.jpg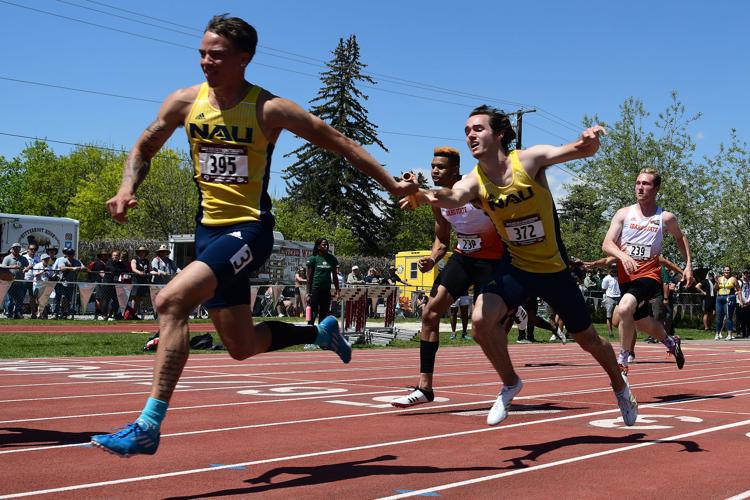 Big Sky Championships-4-tm.jpg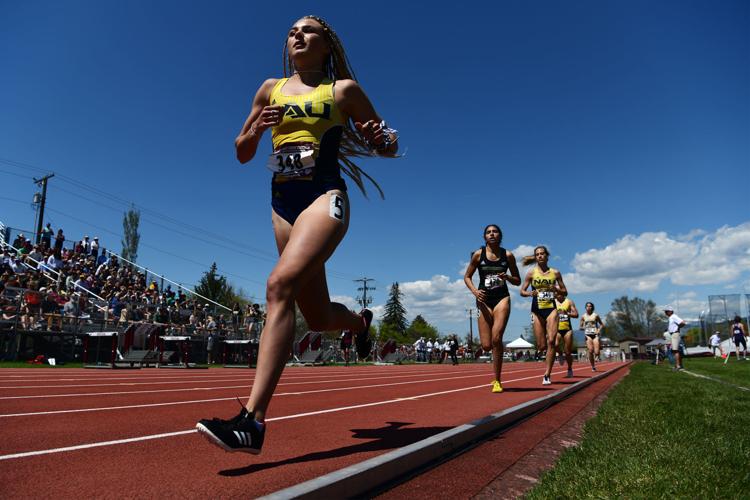 Big Sky Championships-5-tm.jpg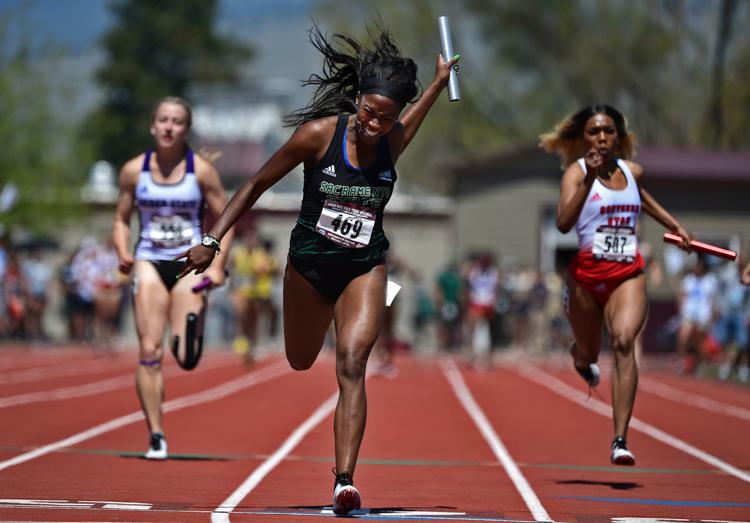 Big Sky Championships-6-tm.jpg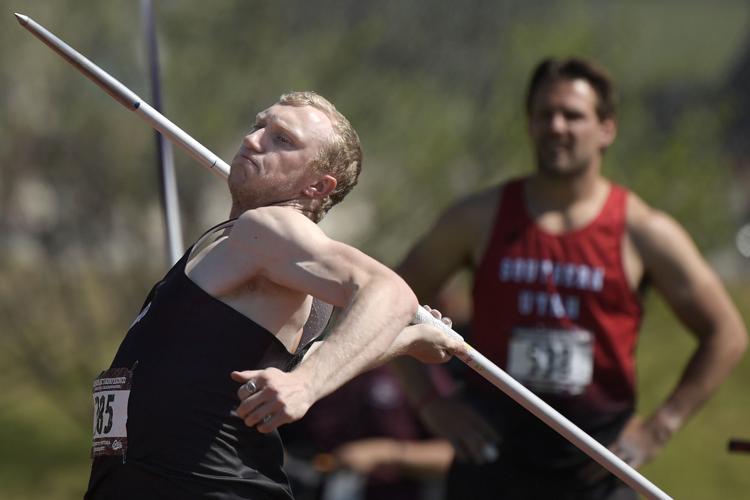 Big Sky Championships-7-tm.jpg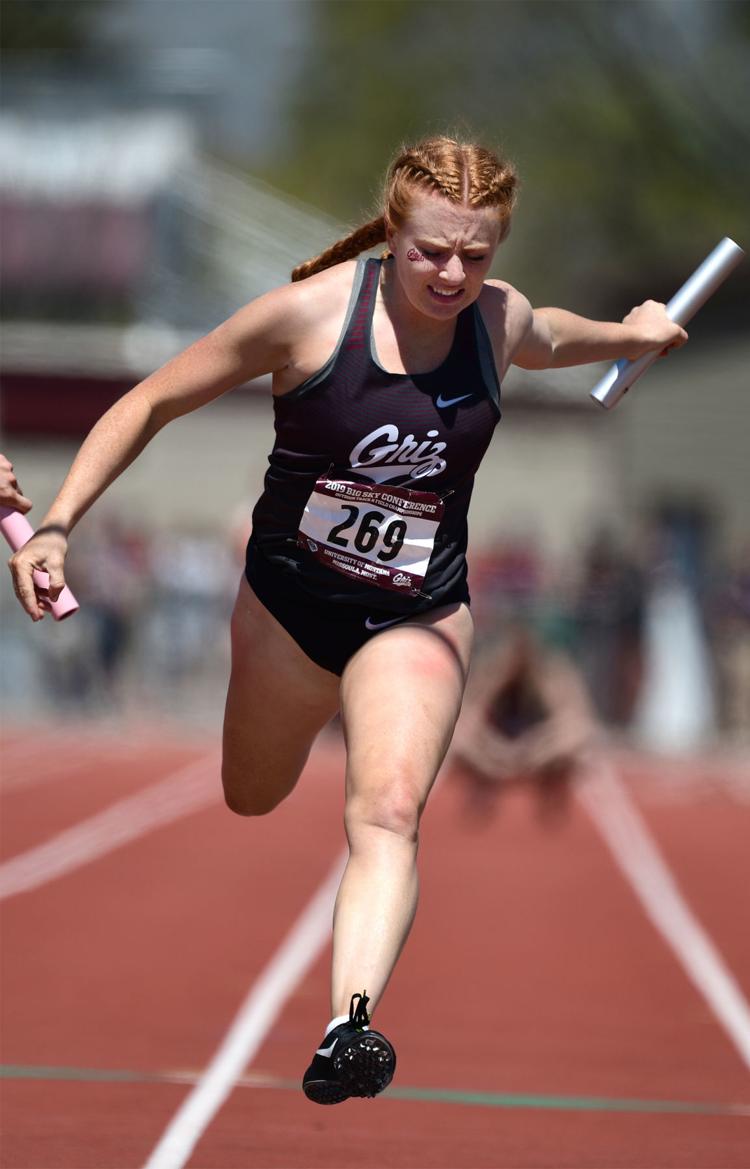 Big Sky Championships-8-tm.jpg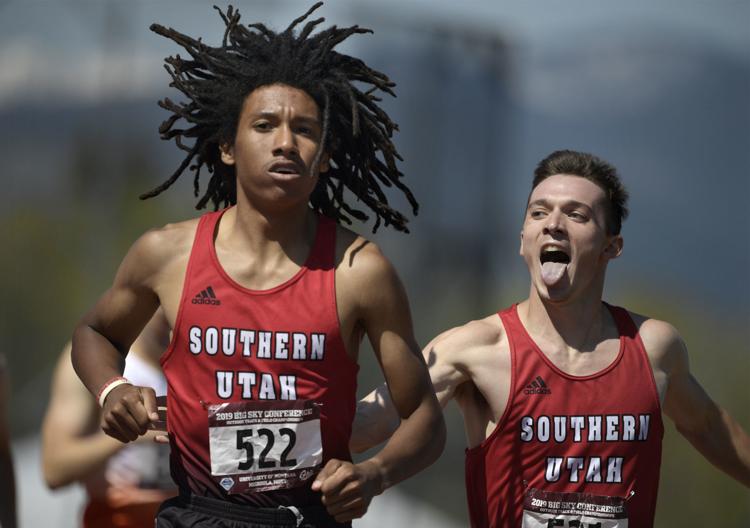 Big Sky Championships-9-tm.jpg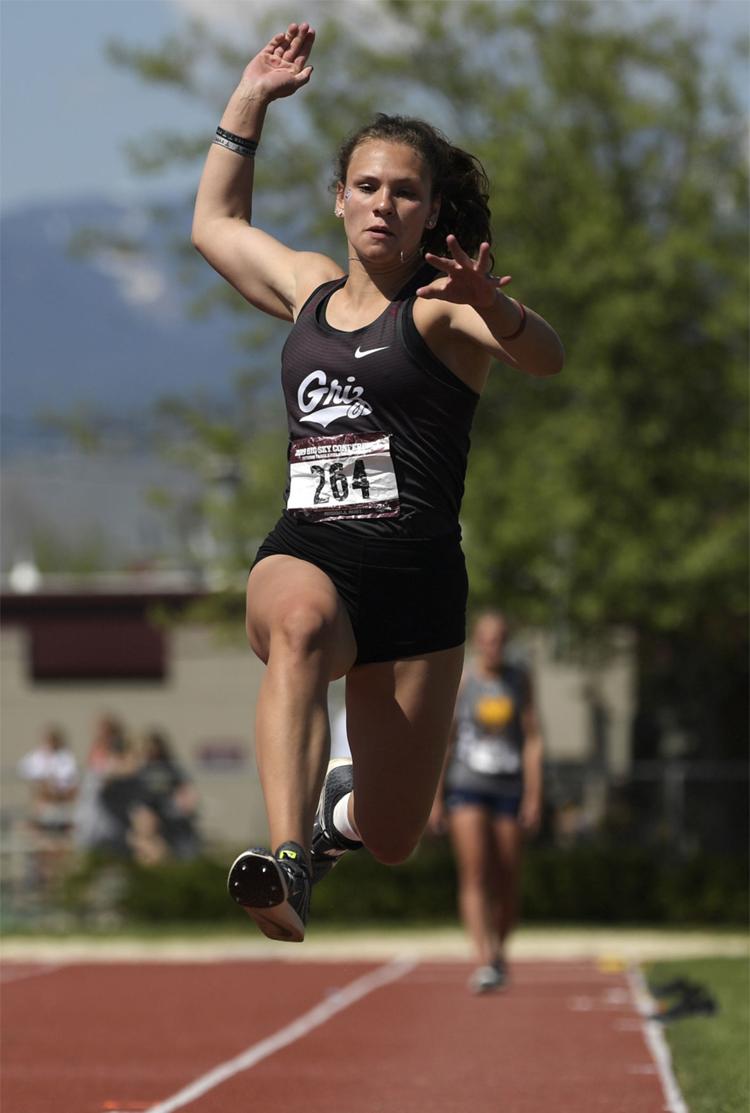 Big Sky Championships-10-tm.jpg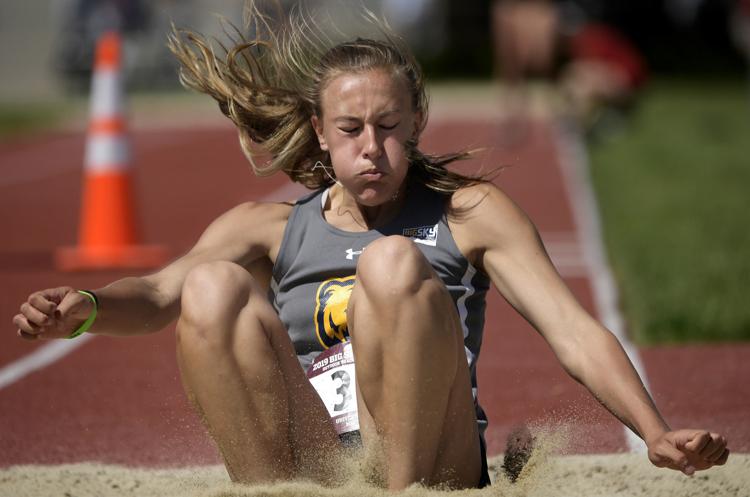 Big Sky Championships-11-tm.jpg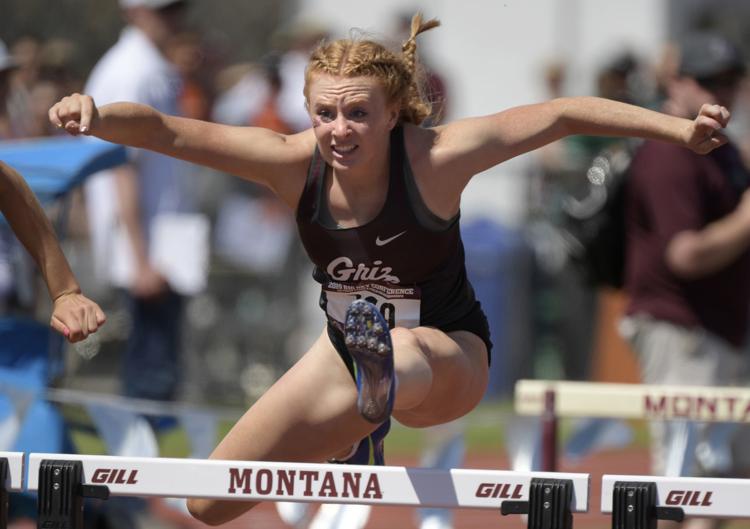 Big Sky Championships-12-tm.jpg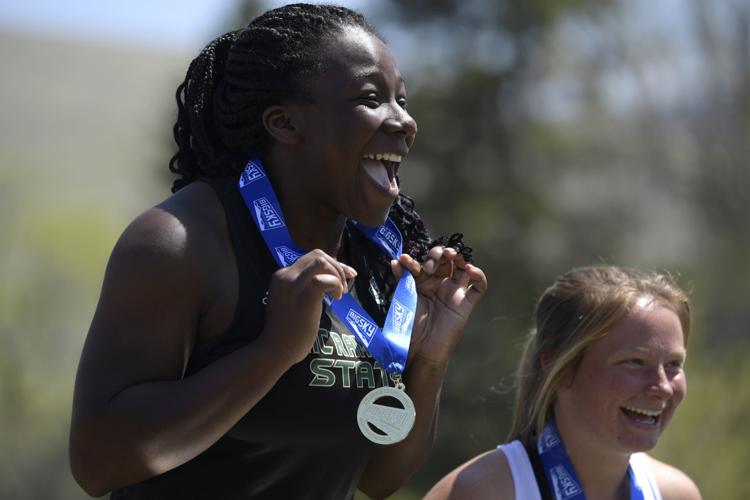 Big Sky Championships-13-tm.jpg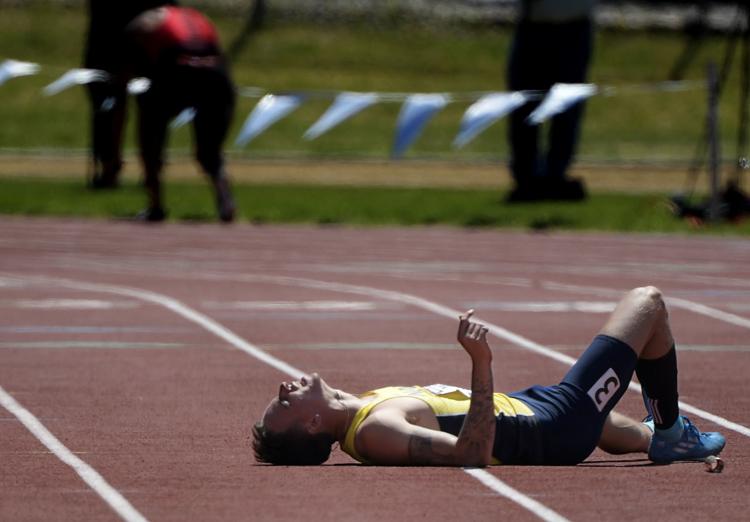 Big Sky Championships-15-tm.jpg
Big Sky Championships-16-tm.jpg