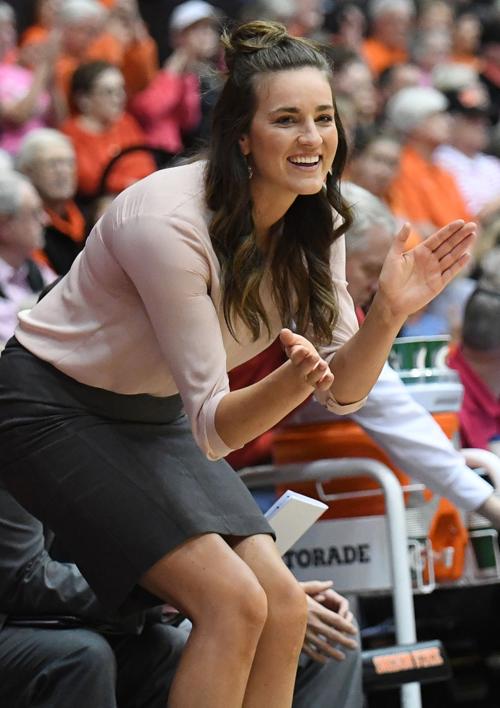 MISSOULA — As a player, she was fierce from her freshman season all the way up to the last time she left the floor in a Montana Lady Griz uniform in the NCAA tournament.
For this longtime Lady Griz beat writer, Katie (Baker) Faulkner represents the best of times for Montana in this century. There was that close call against UCLA in the Big Dance 10 years ago, reminding us all that it's not a pipe dream, this idea of mid-major UM winning in the NCAA tourney.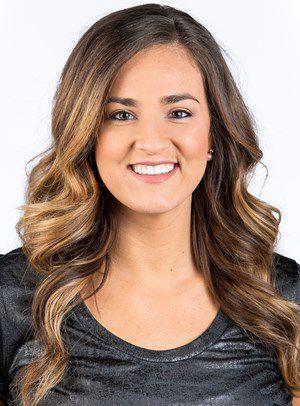 These days, Faulkner makes regular trips to the Big Dance as an assistant coach for Oregon State. The eighth-seeded Beavers (11-7) will take on ninth-seeded Florida State (10-8) in the first round of the tourney at 5:30 p.m. Sunday on ESPN2.
Coaching is a passion for Katie. Someday the 30-year-old may even land back in Missoula as skipper for the Lady Griz.
Could she get a serious look for the current opening? No one knows for sure because no one knows who will apply. Montana hasn't conducted a national search since Jimmy Carter was president, and he's 96 years old.
The unknown makes it extra intriguing. Will established Big Sky Conference coaches from rival schools apply? Will Montana athletic director Kent Haslam stick with Mike Petrino, who made progress this past winter in an interim role? Will Haslam take a chance on a young, up-and-coming coach like Faulkner?
Nine years ago, Drake took a gamble and hired a 30-year-old legacy player in Jennie Baranczyk. She led her team to three straight NCAA tourney berths before settling for the WNIT this season.
Is Faulkner capable of doing the same? Not even she could say for sure, but she certainly has paid her dues since giving up her pro playing career overseas.
"I've been at the bottom of this profession as a grad assistant folding T-shirts, now I get to be an assistant at the highest level," she said. "I do have aspirations to go on and be a head coach. My life experiences and my skill set will allow for that in the right place with the right people. That would be the greatest honor and blessing."
Regardless of which candidate Haslam and his search committee choose, that person would be wise to adopt a few habits from legendary Lady Griz coach Robin Selvig. Not just instructional habits but compassionate habits.
"The No. 1 thing I remember now that I'm in the coaching world, the thing I try to model after Rob, is that he was consistent," offered Faulkner, who ranks fifth on Montana's all-time scoring list with 1,427 points. "Win or lose, day-to-day, he showed up the same Robin Selvig and he coached every single one of us whether we were a starter or rode the bench.
"As a coach, that is such a skill that not a lot of people learn to hone. To be the same person consistently and value the person over the performance is really impressive in a time when it's dog-eat-dog."
There are a lot of similarities between Missoula and Corvallis, Oregon. Missoula is the larger city, but Oregon State's enrollment is three times that of the University of Montana. 
Whoever lands the Lady Griz head coaching job, that person needs to be a relentless recruiter. Montana needs a few more talented players, plain and simple. A deadly 3-point shooter is at the top of my wish list.
According to Faulkner, the Oregon State women's program sells potential recruits on Corvallis much like Montana coaches might sell Missoula.
"While we're not Los Angeles, but we have 6,000 fans a game," said Faulkner, alluding to the fact Oregon State is in the Pac-12 along with UCLA and USC.
"You go to the grocery store in Corvallis and Bob and Jane are going to know your name and who you are. We're also in the same conference as Stanford and Cal, but for academics, we have a lot here, too. Recruiting just takes a lot of hard work and being on top of it and taking care of people. After five years doing this now, I know what works." 
Regardless of who lands the Lady Griz head coaching job, know this: Haslam understands well the importance of the decision. He understands it's one of the most important ones he will make at the University of Montana.
He also knows, like Faulkner, what that decision means for future players.
"That program changes lives," Faulkner offered. "It's been so impactful.
"To this day, I believe Montana is a great program. It will get back there. I know it."
Katie, there's a lot of fans in the Treasure State that sincerely hope you're right.
Bill Speltz is Missoulian Sports Editor and has served as Sunday columnist the past 15 years. Do you have a story idea? Email Bill at bill.speltz@missoulian.com.