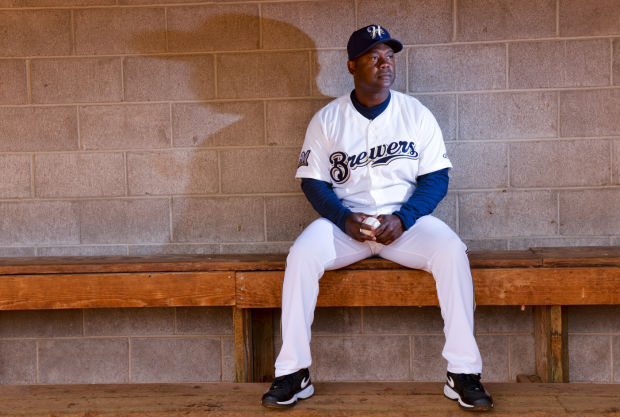 Helena is where it all began for Tony Diggs.
Now, the player-turned-manager's career has come full circle as he returns to the Capital City as the 2013 manager for the Helena Brewers.
"It is pretty special," the 46-year-old Diggs said last Friday from his new digs inside the Kindrick Legion Field clubhouse. "Not many guys get a chance to see both sides of the fence, so to speak, as a player and then later on as a coach or manager. And to be back in the place it all started for me as a player is special."
A lot has changed since Diggs first came to Helena in 1989, after being drafted by Milwaukee in the sixth round of the amateur draft. The city has grown, the bleachers and locker rooms at Kindrick have been updated, and he said the playing surface in the ballpark is better than what he remembers. But 24 years later, one thing that hasn't changed is Diggs' appreciation for baseball. You can see it in the infectious smile he wears, the one that screams, "I love my job."
"To be able to stay a part of this game as a coach or manager has been a great opportunity for me and my family," he said. "We've seen a lot of different places because of it, but to be able to experience the love of your life as far as having it as your work, that's pretty special in itself."
Following stints as a hitting coach in the Cardinals' and Brewers' minor league systems, Diggs took his first manager job in 2008 when he was hired to lead the Arizona League Brewers. He was there for the last five seasons, winning the championship and Manager of the Year award in 2010. With a number of players on the 2013 Brewers roster coming up to Helena from the AZL, Diggs sees a tremendous advantage.
"They know me as a person, they know what my expectations are," he said. "I've had an opportunity to see them, evaluate them and know what their strengths and weaknesses are."
Diggs said that will allow him more time to familiarize himself with the new acquisitions. He remembers what it was like coming into that first year as a pro.
"Bright-eyed and bushy-tailed, not knowing anything about the professional sport of baseball," he said. "You've played baseball, but it's a whole different atmosphere when you get to this level."
Diggs never did crack the major leagues in his eight seasons as a player, though he reached Triple-A briefly in 1993, '95 and '96.
"You're just below the big leagues and you're actually in a position where you're hoping and waiting for that call to be able to go there," he said. "It didn't really happen for me but, nonetheless, that didn't take away from the experience I had as a player. Because I cherished every minute of it.
"Getting there is tough. I think a lot of players are going to find out that you can have natural ability, you can have all the tools, but you still have to learn how to use those and how to work. Everybody at this level is pretty even, so you have to learn how to outwork the next person, how to be more consistent, and hopefully all that work you do pays off."
Diggs twice topped 30 steals in a season, including when he played in Helena, and he suited up at several positions in his career — playing everything except first base and pitcher, in fact.
"Ultimately, you'd like to be known as a one-position, everyday player," he said. "You're perfecting it, you're in the lineup. But to be able to play multiple positions is a huge advantage, because you can still find your way into the lineup every day, and that's where you want to be to hone your craft. I think (being a utility player) prolonged my career."
While he has fond memories of a couple of championship teams he was a part of, winning isn't everything to Diggs. He said he cherishes the relationships he's made through baseball more than the hardware.
"There are still people I stay in communication with that I met here in Helena as players," he said.
The sport has literally taken Diggs across the globe. He was the director of player development for the Intramural Baseball League of Australia in 2000 and 2001, and was a consultant for the Australian National Team at the 2000 Sydney Olympics. He and his wife, Tina, even relocated the family there during those years, and Diggs said two of his seven children were born in Australia.
"Baseball was probably about the fifth or sixth top sport in Australia," he said. "It was great to be over there, in a beautiful country that was yearning to be able to learn this particular game."
Diggs said David Nilsson, an Australian who played catcher for the Milwaukee Brewers from 1992-99, was the one who gave him the opportunity Down Under. Nilsson and Diggs were teammates in the minor leagues.
"It was a very good experience as far as being away from America, and it was good to be able to see through the eyes of another country and culture what their priorities were and what they considered their top sports," he said.
For all that he has accomplished, Diggs remains humble. When asked about the 2010 season — which culminated in championship rings and his manager of the year honor — he refused to take any credit.
"We had a very fundamentally sound group of players that year; they played well from the beginning to the end," he said. "They had a greater understanding of the game than most of the teams that came through there and were probably a little older than most of the players that come through Arizona. They were a great group of guys that played a team sport as a team. ... Basically all I did was make a lineup and send them out to play."
Diggs has continued to follow those players and said many of them are currently in Double-A with a good opportunity to go further. Seeing that progression, he said, is more gratifying to him than accolades.
As for his coaching style, Diggs possesses a team-first mentality and operates with a laid-back approach.
"I try to be relaxed," he said. "I think the more relaxed you are, it sets the tone for your team to be relaxed. At the same time, there is a work ethic I expect, and the players I have coached know that I expect 100 percent all the time when we are between the lines.
"... And as long as you understand the team comes first, you're more valuable to our organization, in my opinion. I like to keep things loose, but at the same time I like to make sure guys understand how to play the game the right way."
Diggs has a number of sports influences, from baseball players he watched growing up, like Pete Rose, to his mother, who got him involved in sports and other outdoor activities he continues today, such as hunting and fishing. He could go on and on about those who have had a direct impact on his baseball career, from college coach Dusty Rhodes at the University of North Florida to a long list of instructors in the Milwaukee organization.
He's passed his passion for sports and nature on to his seven children as well, and is already looking forward to the Brewers' road trip to Grand Junction, Colo., where his oldest son, A.J., is attending Colorado Mesa University on a football and baseball scholarship. That will be a family reunion of sorts, as his wife and children who are still in school will join him there. They are remaining back home in Arizona this summer — in large part due to the high school boys' athletic obligations.
But Diggs has plenty here to keep him busy. In addition to his managerial duties, he remains the assistant director for the Milwaukee player development center, a position he's held since 2006. The job entails mostly administrative work, he said.
"I pay attention to the different affiliates, strong attention to community service and stay on top of disciplinary issues that arise," he said, adding that in the winter he assists with different offseason training programs.
When asked what advice he gives his players, Diggs paused to gather his thoughts and then delivered some tips that transcend the game of baseball and could easily apply to anyone in any profession.
"If you don't enjoy it, you're not going to give it the effort you normally would," he said. "... So enjoy what you're doing, because it is a great opportunity.
"I guess the other would be a realization that you're never going to be bigger than the game. ... This game is going to be here with or without you. Treat it with respect and learn to enjoy it even more. You never know how long you're going to be in it — it could be nine seasons, like I had, it could be one season, it could be 15 years in the major leagues. Just enjoy it."
Diggs definitely enjoys what he does. Helena pitching coach Elvin Nina, who has worked with Diggs in extended spring training for five seasons now, can attest to that.
"He loves to have fun, so I know we're going to enjoy ourselves playing baseball every day," Nina said. "This was a great staff that was put together — we all get along, we all joke around. I'm excited, because I know we're gonna have a fun year."
Get the latest baseball news delivered to you!
Sign up to receive professional baseball news in your inbox every week.