When I was first asked to write this story, I was a little apprehensive. I wasn't sure where to start, or to finish, or what to put in between. So I just started writing down a few thoughts, as they came to me. And after a few minutes of random reflections, the memories of the times I've spent at Kindrick Legion Field over the years came flooding back to me.
Not only my time as a sports writer, but also the years prior in different capacities at the ballpark. All (or most, anyway) the colorful characters I met, and the interesting stories I heard. It turned out to be one of the more enjoyable projects I've worked on lately. -- Curt Synness
---
HELENA — As the Helena Brewers complete their final homestand in the Capital City before relocating to Colorado Springs, Colorado, "Replays" takes a look back at some of the favorite memories yours truly has of our Pioneer League baseball teams.
Modern era Minor League baseball came to town in 1978, when the Helena Phillies served as a Class A farm team for Philadelphia. Helena partnered with the parent club until 1983. From 1984-86, the team was known as the Helena Gold Sox, the first year as an independent team, before being affiliated with the Milwaukee Brewers.
The club became the Helena Brewers in 1987, playing here until 2000. After a two-year hiatus, the Brewers returned to Helena in 2003, where they've played for the last 15 years.
The local team garnered four Pioneer League championships, in 1984, 1995-96, and 2010.
Sandberg, Bell, Gregson
In 1978, the Helena Phillies boasted five players that advanced all the way to the Major Leagues, which is unheard of for a Class A "Rookie" minor league team.
Topping the list were Ryne Sandberg and George Bell. In the team's very first program, Sandberg was listed as "Ryan Sandberg." Bell – who went by "Jorge'" back then – stepped off the plane at the Helena Airport fresh from the Domincan Republic, and only spoke about three words of English, according to Helena Phillies co-owners Ron Iverson and John Lagerquist.
Sandberg (with the Cubs in 1984) and Bell (with the Blue Jays in 1987) are the only two players that started out together on the same team in the minors and went on to earn big league MVP awards.
Also reaching the majors from that team were Rob Dernier, Ed Hearn and Julio Franco.
Another member of that '78 Phillies team was Glenn "Goose" Gregson. While pitching for Helena that summer, Gregson met local a gal by the name of Jan Gleason. The two began dating, were later married, and eventually made their home and raised a family in Helena, where they reside to this day.
Gregson is still active in baseball, having served as the Boston Red Sox's Latin American pitching coordinator since 2005.
Gold Sox, Gary Sheffield, Ward Goodrich
My association with the local minor league team began in 1984, with the independent Helena Gold Sox, who went on to garner the league title that year. I was a sign painter at that time, and was contracted to hand-letter the team's outfield banners by their general manager, the late Ward Goodrich.
Yours truly was in the stands at Kindrick Legion Field in 1986 when Gary Sheffield made his pro debut. Sheffield was drafted in the first round by Milwaukee right out of Tampa, Florida's Hillsborough High School, and received a $158,000 signing bonus, which was among the highest-ever at that time.
I was seated not far from a local fan that kept badgering the 18-year old Sheffield during every at-bat — "Hey Big Money, you can do better than that!" When I finally spoke up in the teenager's defense, the guy snapped back, "He's gonna be a millionaire, he better be able to take it."
Which apparently he did, since Sheffield eventually went on to earn $168 million over the course of his 21-year big league career.
Goodrich and I became good friends, and for the next two decades I learned quite a bit about his fascinating life: from his service with the 10th Mountain Division in World War II, to being a minor league clubhouse man and laundering Hank Aaron's uniform, to his radio DJ days as "Nervous Ned" and meeting a young Elvis Presley in Florida before "The King" made it big.
Mary Gunstone, 'Cochise,' Dave and Marlene Hughes
Fans are the backbone of any baseball team, and the local club has had hundreds of colorful local supporters over the years. Among those that stand out in my world were Mary Gunstone and Wayne "Cochise" Mann (both deceased), "Bengal Billy" Neisess, and husband and wife Dave and Marlene Hughes.
I worked with Mary Gunstone at Buttrey's grocery store before minor league baseball came to town. She went on become the local club's unofficial photographer and "adoptive mother" of many of the players for four decades, before she passed away in 2015.
Mary — who captured one of the few known photos of Gary Sheffield in a Gold Sox uniform — compiled scrapbooks to give to each player at the end of every season.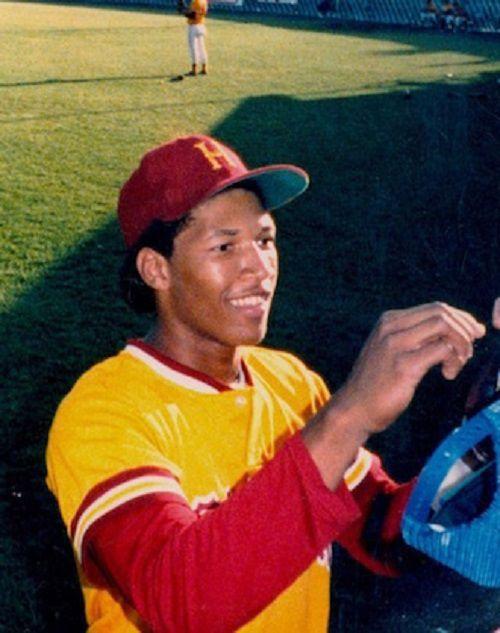 Cochise was another staple at almost every game for nearly 35 years. When he wasn't busy running errands for the press box and management, he could be seen roaming the stands, talking baseball with anyone that would listen.
Prior to permanent signs in the outfield, one of Cochise's duties before each game was to haul about 15 heavy, 5X10 rolled up banners, out of the clubhouse to the outfield, and attach them to the fence with bungee cords. Then after every game he'd take them down, roll them up and store them back in the clubhouse. Oftentimes he didn't complete this task until well after midnight.
Bengal Billy was the team's cheerleader, famous for exciting the crowd with his patented, "Give me a B! Give me an R!..." and culminating with, "What's the spell?! Brewers! What's that spell?! Brewers!"
Dave and Marlene Hughes joined the Helena Minor League Boosters at the club's formation in 1994, and Marlene began overseeing the "Host Families" in 1997. The first players the couple housed were Jason and Matt Childers.
The Childers brothers both went on the play major league baseball. Jason wound up with the Tampa Bay Rays, where they filmed a short video of him based on the movie "The Rookie," since it was the same situation and team.
Over the past 21 years, the Hughes have shared their home with 71 players, including three more that made "The Show"; Michael Brantley, Mat Gamel and Jonathan Lucroy.
Sabo, Littell, Mondesi
Over the past 15 years, I haven't spent a whole lot of time with the Brewers. But having worked with the team in several different roles — scoreboard operator, authoring historical pieces for their program, and covering nearly a hundred live games — I do carry my share of memories at the ballpark.
I got to see several guys who played for my two favorite teams, Boston and Cincinnati, two of whom happened to be with the Billings Mustangs. Former Boston shortstop Rick "Rooster" Burleson managed Billings for a spell, while Chris Sabo of the Reds was a coach for the Mustangs, as well.
About 15 years after Cincinnati won the 1990 World Series (with Sabo at third base), I brought my championship Reds cap to Kindrick Legion Field well before the start of a game versus Billings. It was well-worn and stained.
But I waited for a chance to approach Sabo, handed him the cap and a marker, and asked him to sign it. He looked at it for second, then took another somewhat surprised glance and recognized "1990 World Series" logo, and politely autographed it and handed it back … without muttering a word.
Another time, Brewers' No. 1 draft choice Matt LaPorta flew into town, put his uniform on, and promptly jacked a home run over the left field fence on his second pitch as a pro.
You could've knocked Brewers' radio broadcaster Steve Wendt's eyes off with a stick, as he looked over at me while exclaiming, "It just CAN'T be THAT easy!"
Once I found myself seated next to pitching coach Mark Littell in the press box after he was ejected from a game in about 2005. When he learned my name, we chatted about my dad's auto wrecking business. Turns out Littell was an antique car buff and was a steady customer at Synness Auto Wrecking.
I related watching the 1976 ALCS between Kansas City and New York on TV, when Littell gave up the walk-off homer to Chris Chambliss that propelled the Yanks to the World Series. Littell reminded me that he "was only 23 years old" at the time, and according to Wikipedia it was only the second tater he gave up in 100 innings that season.
During Littell's last season here, he invented a device called the "Nutty Buddy," which he's probably made more money off of than his entire baseball career.
And there was the time I interviewed former L.A. Dodgers' great Raul Mondesi in 2012. Mondesi, who got his start with the Great Falls Dodgers in 1990, was in town watching his son, Raul Mondesi Jr., play for the Brewers.
Local umps, players that stayed, management
There have been seven local umpires that worked Helena Brewers games, including one that made it all the way to the majors. Brian Knight, a Capital High grad who started out as a Legion pitcher for the Helena Senators, began umpiring in the Pioneer League in 1995. He is currently working his eighth season as a fulltime MLB umpire.
Brian's father, Jim Knight, worked over 200 Pioneer League games. Rounding out the list are the late Bob Chilton, Tom Mahoney, Ron Lee, Josh Root and Craig Struble.
Among the former Helena Brewers that stayed and have made their homes in the Capital City are Iggy Suero (1996), from Santo Domingo, Dominican Republic; Eliezer Rojas (1997-99), from Santo Domingo; and Manny Melo (2003), from Cagua, Venezuela.
And Jack "Dusty" Rhodes, who managed the Brewers in 1988-89, owns a home here where he lives part-time.
I would be remiss if I failed to mention the two guys I worked with the most for the latest edition of the Brewers — general manager Paul Fetz and assistant general manager/communications director/radio broadcaster Wendt.
Fetz, I believe, typifies Class A minor league baseball. At what other level do you see the GM doing everything from scooping out water with a drinking cup from mud puddles behind home plate before a game, to doing the near-splits while running the catch-a-fish contest, to performing a victory jig in the stands after a walk-off game-winning hit?
Wendt has an encyclopedic knowledge of the rules, a professor-like vocabulary of terminology and adjectives, and a memory for stats that made me feel absent-minded. I will never forget once arriving at the pressbox just as he was passing out the meal tickets, stating, "Your timing is impeccable."
Big at The Show
And last but not least, a quick mention of some — but not all — of the guys that started out in Helena and made it big in the majors, besides those previously noted: Darren Daulton (1980), John Jaha (1985), Darryl Hamilton (1986), Jeff Cirilo (1991), Mark Loretta (1993), Geoff Jenkins (1995), Ryan Braun (2005), Caleb Gindl (2007), Tyler Cravy (2010) and Yadiel Rivera (2011).
Former Helena Brewers making recent news in World Series play include Mike Matheny (1991), who managed the St. Louis Cardinals in the 2013 Fall Classic; and Alcides Escobar (2004) and Lorenzo Cain (2005), who were the starting shortstop and right fielder, respectively, for the 2016 world champion Kansas City Royals.
Maybe some day one of this year's Brewers will add their name to this list.