BUTTE — For the 10 Class AA teams in Montana-Alberta American Legion Baseball, rolling thousands of miles on team buses is the norm.
Including a trip to Kalispell for the state tournament, which starts on Saturday, those squads have combined for approximately 53,441 miles of travel. To put it in perspective, that's enough distance to circumnavigate the earth's equator — twice.
"You have to travel," Butte Miners head coach Jeff LeProwse said. "We live in a rural state, it's a big state and we've got Canada in our conference.
"It's just part of the deal."
In the Montana-Alberta league, travel distances among teams vary greatly and for a variety of reasons. For starters, teams such as the Billings Scarlets and Royals have the financial resources to travel to significant out-of-state tournaments, ballooning mileage.
The Scarlets — who topped the 10 teams in distance with 7,206 miles — played tournaments in Seattle and Denver. The Royals, along with the Helena Senators, got the chance this year to go to the Twin Cities to play in the Gopher Classic, the largest American Legion tournament in the country.
This led to Helena racking up 7,189 miles, while the Royals had the third-most with 6,963.
The Royals also played games in Gillette, Wyoming and Bismarck, South Dakota. Planning these road trips becomes crucial and Billings was actually able to play the Bismarck Governors twice on the way to the tournament in Minnesota.
Adding in side stops and making road trips hit more than once city can be extremely helpful, especially for the two Canadian teams — Lethbridge and Medicine Hat.
"When we do travel, we try to schedule a team before or right after that's close by," Medicine Hat head coach Skyler Stromsmoe said. "That way it does cut down on hotels and miles put on as well."
Lethbridge, for example, played in the Keith Sell tournament in Helena on June 28 – July 1 before immediately heading east for a doubleheader against the Billings Royals on July 2.
That ended up being seven games over five days, but cut mileage significantly — if they had been two separate trips, it would have been 1,352 miles of total travel instead of 914.
Interestingly enough, the two Canadian squads actually had the lowest number of total miles traveled. Medicine Hat went 3,016 miles while Lethbridge was slightly more with 3,615.
Relatively close to the border and playing in the Western half of the conference, they combined to come into the United States just eight times, including this weekend's state tournament.
With the way the schedule is set up, the eight other American Legion teams play home-and-away series with the Alberta squads, meaning the location of the games flips country each year. The Eastern teams play them just twice a season while the three other Western teams play Lethbridge and Medicine Hat three times.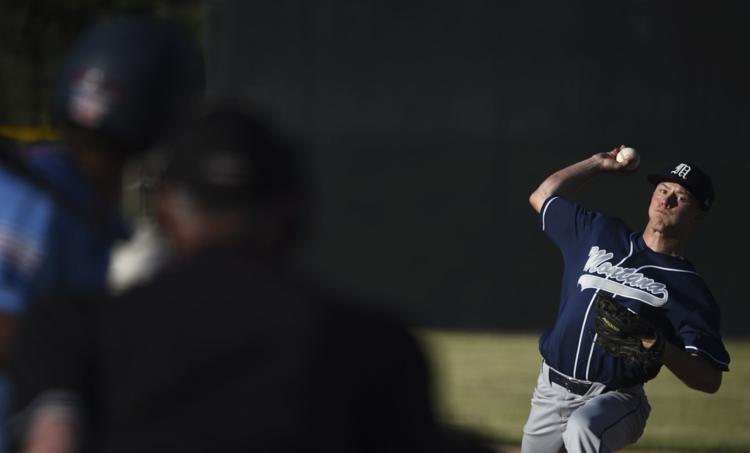 "It's fun for some of the teams from Montana to come up," Stromsmoe said. "Maybe it's their first time in Canada and they get to see what it's all about and realize that, yeah we're from different countries, but it's still the same game."
The experience is certainly worthwhile and the current schedule format makes things a little easier on everyone, but still can get expensive and especially for some of the lower-funded teams. LeProwse mentioned Butte has to raise funds of around $1000 per player, per year in order to have the money in order to travel.
Even a two-day trip to Lethbridge can run into the multiple thousands of dollars after gas, hotels and food are all bought.
"We have to find creative ways to save money and we always want to play the best competition and a lot of games, but there is a budget side of it too," LeProwse said. "You take a trip to Lethbridge, you take a trip to Billings, you take a trip to Flathead it costs money."
Despite the challenges, for the players and coaches in the fourth-largest state in the union and sixth-largest Canadian province, it's the way life goes. Thousands of miles of travel are expected and early mornings are required.
"I'm used to it and I figure that once these kids have been through the program a bit, they're used to it, Stromsmoe said. "Yeah, you have a seven or eight hour bus trip, whatever it is. It's just part of the deal. We roll with it."