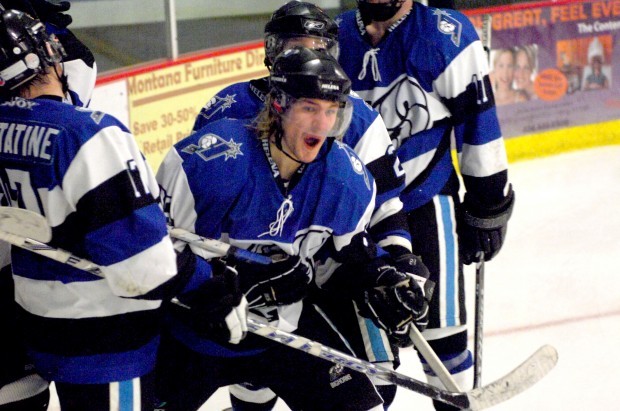 The life of a junior hockey player is, by nature, a nomadic one. Before their 20th birthdays, Gehrett Sargis and Gene Constantine had criss-crossed North America, from Ontario, Canada, to Wenatchee, Washington, all in search of that ever-elusive opportunity.
So it came as little shock when coach Dane Likte called the pair into his office in Janesville, Wis., last month and told them they were being traded to Helena.
This odd couple, whom hockey had made partners, loaded up the car and embarked on the 1,300-mile journey westward along Interstates 94 and 90.
"We were pretty excited to come, because we'd never been out to Montana," Constantine recalled Tuesday. "We were excited to see what it was all about."
At least the forward from Illinois and the defenseman from Texas, born a year and two days apart, had one another.
"It really helped out a lot," Constantine said. "We were real comfortable with each other, so that kind of made it easier."
Finding one's spot on a successful team loaded with veterans can be a challenge, but Constantine and Sargis quickly blended with the Bighorns' nucleus. Each has emerged as a key contributor on a team that begins its quest for a third straight Cascade Cup championship when it hosts Seattle on Thursday night at the Helena Ice Arena.
"I think our locker room is hungrier than before, adding those guys who never won yet," Bighorns coach Scott Cunningham said.
You have free articles remaining.
It didn't take long for the two newcomers to make their mark. Constantine scored twice and Sargis once in their first game, an 11-1 victory over Bozeman on Feb. 12. They haven't slowed down much since. Sargis had nine points in just four regular-season games, while Constantine had five. The duo has combined for 16 points (10 G, 6 A) in eight playoff games for the Tier III Bighorns.
Each had a goal in the Bighorns' decisive Game 5 victory over Yellowstone in the America West Division final on Sunday.
"I came here and everyone welcomed me," said Sargis, who had 13 points in 21 games as a third-line forward with the Tier II Janesville Jets of the North American Hockey League prior to the trade. "We go out a lot together. We've got a good group of guys."
"I had heard about them and they were in first place and I definitely wanted to make it to nationals and we accomplished that, so I'm definitely excited."
Sargis, a left-handed shot, plays right wing on a line centered by veteran Rudi Pino.
"He came in and you could tell he had the skill to bury the puck," said teammate and NorPac Most Outstanding Player Adam Johnson. "With him and Pino on a line, those guys can score from anywhere in the offensive zone.
"Gene's a fast defenseman who can get up in the play and shoot the puck well. It's nice to get extra help like that when you don't expect it."
Sargis turned 21 on Sunday, meaning this is his final season of junior hockey eligibility. Constantine, who turned 20 on Tuesday, may or may not be back in Helena next fall.
For now, the pair is focused on doing what they can to help the team win a third consecutive Cascade Cup.
"It's like we've been here all year," Constantine said.