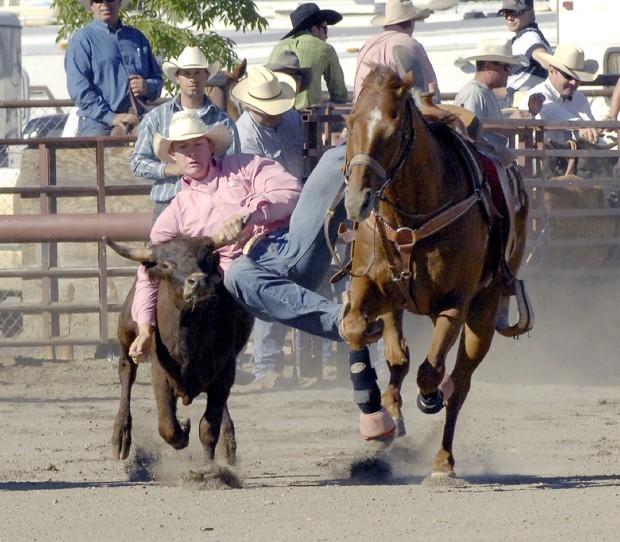 Tyler Erickson looked around and soaked up his surroundings.
The State Fair Arena in Oklahoma City oozes rodeo history. The building hosted rodeo's biggest event, the National Finals Rodeo, from 1965 to 1978 and showcased some of its most spectacular performances.
Names like Larry Mahan, Tom Ferguson, Roy Cooper and Joe Alexander all won world titles there during their Hall of Fame careers. Montana's own Shawn Davis, also a hall of famer, won the first of three world saddle bronc titles there in 1965.
Now it was Erickson's turn to flash his skills.
It wasn't the NFR — he hopes that is in his future — but the Dodge National Circuit Finals Rodeo this past April and the biggest rodeo in the young cowboy's career.
He was in the final round of steer wrestling, joined by Trevor Knowles, Casey McMillen and Wade Sumpter, who have a combined 14 NFR appearances among them. Erickson's rodeo experience was more regional.
Erickson didn't win that day, settling for a third-place finish. But he got something better than a championship buckle. Erickson left the state of Oklahoma with a cool $14,054, the most of any steer wrestler.
"That helped me a lot," said Erickson of his rodeo confidence. "Going up against the best guys showed me I can compete at that level."
Erickson, a Capital High graduate, used that newfound confidence the rest of the spring and won the Big Sky Region steer wrestling title for Montana State University. He was one of a handful of timed event cowboys who helped the Bobcats win the team title.
Erickson also finished third in the all-around standings and second for team roping headers. He roped this year with cousin Ben Ayre of Glendive, who won the region all-around and tie-down roping championships.
The 20-year-old Erickson, one of the state's rapidly ascending rodeo stars, is competing in steer wrestling and team roping this week in the College National Finals Rodeo, which began Sunday in Casper, Wyo.
"The goal is to win the national championship," he said, speaking for himself and his teammates. "We want to win the team championship. We're taking a nice team to the Finals."
And after his breakout performance at the DNCFR, he's ready for college rodeo's biggest stage.
"Oh, it will definitely help me," Erickson said. "After being in a big pressure situation like that, I know how to handle it."
The 6-foot, 5-inch, 235-pound Erickson — "I land on the steers and they fall over," he joked — was solid in both events during the spring.
He opened the fall season at the Northwest College rodeo with first-place finishes in the all-around, steer wrestling and team roping. He also won the all-around and team roping at the regional in Helena, the team roping at Montana-Western and the team roping at the University of Montana rodeo to close out the spring season.
"I had an average fall," said Erickson, a business marketing major. "In the spring I worked to be more consistent in every event.
Erickson will be aboard his 19-year-old horse Cisco for the CNFR steer wrestling.
"He runs hard and gives me a chance to win every time," Erickson said. "We've been together since I was a junior in high school. All my success is due to that horse."
And he doesn't mind roping with family.
"Ben and I have been waiting to pair up," he said. "Roping with Ben is good ... it ain't bad at all. We both like to practice so, it worked out pretty well."
This is Erickson's second trip to the Casper Events Center and he's hoping for better results.
"Last year, I didn't do anything at the College Finals, so I'm looking forward to this year," he continued. "I know what to expect and it should be an advantage for me.
"It's all about consistency. That's it. If you're solid on all four runs, you've got a good chance of winning it all."
Things didn't start out well for Erickson in Casper, where he opened without times in steer wrestling and team roping in the first go-round for both events.