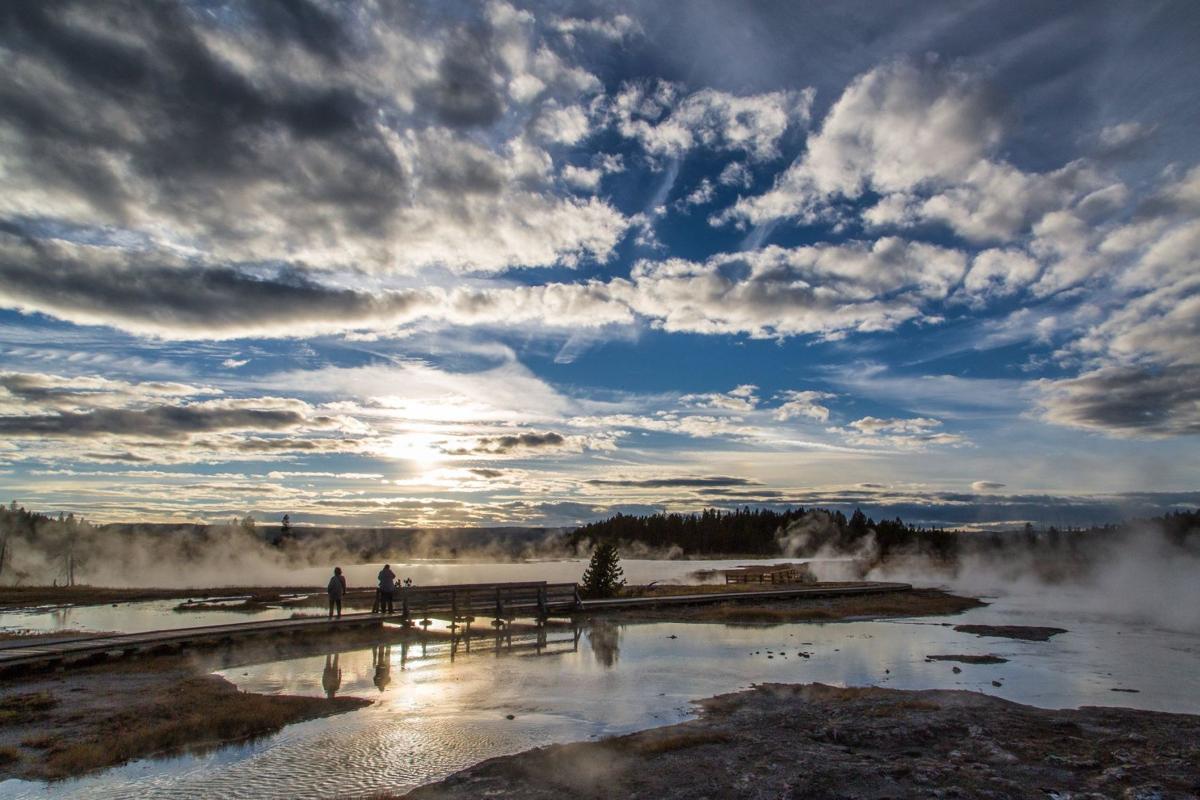 About 3,800 years ago Yellowstone National Park's Lower Geyser Basin underwent a significant environmental change.
Montana State University paleoecologist Christopher Schiller and his colleagues have analyzed pollen, algae and chemicals in a 2018 sediment core from the basin's Goose Lake. They linked it to research by other scientists in the region to document an increase in local hydrothermal activity that led to the open landscape tourists see today.
"The Goose Lake/(Lower Geyser Basin) research is important because it ties together our understanding of climate, geology, vegetation, and limnological history for the first time," wrote Cathy Whitlock, MSU professor of earth sciences, in an email. "It reminds us that Yellowstone is not just an ecosystem but a geo-ecosystem, where the dynamics are governed by both geological activity and climate." 
Such conclusions are based on an increasingly dense accumulation of knowledge that is painting a more detailed picture of Yellowstone's past than couldn't have been imagined a generation ago.
"This is the first time that my group has looked at the environmental history of an active geothermal area to see how it developed through time," Whitlock said. "I was surprised by the findings in a number of ways based on previous research of other lakes in the region."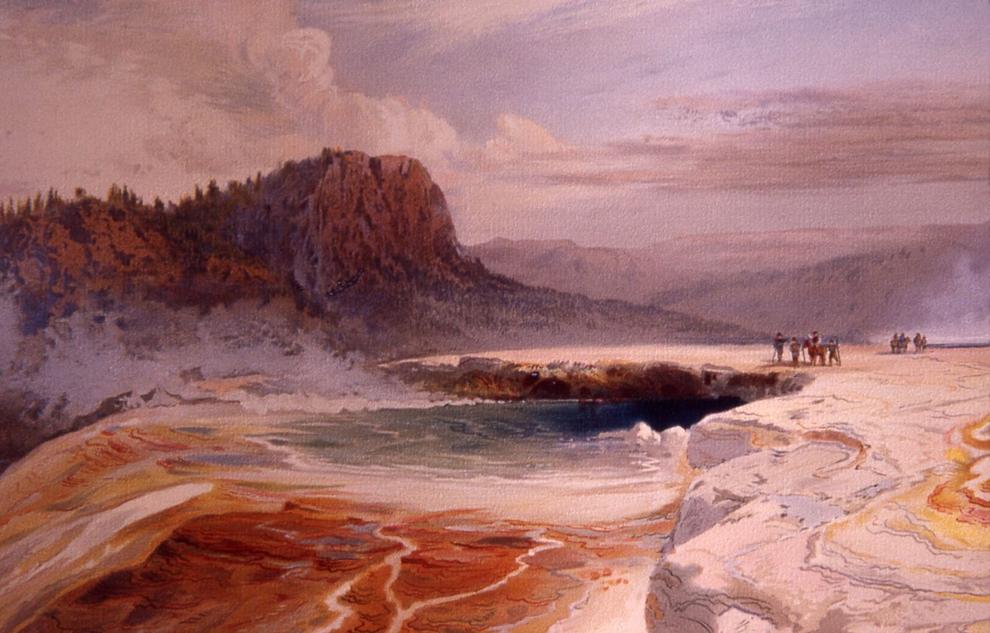 Where
The Lower Geyser Basin is the largest in Yellowstone, spread across more than 12 square miles. The Firehole River meanders through the area's wide meadows where bison graze. Many visitors drive through or stop to visit the basin's hot pools, geysers and mudpots on the way to or from Old Faithful geyser.
Spread across the basin are three large craters created by past hot water explosions. These eruptions are what initially caught scientists' attention and prompted the core sampling at Goose Lake.
"We got a very long core from that lake and thought it was old, but it's about 10,000 years," Whitlock said.
While evidence of the explosions was not found, the scientists instead learned something else that piqued their interest.
"We were able to find from a core taken from Goose Lake some other evidence of past hydrothermal activity and the response of the ecosystem to it," Schiller said in a Wednesday online talk through the Montana Institute on Ecosystems' Rough Cut Seminar Series.
Change
Prior to the hot water activity at Goose Lake, a pollen analysis of the core sample shows lodgepole pine trees encroaching on the now open basin. After about 3,800 years there is a switch with less pine pollen and more from sagebrush in that area.
Analysis of algae found in the core sample show types that survive well in warm temperatures, also pointing to increased hydrothermal activity in the lake, which shut off when the pollen counts changed.
"So we think what this represents is that about 3,800 years ago there was some dramatic reorganization of hydrothermal activity at Lower Geyser Basin that created the modern, mostly treeless landscape you see today," Schiller said.
There are three hypotheses about what might have caused this change. One is an earthquake or ground deformation, another is long-term drought and a third is some internal hydrothermal cause, which would be the hardest to prove, Schiller said.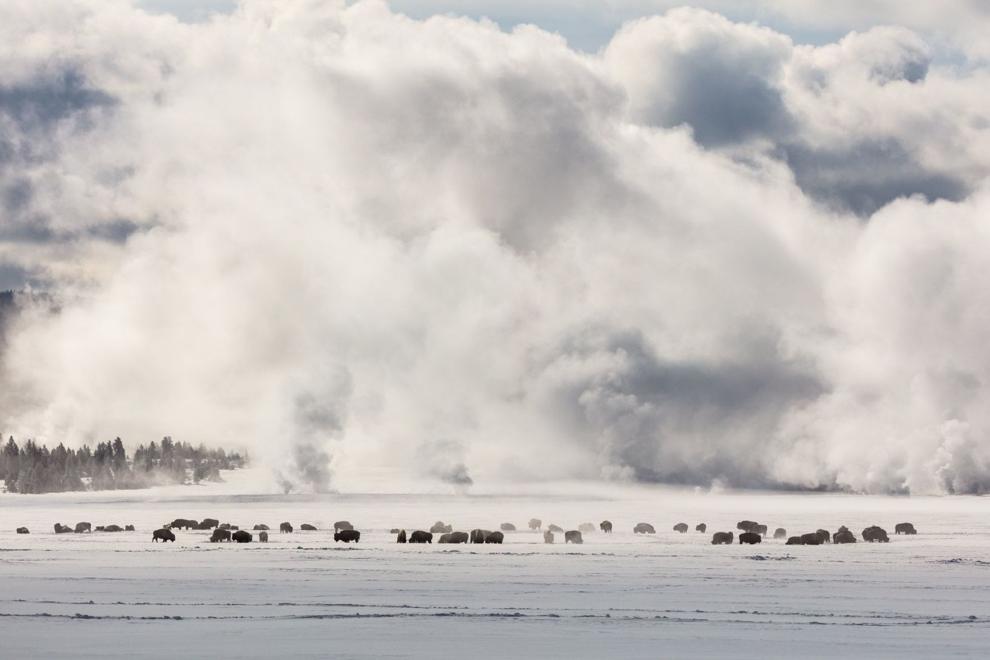 Why
"We do have seismic activity occurring at this time," Schiller said.
The Eagle Bay fault near Yellowstone Lake has been dated to around 3,300 years ago.
"Which is roughly the time period we are thinking about," he said.
There are also terraces around Yellowstone Lake caused by water as the the hot magma under the park rose and receded. About 3,000 to 4,000 years ago the caldera was at a low point.
Another possibility is that a long drought occurred. Analysis of long-dead trees near Old Faithful geyser dating to a 13th century drought indicate Old Faithful stopped erupting, pointing to evidence that something similar could have affected the Lower Geyser Basin's hydrothermal system.
"That's a real climate change connection," Whitlock said. "When you shut off the flow of water you get a vegetation event."
The change at Goose Lake is further backed up by research done of ice patches in the Beartooth Mountains that showed warm winters from about 4,200 to 3,800 years ago which "correlates to a global period of aridity," Schiller said.
"So there's also regional and global evidence that this event that we think happened about 3,800 years ago in the Lower Geyser Basin might have been driven by some sort of regional, global hydroclimatic event," he said.
Schiller said it is now important to take sediment core samples at more lakes in and around the Lower Geyser Basin to see if the same scenario plays out. The scientists also want to try and get better dating of the activity.
"Yellowstone just continues to provide us with surprises," Whitlock said. "It's such a resource to have this ecosystem" that remains relatively intact.
Photos: Yellowstone geyser spewed out strange and historic items during rare eruption