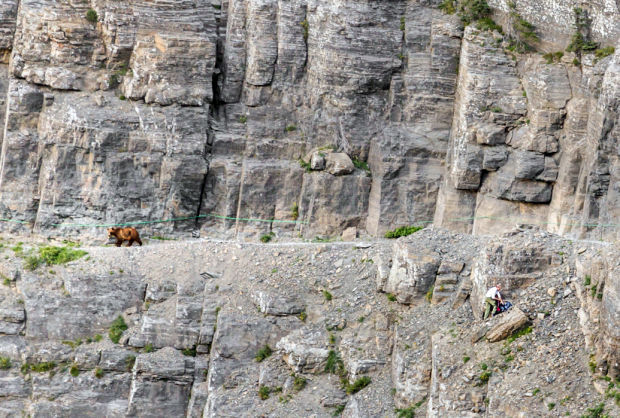 WEST GLACIER -- Four times this year that authorities are aware of, guns have been discharged inside Glacier National Park -- where it's been legal to carry a loaded firearm for more than four years, but where it remains illegal to fire one.
In one incident, an armed visitor accidentally shot and wounded another member of his camping party. In another, a hiker intentionally shot and apparently wounded a grizzly bear he said charged him.
Three of the four incidents resulted in misdemeanor citations from park rangers for violating the regulation banning the discharge of a weapon inside a national park. Two of those cited pleaded guilty and were fined. The third misdemeanor -- the one involving the grizzly -- was recently dismissed by federal prosecutors.
The fourth case resulted in a warning being issued.
When guns go off in Glacier Park, news stories often include an explanation along the following lines:
"While a 2010 federal law makes it legal for visitors to carry loaded firearms in national parks, consistent with state laws, it remains illegal to discharge one in Glacier and most other national parks."
"That's true," says Jeffrey Olson, acting chief spokesman for the National Park Service.
It does lead to confusion for some people, who wonder -- what's the point in the law allowing you to carry a firearm if the law also says you're not allowed to use it?
Perhaps the best way to understand it is to consider that the applicable gun laws in Glacier aren't much different than those that would be applied to a person on Main Street Montana.
Just because you're allowed to carry a firearm there doesn't mean you're allowed to discharge it at will. The same goes for the park.
If you need to use one to defend your life, however -- whether on Main Street or inside a national park -- that's often another matter.
Incident at Grand Teton National Park
Olson describes an incident at Grand Teton National Park last year where people involved in a park-sanctioned hunt to reduce elk numbers discharged a firearm during a grizzly bear incident.
"The firearm was discharged outside of their reason for being there, but they did it to save lives," says Olson, who adds such incidents are investigated at the park level. "That's kind of the standard" for discharging a weapon in a national park, he says.
No citations were issued in the Grand Teton incident. But one of the Glacier gun incidents this summer involved a Texas man who said he was in mortal fear for his life when he shot a grizzly bear he said charged him on the Mount Brown Lookout Trail in July.
The man, 57-year-old Brian D. Murphy, was cited by rangers.
The U.S. Attorney's Office dismissed the charge several days ago.
Why rangers elected to charge Murphy, and why prosecutors decided not to pursue it, is not entirely known. Glacier spokeswoman Denise Germann says park employees are required to refer questions about specific citations to federal prosecutors once cases have moved into the court system.
Assistant U.S. Attorney Michael Lahr, who filed the motion to dismiss the charge against Murphy, referred questions about the case to Keri Leggett, the Montana U.S. Attorney's Office law enforcement coordinator.
Leggett did not return a phone message.
Murphy's attorney, Jason T. Holden of Great Falls, said the charge was dismissed because his client "had every right to act in defense of his life."
Not black and white situation
"One thing we try to communicate is that each incident has its own set of circumstances and complexities," Germann says. "It's not as black-and-white as people want it to be. That's why we look at each incident on a case-by-case basis, to determine what action we feel is appropriate."
Murphy was cited nearly two months after his July 26 encounter with the bear, which was never located, but which evidence at the scene suggested had been shot. There were apparently no witnesses to the shooting.
Murphy said he first deployed bear spray, but it did not deter the animal. After firing his gun and wounding the grizzly he retreated down the trail, warned other hikers, reported the shooting to the first ranger he encountered, and voluntarily surrendered his .357 revolver.
In the other Glacier incidents this summer:
• An investigation into the June shooting at Bowman Lake Campground in the northwest corner of Glacier determined the discharge to be accidental. A camper was shot in the leg and hospitalized, and the person who was handling the gun at the time was cited for illegally discharging a firearm in the park.
• Last spring, an individual who fired a gun into a berm in the Fish Creek area was similarly cited.
• In August, an Alabama man was issued a warning after firing one gunshot toward a solid surface in an effort to summon help for his injured son, who had been struck by a dislodged boulder and tumbled for 200 feet while on Mount Siyeh.
Legal history
Firearms were banned in national parks in the 1930s in an effort to stop poachers from illegally killing wildlife.
In the 1980s, the Reagan administration adopted rules that allowed visitors to possess firearms in the parks as long as they were "rendered temporarily inoperable or are packed, cased and stored in a manner that will prevent their ready use."
The new law allowing visitors to national parks to carry loaded weapons was a rider attached to the Credit Card Accountability Responsibility and Disclosure Act of 2009, passed by Congress and signed into law by President Barack Obama.
It went into effect on Feb. 22, 2010.
Importantly, Olson notes, the law only governs the possession of firearms in national parks. It does not change existing federal law restricting the use of firearms in national parks, which is generally prohibited by the Code of Federal Regulations except in rare circumstances.
Those include authorized hunting, target practice "at designated times and locations," and "within a residential dwelling."
The National Rifle Association backed the 2009 law.
"The NRA's position is a person has a right to defend themselves no matter where they are," NRA spokeswoman Catherine Mortensen told the Missoulian. "That's why we support campus-carry legislation too.
"The fundamental right to keep and bear arms shouldn't be taken away if you step into a federal park. Second Amendment rights do not end where a park begins. It's an individual and fundamental constitutional right."
Where things stand now
The law says anyone can now carry a loaded weapon in a national park or national wildlife refuge, as long as they are not otherwise prohibited from possessing the firearm, and as long as their possession is in compliance with the laws of the state in which the park or refuge is located.
That makes it relatively simple in a park such as Glacier, which is located entirely within Montana. It gets trickier in a park such as Yellowstone, which spills out of Wyoming and into Montana and Idaho.
The state laws that apply to an armed visitor in Yellowstone change depending on where, exactly, the visitor is at any given time. Idaho, for instance, has a minimum age of 18 when it comes to possession of a gun. In Montana, the age is 14. In Wyoming, there is no minimum age.
The National Park Service stresses that it is the responsibility of gun owners to know what state they are in when they're in Yellowstone -- or, for instance, Great Smoky Mountains National Park, which straddles North Carolina and Tennessee -- and what gun laws apply.
And, while only Montana gun regulations apply to people visiting Glacier, the park is connected to Canada's Waterton Lakes National Park. There, firearms are still required to be unloaded, encased and may not be removed from the vehicle while inside the park.
"Some activities are not compatible with the purpose of national parks or may intrude on the experiences most people seek in national parks," Waterton officials say in explaining why hunting, snowmobiling, paragliding, hang-gliding and personal watercraft are banned. "Others have been prohibited because they are too hazardous."
One other important aspect, Germann says: Guns are not allowed inside any federal facility. Those include visitor centers, ranger stations and park headquarters. Signs are posted on buildings where guns are not allowed, and gun owners are encouraged to seek out a park ranger if they are unsure whether a building is a federal facility.
Pair of deaths in recent years
Authorities don't link the relatively new law to a pair of gun deaths that have occurred in Pacific Northwest national parks since its passage.
In 2012, Mount Rainier National Park ranger Margaret Anderson, 34, was shot to death during a traffic stop inside the park on New Year's Day. The 24-year-old man who murdered her was fleeing from a Seattle-area house party where he had already shot four other people, and no one suggested he might have complied with the old law requiring a gun to be inoperable and stored where it wasn't readily available before he entered the park.
In 2013, a 3-year-old girl from Pocatello, Idaho, accidentally shot and killed herself with a handgun she had gotten hold of at her family's campsite in Yellowstone National Park. Chief Ranger Tim Reid said the death of Ella Marie Tucker was the result of firearm safety issues, not the law allowing loaded guns in national parks, and could have happened anywhere a gun was not safely stored away from children.
The Coalition of National Park Service Retirees opposed the 2009 law. The group's director at the time worried about nervous campground visitors firing guns at suspicious noises or shapes outside their tents, or hikers wounding bears and making the animals an even greater threat.
"We felt it was best not to add weapons where they had not previously been permitted for safety concerns for park staff and the visiting public," spokeswoman Joan Anzelmo says. "However, the law that allows this is not going to change and we are not working to change it or oppose it."
Instead, she says, the coalition now advocates for park rangers and law enforcement personnel to "have the best training and best protective equipment for the contacts they engage in every day with park visitors."
Be the first to know
Get local news delivered to your inbox!