Tired of the never-ending snow and annoying polar vortex? Dreaming of languorous summer evenings, a Western meadowlark singing summer's praises, rainbow trout rising for mayflies, bears lolling in tall green grass and mule deer lazily munching on your backyard tulips?
Well, so is Mike Gurnett. A retired award-winning Montana Fish, Wildlife & Parks filmmaker, Gurnett is finding it hard to get into his detached garage to stand in front of his welder and turn on his propane-fueled forge to heat and then bang hot steel into cold-water trout, arctic grayling, salmon and larger-than-life flies that reflect the natural world that he documented for the agency for almost four decades.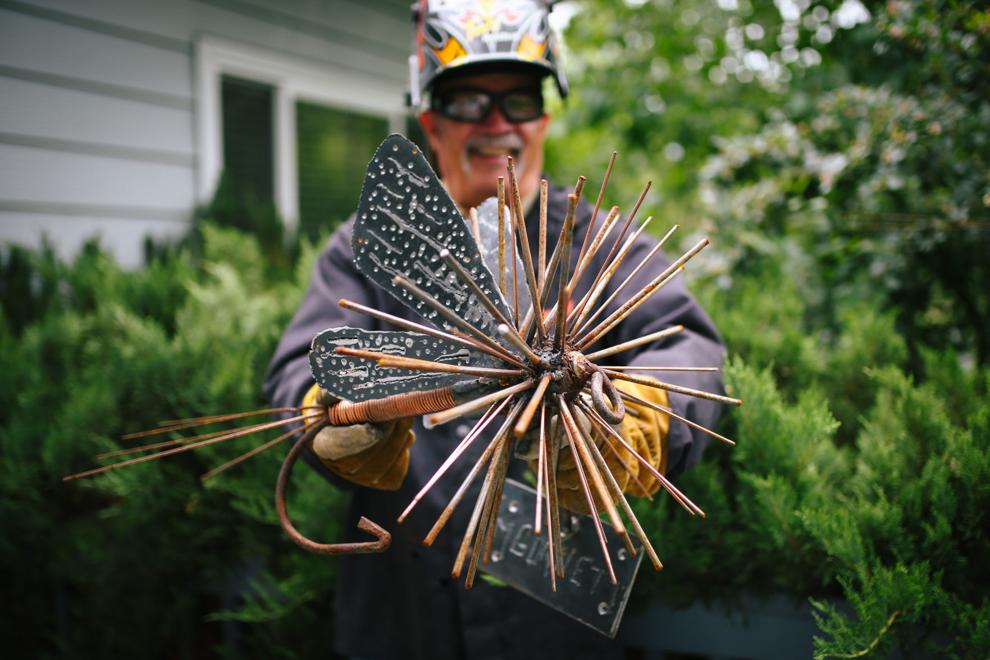 He, too, wants to get outside and get to work without freezing his, uh, toes off.
Through his documentaries, stories and video newscasts in the "Outdoor Report" that played on television stations across the state, Gurnett, 65, helped Montanans understand the invaluably rich natural world that lies at our doorstep and the advocates who know that it needs to be protected for generations to come. He filmed some of the most iconic places and wildlife in the state, from Yellowstone and Glacier national parks, to the Bob Marshall Wilderness Complex, and made those powerful images, wildlife and people spring to life to show Montanans that this so-called Last Best Place is country worth protecting.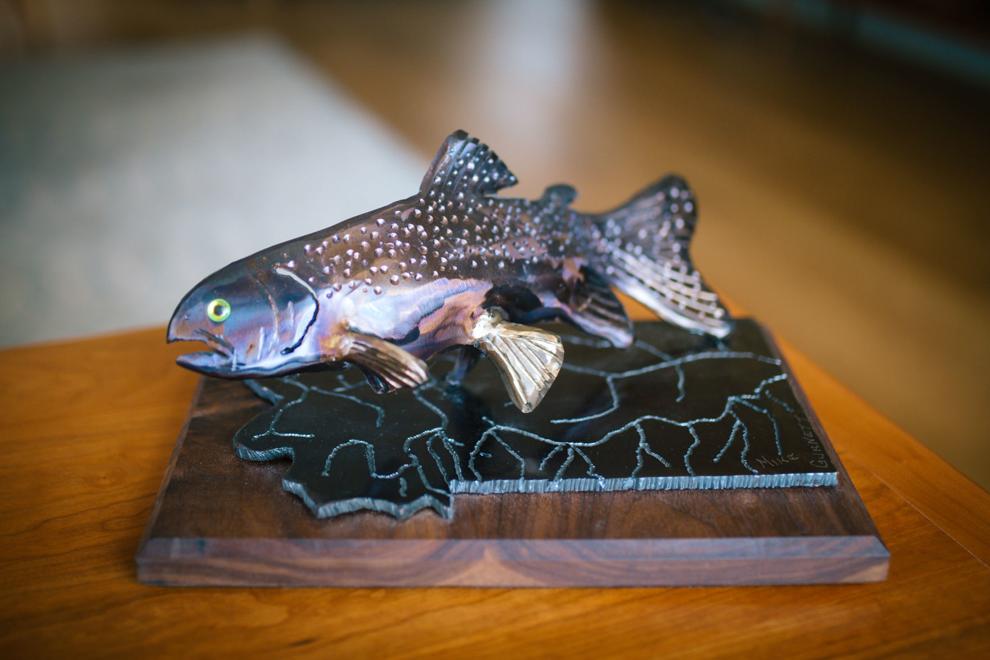 But when retirement landed with a thud on his workbench, Gurnett, who grew up in Lewistown and Livingston and with his family fished Big Spring Creek and the Yellowstone River, searched for something to keep his mind and hands busy.
His wife, Lauri, bought him a welder for Christmas and suggested that he do what he knows best: create things that reflect the natural world.
Raw steel is not the most malleable product. But with an iron will and bull-headed persistence, as well as a refurbished vice, ball-peen hammer, welder, plasma cutter, grinders and guidance from renowned metal sculptor Jim Dolan of Belgrade, Gurnett waded into the turbid waters of the art world.
A former fishing guide whose father was good friends with and bought a bamboo rod from legendary fly-fishing pioneer Dan Bailey of Livingston, Gurnett in retirement started to create three-dimensional representations in quarter- to three-eighths-inch thick plates of mild steel that reflect his passion for fish and wildlife and the waters that cleave this state.
"I like to bend metal and shape wood to create an image," Gurnett says. "With film, you get to make a story. That's what the (steel) fish are. When someone looks at the fish, hopefully it reminds them of a good moment in their life."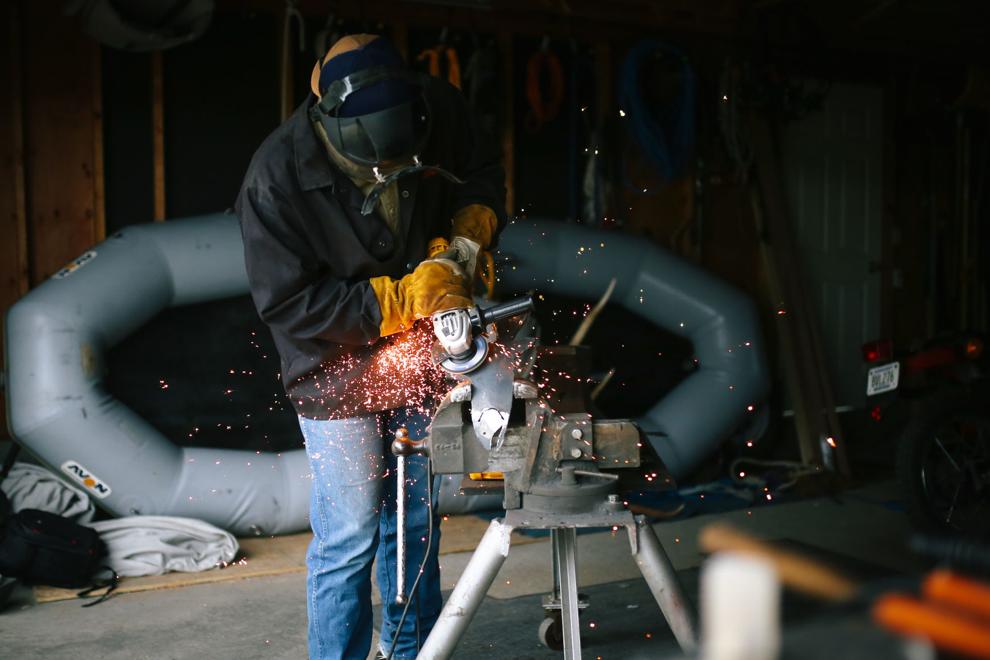 While filmmaking was intellectually demanding and required patience and persistence, Gurnett's new artistic endeavor requires close study of fish, flies and antlers and the physicality and tactility of constantly lifting steel and beating it with a hammer. Gurnett uses an air chisel — similar to a handheld jackhammer — to provide relief to the flat steel that he heats in his new forge, another Christmas present from Lauri. Pounding on the metal with a hammer helps to create the iridescence of, say, a grayling, and makes the steel seem to flex and contort, just as real fish move.
"I love to get them out of the heat and see what color they are," Gurnett says, noting that the carbon content of the steel helps to dictate colors produced by the heat. "It makes each piece unique."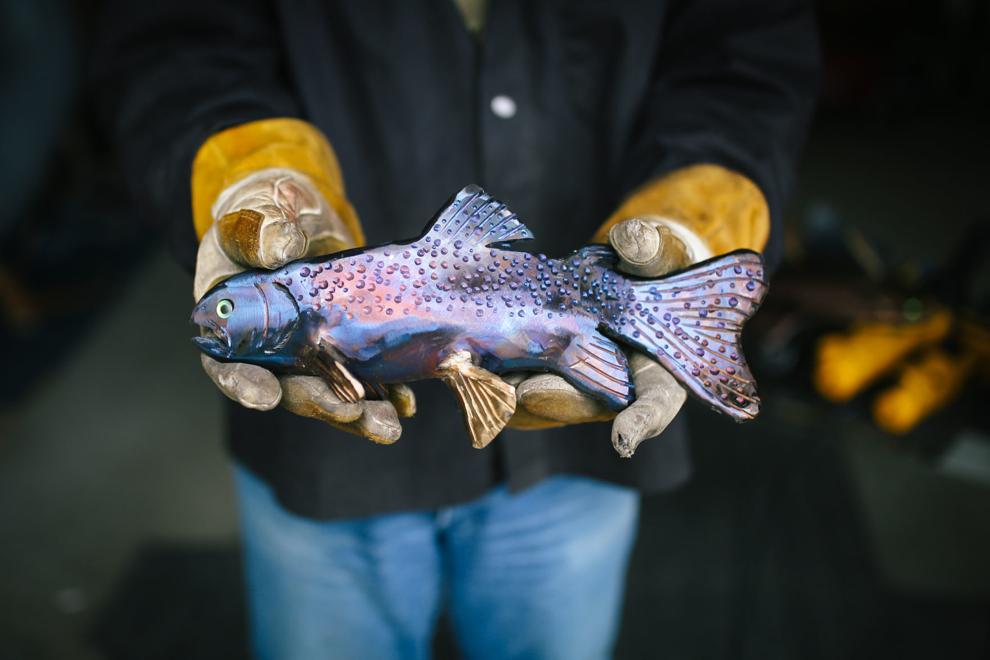 Completed works are then attached to a steel or walnut base. Some of Gurnett's salmon weigh up to 32 pounds dry (on a base), and he sometimes airbrushes them with red lacquer to make them appear wet.
"I'm sure Mike's childhood and career have contributed to his creativity and drive," his wife says. "But this welder has been another avenue to express his love for the art of the outdoors."
After a handful of years of building large flies — like mayflies — and fish, Gurnett is studying further with Dolan, as well as with Bozeman bronze sculptor Bob Burkhart, to "bump it up in complexity" and take on a larger challenge: life-size horses made of steel.
That means starting from the ground up — literally. His first equine project starts with hooves, and will be built up from there. The sculpture will be of his daughter Libby's red roan quarter horse named Digger, who helped her win Miss Teen Rodeo Montana in 2010.
"I want to take this to another level," Gurnett says, adding that the steel horse is intended to stand in a field where Libby and her husband ranch southwest of Dillon.
On another cold, snowy Helena day, Gurnett explains that to complete this project he is laboriously studying the "physics" and composition of the wildlife he builds, including the difference in horses' hooves and the particular angles of a horse's head. And unbeknownst to most observers, Gurnett says, "Placement of the eye is really critical to illusion. So I'm studying that before I start burning metal."
From the perch in his garage, Gurnett created Copper Creel, a media and metal art business to market his artwork. He is dedicated to reflecting back the natural world in which he grew up and made his living. And his ethic as a volunteer — board chair of the Lewis and Clark Last Chance Stampede Rodeo Committee and a board member of the Montana Cowboy Hall of Fame and Western Heritage Center — can "be lumped into an ongoing personal attempt to keep the culture, values and traditions of the American West relevant to our lives today."
"You just can't take some of these things for granted," Gurnett says.