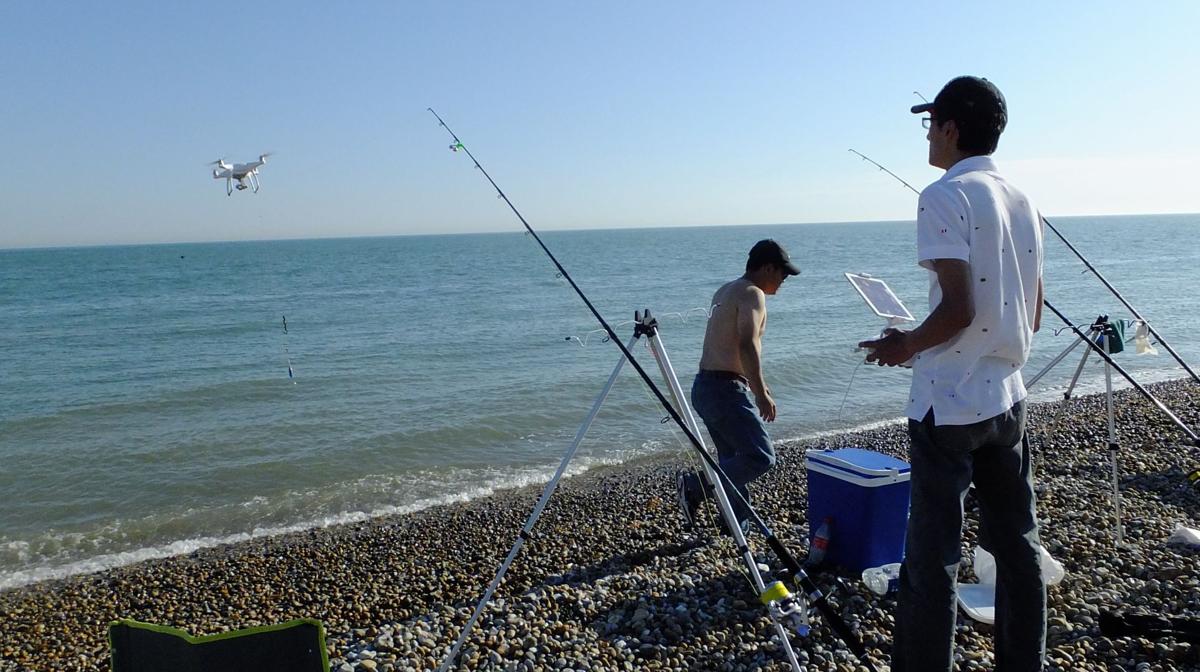 The state of Montana appears poised to consider limiting the use of drones and remote-controlled boats for fishing following a meeting of the Fish and Wildlife Commission on Thursday.
Montana Fish, Wildlife & Parks' enforcement staff presented information to the five-member commission on the emerging use of drones and remote-controlled boats in fishing, as well as where the law currently stands in the state.
"We do get, and in recent years have gotten, more questions about the use of remote-controlled devices for fishing," said Phil Kilbreath with the enforcement division.
Questions game wardens receive generally fall into three categories: can a drone be used, can a remote-controlled boat be used, and what are the limits on their usage, he said.
Drones and remote-controlled boats specifically designed to transport lures or bait are now being manufactured. Their use has cropped up in other states and Canada with videos becoming popular online. FWP has received reports of remote-controlled boat usage below Libby Dam, but Kilbreath believes the practice is likely occurring elsewhere in the state as well.
Anglers typically use the devices in three ways. Lures or bait may be transported while still attached to a rod and positioned in the water. Remote-controlled boats may also be used to troll and act as a bobber so that once a fish is hooked, the angler must retrieve it. And in some cases drones are being used to spot fish from the air, drop a lure or bait, hook and then hoist them out of the water.
As technology continues to advance, anglers are likely to come up with other means of using the devices to fish, Kilbreath told the commission.
Whether the law as currently written restricts the use of drones or remote-controlled boats is not entirely clear. In general, fishing methods are designated in law or by rules set by the commission and contain specific prohibitions against the use of guns, traps or "other devices."
But it could be argued that the use of devices such as downriggers or planer boards to place lures or bait perform essentially the same function as the remote-controlled devices, Kilbreath said when asked if game wardens feel they have the authority to cite people under the current laws and rules.
"My personal feeling is that the earlier we recognize the potential of some of these things and put rules or statutes in place, the better off we're going to be," Commissioner Tim Aldrich said. "I don't think we can allow this kind of activity to grow on us and become run-of-the-mill technology for fishing or hunting."
Commission chairman Shane Colton said the body has the authority to regulate the use of drones and remote controlled boats, noting that one consideration in writing regulations is addressing conflicts between recreationists. He gave the example of a crowded river with a drone flying around as others attempt to fish and the inherent conflict that would likely result.
"This is a very detached way to harvest fish, and while it might be groovy to post a YouTube on that, we've seen time and time again how that activity to capture that kind of interesting thought and to get on YouTube causes conflict with other anglers and hunters, and once again, this very small fraction wants to catch fish like that," he said.
The commission directed FWP to develop proposed regulations to consider at a future meeting.
Reporter Tom Kuglin can be reached at 447-4076 @IR_TomKuglin