A Montana state senator is proposing that those caught transporting aquatic invasive species be fined up to $10,000 and have their vehicle impounded.
Sen. Mike Cuffe, R-Eureka, speaking at the Montana AIS Summit in Helena Wednesday, announced that he submited the bill request earlier in the day. If enacted, drivers of vehicles found transporting watercraft carrying invasive quagga or zebra mussels could face the stiff financial penalty and have their vehicle and trailer impounded until they post bond and the watercraft is cleaned.
"The best program I think we can have is not worrying about somebody bringing the damn things in here," Cuffe said.
"I think that's the next step. I hope the reporters pick this up," he said. "I hope the headline in the Minneapolis Tribune tomorrow morning is 'Montana plans to impose $10,000 fine on trucks and will impound the truck.' Then we probably won't see so many trucks hauling boats to Seattle fouled with mussels."
Current criminal penalties range from a bond of $85 for failing to stop at an invasive species check station to $975 for negligently transporting invasive species. The penalty grows to a felony and up to $10,000 fine for intentionally introducing an invasive species.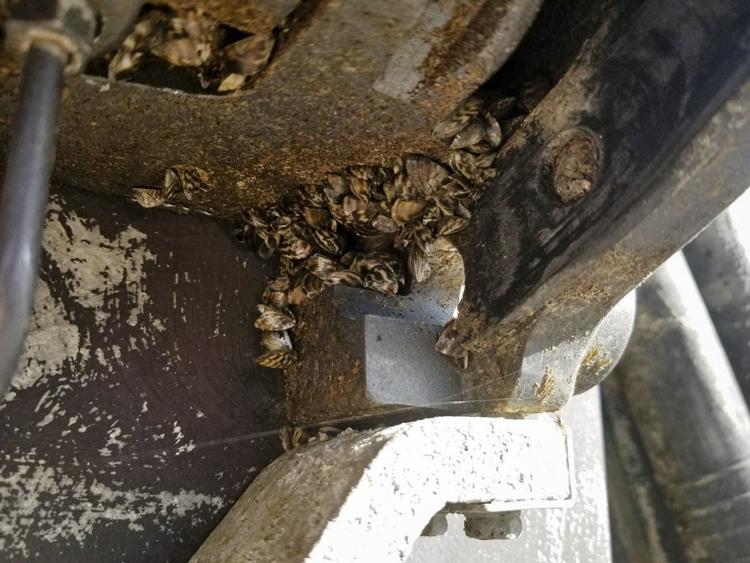 Aquatic mussels have no natural predators and can clog water pipes and displace native species. One of the primary ways the pests are transported between waterbodies is by attaching to boats or by larvae surviving in standing water. A worst-case infestation in Montana could cost more than $200 million annually, according a state report.
You have free articles remaining.
In response to the samples at Tiber and Canyon Ferry, the Montana Legislature has allocated about $5 million to $6 million annually to significantly bolster the state's inspection and testing program. The state has adopted a number of regulations in response as well, including mandatory inspections for out-of-state watercraft and for those watercraft passing from east of the Continental Divide to the west.
A record of more than 112,000 watercraft were inspected this year, surpassing last year's number by 3,000 inspections. Inspectors found 16 boats with invasive mussels coming into or traveling through the state this year.
Cuffe was joined on the panel by Sen. Janet Ellis, D-Helena, Rep. Willis Curdy, D-Missoula, and Rep. Neil Duram, R-Eureka. The lawmakers covered issues from past experience pushing through funding for Montana's invasive species program to the best ways to lobby legislatures on issues.
"When it comes to quagga and zebra mussels, Congress needs to step up to the plate, this isn't just a Montana issue," Curdy said. "Mussels aren't fazed by state boundaries."
The Montana AIS summit is hosted by the state and convened state agencies, tribes, nonprofits and conservation districts that are leading the charge to stop the introduction and spread of invasive species in Montana and to other states. Topics Wednesday included funding, education and outreach programs, and the operation of inspection stations.
The summit continues Thursday at Carroll College, with topics including monitoring programs and law enforcement.