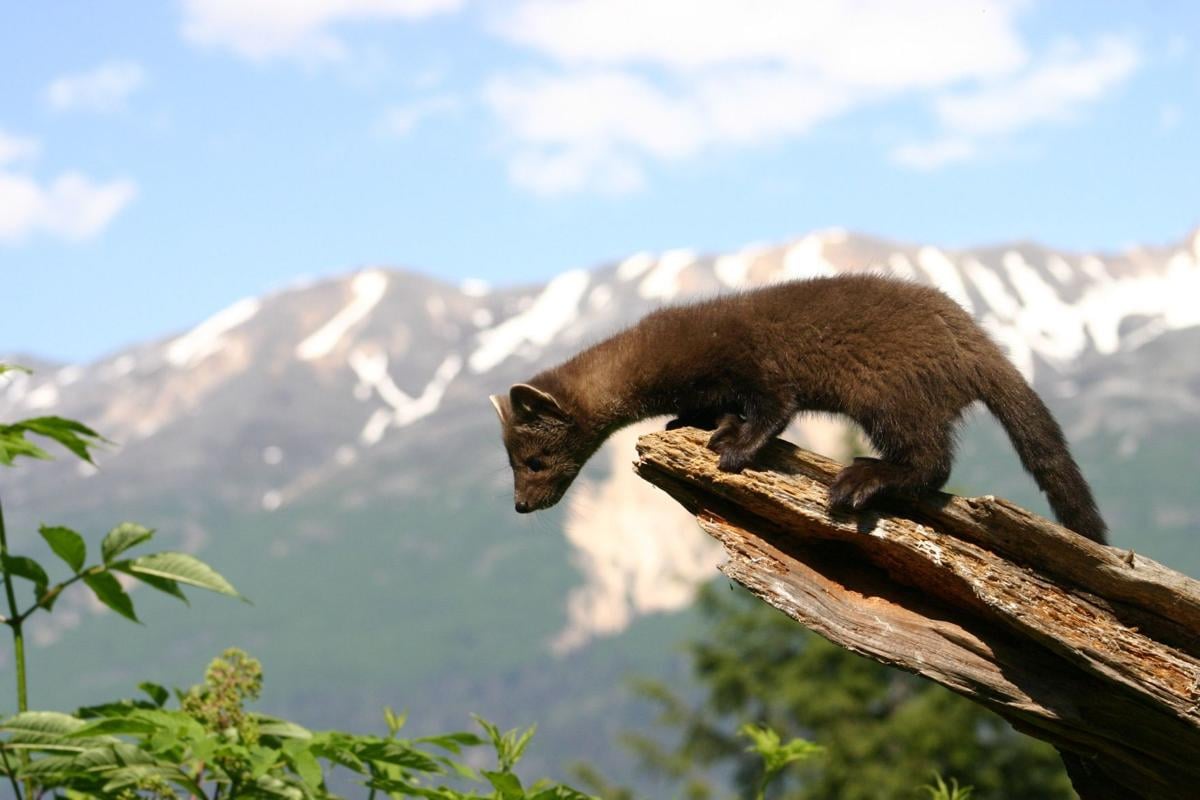 The pine marten, a weasel roaming much of Montana's mountain forests, is poised to reclaim a portion of its historic range.
Montana Fish, Wildlife & Parks proposes transplanting 60 marten into the 1.2-million acre Little Belt Mountains in central Montana. If the project proceeds it would be the first marten transplant in the state since the 1950s and could establish a population in one of the largest swaths of unoccupied marten habitat.
"I think it's one of our core responsibilities as a wildlife management agency to the citizens of this state to restore and maintain native species," said area FWP biologist Jay Kolbe, who is based in White Sulphur Springs. "This is an opportunity to restore that species to one of the last remaining places it historically occurred."
Marten are house cat-sized weasels that live in mature forests. They hunt small animals, including under the snow. They are characterized by light to dark brown fur, prominent ears and a vibrantly bright orange or yellow throat patch.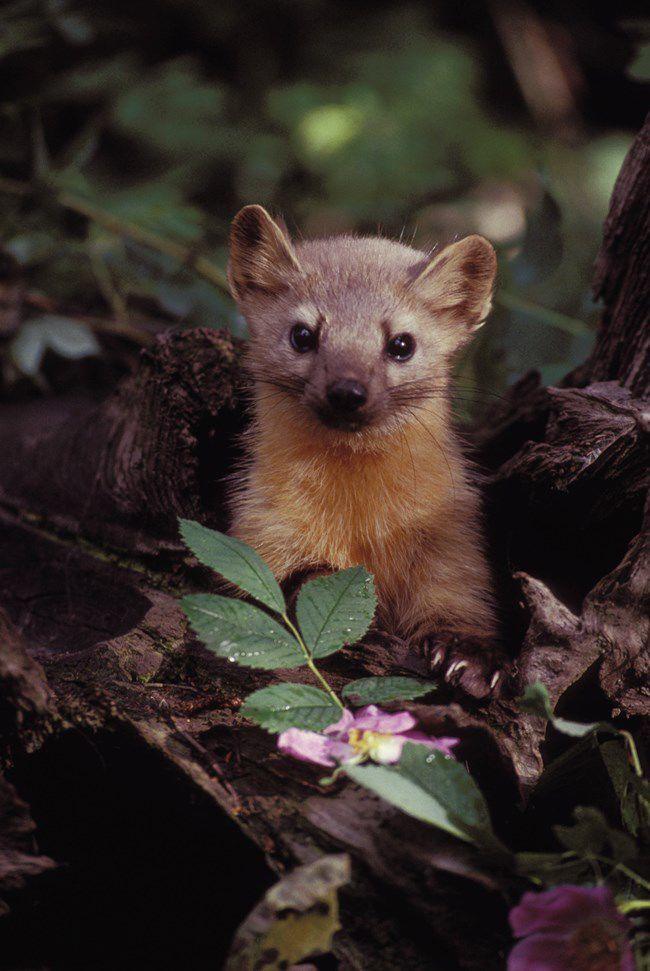 "They fill that niche as a forest carnivore. They will eat some berries and other vegetation, but primarily they prey on small mammals like voles to red squirrels," Kolbe said. "They don't really compete with other species, so we don't expect an ecological cascade. They also live at low densities, which we'd expect when re-established."
Marten were last transplanted in Montana into the Big Belt Mountains in 1956. Using camera traps positioned on bait sites, state biologists recorded marten in that range over recent winters and have documented trapping records or other detections — such as track surveys — for other mountain ranges, said Bob Inman, FWP's Carnivore-Furbearer Program coordinator.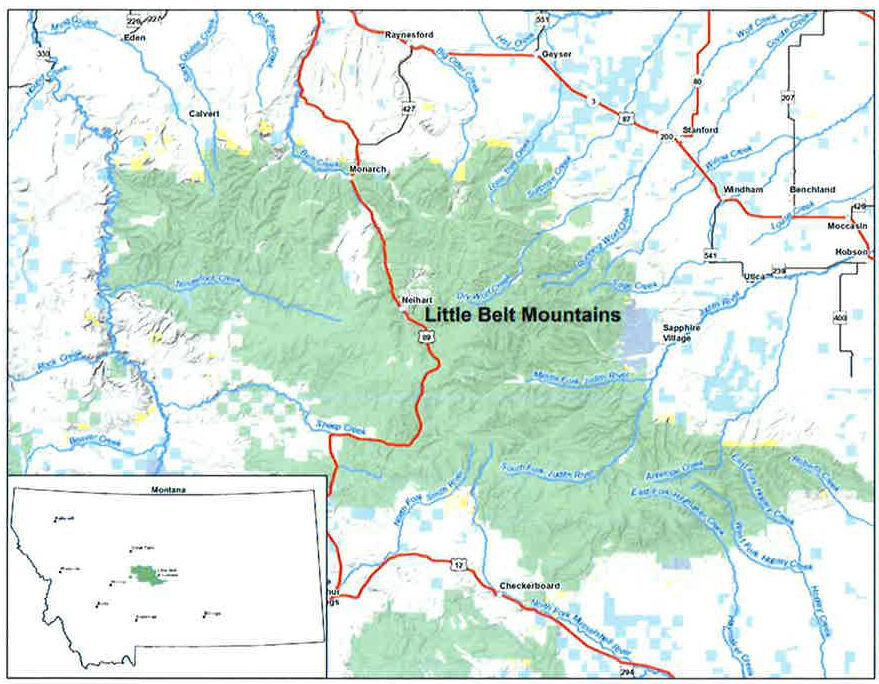 Based on the presence of marten in other central Montana mountain ranges, FWP believes marten once occupied the Little Belts as well and became absent there sometime in the last century. 
"We have records of marten everywhere else around the state, so we believe this is the largest chunk of marten habitat we don't think is occupied," Inman said. "There's not a lot of marten habitat in Montana that needs restoration."
Biologists do not know why the animals have disappeared in the Little Belts, and Kolbe emphasized that any theories would be speculation. He added that in other areas, such as South Dakota's Black Hills, martens were poisoned as part of control programs for larger predators and over-harvested during unregulated trapping.   
The Little Belts transplant was first proposed in 2014, but due to staffing changes and other projects the initiative has waited to move forward until now. The Montana Fish and Wildlife Commission voted to send the proposal out for public comment, and FWP plans to bring it back to the commission in August for a final decision. So far, comments have been positive, Kolbe said.
"We don't expect a lot of conflict. There's really no human conflict that comes out of this project if it moves forward," he said. "There's no impact to forest management or recreation, but we don't know what we don't know. So if somebody does have an issue (to comment on), or if there's something we overlooked or should've looked at differently ..."
Public comment goes until July 31 and may be emailed to jkolbe@mt.gov.
The cost of the transplant is estimated at about $84,000, which includes a $25,000 contribution from the Great Falls Chapter of Safari Club International. FWP also intends to tap federal Pittman-Robertson funding, which is generated from an excise tax on firearms and ammunition to pay for state wildlife and habitat projects.
"It's one of those wildlife restoration projects just like the Pittman-Robertson dollars are designed to help with," Inman said. "We have every reason to believe they used to be in the (Little) Belts and moving to expand their range to what it used to be is a good use of those dollars."
Inman pointed to past successful marten transplants in locations such as the Black Hills as another reason for optimism on the project.
In order to capture the marten for transplant, FWP plans to partner with experienced trappers in southwest Montana. Matt Lumley, with the Montana Trappers Association, said his organization is excited to help.
"We're the experts on it — the trappers are the ones out there on the ground — so what better way than to have us out there on the landscape," he said. "It's just a good fit and a feel-good project to help restore this key furbearing species."
Marten trapping is allowed in much of Montana, but under the proposal FWP is asking the commission to place a moratorium on trapping for the weasels in the Little Belts. If a viable population does develop, it could eventually be open to harvest, Inman and Kolbe said.
FWP chose southwest Montana over other parts of the state for the transplant program due to the two known species of marten in the state — the Pacific marten with a more southern distribution and the American marten typically found to the north. While both are similar in appearance, there are some reports of different coloration tendencies; however, biologists have seen different genetics. FWP believes Pacific marten from southwest Montana are likely the variety that once occupied the Little Belts.