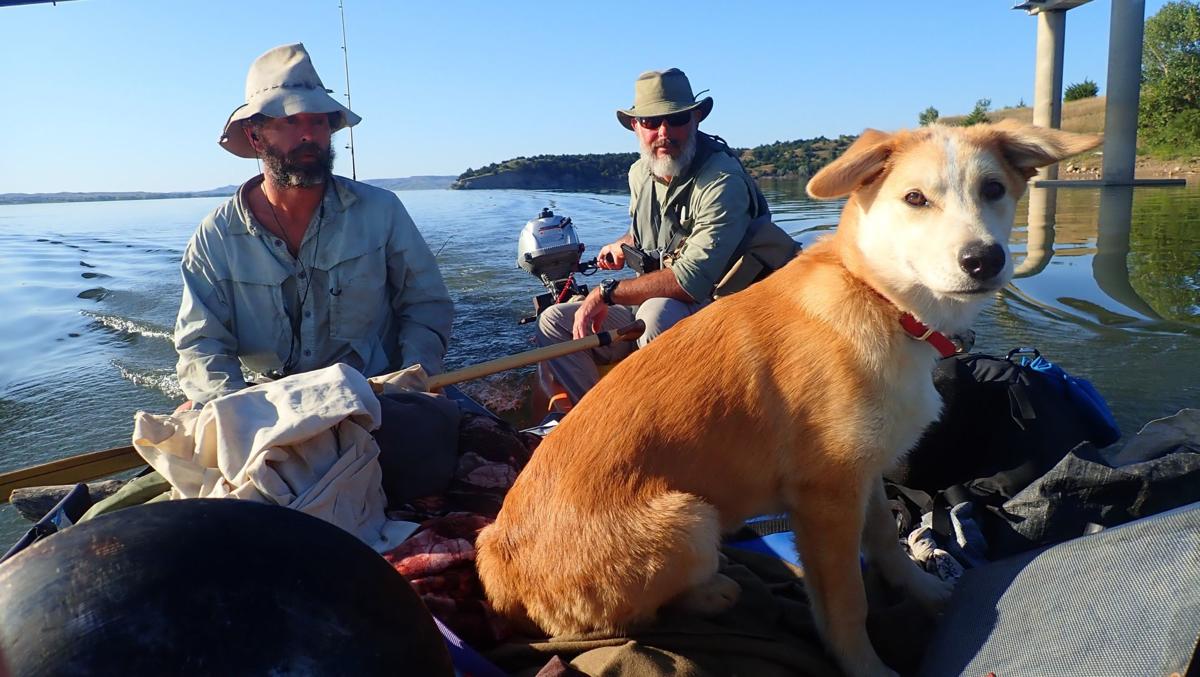 "George Shannon who had been absent with the horses 16 days joined the boat about one oclock. he informed us that the reason of his keeping on so long was that he see some tracks which must have been Indians. he to[ok] it to [be] us and kept on, his bullets he Shot all away & he was with out any thing to eat for about 12 days except a fiew Grapes, he had left one of the horses behind, as he Gave out, only one horse with him he had gave up the idea of finding our boat & was returning down the river in hopes to meet Some other Boat, he was near killing the horse to Satisfy hunger, &C. &.C— he Shot a rabit with Sticks which he cut & put in his gun after his Balls were gone."
—Sargent John Ordway, September 11, 1804
Of the three big lakes that comprise the Great Moat across South Dakota, Oahe, Sharpe, and Francis Case, Lake Francis Case is arguably the most scenic. The surrounding terrain is hilly, and in places angular, rugged, and much of the lake perimeter is richly forested. Cliff faces line the water. A dozen miles below Chamberlain, we passed by Bull Creek, originally named Shannon Creek by Meriwether Lewis. George Shannon stayed there for several days subsisting on nothing but wild grapes.
On August 26, 1804, Shannon and George Drouillard set out overland in search of the Expedition's missing horses. Drouillard came back the following morning after walking all night. He hadn't seen Shannon or the horses. John Shields and Joseph Field went after Shannon and found his tracks headed upstream, but couldn't catch up with him. Shannon was traveling upriver desperately trying to catch up the Expedition that was still behind him. Getting separated from the group is a tricky problem. How do you determine if the boats are upstream or downstream?
Shannon was eighteen years old, the youngest man on the expedition, and a bit of a greenhorn. Although he recently killed an elk for the Corps of Discovery, Clark wrote, "This man not being a first rate Hunter, we deturmined to Send one man in pursute of him with Some Provisions." John Colter returned a couple days later and hadn't been able to catch up with him either.
Shannon shot away all the lead balls for his muzzleloader, then resorted to carving wooden bullets to kill a rabbit. He otherwise subsisted on sour wild grapes for most of his escapade. He finally gave up the chase and waited by the riverbank in hopes of meeting a boat traveling downstream, giving the Expedition a chance to catch up with him from behind.
You have free articles remaining.
While the original Corps of Discovery moved upstream, our goal was to migrate downstream ahead of the changing seasons. Even with the outboard motor, we consumed six weeks navigating all the lakes of the Dakotas. We became focused on the end goal, seeking the shortest route from point to point. We made a run for the dam and almost made it. High winds forced another layover day fifteen miles from the end.
As a wilderness survival instructor, I've often wondered how I would have fared in George Shannon's situation. If need be, I could provide for most of my needs in a survival situation. I've built and slept in warm shelters without blankets or a sleeping bag. I know how to start a fire by rubbing sticks together, and I know most of the edible plants in the U.S.
Like Shannon, however, my hunting skills could be better. I've successfully hunted rabbits, squirrels, and grouse with sticks and rocks. I've used wooden spears and deadfall traps for porcupines, muskrats and ground squirrels. I know how to catch fish with my hands or make a fish hook from thorns and line from plant fibers. Yet, I am primarily an opportunistic hunter, which requires the luck of being in the right place at the right time.
Shannon had a muzzleloader rifle, which could be used to shoot game and start a fire. He also likely had a knife, but anything beyond that is conjectural. He would have been fine if he could shoot game, drink out of the river, and sleep by a fire. In comparison, I have no experience with a muzzleloader, leaving me more dependent on wild food foraging.
Taking a layover day to explore the lands Shannon roamed, there are some additional wild edible plants beyond sour grapes. Hackberry fruits are edible and tasty, just not very fleshy. Crunch through the shell to eat the small nutmeat for protein and oils. Wild sunflower seeds are small, but highly nutritious, and they were grown as a crop by the Mandans. Cattails rhizomes are rich in carbohydrate starches. There are also a great many crickets and grasshoppers which are totally edible.
Grass seeds are also edible, although not always readily processable and many new species have been introduced after Shannon's time. I harvested foxtail millet seeds, which I added to fry bread.
I'm sure Shannon later learned many tricks that would have helped him survive more comfortably. His skills at age eighteen were surely better than mine at that age. Moreover, Shannon never spent a teenage day lazing on the couch watching television or playing video games. He likely learned to work hard and endure difficult situations long before his survival ordeal. In a survival situation, shear will to keep going is perhaps the most important skill of all.
When the wind finally settled out, we arose before dawn and made the final push to Fort Randall Dam, thrilled to be finished with all the big lakes and relieved to be done with the outboard motor.
Thomas J. Elpel lives in Pony, Montana. He is the author of Green Prosperity: Quit Your Job, Live Your Dreams. Go to www.Elpel.info to learn more about Tom's books and the Missouri River Corps of Rediscovery.