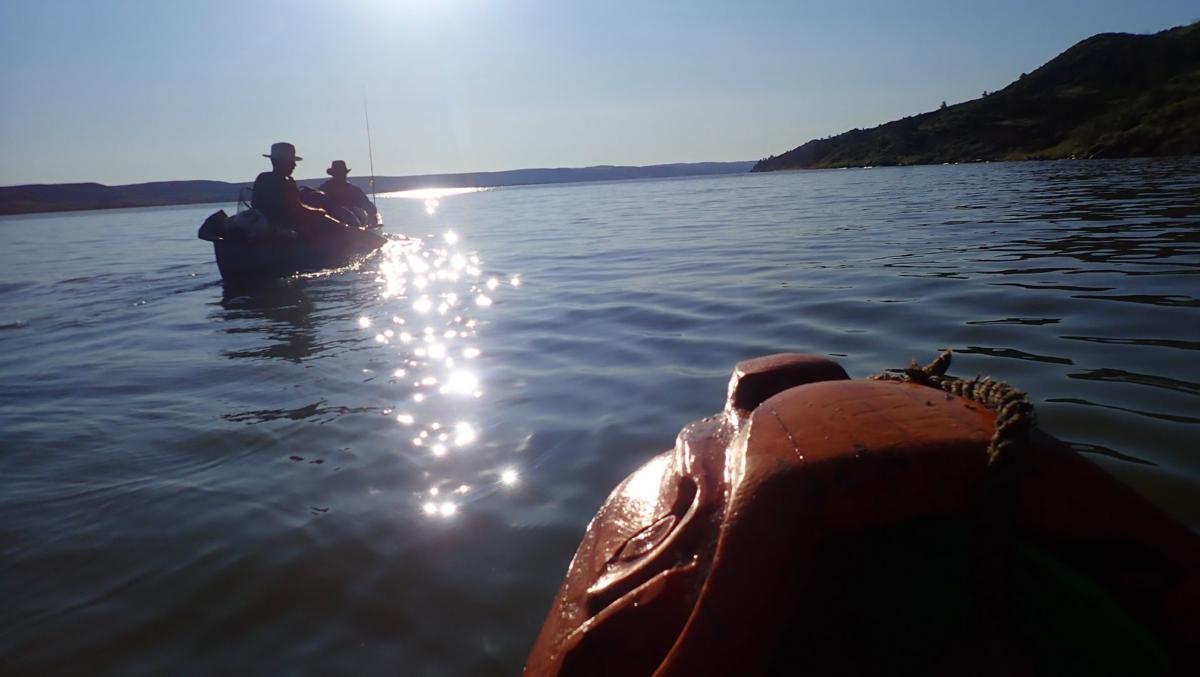 "I walked on shore this morning the country is not so broken as yesterday, tho' still high and roling or wavy; the hills on the Lard. side possess more pine than usual; some also on the Stard. hills. Salts and other mineral appearances as usual. the river continues about the same width or from 200 or 250 yds. wide, fewer sandbars and the courant more gentle and regular."
—Meriwether Lewis, May 22, 1805
Lewis and Clark frequently traded duties, one man overseeing the laborious push of the canoes and pirogues up the Missouri, the other walking overland to explore, hunt, and observe the surrounding countryside. There were no fences, property lines, or "No Trespassing" signs. That freedom to roam remained the rule here in Montana the next 200 years.
Trappers, traders, gold seekers, homesteaders, and cattlemen traversed Montana in every direction by foot and horseback. The tradition of open access continued after the fences went up. That was the world I knew as a youth, hopping across fences like they weren't even there. In 1988, at twenty years old, a girlfriend and I walked 500 miles across Montana from my grandmother's house in Pony to Fort Union on the North Dakota border. Much of the route paralleled or intersected our present journey by water.
We first walked across private farm fields from Pony to Three Forks, then followed the active railroad down the Missouri to Sixteen Mile Creek. Our map still showed the tracks of the former Chicago Milwaukee Railroad ascending Sixteen Mile, but here the tracks had been removed and there was a locked gate plastered with No Trespassing signs.
I understood the words well enough, but the idea was incomprehensible to the free-roaming lifestyle I'd grown up with. Not having anywhere else to go, we climbed over the gate and followed the railbed upstream over wooden trestles and through convenient tunnels. We saw 28 elk and 250 deer in one day. The property manager found us camped by the creek, but fortunately decided we were harmless enough and let us continue our journey. It probably helped that we were two innocent young adults on an epic quest, with me wearing buckskin clothes and a rawhide backpack.
We followed the railbed, most of it private land, through Ringling, Martinsdale, and Two Dot to Harlowton, then went cross country across more farms and ranches through Judith Gap to Lewistown, north to Roy and crossed the Missouri River here at the Fred Robinson Bridge. Then we walked east through the Charles M. Russell National Wildlife Refuge, paralleling our present course down the river.
You have free articles remaining.
When newcomers tried to claim rivers and streams as their personal private property, fishermen took them to court arguing that Montana's rivers and streams had always been public thoroughfares, and the courts agreed, leading to some of the strongest stream access laws in the country.
Sadly, nobody stood up for the similar right to roam the open countryside. When No Trespassing signs went up walkers grudging shifted to non-posted parcels until those too were bought up by outsiders and closed to the world.
Fencing people out is effectively the same as fencing them in like cattle. A person who cannot walk out the door across an open field is living in a cage.
Zoo animals are known to have severe psychological disorders from living in cages. Cages impact people too. I've seen it in adult students in my Green University program who would rant against the trap of civilization yet were so conditioned to cages that they wouldn't think to leave my little homestead to explore the 100,000 acres of adjacent public lands unless I invited them out for a hike.
Like my horse who would pace back and forth along an invisible fence after I removed the electric wire and plastic posts, these young people were controlled by fences even when there were none.
Having grown up without such limitations, I felt free to pursue all my dreams in life without credentials, certification, or jumping through hoops to get there. I built my own passive solar stone and log house without a mortgage, did my own plumbing and wiring, stared at blank pages long enough to launch a successful writing career and publishing company, and learned HTML without a manual. I am a slow learner, but unbounded by limitations. A vision or goal may require a dozen years of incubation to get airborne, as was the case with the Jefferson River Canoe Trail before we successfully bought our first campsite for the public.
I worry about the future for our young people who have only known cages. Freedom to roam is critical to inspire a new generation of thinkers, doers, and leaders. How will people think outside the box to solve humanity's most pressing problems if they've grown up inside walls of No Trespassing signs?
As I write these lines in bed in my tent in the rain, I reflect back on that walk across Montana thirty-one years ago. That was a drought year, the year Yellowstone burned. The grass never turned green in eastern Montana, but went "crunch, crunch" under our shoes." The hottest day was 110ºF.
This year we've been blessed with unusually cool, cloudy weather and plenty of rain. The C.M. Russell Wildlife Refuge is shockingly green. Scott caught a 27-inch channel catfish. He and John cooked a fabulous dinner of fish and chips. Life is good for the Missouri River Corps of Rediscovery. We have, however, encountered our first significant mosquitoes.
Thomas J. Elpel is the founder of Green University, LLC and the author of Participating in Nature and numerous other books covering wilderness survival, botany, wild food foraging, house-building, green economics, and consciousness. Go to www.Elpel.info to learn more about the Missouri River Corps of Rediscovery, Tom's books, and the expedition fundraiser for a new campsite on the Jefferson River Canoe Trail.