Thanks to continual snowfall and cold in February, the snowpack above and below Fort Peck Reservoir is trending close to the 20-year average.
The Army Corps of Engineers issued its March runoff forecast this week, noting that the Missouri River Basin above Sioux City, Iowa, is predicted to produce 28.4 million acre feet of water, 112 percent of normal.
"The forecast increased about 10 percent from last month due to the continued accumulation of mountain and plains snowpack in the upper basin," said John Remus, chief of the Missouri River Basin Water Management Division. 
As of March 1, the mountain snowpack was 108 percent of average in the reach above Fort Peck and 103 percent of average in the reach from Fort Peck to Garrison Dam in North Dakota. The mountain snowpack increased during February as a result of colder-than-normal temperatures and above-normal precipitation. Normally the mountain snowpack peaks in mid-April.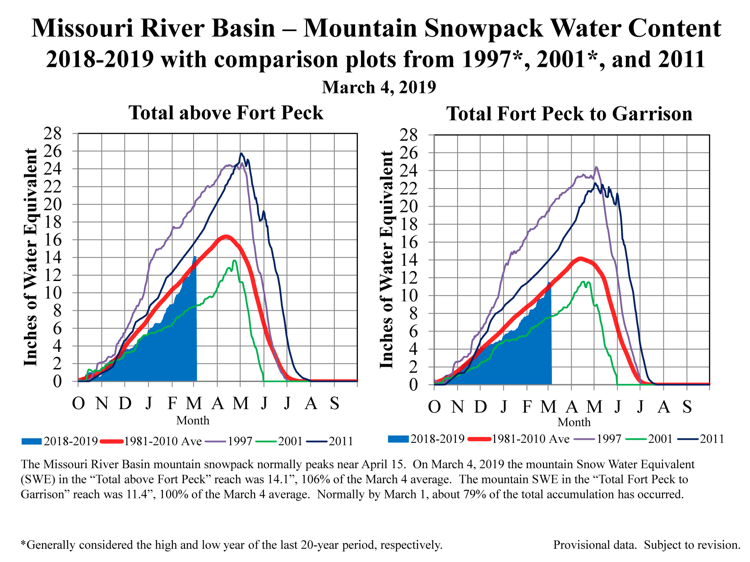 Plains snowpack is heaviest in central and eastern North Dakota and north central and eastern South Dakota. The snowpack's liquid content, or snow water equivalency, ranges from 2 to 5 inches. The rest of the upper basin has accumulated 1 to 3 inches of SWE while the lower basin ranges from 0 to 2 inches of SWE. 
Fort Peck Reservoir dam releases averaged 12,200 cubic feet per second in February. That was cut to 6,500 cfs  the first week in March. 
At the end of February the reservoir level was 2,234.4 feet, down 1 foot from January. The forecast end-of-March reservoir level is 2,235.5 feet
The Corps will conduct public meetings this spring to update the region on current hydrologic conditions and the planned operation of the mainstem reservoir system during the coming months. Meeting times and locations include:
Tuesday, April 9 – Fort Peck, 11 a.m., Fort Peck Interpretative Center
Tuesday, April 9 – Bismarck, North Dakota, 6 p.m., Bismarck State College, National Energy Center of Excellence (NECE), Bldg. 15, Rm 335, 1200 Schafer St.