A proposal to develop a nearly 40-mile trail system near Montana City drew a mixed response, with supporters touting the project as needed to manage recreation but opponents raising concerns about impacts to wildlife.
The Strawberry Butte Front Country Trail Management Project calls for adding 39 miles of hiking and biking trails to the U.S. Forest Service trail system in the Elkhorn Mountains. The system would designate 28 miles of trail that currently exists but is not recognized by the Forest Service, as well as 11 miles of new trail construction. The project would also include closing some nondesignated trails, expansion of some trailheads and placement of informational kiosks.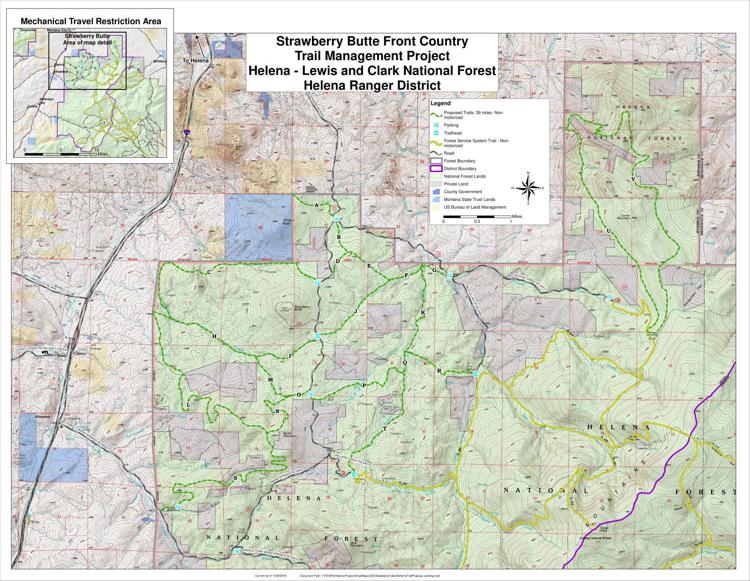 Officials have described the project as an effort to address unauthorized, user-created trails in the area and to develop a managed trail system. Unauthorized trails not incorporated into the system would be obliterated. Existing trails also include some old roads and others developed over time from game or livestock trails.
The Forest Service took the plan out for public scoping last year, and drew more than 500 pages of public comments.
Those supporting the project largely saw it as a sensible plan to manage trails in a growing population area.
"It would seem far more desirable to control and manage this use with a well-planned and environmentally responsible trail system keeping in mind the unique wildlife designation of the Elkhorn Mountains, rather than allowing the current situation," area resident Al Weinert wrote in support.
Other supporters believed it would improve recreation opportunities.
"I am wholeheartedly in favor of the proposal as drafted, particularly its acceptance of existing uses such as mountain biking," wrote Jonathan McDonald of Helena. "Managing the existing use on the trail system that already exists in the area seems like a no-brainer and will help disperse use currently occurring in the Helena South Hills."
But a strong contingency of wildlife advocates voiced concern that increased use would negatively impact wildlife. The Elkhorns are unique in the national forest system, administratively designated in 1981 as a wildlife management unit under cooperative management by the Forest Service, Montana Fish, Wildlife and Parks and the Bureau of Land Management with a wildlife emphasis.
"First, and foremost the Elkhorn (Mountains) are the only wildlife management area within the Forest Service," Mark and Kris Jones of Clancy wrote. "This trail system, that is planned to crisscross through the calving grounds and habitat of our big game, will greatly disturb this valuable ecosystem of the elk, deer, moose and bear, and all existing wildlife. Inviting more and more people into this wildlife area will result in animals being pushed around and ultimately out of their habitat, that they have flourished and thrived in."
Other opponents took issue with adopting user-created trails into the Forest Service system.
"While I can understand the desire of the (Forest Service) to manage some of these uses by formally legalizing the existence of rogue trails, hoping this will preclude more illegal trail construction, the policy of accommodating outlaws, only begets more outlaw activity," George Wuerthner wrote.
Other concerns raised included the length of the comment period and the use of a "categorical exclusion" to implement the project, which exempts it from full environmental analysis.
"Since you are proposing new trail construction, improvements to old roads and trails, installing bathrooms, creating larger parking areas and inviting bike enthusiast from all over the country to the north Elkhorns, we feel this action will dramatically change the dynamics of the area. A categorical exclusion does not address the changes that will occur," wrote area residents Eldon and Leslie O'Neil.
Following comment, Helena District Ranger Heather DeGeest said the timeline for a next step on the project is unclear, in part due to some higher priority work. She did address some of the themes voiced by opponents, and believes the analysis is in line with Forest Service directives and the forest plan, which includes management for both wildlife and recreation.
"Per the forest plan direction, there is a wildlife emphasis … but the direction for that management area does recognize recreation as well, and it's trying to find that balance," she said.
DeGeest pointed to federal code that lists trail construction or reconstruction as categorical exclusions if not meeting "extraordinary circumstances."
When deciding if a categorical exclusion meets extraordinary circumstances, one aspect the Forest Service looks at is whether the area has received congressional designation, such as wilderness or national recreation area. The Elkhorns wildlife management designation came administratively and as a compromise at the time as officials weighed asking Congress to declare about 86,000 acres wilderness.
DeGeest believes there is some "misconception" that the Elkhorns received a congressional designation and that bikes are precluded from the area.
"All of the mountain biking going on is allowed right now — there's nothing to say that activity can't occur," she said. "They just can't build and maintain trails, and the proposal is trying to bring management and to consolidate trails, which is good for the habitat needs as well."
DeGeest said she would be meeting with other officials to decide next steps.