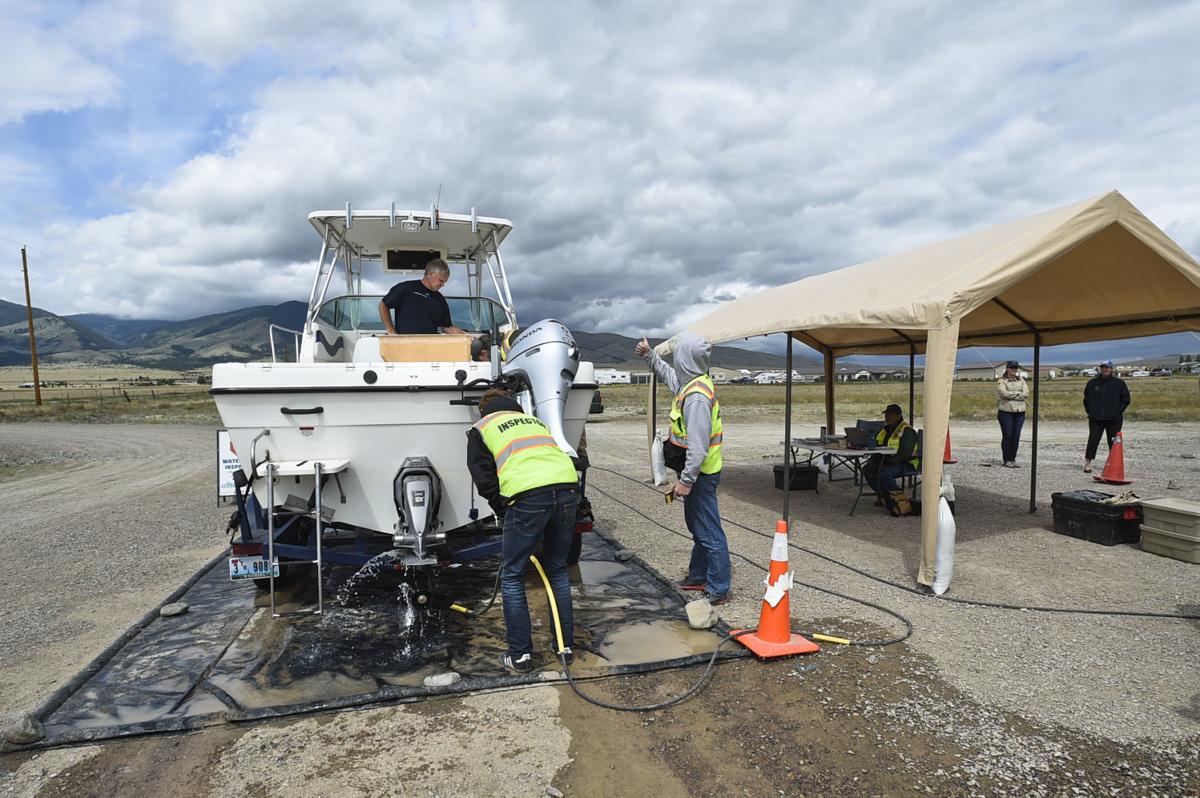 A new report estimates annual direct costs and lost revenue of a mass infestation of invasive aquatic mussels could run between about $100 million and more than $230 million in Montana.
The Montana Invasive Species Council, housed under the Montana Department of Natural Resources and Conservation, commissioned the economic impact study from the University of Montana Flathead Biological Station. The report details statewide effects to the three sectors most impacted: recreation, infrastructure such as hydropower and irrigation. It estimates mitigation and lost revenue at between $96 million and $234 million annually and further estimates loss of property value at between $288 million and nearly $500 million, not including potential loss in value of irrigated farmland.
"A lot of states have done these types of impact studies and every year more data comes out," said Thomas Woolf, council member and Montana Fish, Wildlife & Parks aquatic invasive species bureau chief. "The bottom line is, and the report emphasizes, that these things won't be good, and our best defense is prevention and early detection."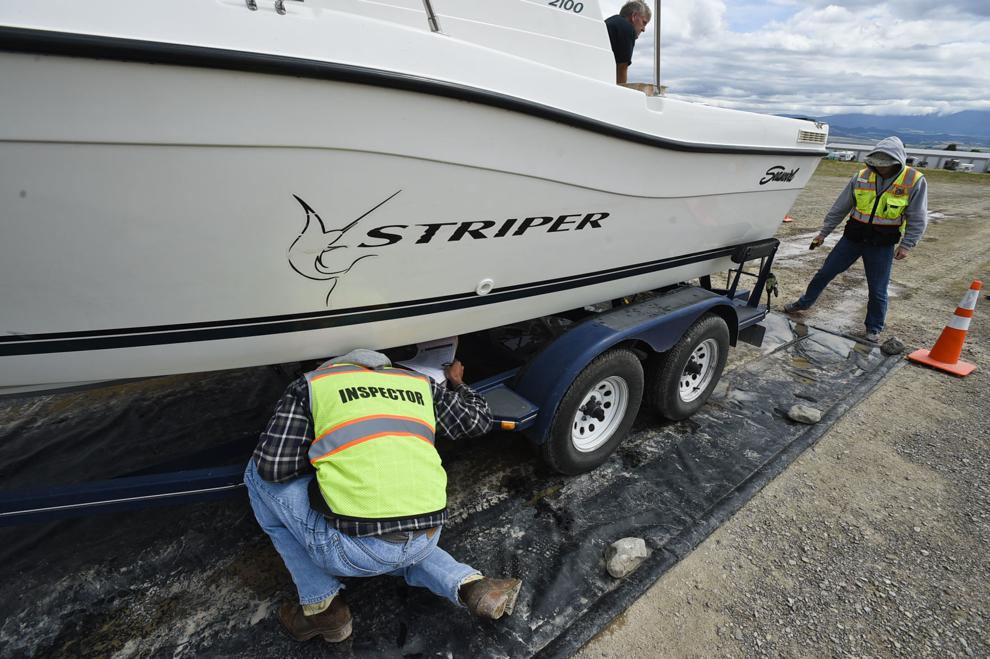 Invasive zebra and quagga mussels have spread throughout the Great Lakes region and Colorado River basin. Unfettered infestations have quickly grown due to their lack of natural controls and fast reproduction cycles. Once established, the mussels have proven both ecologically and economically detrimental, damaging aquatic life and coating infrastructure and shorelines with virtually no means of stopping them.
Montana saw its first positive test for mussel larvae in 2016 in Tiber Reservoir along with a suspected positive in Canyon Ferry Reservoir. In response, the state grew its watercraft inspection and water testing program, carrying an annual cost of about $6.5 million.
Since then, no additional water samples have tested positive and no adult mussels have been discovered. However, officials caution that populations may take years to catch hold before infestations spread rapidly. State inspectors have stopped a number of mussel-infested boats in recent years — the main way the invasives spread from one body of water to another.
Estimates in the report are based on a truly massive infestation of essentially every body of water in the state, meaning the direct economic costs reflect a worst-case scenario. But as Stephanie Hester with DNRC points out, the report also does not look at indirect costs that mussel-infested states have experienced.
"The report only looks at direct impacts to stakeholder groups where data was available, and there is the assumption that it's a maximum infestation," she said. "There is not a full analysis of trickle down costs, or the aesthetic values to the resource, the value or loss of irrigated lands. It's a snapshot of damage to users."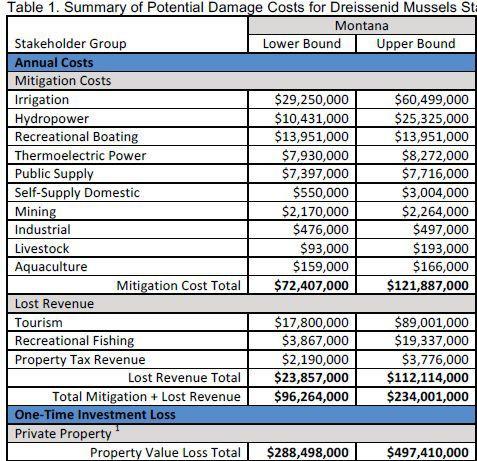 Hester said the report is aimed at those who make policy and manage water resources, and the council sees it as an outreach tool to understand the cost-benefit of Montana's prevention program.
Hydropower, for example, may mitigate mussel-infested infrastructure by traditional cleaning, or with more recent technologies such as ultraviolet light or special coatings on the inside of pipes that prevent mussels from attaching. All of those options come with varying upfront and longer-term costs that dam operators must weigh, according to the report.
But NorthWestern Energy, which owns several hydroelectric dams in the state, does have some issues with the framework and conclusions of the study, according to spokeswoman Jo Dee Black. Factors impacting costs vary widely from site to site, making the economic impact difficult to determine, she said.
"NorthWestern Energy agrees a mussel infestation that affects its hydroelectric projects would have an economic impact," Black said in an email. "However, the company does not believe assuming a worst case infestation and extrapolating costs from hydroelectric projects on the Lower Colorado River and applying them to Montana is appropriate.
"Site specific infrastructure and water conveyance configuration, water quality and other environmental conditions, and market conditions will influence remediation costs."
The potential loss of lakefront property value also varies widely in the report depending on region. Waters in the Columbia River basin make up the vast majority of impacts — an estimated loss of $270 million to $466 million — compared to the Missouri River basin, which has estimated depreciations of $17 million to $31 million. The disparity is due to the premium of lakefront property in northwest Montana, specifically lakefront on Flathead, Whitefish and Swan lakes, which amount to 78 percent of total lakefront property value statewide, the study says.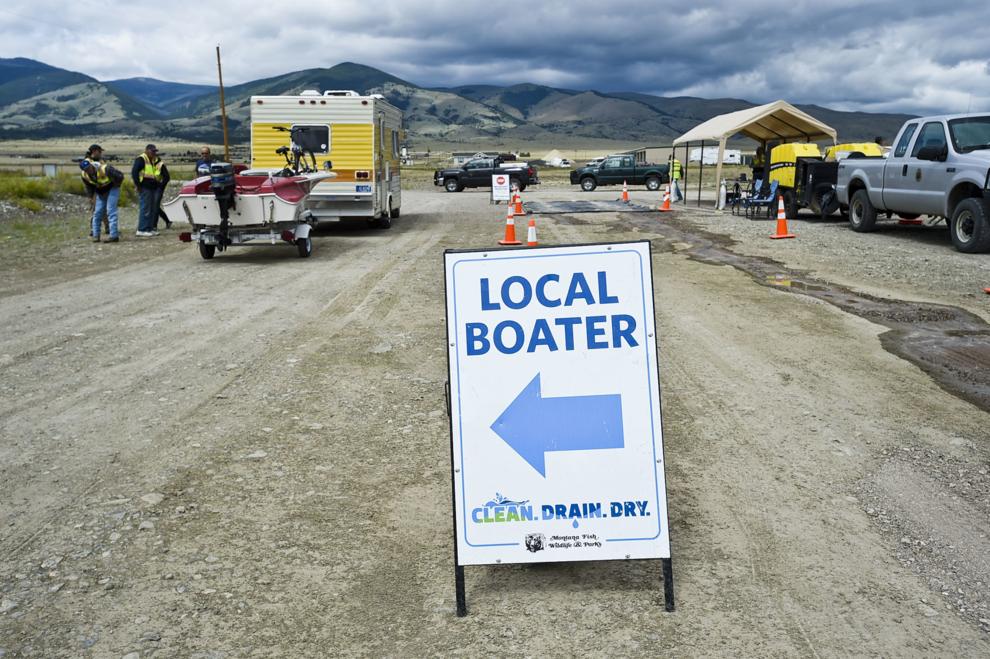 DNRC released the report as the Montana Legislature prepares to consider new funding options for Montana's aquatic invasive species program. The funding bill passed in 2017 tapped hydropower and fishing license fees to pay for the program, but current proposals call for fees on boats and general fund dollars.
Mike Bias, executive director of Fishing Outfitters Association of Montana, says anglers will be watching the funding debate closely.
"The effects of what happens if mussels get here is just scary — I don't even think some of the issues are in there — but the report is timely as the Legislature is going over budgets for the future of the AIS programs," he said.
Citing the report, Bias would like to see those industries most impacted by a potential mussel infestation pay for the prevention program. While anglers "don't have a problem" being part of the funding, he believes hydropower and other recreational users, specifically wake boats, should be an emphasis in the next funding bill.
"We've got to do what we can, but our pitch is let's not just go after the anglers, because once it's here, it's an 'everybody problem,'" he said.
Woolf says state officials are looking at a "long list" of upgrades to the aquatic invasive species program for the coming year. That includes moving some inspection stations to better intercept high risk boats, extending hours and seasons at some stations. The state also intends to better develop partnerships with tribes and conservation districts on inspection stations, he said.
Regionally, officials across the West will be re-examining protocols for inspecting and decontaminating boats, Woolf said. Recent research has suggested that wake boats, which house internal ballast tanks that cannot be visually inspected or dried, likely pose a greater risk of transporting mussels or larvae than other types of watercraft.
Officials also continue to look at developing protocols for emergent technologies in detecting mussels, such as the use of eDNA, which can potentially detect much smaller traces of mussels than standard testing, he said.
Reporter Tom Kuglin can be reached at 447-4076 @IR_TomKuglin