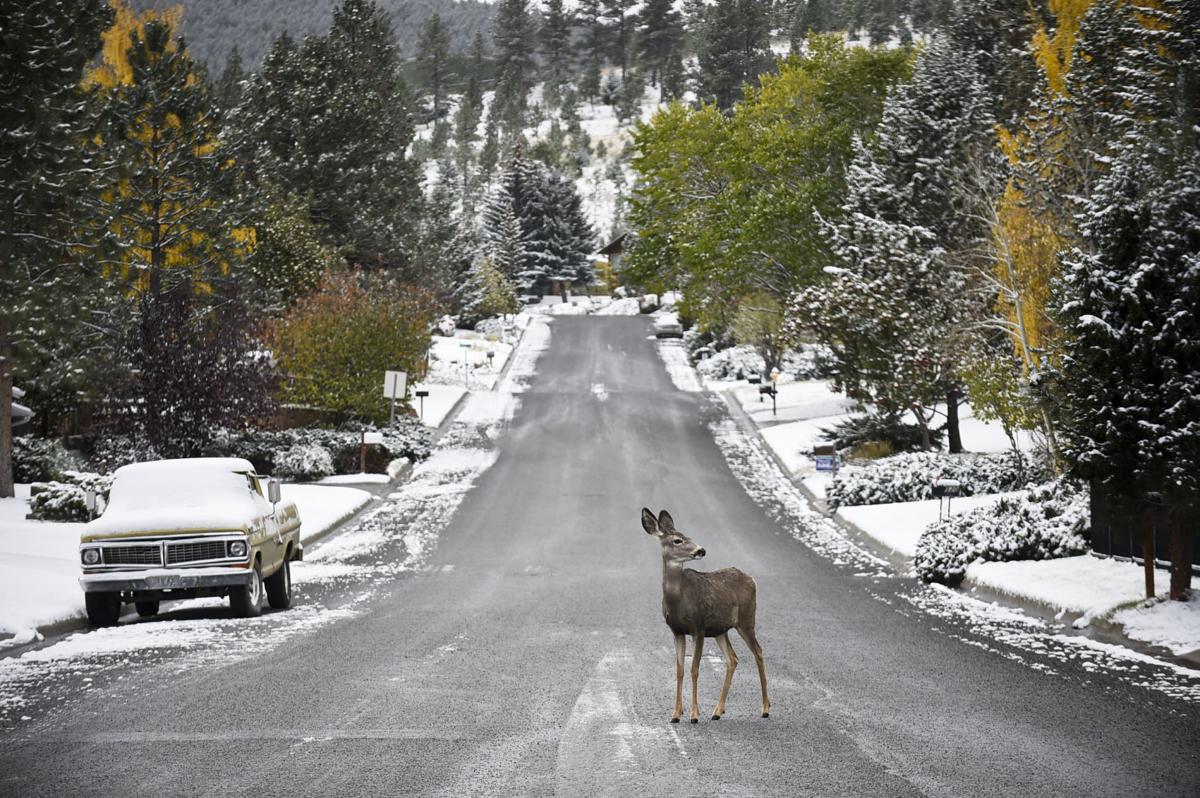 The City of Helena suspended its culling of urban deer this fall and winter due to budget cuts, but officials say it will need to resume in the future.
On Monday the Montana Fish and Wildlife Commission advanced for public comment the city's biannual authorization to cull deer within the city limits. While the city captures and removes the deer, it does so under the authority of Montana Fish, Wildlife & Parks and the commission. The commission sets a quota range of up to 250 designed to maintain the population at desired levels, and the city determines the exact number to cull each year within that range.
The city began culling deer in 2008 by trapping them in pens, dispatching and then providing the venison to Helena Food Share. This is the first fall and winter the city has not culled since then.
At Monday's meeting officials with FWP recommended the city be allowed to continue culling deer, but also noted that the city had cut the program this fall and winter due to budget cuts.
Helena Police Chief Steve Hagen said in an interview that the decision to cut the program was made by former Chief Troy McGee when the department was ordered to make more than $470,000 in cuts. He was quick to note that the city plans to survey the deer population this fall, which is required by FWP in order to cull, to determine if it will resume the program.
"Before we started this there were lots of deer getting hit … and that has been significantly reduced so it has been a very successful program," Hagen said. "The plan is to do a deer count this fall and evaluate whether it's a good use of city resources. It will definitely have to continue in the future at some point."
The Helena Police Department responds to urban wildlife complaints but has not budgeted for deer removal for the next biennium, Hagen said. The program typically costs the city about $30,000 annually.
Culling Helena's urban deer was highly controversial when first proposed and adopted, but both officials with the city and the state believe it has been successful in reducing conflicts. Before the cull began in 2008, a burgeoning deer population caused an uptick in complaints of damage to landscaping and calls for collisions with vehicles. The city also saw some complaints of aggressive deer with little natural fear of people or dogs, particularly during the late-fall rut or spring when fawns were born.
"I have to use the word 'success,'" Quentin Kujala, wildlife management section chief, told the commission. "The city to its credit sat down and built the plan, and it is a plan not of extirpation but to tolerable densities."
As deer-related incidents increased in the mid-2000s, city officials, members of the public and wildlife specialists convened a task force and wrote the urban deer management plan. The plan called for reducing densities from 33 to 25 deer per square mile. Without culling the estimated population of 700 deer in 2008 would exceed 1,800 by 2010.
The city has typically culled about 100 deer per year, Hagen said, and populations have remained relatively steady. Last fall and winter was a down year for the cull with only about 50 deer removed.
"It's extremely weather dependent," he said. "When you have a warm December and January they don't need to feed as much and they're not lacking for food when the weather is good. You need some cold and snow."
Both Hagen and Kujala said they have not seen a noticeable uptick in deer-related complaints this year. Kujala believes that because populations were reduced close to desired levels there will be a period when deer will likely not be seen as a nuisance. He agreed with Hagen that conflicts will likely rise again with populations if not kept in check.
If culling does resume, FWP would like to see some sort of testing program for Chronic Wasting Disease. Testing is not mandated within the proposal released for public comment by the commission Monday, but Kujala feels it will be necessary going forward.
"Some testing to be done makes sense, especially when animals are harvested at this concentration and we have staff in this proximity to collect samples," Kujala said. "We've got to have those conversations and make those adjustments," to the urban deer plan.
Reporter Tom Kuglin can be reached at 447-4076 @IR_TomKuglin