The Helena-Lewis and Clark National Forest released a draft decision on its new forest plan Thursday that includes a significant increase in recommended wilderness acres, two new recreation areas and similar timber harvest as in recent years.
By law, national forests are required to draft forest plans. The plans are overarching documents that drive management of forest lands, such as designating areas as suitable for timber harvest or mineral development. Future projects such as timber sales or trails should then comply with the parameters of the plan.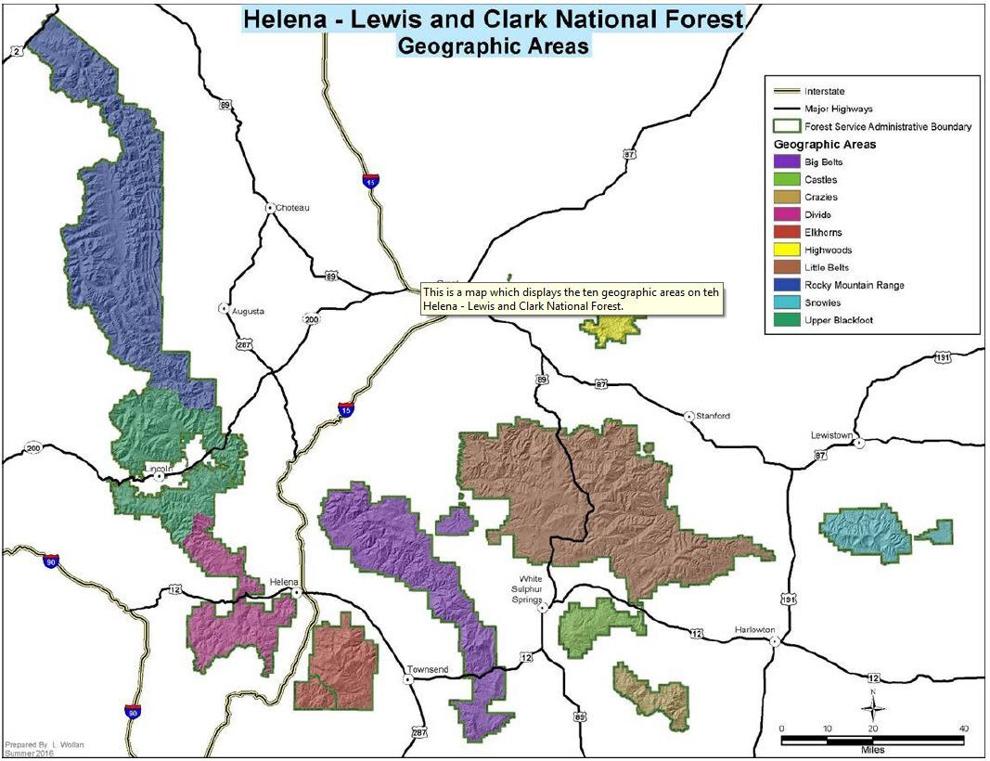 In 2015 the former Helena and Lewis and Clark national forests combined. Both forests operated under forest plans drafted in 1986, and the combined forest has spent the last five years drafting a new plan covering nearly 2.9 million acres.
"We held 50 different public meetings in communities across all 17 counties around the forest," said Forest Supervisor Bill Avey. "That's a really critical piece – to get that amount of public engagement. At times those demands are conflicting, but we're really trying to manage this landscape for the greatest good for the greatest number of people in the long run."
The forest received roughly 1,100 public comments that informed the crafting of the plan, he said.
The proposed plan contains a number of changes from current management on the forest.
Under a Forest Service planning rule adopted in 2012, management should drive toward the "desired conditions" designated by the agency.
The 1986 plans are largely based on different management areas, meaning the forest is broken into small segments with various directives for things like timber or wildlife. The "shotgun" approach of the current plans inspired the new plan's emphasis on managing areas holistically, Avey said.
"What we did in this forest plan that's a big change is we're managing those big landscapes by mountain range or by landscape," he said. "When you look at specific geographic areas, the Elkhorns for example has a desired future that's different in some ways than the Rocky Mountain Front. So we're trying to manage that desired future specific to that landscape or mountain range."
One major change under the draft plan is a roughly 450% increase in acres of recommended wilderness areas. The recommended areas meet the legal requirements to be designated wilderness areas, although only Congress can officially designate them.
The draft plan would increase the current three recommended wilderness areas to seven and total acreage from about 34,000 acres to more than 153,000 acres. Big Log, Mount Baldy, Electric Peak, Big Snowies, Silver King, Red Mountain and Nevada Mountain would all be recommended.
The 1986 Lewis and Clark National Forest plan also included an additional four recommended wilderness area totaling nearly 52,000 acres along the Rocky Mountain Front. That area has since been designated a mix of wilderness and special conservation area by the Rocky Mountain Heritage Act of 2014.
Still, the Montana Wilderness Association had a mixed response to the draft plan. The acreage is down from about 213,000 acres of recommended wilderness proposed in earlier analysis for the plan, excluding proposals in the Elkhorns and the Little Belts and shrinking recommended wilderness in the Big Belts.
"We're pleased the Forest Service has recognized the importance of conserving the wildest areas along the continental divide and in the Big Snowies," Conservation Director Amy Robinson said in a statement. "We are, however, disappointed to see little protection for remote areas along the Smith River, Middle Fork Judith, and in the Elkhorns, places that provide clean water to multiple communities, enable fish and wildlife to thrive, and offer us the solace we need now more than ever for our wellbeing."
Avey says that recommended wilderness was perhaps the most commented issue during the public process, both those for and against. The final decisions were based on where the Forest Service saw "overwhelming" support for protecting certain areas and also the configurations of those areas, he said.
The plan also recommends protections for 45 rivers or streams as wild and scenic.
The plan also designates areas both deemed suitable for timber production and areas where timber may be harvested if tied to other projects such as fuels management. Under the plan, the Forest Service would expect to offer a similar amount of timber as it has in recent years.
A message left with the Montana Wood Products Association was not returned in time for this story.
The draft plan does not propose major changes to motorized use on the forest as officials have completed travel planning in recent years, Avey said.
Another area that has drawn significant attention in recent years is how the Forest Service will manage wildlife habitat. Under the 1986 plan the agency uses hiding cover standards for elk, which essentially require more hiding cover as the density of roads increases. The idea is to offer elk hiding cover during hunting seasons to keep animals on public lands.
The current standards have been touted by some local wildlife and hunting advocates as both proven and enforceable. Past proposals to move away from the hiding cover standards to guidelines have seen criticism from wildlife advocates, however, who say they are too unrestrictive and not enforceable.
The issue for land managers, Avey says, is that the standards lack the flexibility to adapt to changes in land use or ecology. For example, high tree mortality from insects compromised hiding cover in some areas making meeting the standards much more challenging if not unattainable, he said.
The proposed alternative are designated "security areas," or blocks of land a distance from roads to provide big game habitat. Those would be managed under guidelines for tree cover.
Marcus Strange with the Montana Wildlife Federation said he was still reviewing the plan on Thursday but that big game security was an issue his organization has consistently raised.
"What I can say is the forest has been incredibly accommodating and transparent during the process," he said. "I feel at this point we can give constructive feedback, have constructive conversations and hopefully a positive outcome for us and our affiliates and wildlife."
A final highlight of the proposed plan are two new designated recreation areas.
The 50,000-arce South Hills Recreation Area near Helena would be recognized as a nonmotorized area for hiking, biking and horseback riding with a directive to manage for recreation.
The Grandview Recreation Area in the west Big Snowies south of Lewistown is approximately 32,000 acres with the bulk of the acreage within a wilderness study area. The area would be managed for primitive recreation as well as motorized.
Thursday's announcement comes as the Forest Service opens a 60-day objection period. During that period, those who have commented on the project may formally object and have their concerns heard at a future hearing. Those supporting the plan could also testify as an interested party.