A field of 117 other teams tried to reel in two Helena anglers over the weekend, but Cory Novak and Kyle Beto could not be beat in the annual Canyon Ferry Walleye Festival tournament. 
Though it was the first tournament Novak and Beto had ever fished together, and the first time Beto had participated in a tournament, that didn't stop them from bringing home the $10,000 prize. 
The Helena duo fished in the days ahead of the two-day tournament and landed a couple of nice fish. So when the starting horn blew at 8 a.m. Saturday, they headed north and started pitching jigs.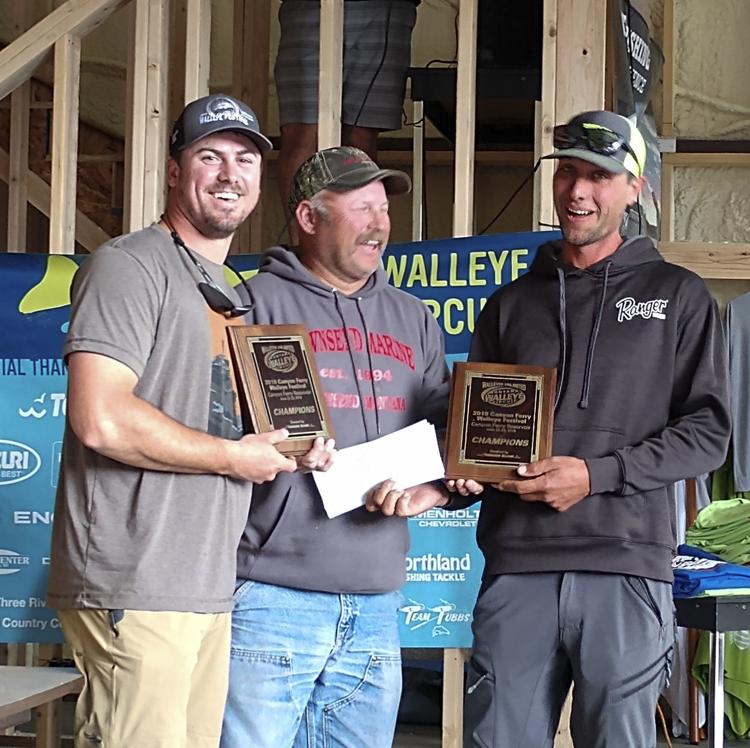 "It wasn't easy but we were getting a couple of fish per hour," Novak said. "Up there on that far end, you put in the 1,000 casts for a fish but when you get them they're big."
The annual Canyon Ferry tournament fielded 118 two-angler teams this year who hit the water for two days. The teams weigh in up to five walleye each day to post the highest two-day weight.
They were on the hunt for big walleye when Novak set the hook into what he initially thought was a carp. As he brought the fish to the surface, Beto let him know what was on the end of the line before netting the 30.75-inch, 11.74-pound walleye.
"Your heart really starts pounding with those big fish and I was really glad when Kyle saw it and told me what was down there," Novak said.
Novak had fished the tournament a few times before, with his highest placing at No. 11. Beto had always wanted to fish the walleye festival and wanted to put their combined knowledge of Canyon Ferry to the test.
"We knew we both fished pretty hard and I said, 'You know what, I've always wanted to'" fish the tournament, Beto said.
Ahead of the tournament, they had the most luck fishing a favorite childhood spot Beto learned from a friend's dad. It turned out to be the magic location on Saturday.
You have free articles remaining.
"It was absolutely the best day of walleye fishing I've ever had, to have that many big fish and in a tournament, Cory really had the hot hand," he said.
Saturday brought multiple other sizable walleye, including fish measuring 29 and 27.75 inches. When they finished the day, the team of Novak and Beto had a 12-pound cushion ahead of the second place team.
The duo fished the same spots with the same tackle and the same techniques, but only boated a single fish of 4 pounds.
"It was a grind — Canyon Ferry can make you or break your heart," Beto said. "We still thought we were in pretty good shape. There were lots of boats running around so guys looked like they were struggling just like we were."
Novak and Beto headed back to weigh in Sunday hoping their total would hold up.
"I told Kyle, 'We didn't do our part, we'll just have to hope the others didn't either,'" Novak said.
The nerves were running high for Beto as well.
"We knew we had a chance to win and I don't think I slept Saturday night," he said. "That not knowing was the hardest part of going to the weigh-in."
Novak and Beto's total held up, topping the second place team of Ken Schmidt and Mark Jones by more than six pounds and third place finishers Steve Kincaid and Justin Baumgartner by more than nine pounds.
Now that they are $10,000 richer, the duo says they have not decided how to spend all of the money but will use some of it to help finance their future fishing, including some upcoming tournaments.