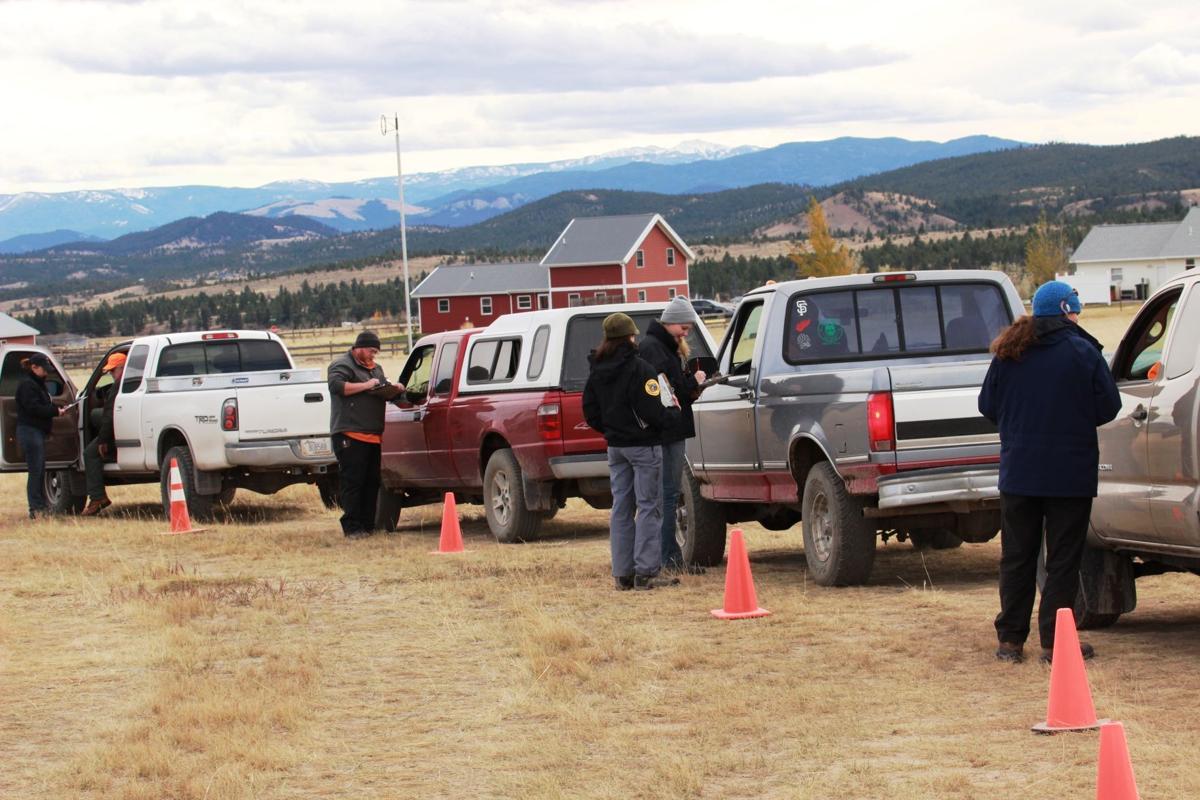 Hunter check stations, CWD sampling stations ready for general season
Big game hunter check stations will be in operation across Montana beginning this weekend and continue through the general rifle season with a few changes in protocol related to COVID -19 safety.
General big game season runs from Oct. 24 through Nov. 29. At check stations public safety as it relates to the spread of COVID-19 will be important. FWP staff will be working to reduce crowding at the stations this season and for hunters the check station process will be streamlined as much as possible.
However, each check station may handle this process a bit differently, depending on staff, check station logistics and traffic flow. Please follow all directions and signs from FWP staff as they work diligently to check game, answer questions and get you on your way. If social distancing is difficult, please be ready to wear a mask.
Additionally, in the northwest, eastern and southwest parts of Montana, FWP will be operating CWD sampling stations where staff priority will be collecting samples rather than the traditional check station process. Again, please follow site-specific directions and signs from FWP staff. These CWD sampling locations are as follows:
Ennis Lions Club Park
Saturday and Sunday, 10 a.m. to dusk
Monday and Tuesday, 8 a.m. to 12 p.m.
Dillon – 730 N. Montana St.
Saturday and Sunday, 10 a.m. to dusk
Monday and Tuesday, 8 a.m. to 12 p.m.
FWP is also ready to help hunters sample their deer, elk or moose for CWD at our offices:
Region 3 Headquarters – 1400 S. 19th Ave., Bozeman
Monday through Friday, 8 a.m. to 5 p.m.
Helena Area Resource Office – 930 Custer Ave. W.
Monday through Friday, 8 a.m. to 5 p.m.
Butte Area Resource Office – 1820 Meadowlark Lane
Monday, 12 p.m. to 5 p.m.
Tuesday and Friday, 9 a.m. to 12:30 p.m.
CWD positives from across the state, no new areas
Earlier this month Montana Fish, Wildlife & Parks was notified of 18 deer from across the state that tested positive for chronic wasting disease.
The positive deer all come from areas where CWD was previously known to exist, including hunting districts in Madison, Liberty, Daniels and Gallatin counties. All but two of the deer were hunter-harvested animals. All but one were white-tailed deer.
The samples were tested at the Montana Veterinary Diagnostic Lab in Bozeman. This year FWP will use this laboratory as the primary testing facility. Hunters who submit samples should have results back within three weeks. Results will be posted online as in past years. Hunters will be notified directly if they have a positive animal.
The positive deer came from the following hunting districts: 322, 309, 640, and 401.
CWD is a contagious neurological disease that infects deer, elk and moose. It is always fatal and there is no known cure. It was first found in Montana in 2017. It is not known to infect humans, but it is strongly recommended that people not eat meat from infected animals and to have their harvested animals tested before eating them if they were taken from an area where CWD is known to exist.
FWP is continuing CWD surveillance this year in priority surveillance areas located in northwest, southwest and eastern Montana. Hunters who harvest deer, elk or moose in these areas are asked to voluntarily submit a sample from their animal to help gather additional data for that area. This information will be used to help inform the best management strategies for the affected hunting districts.
FWP will cover the cost of testing hunter-harvested animals for CWD. Hunters should look online for information on how to take a sample themselves and submit it for testing or bring animals by an FWP regional office for sampling. FWP will have CWD check stations in the priority surveillance areas. Sample submission is voluntary throughout Montana. For more information on these surveillance areas and how to submit samples for testing, visit fwp.mt.gov/cwd.
A critical change this year is the state will not have transportation restriction zones, as it did last year. Instead, to better prevent the spread of CWD, hunters are required to properly dispose of their carcass waste. The Fish and Wildlife Commission has directed hunters to choose one of two options for carcass waste disposal:
Any waste carcass parts removed from the field, particularly brain, eyes, spleen, lymph glands, and spinal cord material, must be bagged and disposed of in a landfill.
Leave all carcass waste at the kill site.
Dumping carcasses is illegal, unethical and can spread diseases, including chronic wasting disease. Proper carcass disposal is critical to protecting Montana's herds.
Clark's Lookout State Park closed temporarily due to hazard tree
Clark's Lookout State Park has been closed temporarily due to a large cottonwood tree that has blown over onto the latrine, causing a safety hazard.
Because the tree is unstable, the park will remain closed to all public occupation and recreation until further notice.
Clark's Lookout State Park is located just north of Dillon, along the Beaverhead River.
Be the first to know
Get local news delivered to your inbox!