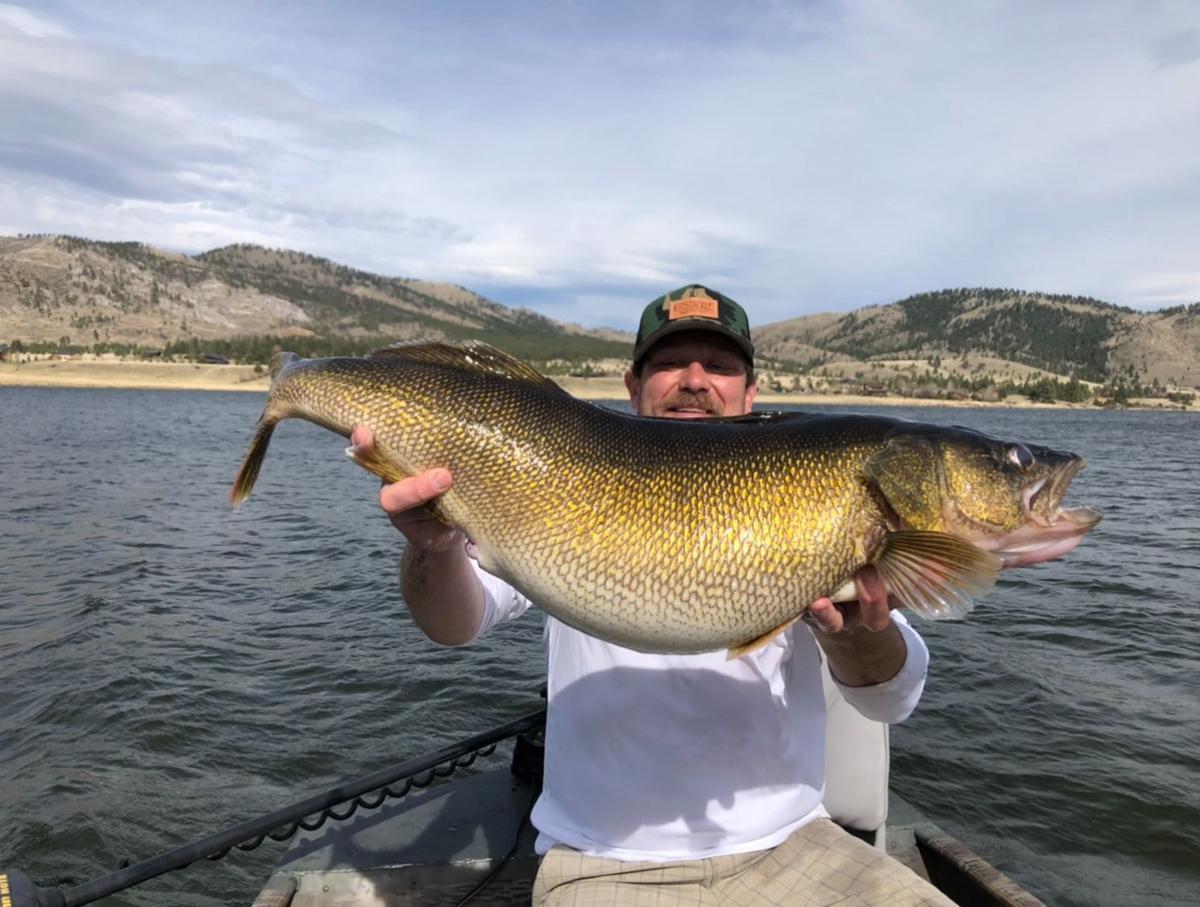 For Helena angler Trevor Johnson, it is the allure of the unknown that has always inspired his passion for fishing.
It doesn't matter whether it's fishing from a boat costing tens of thousands of dollars or casting from the shore while sitting in a lawn chair, anyone at any time on any given cast can hook the fish of a lifetime, he says. And it is that promise of what the depths of Holter Reservoir might hold that led Trevor and his dad Kit Johnson to head out fishing on Monday.
"This spring has been a beast out there, not because there's no walleyes, but it's been cold and the flows have been way below normal," he said. "Trout have been great but the walleyes, those fish are in there doing something different this year."
Trevor and Kit operate Kit's Tackle, an outfitting and tackle business in Helena, and spend plenty of time on the Helena-area reservoirs. And this was a special stretch of water too where Trevor says his dad had been taking him to chase pre-spawn walleye before he can even remember. 
"The fact Dad and I are both guiding now, we're both busy so we don't get to fish as much as we used to," he said. "So it was pretty special to be able to get out there with him."
Despite a slow spring, past knowledge of the potential for big walleyes this time of year had them casting into one of their favorite holes.
"I bet I'm close to 120 hours out there this year and I've only caught three walleyes," he said. "Most people would say, 'What are you doing, you're crazy,' but it's just knowing that potential is there."
After about an hour with no luck, Trevor felt a bump and set the hook. At first he thought it was a ling because he couldn't raise it off the bottom. Kit wasn't so sure.
"We just got a little glimpse and knew it was big," Trevor said. "We've seen a lot of big fish so we're thinking maybe it's 13, 14, 15 pounds. She dove a few more times and then we were able to net her and get her in the boat, that's when it got really big.
"It was obviously a really weighty fish, but we just had no idea because we'd never seen a girth like that."
While the walleye was long at 32¼ inches, what really stood out was its girth measuring over 22 inches around. A hand-held scale put the fish at 18 pounds 2 ounces – above the state record of 17.75 pounds caught on Tiber Reservoir in 2007.
When it comes to keeping fish, the Johnsons like to practice selective harvest. That means letting the bigger and older fish go. Even though they knew the walleye could be the biggest ever landed in the state, they attempted a release by moving the fish back and forth in the water for a few minutes to force water through the gills. Unfortunately the fish with its epic weight and after the long battle did not survive.
"You know there really are a lot of mixed emotions," Trevor said. "It's a potential state record but we're catch-and-release guys."
The Johnsons decided to head back to the launch and back to Helena. They continued to grapple with whether to go through the steps to see if it would top the records.
"It's an amazing fish and it shows people the potential of what you can catch around here," Trevor said. "We both still preach selective harvest, but yeah, still some mixed emotions, but it's a great honor especially here in the state of Montana."
The walleye weighed in at 18.02 pounds on a certified scale in Helena on Monday night. A biologist later made a required check of the fish and certified it as the new state record."
"It doesn't even sound believable," Trevor said. "I almost feel like I'm undeserving, like does anyone deserve something like that. You joke about it but you're not looking to go out and catch the new state record. I'm just out there looking to explore the unknown and I managed to bump into the fish of a million lifetimes."
Helena-area fisheries biologist Adam Strainer believes a variety of factors led to the fish being of such epic proportions. Aging a fish by sight is tricky, but he estimates it was somewhere north of 10 years old.
"A 16-pound walleye in the upper Missouri is not uncommon, we probably see that every other year," he said. "For a fish to go from that to something like this, a lot of things have to align."
The stretch of Upper Holter into the Missouri River is known for producing big trout and big walleyes, and that means food sources need to be impeccable, he said.
The other major factor has to do with timing. Cold water temperatures have drawn out the spring. The fact that the walleye was so full of eggs in May is uncommon, Strainer said, adding once the spawn is over, the fish might dip to less than 16 pounds.
Despite some tough walleye fishing this spring, netting surveys show an increase in walleye numbers in Holter, and Strainer believes anglers will start seeing better fishing in terms of abundance in the next few years.
Tom Kuglin is the deputy editor for the Lee Newspapers State Bureau. His coverage focuses on outdoors, recreation and natural resources.