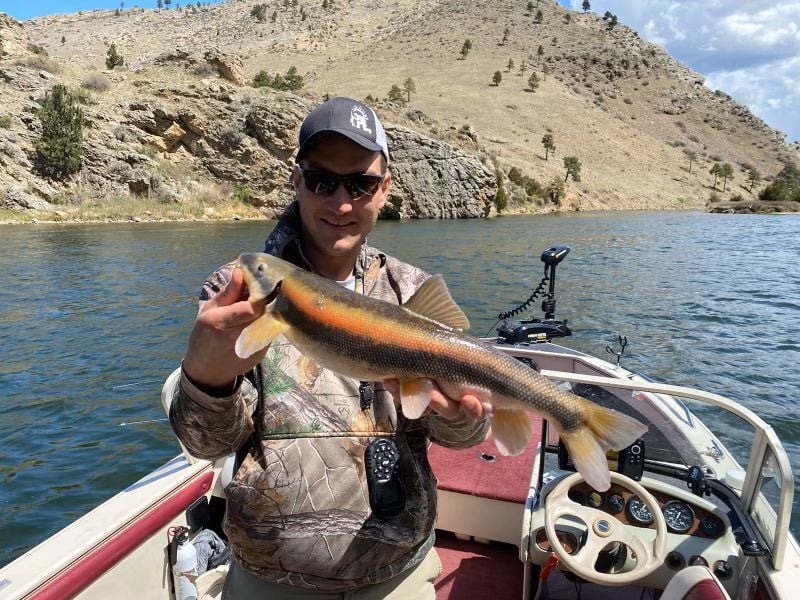 Some fish records last for decades. Montana's latest state record longnose sucker lasted less than two months.
On Friday Helena angler Austin Wargo reeled in a longnose sucker measuring 19 1/2 inches and weighing 4.21 pounds from Holter Reservoir. That's a gill and fin ahead of the 3.42-pounder caught by Jacob Bernhardt of Great Falls from late March. That sucker topped a 3.27-pound longnose that had stood since 1988.
"I always wanted my name in the book, I just didn't know it'd be a longnose sucker," Wargo said.
Wargo was fishing with a marabou jig when he hooked what he thought was a walleye.
"It felt like a walleye at first, just kind of had that slow doggy feeling, not like a trout," he said.
They landed the longnose – a beautiful specimen showing off its spawning colors with a bright red stripe.
"That's what everybody says, that for a sucker, it's a really beautiful fish," he said.
Even with the fish on board a state record was not really on their minds. They wanted to keep the fish for cut bait and put it in the live well. They kept fishing but kept remarking that it was a big sucker.
When they got off the water they decided to look up the state record. While they didn't have a great scale, the fish appeared to be nearly a pound over the current record. They ran to a friend's house to weigh it with a better scale and the result was the same. Soon they were at a grocery store with the fish laying on a certified scale. A biologist with Montana Fish, Wildlife & Parks certified the catch over the weekend.
Wargo laughs as he talks about the catch, joking that it is a bit on the funny side to own the record for a species not many anglers target.
"I do think I'll have to get it mounted," he said.
Friday's catch comes at it seems Montana anglers are reeling in new state records left and right.
Tom Kuglin is the deputy editor for the Lee Newspapers State Bureau. His coverage focuses on outdoors, recreation and natural resources.